Even though Mike walked away from the game a few years ago, his legend lives on everyday, not just in the world of sports and the hearts of his fans, but as you well know, in the unquantifiable love for the sneakers that are as linked to his legacy as his basketball career. The marriage between Michael Jordan and Nike is one of the most magical unions in the history of popular culture. At the time of their initial partnership, neither was the undisputed best in their field yet, but it was undeniable that both sides were overflowing with potential, and it didn't take long at all before we saw exactly how much.
It all started with the infamous Air Jordan 1's that were "banned" for violating the league's footwear color policies. The NBA fined Michael $5000 each time he wore them and Nike happily picked up the tab, knowing that they couldn't ask for better publicity for the shoe. With each new NBA season came a new Air Jordan model, and every time, both Michael and Nike raised the bar for their respective competition. Before long, it was a runaway and the rapid evolution of both MJ and Nike were mirroring each other, as the mutually beneficial relationship became something more than just a sneaker brand and its athlete endorser.
By 1997, the Nike Air Jordan line had become so wildly popular that, in an unprecedented move, Nike decided to create Jordan Brand, an autonomous leg of the company that would just focus on all things Jordan. With that came team and non-signature Jordan sneakers, as well as a slew of apparel and accessories. With twelve years and a ton of Jordan Brand products since, it's easy to take for granted how remarkable it is that an athlete became so iconic and beloved in his own lifetime, that something like this actually came to be. In fact, it would be hard to argue that any other athlete/celebrity in history has had that kind of star power and marketability.
The question, "Is it the shoes?" was raised by Spike Lee's Mars Blackmon character back in the classic ad campaign, wondering if Air Jordan sneakers were the reason for Michael's next-level abilities. 20 years later, the question comes up again, but this time in a different context. As sneakerheads, we have to honestly ask ourselves: 'Did we love the shoes so much because of Michael or did we love Michael so much because of the shoes?' For many of us, that question will be pretty hard to answer, because the two have become too inter-mingled to differentiate. Michael's game spoke for itself, but we have to ask ourselves if we would still be so infatuated with him if he had signed with another company and wore insignificant kicks throughout his career. John Stockton, the NBA's career assists and steals leader will also be inducted into the Hall of Fame tonight, but does anyone remember what shoes he wore? As trivial a thing as that may sound like to some, the notion carries some weight.
There's no doubt that no matter what sneakers he wore, Michael Jordan would have been the greatest basketball player of all time, but the Air Jordan sneaker line unquestionably ensured that his legacy will live on in a way that no other athlete has ever experienced. Being that this is a sneaker website, we'll leave the retrospectives of Mike's on-court career and accomplishments to the sports media, but we felt our own obligation to honor his Airness in a way that readers of our site would appreciate. Keep reading after the jump to see a goosebump-inducing highlight reel of the man of the hour doing what he did, day in, day out, over the course of a long and immortal career. Congratulations Michael! Thanks for the memories.
The Greatest Of All Time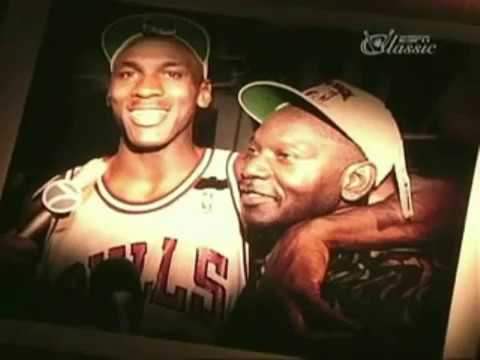 Michael Jordan highlights you might've missed
And because just about every MJ highlight reel you see shows you scoring and dunking acrobatics, we thought we'd give some love to the 9-time NBA All-Defensive First Team recipient.
Filed under: Air Jordan