Air Jordan VI Infrared Pack – Side By Side Comparison Video
Until now, the Air Jordan VI Infrared Pack existed only in digital picture form, causing some to doubt its existence. Is it the lighting? Or just the result of some handywork with a special marker?  Some – nay – ALL sneakerheads were perplexed, flustered, misled, confounded, and rattled to the core when the rumor of the Infrared Pack first surfaced. Skeptics claimed Jordan Brand wouldn't pull off such a questionable move, despite the brand's recent track record of oddly timed releases of what was deemed the same exact shoe. Rumor is, that like last year's True Blues, these will likely be an international release, but some dedicated sneakerheads are taking no chances this time.
Our friend SneekGeekZ got his hands on the infamous package – perhaps the only publicly known set in the U.S. at the moment – and gives us a great side-by-side-by-side of three Air Jordan VIs, putting the Varsity Red, 2000 Infrared, and 2010 Infrared colors to the test. Although SneekGeekZ's firsthand observation states that Varsity Red and Infrared are very similar, you can clearly see the difference. Continue reading for some great screencaps and the entire video, and with re-sale prices for this limited pack probably hitting (or surpassing) 2006 DMP range, let us know if you think the Infrared Pack is worth unloading a few pairs for.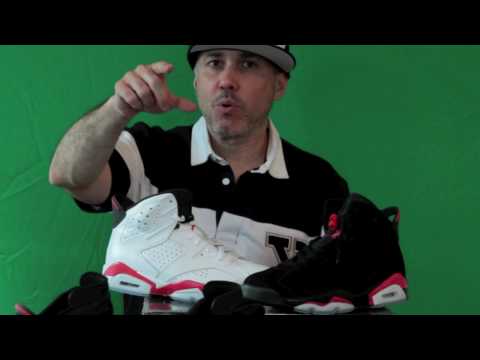 (Left) 2010 Infrared Retro, (Right) 2010 Varsity Red Retro
(Left) 2010 Infrared Retro, (Right) 2000 Infrared Retro
Filed under: Air Jordan Upcoming Sneakers