Michael Jordan and "The Shrug"
August 30th, 2012 by John Kim | 15 comments
Michael Jordan's greatness can be counted by all the historic moments and god-like accomplishments throughout his career. But even he'll tell you that during some of these occurrences, there was no explaining as to how it was happening; it's almost like an out-of-body experience of being in the zone, something that we've all at one point or another have been stuck in, whether its with shooting hoops, playing a video game, or doing some sort of repetitive, menial task. Sneaker News: Was It The Shoes? continues tonight with another look at a major moment in Michael Jordan's career – the infamous 'Shrug' from Game 1 of the 1992 NBA Finals. Continue on for the full story, and don't forget to catch the earlier Was It The Shoes? features if you've missed them!
Early on in Michael's career, the three-pointer wasn't an oft-used weapon in his arsenal. Up until the 1992 NBA Finals, Michael has never surpassed 100 three-pointers in a season – in fact, he's only surpassed that figure twice in his entire career. Considering how much the mid-range jumper was essential to Jordan's offensive dominance, it's rather surprising that MJ never bothered with operating beyond the arc. What makes this particular feat so astounding was that during that '91′-92 NBA Season, Michael Jordan hit 27 long-ball jumpers in total; that's a rather unexceptional rate of one three pointer every three games! In addition, Michael Jordan holds the record for the worst 3-Point Shooting Contest Round, a feat that he 'accomplished' during the 1990 NBA All-Star Weekend.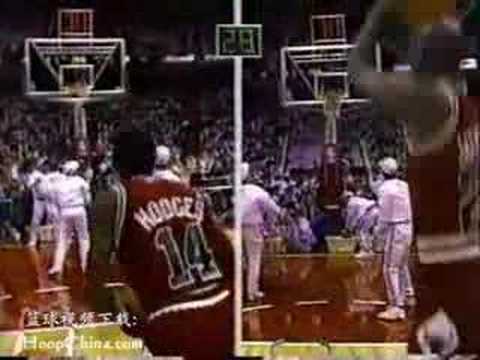 Coming off their first-ever NBA Championship, the Chicago Bulls were heavily favored to return to the NBA Finals. Sporting an outstanding 67-15 regular season record, the Bulls entered the 1992 NBA Playoffs at full power and quickly stated their dominance by easily handling the Miami Heat in three games in the First Round. Jordan and Bulls faced an incredible test in the Conference Semi-Finals round, battling the rival New York Knicks for seven games, and went on to defeat the Detroit Pistons in the Conference Finals in a neat six. The Finals would be a clash between the Bulls and the Portland Trail Blazers, a team that like the Bulls, were just on the brink of Finals glory were it not for a Conference powerhouse – the Los Angeles Lakers in this case – in the way.