"LeBronold Palmer" Nike LeBron 9 Low
December 5th, 2012 by Brendan Dunne | 11 comments
Are we looking at the best Nike LeBron sneaker to never release? That's a pretty tough category to rise to the top of the heap of, but there's no doubt that the Nike LeBron 9 Low 'LeBronold Palmer' is worthy of the discussion. The sneaker sports a tropical theme in line with King James' relocation to Miami, the Hyperfuse upper decorated with flashy pastel hues and plenty of palm tree graphics. Check in with us after the jump for a new set of shots on the 'LeBronold Palmer' Nike LeBron 9 Low and let us know in the comments if you approve of this pair.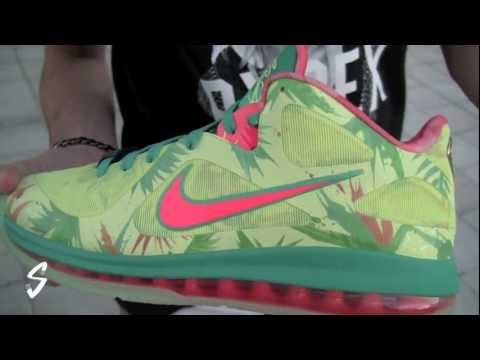 Photos: Stickie213
...catchy name for a ugly shoe.
The Nike Zoom Lebron James "Lebronald Palmer" RETRO 9 low! Lmao
They definitely won't be a general release. Not even gonna get my hopes up
i think they're gonna relase
That's a dope spring/summer shoe. Probably not going to be attainable for me though, they way Nike releases it's "best" shoes
They look good but I couldn't see myself wearing them.