31351
Nike Air Max ST – White – Black – Hot Red – Fall 2009
Back in the late eighties and early nineties, the prolific Nike Air Max line had the running shoe game on lockdown, trend-setting and innovating in terms of both style and function with each new release. Keeping with that tradition, in 1992, Nike unleashed the Air Max ST, at the time, its most technologically advanced running model yet.  The shoe featured a much larger Air sole unit in the heel than had ever been used on a Nike running shoe and also added an Air unit in the front of the shoe as well. The Air Max ST also incorporated Nike's Footbridge technology to even further improve cushioning and comfort. Other nice features of the ST were the breathable leather/mesh upper and the addition of a Neoprene tongue, similar to the Air Max 180 and other Nike models of the time.
Much like the Air Pegasus comeback that we showed you a few days ago, this under appreciated gem is finally returning as a Retro release in some classic colorways. This White/Black/Hot Red pair stays pretty true to the original, conjuring instant nostalgia for the fruitful sneaker era that they emerged from. The fact that the Air Max ST has been floating in obscurity for so long only makes its re-release that much sweeter. Whether you have fond memories of the first go-around of the ST or are just discovering it now, the Retro-hungry sneaker community will surely be taking notice when these finally hit stores again this fall. Stay tuned for exact release details as soon as they are confirmed. Click below for more photos and photos of the original 1992 Air Max ST.
—
—
The original Nike Air Max ST from 1992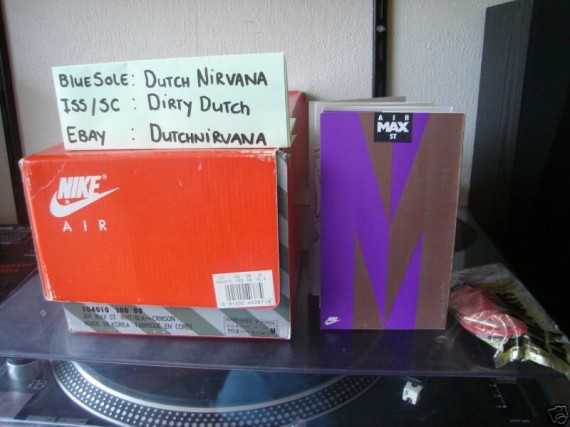 Note the original Nike Air Max ST colors were White/Black-Crimsom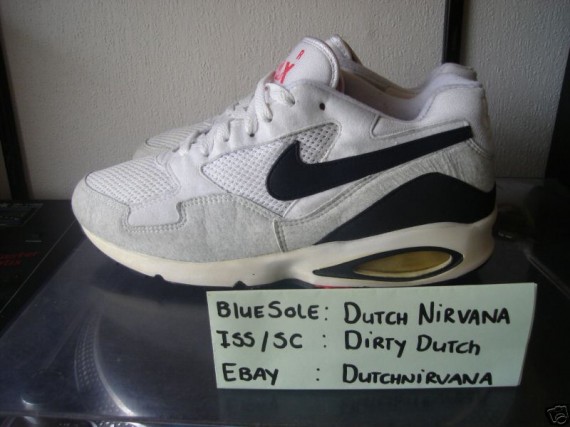 The original Air Max ST's shape seem to be a bit rounder and ball like.

The 2009 Air Max ST seems more elongated. The 2009 is a size 9 while the og is a size 10.5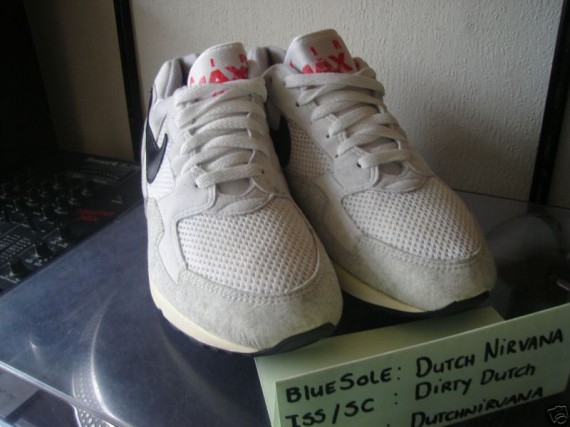 OG photos thanks to Dutch Nirvana
—
BELOW ARE THE CURRENT LISTINGS FOR THESE KICKS ON EBAY:
[If kicks below are a random assortment, desired kicks are not currently available on eBay.]
http://lapi.ebay.com/ws/eBayISAPI.dll?EKServer&ai=pbozg%60%7Bcck&bdrcolor=cacaca&cid=0&eksize=1&encode=UTF-8&endcolor=FF0000&endtime=y&fbgcolor=FFFFFF&fntcolor=292929&fs=0&hdrcolor=eaeaea&hdrimage=1&hdrsrch=n&img=y&lnkcolor=0066cd&logo=2&num=50&numbid=y&paypal=n&popup=y&prvd=9&query=Nike+Air+Max+ST&r0=4&shipcost=n&sid=SNKD+Nike+Air+Max+ST&siteid=0&sort=MetaEndSort&sortby=endtime&sortdir=asc&srchdesc=n&tbgcolor=FFFFFF&tlecolor=cacaca&tlefs=0&tlfcolor=292929&toolid=10004&track=5337728825&watchcat=63850&width=570