49331
Kanye West x Louis Vuitton – Complete Sneaker Collection + Release Info
This post contains references to products from one or more of our advertisers. We may receive compensation when you click on links to those products. The opinions and information provided on this site are original editorial content of Sneaker News.
Since news of the collaboration was first announced, we've been keeping you in the loop on all the latest on the Kanye West x Louis Vuitton sneaker collection. Now that the Air Yeezy has had its time to shine, this brave endeavor is finally ready to set the sneaker game on fire. Starting today, July 1st, the entire collection will be released globally at Louis Vuitton stores. There are three different models and ten colorways all together. There will be five colorways of the Don's, two different versions of the Mr. Hudson boat shoe and three high-top Jasper's. Slight variations can be found from one shoe to the next from the materials, to the laces, to the color blocking. As a result, even variant versions of the same model can look like two entirely different shoes from one colorway to the next.
We acknowledge that the price tag on these is a little lofty, but if it's any consolation, all the Kanye x LV kicks are constructed from the finest of materials and really live up to the hype in terms of quality. Plus, did you really think anything with a Louis Vuitton logo on it would have a bargain price tag? You can check out a closeup look at all ten shoes after the jump along with pricing information on each. If you've been saving your cash for these, get over to a LV store before they disappear off the racks. Via HighSnobiety.

Kanye West for Louis Vuitton – Jasper's – $1140

Kanye West for Louis Vuitton – Jasper's – $990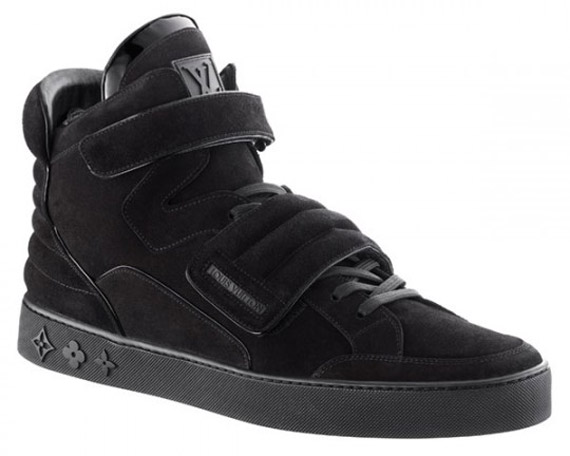 Kanye West for Louis Vuitton – Jasper's – $990


Kanye West for Louis Vuitton – Don's – $960

Kanye West for Louis Vuitton – Don's – $870

Kanye West for Louis Vuitton – Don's – $870

Kanye West for Louis Vuitton – Don's – $870

Kanye West for Louis Vuitton – Don's – $870

Kanye West for Louis Vuitton – Mr Hudson's – $—

Kanye West for Louis Vuitton – Mr Hudson's – $840