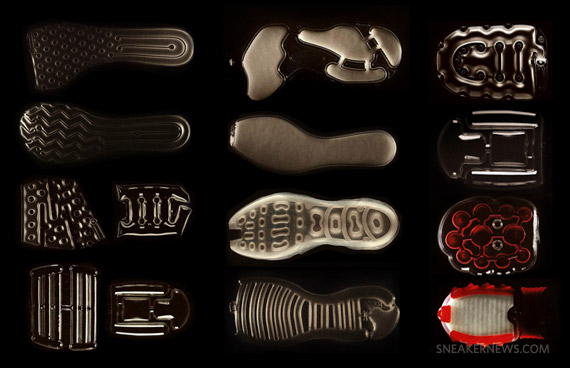 To be passionate about anything – an object, an idea – is to understand its origin, to fully immerse your being in its history and present state to the point of absolute, unrestricted comprehension. Nike Air is a concept rooted in the fundamental laws of science; air won't flatten or disappear, nor will it tear or change its composition. Nike Air serves as the metaphorical pen that rewrote history; it is the result of harnessing the most vital element of life known to man into a midsole cushioning system that revolutionized the footwear industry and sport of running over the course of three storied decades. Continue reading for a thorough look back at some classic Nike artifacts, technology and history.
An aerospace engineer named Frank Rudy approached Nike with the idea of an air-infused cushioning system. Combined with Rudy's radical notion of captured air, Nike produced the Nike Air Tailwind in 1979 after months of research and development in a top-secret facility in Exeter, New Hampshire, so clandestinely organized that absurd rumors about athlete-cloning surfaced. Soon after, Nike Air was implemented in athletic shoes engineered for other sports; the Nike Air Force 1 was the first basketball shoe with Nike Air technology, and the Nike Air Trainer was the first multi-purpose athletic trainer that featured Air. Suddenly being 'light on your feet' was becoming more than a figure of speech.
In 1987, designer Tinker Hatfield pushed the envelope with Air technology and urged Nike to make the Air unit visible – a proposition that almost cost Hatfield his job. The resultant product was the trailblazing Nike Air Max 1 – the first Nike shoe to feature a visible Air Unit. What followed was an astonishing evolution of an already imdomitable species, although in this line of change, the new models didn't necessarily render its predecessors obsolete, but instead progressively improved upon them in terms of design and technology. The Air Max unit grew in every sense of the word to what we see today in the Nike Air Max 2009, a full-length, fully uncaged, foam-free Air Max unit.
Nike introduced the "History of Air" in December of 2005, re-releasing each of its flagship Air Max models by year in their original colourways. Introduced alongside the commemorative collection was the newly constructed Air Max unit composed of one solid piece, ridding the Air unit of the length-wise seam and further reinforcing the resolve of the Air unit. This new development did not come without its pitfalls, as the Air unit shrank considerably in order to compensate for the newfound structure. The decrease in size was somewhat of an antithesis to the Nike Air mantra of expansion that was the driving force of the Nike Air Max legacy. Regardless of its size, the Air Max unit still serves its purpose and will continue to do so for future endeavors.
In 2010, where the rate of advance in technology has surpassed the rate of time, the sneaker sub-culture has become a placid mainstream, lacking genuine excitement over progressive ideas and rationale. Sometimes a kick in the shins of cultural consciousness is necessary, so take this as more than a simple history lesson. It is important to cultivate a true passion by educating yourself on the brand that served as a visionary for the industry we so steadfastly and unconditionally support.  Images via Kenlu.