As we're sure many of you predicted, Kobe Bryant showed up for Game 1 of the NBA Finals equipped with a shiny new Finals colorway of the Zoom Kobe V. Dubbed the 'Big Stage' edition, the white/metallic gold shoe received a mostly warm reception and left us to wonder if we would be seeing an away version when the Lakers take the court in Boston. Tonight, Kobe is in fact debuting the away version of the Big Stage ZKV, complete with the same color blocking, gold accents and tonal graphics seen on the home colorway, but this time sporting a black upper. It's yet to be seen if the new kicks will be a lucky charm for Kobe and company on the road, but for now, you can take a closer look after the jump, and stay tuned tomorrow for in-game shots of the Black Mamba's new playoff shoe.
The meaning is in the details.
To make plays, Kobe had to be in the game.
73 times – for 2835 minutes, through aching joints and broken bones – Kobe gave the Lakers everything he had.
By season's end, Kobe accumulated:
• 391 rebounds
• 365 assists
• 113 steals
Along the way Kobe picked up his 12th All-Star nomination and a place at the top of an all-time Lakers list: on February 1, 2010 Kobe hit 25,207 on his career points odometer – more than anyone who's every worn the purple and gold.
By averaging 27.0 points per game on the year, Kobe gave himself a little breathing room, shooting his career total to 25,970. The details are in the shoe.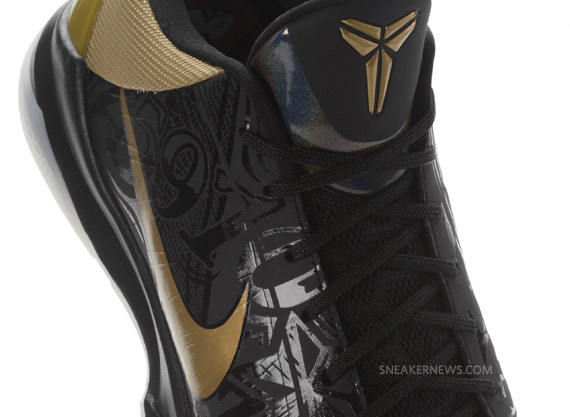 Via NikeBasketball