Last year's Sneaker News Top 30 list was a smash hit with readers, so with 2010 coming to a close, it's time to get down to business again and reveal our selections for the year's best sneaker offerings. Anyone can make a list of their favorite sneakers, but the aim of the SN Top 30 is to capture a cross-section of the shoes that made the biggest impact on the sneaker world in the last year. After scouring all the countless kicks that dropped in 2010, we began narrowing down the best of the best and eventually put together what we felt to be a strong representation of the finest footwear to release during the last 365 days. The tentative top 30 choices were then passed along to members of our staff and other sneaker associates to rank from 1 to 30, with the average results eventually going on to become the final order for the official Sneaker News Top 30 Sneakers of 2010 list.
In retrospect, 2010 shaped up to be a year full of diversity with a nice blend of new showstoppers mixed with some tried and true favorites, as well as some notable high-profile collaborations and new takes on some classic designs. With the 25th anniversary of the Air Jordan line being honored in 2010, Jordan Brand showed no signs of letting up on their sneaker culture stranglehold. In addition to the Silver Anniversary collection, JB brought back some favorites like the Cool Grey XI, AJKO and Infrared VI's to help further ignite the celebration, but it was some new colorways like the Doernbecher Air Jordan III Retro and Bin 23 Collection that stole much of the year's attention.
With Jordan Brand holding down the Retro game, Nike Basketball continued to dominate the performance b-ball market thanks to the introduction of the Hyperfuse and strong new signature models designed for LeBron James, Kobe Bryant and Kevin Durant. For those with more of a fondness for the older Nike Basketball catalog, the beloved Air Foamposite One showed up once again, this time in a clever 'Dirty Copper' colorway that hit retailers a few months


before the coveted foam material also found its way onto another Nike B-Ball icon, the legendary Air Force 1 High. The presence of the AF1 Low was also felt courtesy of the '5 Boroughs' pack that dropped alongside the summer's WBF festivities in NYC.
Over in the lifestyle arena, Nike Sportswear's team-up with Dutch dynamic duo Parra and Patta became an overnight sensation while new stunners like the Lunar Woven Chukka and Lunar Macleay made some more subtle statements of their own. The Jeremy Scott x adidas Originals pairing continued to operate and flourish outside of the box while other collaborations like the Burn Rubber x New Balance, Missoni x Converse Chucks and Ronnie Fieg x Asics Gel Lyte III 'Cove' got some love of their own despite some less over-the-top approaches to their respective projects. In addition to the Jeremy Scott line, adidas also made their mark in the lifestyle market with the introduction of the Fortitude Mid and the launch of their sprawling Star Wars capsule.
2010 was a relatively quiet year in the skate shoe world with perennial powerhouse Nike SB seemingly taking a few steps back in terms of creativity. Despite a noticeable dip in must-have SB releases, the edgy 'Skunk' Dunks and latest Supreme collaboration reminded SB fans that the brand definitely still has a few tricks left up their sleeves. And speaking of unexpected surprises, Reebok made a nice comeback this past year with the introduction of their new 'Zig' line and the signing of top NBA Draft pick, John Wall.
Whether Zig technology and some of the other hot topics of 2010 will persevere onward to thrive in the new year is yet to be seen, but it's a fact that there was plenty of tantalizing sneaker news to keep us all busy during the last year. Continue reading to check out the complete Top 30 Sneakers of 2010 feature and see where your own personal favorites ranked on our list. And stay tuned for a new interactive feature coming soon, where you'll be able to throw in your own two cents on the best sneaker releases from 2010.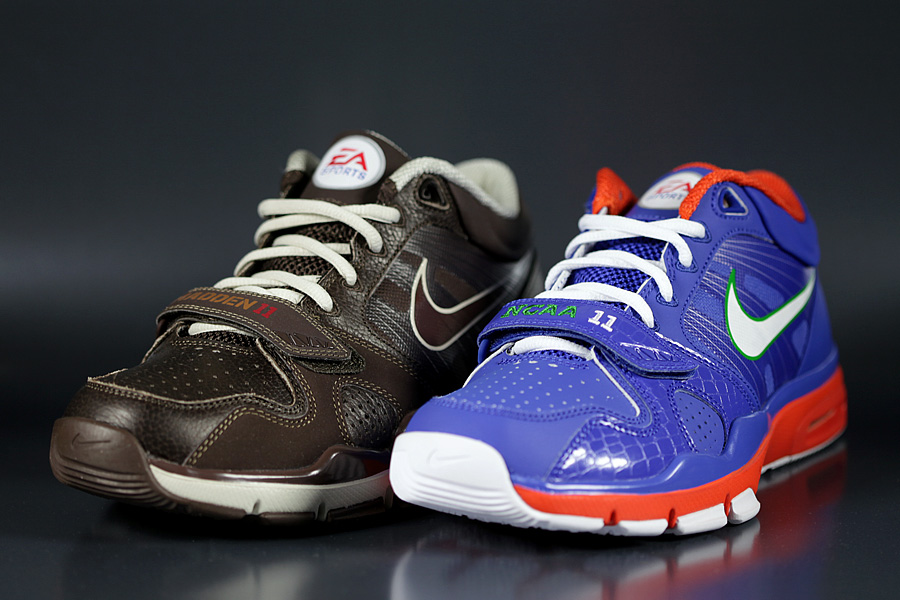 #30 – NIKE TRAINER 1.2


2010 was a crucial year for the Nike Training department in Beaverton, OR. With the rebirth of cross-training, the multi-sport athlete, and the health-conscious public, training was 'in' again, and it was up to Nike to meet the demand. The Nike Trainer 1.2 Mid was a twist on the original Nike Air Trainer 1, beefing up and slimming down the original in the necessary places in an effort to create the best all-purpose athletic training shoe ever to leave the Nike design labs. What stayed? The forefoot stabilizing strap, which offered a lockdown fit as well as a nostalgic detail. What was added? An all-new DiamondFLEX outsole for optimal 360-degree movement, a visible Max Air heel unit, and super-durable Flywire on the upper. But despite an all-new design, the heart and soul of the Air Trainer 1 remained firm and strong, allowing the Trainer 1.2 Mid to be a worthy


successor to the timeless classic. In addition to being great for the gym, the Trainer 1.2 Mid had remarkable street-wear appeal, and that's largely in part due to the great colorways that served as the red carpet introduction for the new sneaker. It began with the Baseball Legends Pack, which paid homage to five Major League Baseball greats such as Bo Jackson, Albert Pujols, and Nolan Ryan, and continued to the realm of football by way of a collaboration with EA Sports and its two major football simulation video games. The Trainer 1.2 Mid also served as the focal point in a distinguished gathering of elite athletes known as 'All For One', which included twelve of the world's greatest athletes in every major professional sport. Nike Training was back for good, and with a star-studded coming-out party, it was hard to miss the Nike Trainer 1.2 Mid in 2010.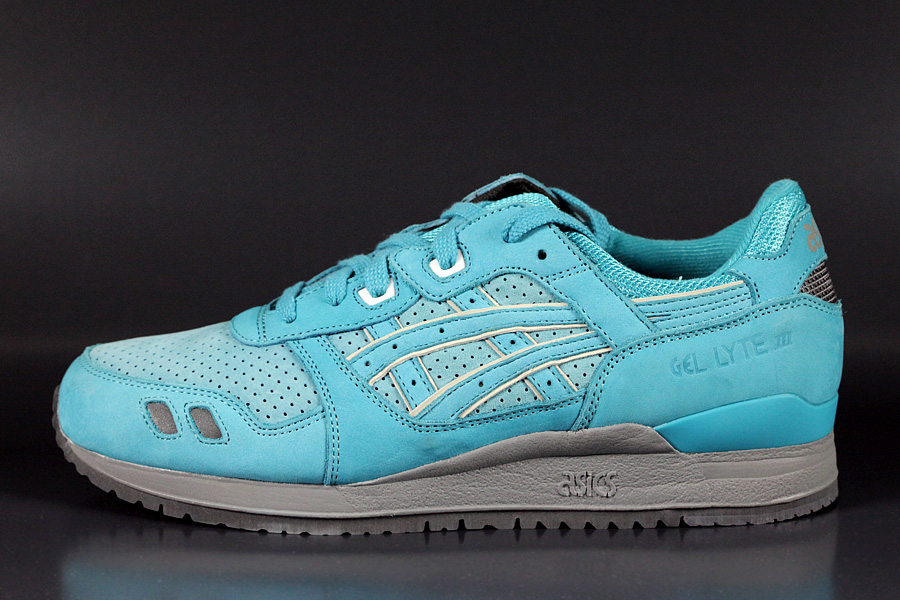 #29 – RONNIE FIEG x ASICS GEL LYTE III 'THE COVE'


For runners around the world, the phrase "Anima Sana in Corpore Sano" serves as a holistic reminder that pounding the pavement in your Gel Kayanos is a direct path to longerm health and happiness. Asics promotes the "Sound Mind in Sound Body" philosophy, and while they rack up sales in the wrestling market plus a few others, the Onitsuka Tiger is no doubt regarded as a 'running' brand.  And aside from their aforementioned flagship performance runner, their reputation is something that has been created through years of excellent releases, of which number 29 in the 2010 Sneaker News Top 30 might be their most familiar. The Asics Gel Lyte III enjoyed


a particularly strong year in 2010, hitting hard with OG retros, inventive new colorups and a variety of interesting collaborations. Nobody has played a bigger role in these team efforts than Ronnie Fieg, and we found no single pair better than his Gel Lyte III 'Cove'. Fieg's Coves were cast in an array of ocean blue tones that offered some deep unspoken satisfaction in having gotten water and suede about as close together on a shoe as a sneakerhead could ever handle. The Coves killed it in executing this concept and that's why they outpaced other notable GLIIIs like Fieg's 'Super Red' or the Slam Jam and Sneaker Freaker collab that also made some noise for Asics' classic Gel Lyte III in 2010.

#28 – NIKE ZOOM KD II


For all intents and purposes, 2010 was Kevin Durant's coming out party. Following a short, but impressive run as a Texas Longhorn, everyone knew how good Durant was supposed to be at the next level, but lost in the relative obscurity of Seattle and Oklahoma City, it's tough to become a household name when those nationally televised games seem to be few and far between. In 2010, KD and his young crew of Thunder running mates made sure that they were impossible to ignore thanks to a trip to the playoffs and, of course, Durant's first NBA scoring title and role as the centerpiece of this past summer's USAB squad. And as KD further rose to NBA superstardom, he brought his second signature Nike shoe with him. With up and coming Nike designer Leo Chang back on board for the second KD model, the new KD shoe broke new boundaries for Durant, Nike and perceptions of what to expect from a $85 performance basketball shoe.


Unlike the premium $125+ Nike Basketball signature models for LeBron and Kobe, the Zoom KD II retailed for under $90, a direct result of Durant's desire for his shoe to be more accessible to the masses and those who want to rock the kicks of an NBA star, but may not have $160 to spend on a pair of shoes. The KD II sports a simple, but sleek look with a midfoot strap and Zoom Air in the midsole, making it a stylish and very functional alternative to the high price tag attached to some other signature b-ball models. And for those still thumbing their noses at a sub-$100 performance shoe, it was obviously good enough for Durant and many of his Oklahoma City teammates, as well as Amar'e Stoudemire, who was seen sporting the KD II for the majority of last season. While the Nike KD line may still not carry the star power of the Kobe and LeBron releases, Durant, along with his shoes, made huge strides in 2010 towards carving a place among the intimidating roster of heavyweight Nike athletes.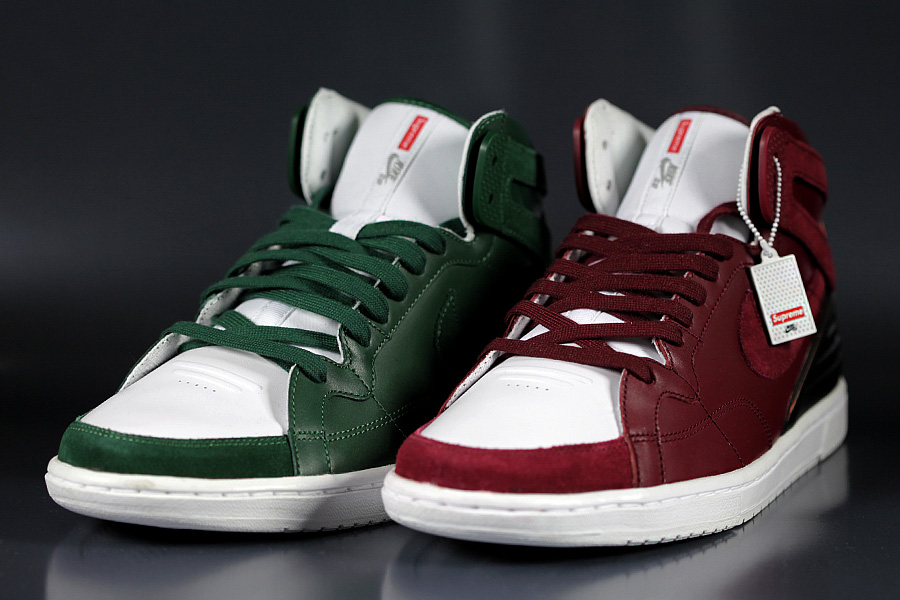 #27 – SUPREME x NIKE SB '94

The riot outside Reed Space when Jeff Staple's Nike SB Dunk Low 'Pigeon' dropped in 2005 is widely considered to be one of the pivotal jump-offs for this current and ever growing wave of sneakerhead culture. No one's arguing the impact of this key release, but one could convincingly argue that without another New York brand's input earlier in the decade, the world wouldn't have been ready for the Pigeons. The Nike SB Dunk Low 'Supreme' ushered in a new era of collaborations and cross-pollination, and the NY-based streetwear giants were able to parlay this success into an ongoing series of team-ups and eventually the SB '94, a rare case where a collaboration project actually yields a brand new never-before-seen model.


The Supreme x Nike SB '94 reaches back into Nike Basketball's vault again, this time adding Nike Foamposite technology for the first time ever on a skateboarding sneaker. This wasn't as easy a cinch as applying the then-rare Elephant print to the beloved Dunk silhouette back in 2002, but this year's SB '94s appeared to be plenty satisfying for the many fans who proved that even a polarizing Supreme collaboration will still be an instant sellout. Will we likely continue to see brands and designers join forces to bring entirely new models to the table as collaborations continue to make up a huge chunk of the most talked about sneaker releases? If so, we might eventually look back to the 27-spot in the 2010 Sneaker News Top 30 to find that the Supreme x Nike SB '94 played a big part in helping to start the trend.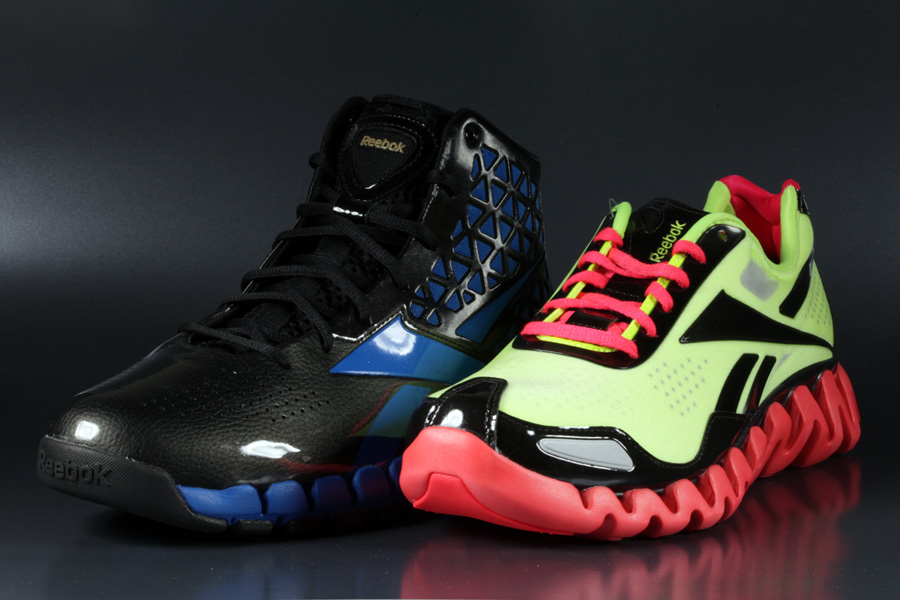 #26 – REEBOK ZIG COLLECTION


Despite numerous attempts at a return to footwear prominence, Reebok ultimately had nothing else to fall back on except for the  Pump, the game-changing comfort-technology that revolutionized and revitalized the brand over two decades ago. True, Pump technology wasn't much more than a brilliant gimmick, but it was a successful one at that. Kids and adults around the world were busy squeezing the air-filled pockets on their shoe tongues, and other footwear brands, including Nike, had no choice but to use the Reebok blueprint of air pump-infused footwear and cash in on the Pump-craze. It's been twenty years since the creation of the original Reebok Pump, and it was finally time for Reebok to let go of its past and move forward to redefine the brand for the 21st Century. You can call Reebok Zig a gimmick, but we'll just call it one of the best comebacks in sneaker history.


A rapid-fire marketing campaign that included NFL superstars like Peyton Manning and Chad Johnson, as well as reality-TV personalities from the Jersey Shore, put Reebok and its all-new Zig Technology back on the map for good. Adding the biggest prize of the 2010 NBA Draft in John Wall to serve as the posterboy for the Reebok Zig Slash, led to impressive sales numbers, worldwide recognition and a regained relevance in the world of running and basketball footwear. Reebok describes its Zig Technology as 'an energy drink for your feet', utilizing its specific zig-zag shaped outsole to return energy to its original source for longer periods of high-level performance. Reebok Zig has no plans of slowing down as Zig technology will be the prominent tech-feature for its upcoming new releases – but whether or not it will challenge the longterm success of the Pump remains to be seen.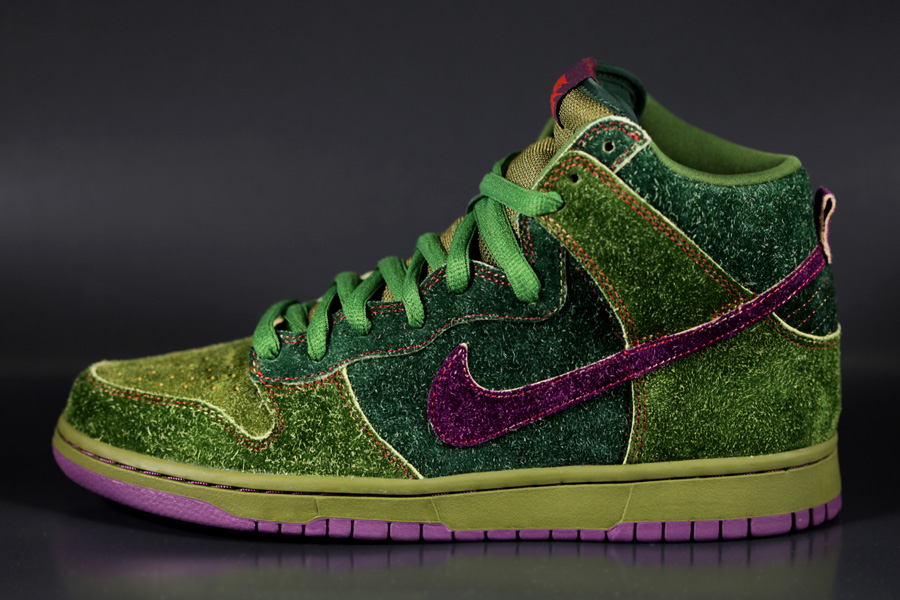 #25 – NIKE SB DUNK HIGH 'SKUNK'

Dedicated sneakerheads have come to expect a monthly issue of pop culture references from Nike SB in the form of Dunk Lows, Mids and/or Highs, but this one crossed over into dicey territory to become perhaps the 'highest' of them all. You could practically mark your calendar by the new SB sneaker releases, but April's Skunk Dunks earned a spot in our Top 30 by offering a sign of the times with its edgy approach, shaggy suede makeup and appropriate 4/20 drop date. Nike has never been shy or known as a particularly conservative brand; 'Just Do It' projects a certain rebellious


aggression, and yet it was still somewhat shocking to see the Nike SB Dunk High 'Skunk' blaze its way onto the 2010 sneaker scene. The nappiest suede SB Dunks we've seen, the Skunk Dunks showed up in stores on the likeliest of days, equipped with a zippered stash pouch in the tongue and some other less than subtle nods to the "skunky" concept. Plenty of wild designs have earned "What were they smoking?!" reactions, but the Nike SB Dunk High Skunks proudly flaunted their unashamed inspiration, making them this year's most highly sought-after Nike SB sneaker, and earning a spot as the number 25 selection in the 2010 Sneaker News Top 30.

#24 – STAR WARS  x ADIDAS ORIGINALS COLLECTION


After several attention-grabbing collaborations with Jeremy Scott and Kazuki Kuraishi, the adidas Originals line is no stranger to taking risks and teaming up with outside sources and "forces", but for last year's Star Wars collection, adidas took on perhaps their most ambitious undertaking yet. It's well known that Star Wars merchandise has been a cash cow for over 30 years now, but translating the well-known and beloved concepts and imagery from "a galaxy far, far away" into attractive, wearable sneakers that picky shoe consumers and Star Wars diehards will actually buy and wear is definitely easier said than done. Despite the odds, one look at the clever promo photos for the first adidas x Star Wars footwear releases with those incredible movie stills as backdrops made it very clear that adidas somehow managed to hit the nail on the head with almost every model in the capsule.


The first wave of releases started hitting retail in the late weeks of December and into the first two months of 2010, with eye-popping specimens like the Yoda ZX 700 Boat Shoe, AT-AT Forum Hi and Stormtrooper Superskate stealing the show early.  If the shoes weren't dope enough, the old-school toy packaging sealed the deal for those who were still on the fence until getting a look in person. Following the initial success of the winter line, another batch of Star Wars-inspired adidas Originals began hitting stores this past summer, featuring standouts like the Death Star Conductor Hi, Boba Fett ZX 800 and Chewbacca Jogging Hi, as well as a sub-collection of athletic-inspired releases. While they might not have been everyone's cup of tea, the Star Wars x adidas team-up definitely turned plenty of heads and made for some nice additions to countless sneaker/Star Wars collections.

#23 – MISSONI x CONVERSE CHUCK TAYLOR ALL-STAR


The Converse Chuck Taylor is the quintessential American sneaker. An inexpensive, yet effective piece of fashion that's become a wardrobe staple for all ages, 'Chucks' have the unique ability to liven up any ensemble and add a sparkle of levity and mirth to even the most mundane of settings. Since the original black-canvas colorway from nearly a century ago, we've witnessed hundreds upon hundreds of different varieties of the Converse Chuck Taylor. But every so often, the Chuck Taylor is reinvented once again, demanding our attention and reminding us not only of its historical significance, but of the simplistic beauty that has transcended athletic footwear into  iconic status. Italian designers Ottavio and Rosita Missoni began their own fashion endeavor in 1953, opening a knitwear workshop in the


basement of their home. The couple gained steam in fashion circles for their trademark patterns on dresses, with their work popping up in fashion shows and magazines, but it wasn't until 1968 when the U.S. took a strong interest in Missoni's eccentricly original style. As they say, "the rest is history"; Missoni was recognized by Converse, not only for their gorgeous pieces of work, but for the heartfelt approach to their craft. The end product of this collaborative project was a new take on the classic Chuck Taylor as envisioned by Missoni, featuring the trademark fabric that pioneered the label to worldwide prominence. There have been countless interpretations of the Converse Chuck Taylor, but when seen through the venerable eyes of an internationally beloved designer like Missoni, it's enough to make the 100-year-old Chuck Taylor feel young and refreshed once again.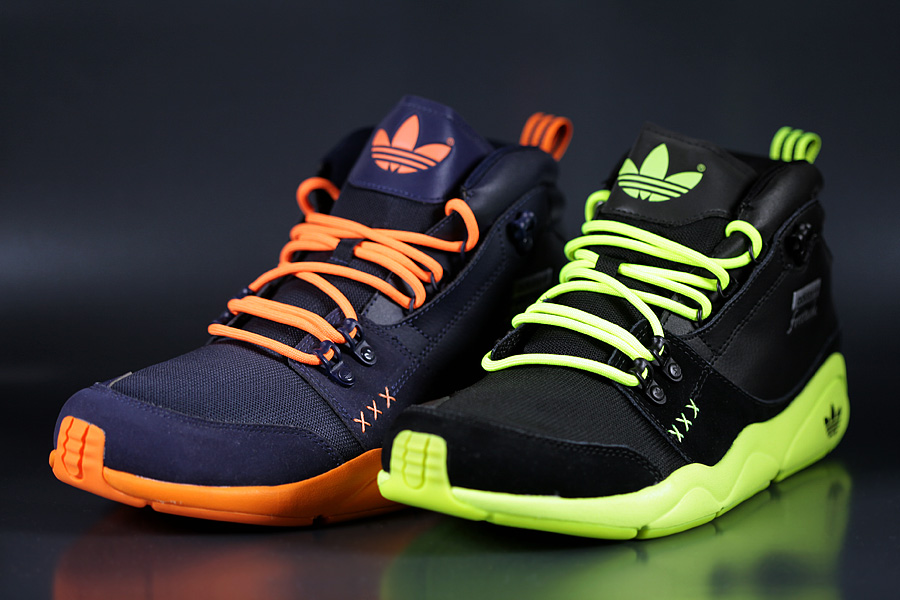 #22 – ADIDAS FORTITUDE


adidas Originals is notable for its wide array of collaborative projects and huge catalog of heritage models, but one of the best new lifestyle models released this year was a true original. The adidas Fortitude Mid came onto the scene early in 2010, with previews building a hum of interest that eventually spiked when the jaw-dropping Friends & Family pack showed up at a few trade shows and then again at Sneaker Con in May of 2010.  Each of these pairs offered a crisp, two-toned design with neon accents to make a subtle yet impactful impression. Additional details like the baseball cross-stitching on the forefoot and the trail-inspired lacing construction paired with classic adidas calling cards like the netting applique from the ZX series and the perforated three-stripes on the upper sent a message loud and clear for all to hear: adidas was always on its game – you just


may not have been looking. More than what the Fortitude means to the general public, is what it signifies to the brand. As mentioned before, adidas has lived on with its never-say-die heritage models like the Superstar and Stan Smith, but the adidas Fortitude opened up new doors for the Three-Stripes as it was the first all-new design after a considerably long stretch of quietude that made noise in the relatively fastidious world of the sneaker sub-culture. The Fortitude lived up to its namesake by standing toe to toe against releases that were surrounded by more hype and higher pricetags, but this eighty-eight dollar shoe was worth more than its reasonable pricepoint may indicate. Still nearly a year after its release, the Fortitude hasn't gone beyond that 'cult' status, and it may never surpass that rank, but that doesn't deny its place as one of the freshest sleepers of the year.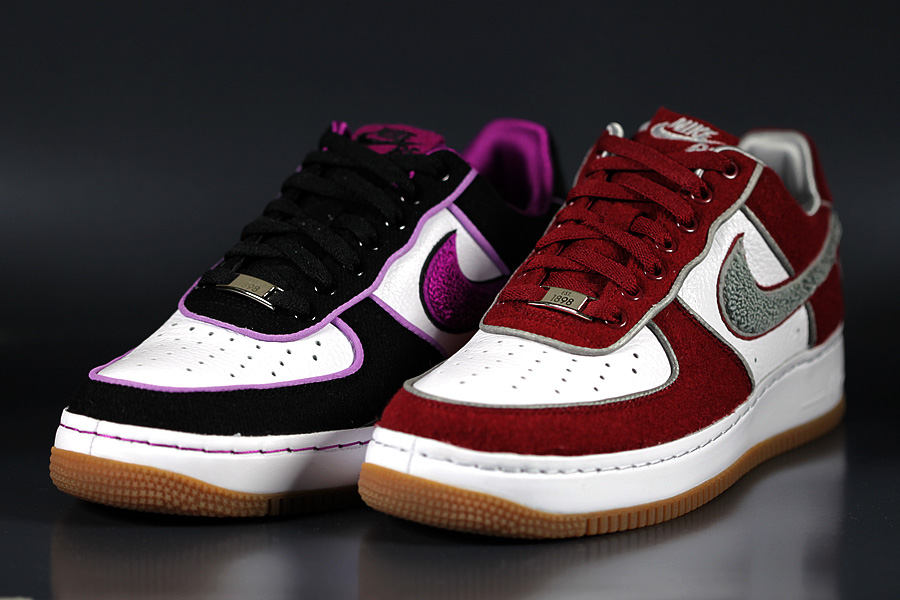 #21 – NIKE AIR FORCE 1 '5 BOROUGHS PACK'


Within the world of sneakers, there are certain combinations that just go hand in hand like peanut butter and jelly. One of those undeniable connections is the one between New York City and the Nike Air Force 1. Affectionately known by many as "Uptowns," the Air Force 1 became the ultimate street shoe back in the 80's thanks to the undying support and devotion of the stylish Harlem individuals that were unknowingly setting a trend that would persevere for three decades. Air Force 1 love spread through the other boroughs of New York and before long, it was well known that NYC was an AF1 town. So when the massive World Basketball Festival rolled into New York this August, it made perfect sense to do a collection of sneakers celebrating the bond between New York City and the Air Force 1,


two longstanding basketball institutions. With some help from diehard New Yorker and AF1 aficionado, DJ Clark Kent, Nike created the '5 Boroughs Pack,' featuring a special Supreme edition of the Air Force 1 for each of New York City's five components. Each pair featured a varsity look with a combination of wool and tumbled leather on the uppers with 3M piping and chenille Swooshes and a special logo for each borough embroidered on the heel. Every colorway sold out with the quickness, with the Staten Island edition proving to be the toughest to get your hands on, and in retrospect, this collection made one thing perfectly obvious – Despite the Air Force 1's perceived recent dip in popularity, the 5 Boroughs Pack made it abundantly clear that if Nike puts out fresh new versions of the still-revered icon, the AF1 heads will always come out of the woodwork to cop them.

#20 – NIKE 'VINTAGE BOX' TRAINER 1


In what appears to be a long overdue no-brainer, Nike/Jordan will finally bring back the "Cement" box for January's Air Jordan III Retro release, but when will we see the return of the classic orange/grey-striped Nike box? The answer is who knows, but a few months back, Nike quenched the thirst of some with a nice alternative to the resurrection of the iconic shoe box that housed so many legendary Nike releases back in the 80's and early 90's. In mid-April, pics popped up seemingly out of nowhere of a special edition of the Nike Trainer 1, decked out in an all orange upper with a grey striped midsole, creating a sneaker replica of the adored classic Nike box. Early images showed the 'Vintage Box' Trainer 1 alongside the original orange/grey box, leading many to believe that the shoe would be released in what just might be the freshest cardboard box


ever created. The 'Vintage Box' Trainer 1 hit NikeStore a few days after the first pics were leaked and 3-5 business days later when the packages began arriving, there were nothing but generic present-day orange Nike boxes inside, much to the disappointment of those who might have made the purchase more for the box than the shoes. After getting over the initial letdown, a better look at the shoe inside may have calmed down some, as the combination of tonal orange materials came together nicely on the upper, including sections of 3M and a set of grey striped laces to put the concept over the top. While the Vintage Box Trainer 1 may not have completely set the sneaker game on fire, it was a very pleasant surprise to veteran Nike-heads and stands as a creatively executed nod to Nike history and nostalgia, establishing itself as a clear standout among the last year's batch of sneaker releases.

#19 – JEREMY SCOTT x ADIDAS ORIGINALS JS WINGS 2.0


Kazuki Kuarishi's designs are always both familiar and yet brand new, David Beckham and James Bond have mastered the sporty lifestyle look and adidas Originals in-house designs are stronger than ever, but has any recent Three Stripes project stood out more than Jeremy Scott's Originals by Originals capsule? Jeremy Scott is simply not afraid to run headlong in the opposite direction of most dominant trends, and his early work was supremely colorful, with its roots in golden era hip-hop and African tribal aesthetics. Ironic, then, that many of the best Jeremy Scott x adidas Originals JS Wings 2.0s released this year were offered in super-simple colorways that offset their zany silhouette, with the grey marble edition emerging as the


standout of the first wave of 2.0 releases. The second generation of the J.Scott Wings provided a more literal take on Mercury's famed winged boot, further polarized the sneaker buying community and offered the possibility for wild future alterations like next year's upcoming Fire model. Do you love Jeremy Scott's adidas or hate them? Chances are that the answer is a simple choice, as most sneakerheads seem to be firmly planted on one side of that fence or the other, but no matter what your feelings on the JS Wings issue may be, there's no denying that the Jeremy Scott x adidas collection always pushes the limits, continually producing some of the most boldly original sneaker designs ever seen.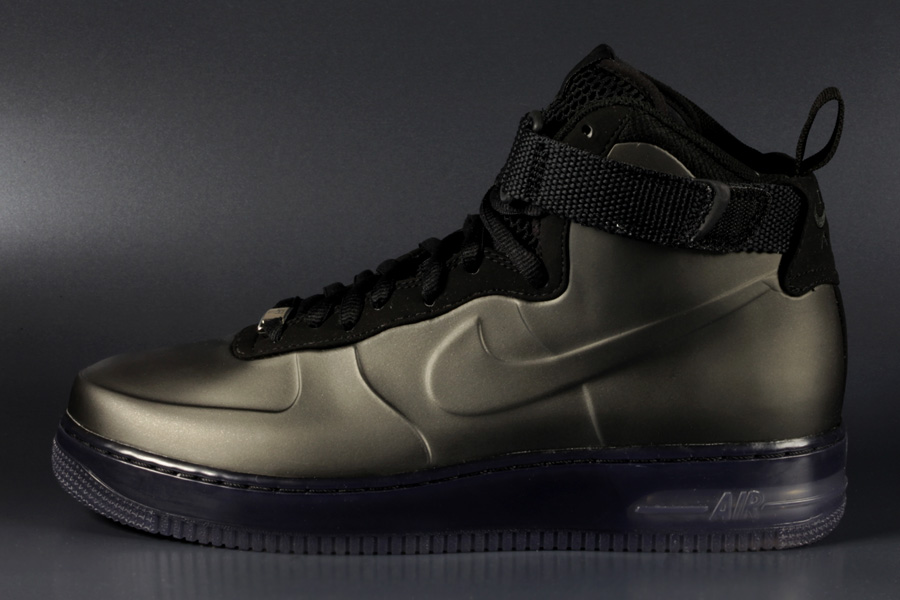 #18 – NIKE AIR FORCE 1 FOAMPOSITE


The Nike Air Force 1 and Air Foamposite One are influential footwear designs that represent their respective eras in Nike Basketball history. The Air Force 1 was met with an incredibly high demand for its off-the-court appeal, deeming it the first ever 'hyped' sneaker in Nike's history. It was the 'must-have' shoe of the time, and its popularity spread like wildfire in the Northeast. Over ten years later, the Air Foamposite One was introduced; it defied architectural norms and insisted on the spotlight wherever it went; it certainly caught the attention of an NBA superstar, creating a signature sneaker that grew larger than the player itself. With the current hybrid trend still looming, it was only a matter of time before these two unbreakable pillars of Nike Basketball came together in unison. News of this latest mash-up was treated like a naturally occuring phenomenon; it didn't surprise many, but fathoming the reality of it was a different story.


What makes the Nike Air Force 1 Foamposite one of the best stories of 2010 is that it managed to stay on stealth-mode almost right up until its release. In an age where no sneaker secret goes by unrevealed, the Air Force 1 Foamposite was kept under wraps until Nike itself teased the public, using cryptic Twitter messages like "We keep hearing this is the year of Foamposite. In a few days, we'll share something the world hasn't felt before", inciting a massive discussion, debate, and guessing game on sneaker sites around the globe. It was like 1983 all over again, when 'hype' was based on word of mouth and folktale-like stories, and not galleries of detailed preview images. The end result was met with a mixed reception; embraced by some for it's progressive approach and classic appeal, but to others, it was yet another unnecessary blend of two legendary shoes whose paths should have maybe never met.

#17 – NIKE ZOOM HUARACHE TR MID


At this point, it's nothing new to see Nike take one of their classic models and redesign it with a futuristic makeover and all the latest in performance innovations. Sometimes the result of these ventures turn out to be decent new designs, but more times than not, they miss the mark badly and leave us scratching our heads thinking 'Why mess with a classic?'  The 'if it ain't broke, don't fix it' argument is a common debate in sneaker circles these days, with many purists becoming more and more disgruntled as one Nike icon after another gets "tainted" by some form of update or hybridization. But as we all know, Nike is all about progress and pushing limits, so as much as many of us would like to see the classics left alone, the folks in Beaverton are not afraid to roll the dice sometimes and hope for some open minds. With some of these revamped releases, it takes more than an open mind to actually crack open your wallet to purchase a pair, but every once in a while, a modern-day facelift


turns out to be a stroke of genius. Call it blasphemy if you like, but the Zoom Huarache TR Mid might actually be one of the rare cases where an updated design is a considerable improvement over the shoe it was inspired by. The original Air Trainer Huarache was never the most popular installment of Nike's original Huarache line-up, but the shoe definitely enjoyed a loyal following throughout the years. The 2010 redux featured a similar aesthetic to the original, but employed some nice improvements like a lighter frame, breathable Torch sock-liner and super-cushy Zoom Air sole, making it a triumphant return to the former can't-miss union of Nike form and function. Aside from the great look and feel of the new improved Huarache TR, great colorways like the Superhero Pack and NCAA Pro-Combat collection gave the shoe some additional firepower on its way to staking its claim as not only one of the all-time great sneaker revamps, but flat-out one of the best new Nike models seen in recent years.

#16 – BURN RUBBER x NEW BALANCE MT580


For those of you licking your chops for New Balance MT580s, 2010 was the perfect year to fatten your stomach. Say 'Happy 10th Birthday' to the trail-inspired New Balance classic, because in 2010, the MT580 turned the big one-zero, and that meant a ton of fun colorways and collaborations – and even one of the dopest insoles we've ever seen on a sneaker. 2010 was indeed a great year for the MT580, but it was increasingly difficult to pick just one from the bunch, simply because among the sea of 'good' releases, there wasn't really any particular one to stick out as 'great'. The window was closing for the MT580, and as we inched closer and closer toward the end of the year, the MT580 looked like a lock for the dreaded 'honorable mentions', that is, until, Burn Rubber of Detroit


decided to take matters into their own hands. One could compare the Burn Rubber x New Balance MT580 to one of those movies that release just in time to make the cut for the coming Oscars; it came seemingly out of nowhere, with no buzz, previews, or general notice, which, in essence, is what made Burn Rubber's design so much more irresistible. It was a complete blindsided hit; with shoulders down, driven through the hips – a 100% clean stop-you-in-your-tracks colorway that combined supple suede, mesh, 3M, a gum outsole, and an argyle inner-lining, insole, and shoelaces. Certainly one of the hottest commodities at the moment, the Burn Rubber x New Balance collab was the perfect last hurrah in this milestone year for the MT580, and like any 10-year-old opening their birthday presents, the best was definitely saved for last.

#15 – NIKE ACG LUNAR MACLEAY


Despite a warm reception from sneakerheads when pics of the Nike Lunar Macleay first started to pop up, the trajectory of the shoe has become something of an enigma since then. What's not to like about the Macleay? The shoe sparked hope for a new ACG resurgence and the idea of a rugged, yet lightweight trail shoe sitting on a Lunar sole seems like a winning combination, not to mention, the Macleay looks great as well. Named after Oregon's Macleay Trail, the shoe seemed to be a solid blend of classic Nike design aesthetics and present-day tech features, and as pics of one colorway after another leaked out, the Lunar Macleay had already amassed something of a cult following, hungry to get a chance to cop one or more pair of the intriguing new model. Once images of the all-red China edition showed up, it was a wrap and many sneakerheads had seen all they needed to see to know that the Macleay would be a surefire


must-have once it became available to the public. It was soon revealed that the China version would not be hitting retail in the States, but we were treated to two Tier Zero Macleay releases, one in Bright Cactus and the other in solid Ink purple. Those were all well and good, but where were the rest of those Holiday 2010 colorways that so many people had been waiting for? Multiple colorways of the Macleay were showing up at retailers in Asia, but they were still mysteriously absent from the shelves in the U.S.  Originally slated for a few October releases, it's yet to be seen if some of those killer versions will ever actually arrive at stateside Nike accounts. We can only cross our fingers and hope that Nike gives the shoe a real chance over here, as the Lunar Macleay was hands-down one of the most welcome new additions to the Nike catalog during the last year, even if you can't find yourself a pair in stores.

#14 – NIKE ZOOM HYPERFUSE


Once sneakers turned the corner from utilitarian pieces of equipment to a means of expression and fashion in the mid-80's, many footwear brands emerged and pushed the sport of basketball as a major selling point of its products. What was once an even playing field is now a corner of athletic outfitting absolutely dominated by Nike; for basketball kicks, Nike owns more than 95% of the North American market share, an overwhelming ascendancy to the point where The Swoosh is essentially competing with itself. Infusing the latest technology into basketball sneakers has been Nike's tradition; Max Air, Zoom Air, Tuned Air, Foamposite, and Flywire are just some of the stellar Nike trademarks that have had a hand in raising them to the top of the heap. What else could Nike develop that it hasn't already? In June of 2010, Nike introduced Fuse, an ultra-breathable, weightless, and sturdy material consisting of three featherweight


layers that combine to form Nike's latest technological advancement. The Nike Hyperfuse was the first sneaker to feature this state-of-the-art technology, and within mere months of its introduction, it had become the 'go-to' dependable shoe for a large number of NBA players this season. Combined with Zoom Air and a Phylon midsole, the Nike Zoom Hyperfuse has received leaguewide praise and acclaim and has already arguably secured a place among Nike b-ball's best models ever. With the table now set for Fuse as a constant in the Nike arsenal, the Nike Zoom Hyperfuse is credited for rolling out the red carpet for the next era of Nike Basketball, but the Fuse fun won't stop there; Nike looks to be fully utilizing the versatility of the new technology, as it is also being featured in a considerable portion of Nike's upcoming athletic footwear designs, solidifying Fuse as the next great tech development in Nike's storied history – and the Zoom Hyperfuse as the shoe that started it all.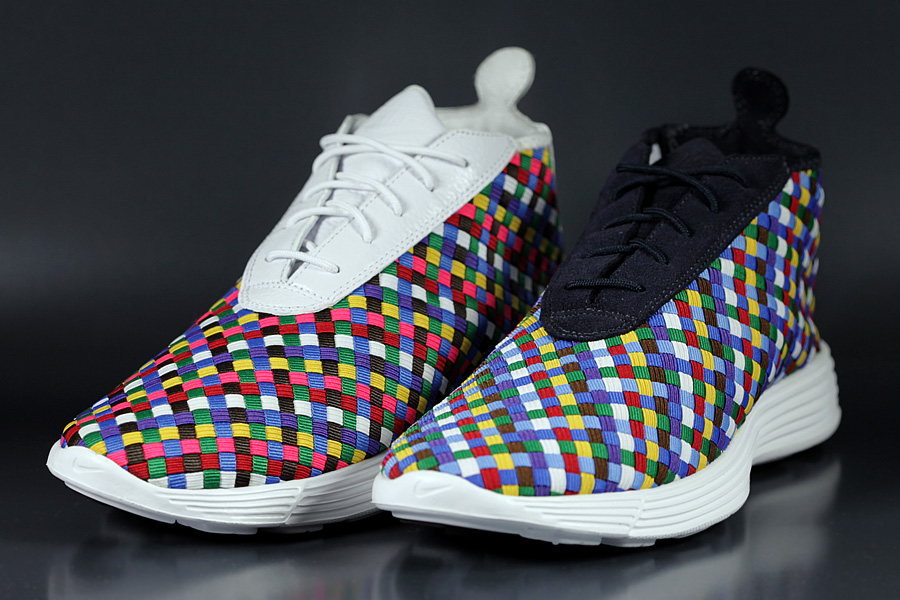 #13 – NIKE LUNAR WOVEN CHUKKA

eBay has become the internet's default sneaker marketplace, its huge volume of users and easy-as-pie interface and payment systems making for the most fruitful source for buying and selling your kicks with other like-minded individuals from around the world. This resale market traces its roots back to when the dot-com bubble was just about to burst, when a number of Asia-Exclusive Nike Air Wovens popped up on the 'Bay and commanded prices into the high three digits. This kind of demand for sneakers was pretty unheard of at the time, and little did we know things would get even crazier a decade later. Since the original Nike Wovens, the distinct design touch has showed up on a variety of releases, each time grabbing the attention of those who fondly reminisced over the Air Woven eBay


madness from years back, but it's been a while since the concept came together as perfectly as it did on the Lunar Woven Chukka. In 2010, Nike Sportswear put Lunar cushioning on everything from updated retro runners to lifestyle sneakers, and the Nike Lunar Woven Chukka fell somewhere in between. This midtop born of the Air Woven lineage featured an insanely lightweight construction thanks to the LunarLite sole, but it was a duo of multicolor releases that had savvy sneakerheads going nuts this summer, remembering the days of yore and enjoying a nice kaleidoscopic sneaker design in a time when most opt for super-simple designs. The Nike Sportswear Six collabo colorways were nothing to scoff at either, giving the Lunar Woven Chukka a rare five-for-five this year and the number 13 spot in our Top 30 Sneakers of 2010.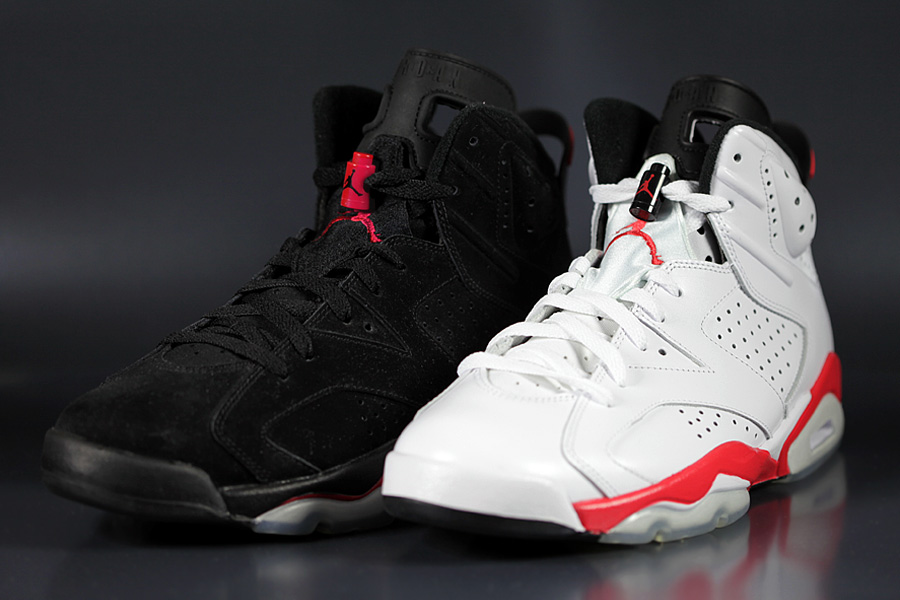 #12 – AIR JORDAN VI 'INFRARED PACK'


It was "a spectacular move by Michael Jordan" that offered a visual metaphor for MJ forcibly taking the baton from Magic Johnson in the 1991 NBA Finals, but Jordan Brand was the one switching directions in mid-air early this year. In one of the more curious moves in recent memory, sneakerheads were treated to a double dose of the sneaker Mike rocked en route to his first NBA Championship when the Air Jordan VI was retroed two times each in both black and white. The saga began in late January when a black AJVI was released with Varsity Red in place of the OG's Infrared shade. This release seemed to put to rest some of the rumors that there would actually be an Infrared Retro release, and when a white/V-Red pair was announced for later in the spring, many sneakerheads were resigned to the fact that once again, JB would be releasing altered versions of a classic. All the while, there were still rumblings of a special double-box pack with the OG Infrareds that would reportedly be hitting Europe


and/or Asia, prompting angry flashbacks to 2009's overseas release of the 'True Blue' Air Jordan IIIs. To the delight/confusion/frustration of many, it was eventually confirmed in early April, that along with the Varsity Reds, both black and white Infrared Air Jordan 6 Retros would be released in the States as part of a special two-pack in time for summer. Reactions were mixed to say the least, with some of the early V-Red purchasers furious that they spent their cash on a modified look when the 'pure' OG colorway was actually going to be released the entire time. Some even went so far as to customize their Varsity Red VIs, swapping for a brighter shade of red on their own terms, and when a sneaker is so desirable that you'd risk a perfectly good pair for such a minor shift, that's the kind of impact that makes the Air Jordan VI Infrared Pack a no-brainer pick for one of the top stories of the year, but we can only help to wonder if the impact of the release would have been more significant had the Varsity Red doppelgangers never jumped the gun.

#11 – NIKE AIR ATTACK PACK


The Nike Air Attack Pack of 2010 was a relentless wave of Nike Air Max releases that included a vast selection of Nike silhouettes from Running, Training, and Basketball. There was no appetite that went unsatisfied simply due to the smorgasbord of options; from the iconic Air Max 1 to the all-new Air Max 24/7, and even Nike Basketball selections new and old like the Air Max Hyperize and Air Total Max Uptempo, there was plenty to go around. Most silhouettes included in the Air Attack pack shared a common motif of color-blocking, going with an all-black upper or even a 3M metallic silver alternative, but perhaps the most memorable and popular colorways of the entire set were the tonal versions that were featured on select models. The Air Max 1 in Football Blue, the Air Maxim 1 in Vivid Pink, and the Air Max 2010 in Volt are just some of the gems that featured this vibrant style of color coordination, and it's no surprise that those particular pairs


caught our attention the most. Was it a gluttonous treat, or a buffet with too wide a selection for its own good? Not since the Nike Powerwall of 2006 had Nike embarked upon such a massive release at one time, but one primary difference between the two, and perhaps the truth that separates one from the other, was the sheer surplus of availability; while the Nike Powerwall releases were extremely limited, there were plenty of Air Attacks to go around, and the argument could be made that the overkill of releases detracted from the buzz and eventual legacy. A considerable portion of the Air Attack releases were somewhat forgettable, and consumers agreed, as many of the sneakers from the pack ended up on clearance and at outlet stores. Despite the excess, there were definitely some certifiable knock-out punches in the Air Attack pack that have the potential to go on to hold classic status moving into the future.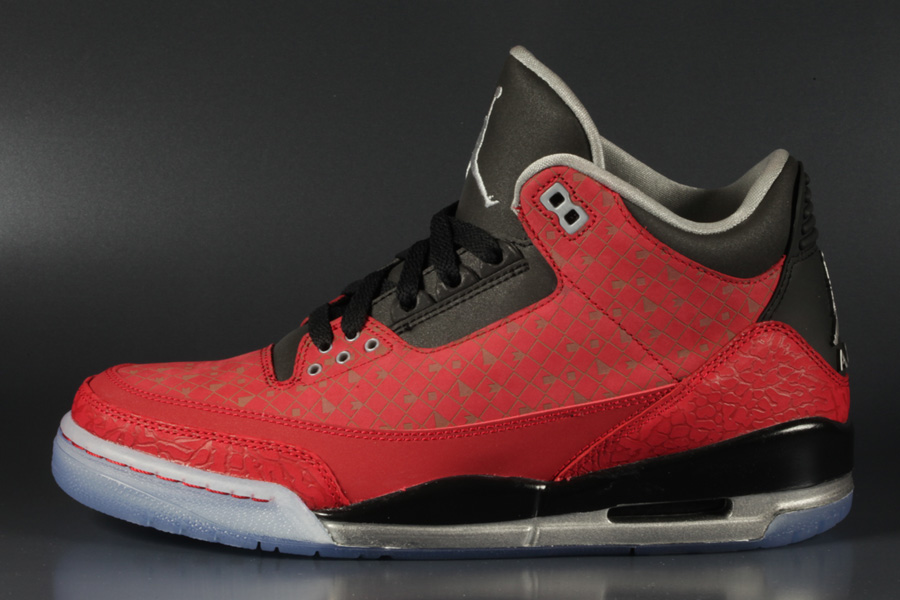 #10 – DOERNBECHER FREESTYLE x AIR JORDAN III RETRO


A growing tradition between Nike/Jordan Brand and the Doernbecher Children's Hospital has produced an impressive collection of Nike and Jordan Brand sneakers with unique graphic designs authored by child patients of the Doernbecher Hospital in Oregon. Known as the Doernbecher Freestyle, this year's assortment included, for the fourth year in a row, an Air Jordan Retro. Later announced to be the Air Jordan III, many were curious of the design, but were certain that it would fall in line with the child-like, playful motif found on the previous Doernbecher x Air Jordan releases. Amidst his courageous battle with Burkitt's Lymphoma, 11 year-old Cole Johanson, a growing athlete and self-proclaimed food-lover, was chosen to produce this year's Doernbecher x Air Jordan release, and he most certainly got off on the right foot by selecting a colorway close to the vest of Michael Jordan's Chicago Bulls legacy. Cole selected an unmistakeable trio of varsity red, black, and metallic silver to serve


as the base, and splashed the upper with numerous personal details that only he could create. The stunning tonal red-on-red elephant print was a definite first for the Air Jordan III, as was the use of 3M-reflective material on the tongue, lace-placket, and mudguard. The upper featured Cole's name in a sublime tiled graphic, the insole an inspirational message of 'Courage' and 'Strength', and behind the heel tabs were two lasered images of Cole's favorite foods – spaghetti and chocolate. The midsole was painted in a lustrous metallic silver, but what may be the best touch of the entire package was the translucent outsole – also a first for the Air Jordan III. So it's quite clear why the Air Jordan III Doernbecher is one of the best sneakers of the year; the new spin on a time-honored colorway, impeccable use of materials, and perfect infusion of new ideas came together to produce what is undoubtedly the best Doernbecher x Air Jordan creation so far. Who knew an 11-year-old kid could have some 'classic' in him?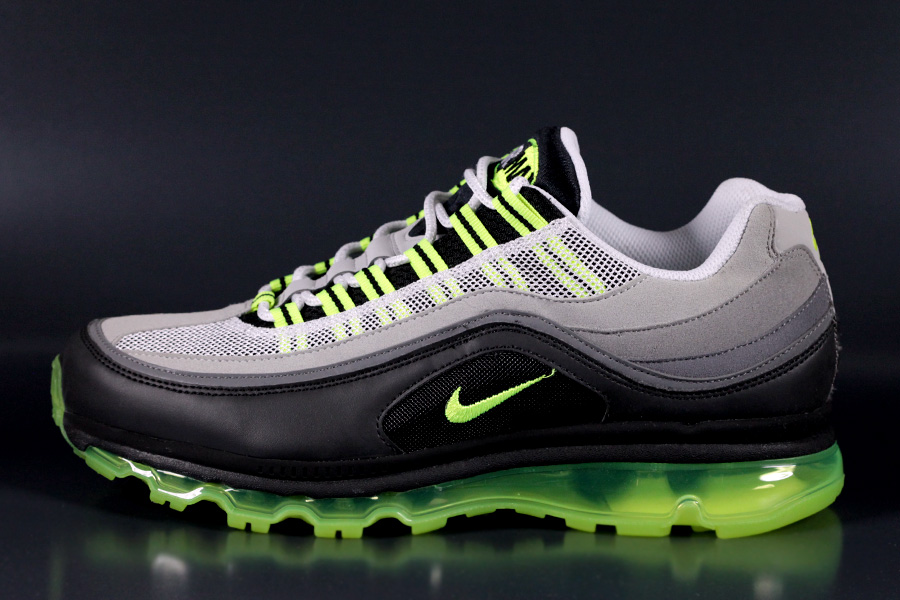 #9 – NIKE AIR MAX 24-7


"All Day, Every Day" is one motto used by sneakerheads worldwide – the lifestyle of not going one day without rocking a pair of sweet kicks regardless of the destination and climate conditions. In comes the Nike Air Max 24/7, a hybrid shoe design comprised of three major Air Max flagship models and a name that suggests these are good to go any time of day. The Air Max 24/7 came in an era during which the Nike scientists tapped their inner Dr. Frankensteins and mixed-and-matched to their hearts desire. Unfortunately, the hybrid era has been a much-maligned period of Nike Sportswear, as many of these multi-organism creations never came to life and were left for dead on store shelves. However, one such creation not only came to life, but reinvigorated the Air Max Legacy with a perfectly-executed design combining the Air Max 95, Air Max 97, and the 360-degree Max Air from the Air Max 2009. The Air Max 24-7 was built durably with solid materials and was more than suitable for athletic use, as


the 360-Air unit provided ample comfort and cushion for your feet. In this case, '24/7′ was as far away from a misnomer as there could possibly be. The 24/7 first debuted as part of the Air Attack Pack and was immediately followed by two colorways inspired by classic Air Max 95's. With a brand new design as gaudy and ambitious as the 24/7 and considering the slow-moving pace of previous hybrids, an argument can be made that the debut colorways of the 24/7 should have been the 'safer' Medium Grey/Volt and Medium Grey/Varsity Red, but Nike was more than confident (and rightly so) to thrust it into the spotlight with five eccentric colorways and materials. Since the original release, the Air Max 24/7 has been spread out with plenty of colorways that fit the particular tastes of the picky Air Max fanatics and toned-down general public, and sooner or later, the Air Max 24/7 became a must-have for consumers across the board. It certainly lived up to its name and deserves its spot as one of the Ten Best of 2010.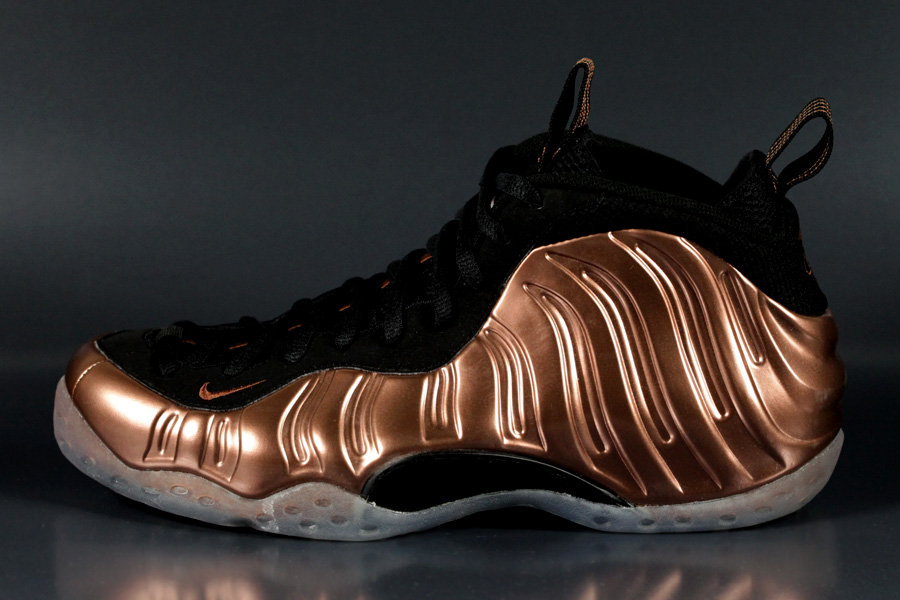 #8 – NIKE AIR FOAMPOSITE ONE 'DIRTY COPPER'


No single man changed the world of athletic footwear more than Michael Jordan, and while he may lack MJ's championship pedigree and world famous icon status, there's no doubt that in retrospect, Anfernee 'Penny' Hardaway actually somehow rivaled Jordan's impact on the sneaker game during a magical stretch of the mid '90s. Jordan's first retirement offered an opportunity for a young swingman, who looked to be the second coming of Magic Johnson, the impeccable timing to launch what came to be one of the more memorable Nike marketing campaigns ever. In fact, Li'l Penny was so popular that the Chris Rock-voiced marionette made a comeback when Nike Sportswear launched the Half Cent hybrid that ranked high in last year's Top 30 list. 2010 saw a further proliferation of


Foamposite and Foam-infused sneakers like the AF1 Foamposite that came in at number 18, but none was more satisfying than this new colorway of the original Penny shoe that was every bit as fitting as its signature Dark Neon Royal look. The 'Dirty Copper' Nike Air Foamposite One offered a satiny manifestation of the Penny nickname, and to no one's surprise, the February release was a quick sellout. But then they were restocked multiple times, and like many limited releases or highly anticipated colorways, this can be met with mixed reactions. Did restocking dilute what was initially one of Q1's most potent drops? While the restocks may have taken a little shine off the Coppers and put a hurting on their resale value, it was clear that they were certainly still a most welcome addition to the Foamposite family and one of the standout sneaker releases of 2010.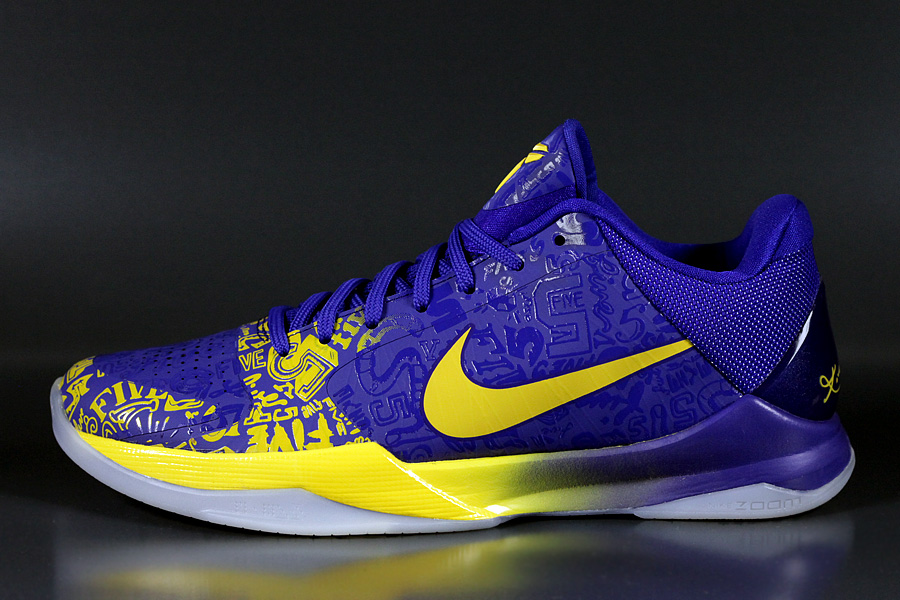 #7 – NIKE ZOOM KOBE V


How could Kobe Bryant possibly improve upon a 2008-09 season that saw the Black Mamba win his fourth NBA championship and forever escape from Shaq's-lil-brother status? Sounds tough to beat, but a fifth chip at the expense of the rival Boston Celtics might do the trick. Even Kobe's kicks got better for the 2009-10 season, of which he played the bulk in the Nike Zoom Kobe V. The ZKV is lighter and lower both on the ankle and to the ground than its predecessor, which ensured that Kobe kept his footing even during a season where an arthritic index finger on his shooting hand led to perhaps the gutsiest title run since the Flu Game. For a season that might go down as his most satisfying victory, it's fitting that Bryant was wearing his best signature sneaker yet. Like the Zoom Kobe IV before it, the ZK5 was launched with an Inline colorway and NIKEiD options that let you not only choose the colorblocking and personalized tags, but added


a variety of textures and patterns for the Flywire-embedded TPU uppers. This made for a ton of possibil-iDs and Nike Basketball was nowhere near gunshy when it came to new Zoom Kobe 5 colorways. We saw everything from Del Sol to Batman to a Game of Death-inspired Bruce Lee edition, not to mention the huge number of NBA players rocking both PE's and their own iD pairs. There have been both Four Rings and Five Rings Zoom Kobe releases; will there be a sixth this year?  The guy whose kicks came in third on this list might have something to say about that, but the Nike Zoom Kobe V was the undisputed champion on the NBA hardwood last year. A sneaker so good that even Nate Robinson probably has a pair or two secretly stashed away, the Nike Zoom Kobe V offered us premium performance in a variety of dope looks en route to an NBA title and strong sales, and that makes it a proud member of 2010's top ten.

#6 – AIR JORDAN 1 AJKO


By now, we've seen just about every significant Air Jordan colorway get a second life (at least) with a Retro release. The Bordeaux Air Jordan VII's will re-release in 2011, marking the last true classic to finally receive its Retro due. But while everybody remembers the Bordeauxs, earlier this year, Jordan Brand brought back another forgotten gem from the arsenal, and this time, it was a shoe that many so-called Jordan experts may have never even known existed. In the midst of a year packed with releases celebrating the 25th anniversary of the Air Jordan line, JB brought back a hidden treasure from 1985, that until the re-release was a shoe that people had heard about and maybe seen pictures of, but very few had actually held an OG pair in their hands any time recently.
The Nike AJKO (Air Jordan Knock Out) was released back in '85 alongside the original Air Jordan 1 as a canvas alternative, making it a rarity at the time among the almost strictly leather counterparts that dominated the basketball sneaker market back in the early and mid-80's. The shoe featured a nearly identical makeup to the standard leather version of the Air Jordan 1, with the major variations being the simplified heel design and "AJKO" replacing "Air Jordan" on the Wings logo that graces the ankle section of the upper. At the time, compared to the monumental game-changing Air Jordan 1, the AJKO edition just became a foot note on the shoe's legacy, with only true collectors and sneaker historians keeping its legend alive through word of mouth and image sharing on the web.


The AJKO's return last March was truly an unexpected, but welcome curveball from Jordan as an extra nod to the 25th anniversary of the Air Jordan legacy and a nice tribute to the golden age of the Jordan signature takeover. For the 2010 Retro version, JB stayed true to the original in just about every way. The only noticeable changes were an expected Jumpman replacing the "Nike Air" tongue label and the addition of a "vintage" treatment on the midsole to give the shoe that "just out of a 25 year old box" look. The vintage sole was not appreciated by a lot of Jordan supporters, but once people started getting their hands on some early pairs, word began to spread on sneaker forums that the yellowed dirty sole was easily cleanable with a variety of commonly found household products.
For those who weren't feeling the vintage touch, a simple wipe-down produced a clean white sole and a crispy new pair of a shoe that some have been waiting over 20 years to cop and others just learned about as a result of the 2010 revival. The old-school heads were rewarded and the new-school heads were educated, and at the end of the day, the AJKO Retro was a resounding success all around. Despite the high ranking on our Top 30 list, the AJKO was a relative sleeper in comparison to some higher profile Air Jordan Retros from 2010 – the type of shoe that might not seem like an auto-cop at first, but a month after they've all disappeared, you kick yourself for not snatching up a pair when you had the opportunity. There's probably a good chance that we won't be seeing these again for a while, so hats off to those who had the good sense to grab their piece of Air Jordan history.

#5 – ASTON MARTIN x KOBE BRYANT x NIKE HYPERDUNK/ZOOM KOBE V PACK

The 2010 Sneaker News Top 30 list is nearly evenly split between sneaker models, packs and specific colorways, but number 5 is the only entry that includes a shoe also featured elsewhere in the list. The Nike Zoom Kobe V was made memorable by more than just Kobe Bryant's fifth NBA championship this year. In fact, perhaps its single best colorway was inspired by events from a summer two years prior.
At the time, Kobe was licking his wounds after a disappointing loss to the hated Boston Celtics in the 2008 NBA Finals, and while preparing to help the Redeem Team recapture Olympic gold in Beijing, he found some time to help Nike Basketball launch the groundbreaking new Hyperdunk model. The McFly colorway operated on a subtler plane, but Nike's viral marketing was most directly seen in a number of Kobe commercials that saw the Black Mamba making some inhuman leaps in the Hyperdunk. The first of these was memorable enough to be parodied in MVPuppet form the following year, a spot where Kobe is seen leaping over a speeding Aston Martin DB9.


The next step seemed to write itself, but the move to team up with a high-end automobile manufacturer for a co-branded sneaker release proved to be an unprecedented notch in The Swoosh's long history of collaborative endeavors. Take that luxury auto's signature look and apply it to a couple of Kobe-associated kicks constructed in premium materials and you've got all the makings of one of the year's best sneaker releases, the Kobe Bryant x Aston Martin Pack. A double-box including both Hyperdunks and Zoom Kobe Vs in silver bullet colorways, complete with lush red leather linings, Aston Martin wings on the tongues and 'I Got This' insoles that echo the viral vid's key line while offering a bit of extra satisfaction to those who were able to secure their set from the super-limited 500 pack run.
One of the best and most natural concepts of the year executed in ultra-premium materials makes the Aston Martin x Kobe Bryant a memorable and groundbreaking Nike collaboration and a worthy addition to the illustrious top five in our Sneaker News Top 30 Sneakers of 2010 feature.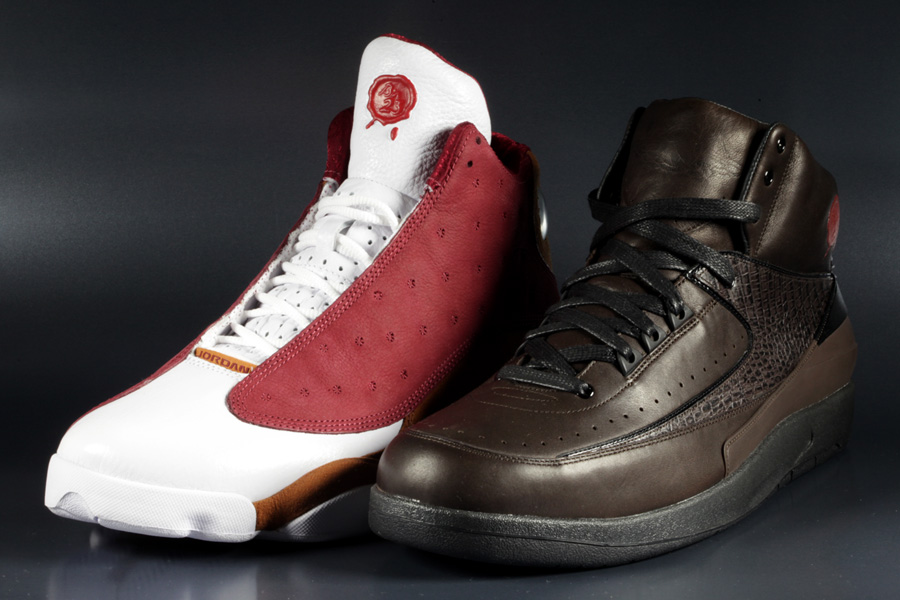 #4 – AIR JORDAN BIN 23 PREMIO COLLECTION


The massive twenty-five-volume-wide Air Jordan catalog serves as one major building block of the sneaker sub-culture. Before hype, there was awe, a desire to 'Be Like Mike' and wear the same sneakers being worn by the basketball god. There was no such thing as a 'limited quantity' for Jordan Brand, and since 1985, the goal of the Brand was not only to produce basketball shoes of unparalled quality and beauty, but to ensure that a pair of Jordans was on the feet of all of the planet's inhabitants. Twenty-five years of excellence brings us to 2010, the silver anniversary of the most storied footwear label in history; 2010 was undoubtedly the biggest year for Jordan Retros in terms of unabridged quantity, but there was still an intangible void that needed to be occupied, despite the countless Retro releases that were made available.
Something had to be done to honor the Legacy in the most appropriate way. In early March, Jordan Brand made arguably its biggest announcement since the 2006 release of the Air Jordan Defining Moments Package. It announced the Bin 23 Collection, a premium collection of the most revered Air Jordans, fit more for the true connoisseur, beginning with the Air Jordan II. Crafted in fine, Italian leather, the Air Jordan II Premio was a tribute to the exquisite


craftsmanship and refined style of the original Air Jordan II. Two of the Bin 23 trademarks were also revealed; a red wax stamp, placed on the upper in a deliberate manner, and a tag designating the specific number of the limited edition run. The Air Jordan II was followed by the Air Jordan IX, which featured a white and metallic gold upper, the Air Jordan XIII in premium suede and leather in earthy tones, and the Air Jordan VII, which brought to life the original inspiration of the design. So how did Jordan Brand reinvent these classics while appealing to the black/red/white purists? Each hand-selected colorway was the resurrection of an original idea that never made it to production – ideas thrown into a metaphorical 'bin' for later use.
It was an honest throwback to the past, erasing any 'What Ifs' and allowing the loyal followers a chance to enjoy the premium label of basketball sneakers in the most elegant way possible. So far, only 6,221 total pairs of Air Jordan Premios have been released to the public, marking these releases as the most limited Jordan varieties ever created, and for 2011, the Bin 23 Collection will continue on with more Premio colorways and releases. In retrospect, the Bin 23 Collection wasn't exactly a reinvention, but a message to the public that Jordan Brand was, is, and always will be the premium footwear label.

#3 – NIKE LEBRON 8 'SOUTH BEACH/PRE-HEAT'


LeBron James's decision to take his talents to South Beach last summer instantly created one of the most monumental shake-ups in the history of professional sports. Over the one-hour span of that now infamous ESPN press conference, LeBron went from the untouchable golden boy, carrying the flag of both the NBA and Nike, to a villainous mercenary in the eyes of many of the stunned fans who watched in disbelief that July night. The basketball ramifications were pretty obvious, but what would the backlash of LeBron's decision be in the sneaker realm? The Nike LeBron line had just hit new heights of popularity with the Air Max LeBron VII and the debut of Jason Petrie at the design helm, but the Miami decision posed a serious threat to the success of this season's new signature shoe. Would a slick design and improved performance capabilities be enough to win back the sneaker consumers who's feelings towards King James may have soured as a result of the widely unpopular Miami decision?
Much to the relief of Nike, initial feedback to the LeBron 8 was pretty positive. The LeBron VII had set the bar pretty high, so expectations for the follow-up were sky high. The LeBron 8 didn't necessarily blow people away at first sight, but as more pics began to show up, the shoe was definitely starting to generate some buzz. However, it wasn't until images of a special Miami-inspired version of the shoe emerged, that LeBron's signature Nike model once again became the latest must-have sneaker target. Rather than shy away from the controversial LeBron-to-Miami situation, Nike chose to embrace it by going full steam ahead with the limited release of a special 'South Beach' LeBron 8 colorway that clearly made no apologies for proudly repping an exciting new city.


The shoe featured a crazy Miami Vice-inspired color scheme with a predominantly teal upper contrasted by touches of black and set ablaze by some choice touches of vibrant pink, including a second set of pink laces. Overnight, the LeBron 8 colorway first dubbed as the "Pre-Heats" had become the talk of the sneaker world, and all of a sudden, everyone forgot about their beefs with LeBron and turned their focus back to the shoes. Rumors quickly spread regarding availability, eventually leading to a limited Miami release in mid-October, where, as expected, the shoes were gobbled up in the blink of an eye. For those outside the South Beach area who hadn't already spent a grip for a pair on eBay, a November release followed at NikeStore, House of Hoops and a few other select spots, and just like the first time, the entire limited run disappeared in a matter of moments.
The limited release of a widely desired shoe was already enough to make the South Beach/Pre-Heat edition of the Nike LeBron 8 a huge hit and an instant classic, but looking at the bigger picture, its significance will eventually be even greater than we may realize. It's not often that a sneaker release so effectively captures a moment in time, but when we look back ten years from now, the South Beach LeBron 8 may just be the most poignant and tangible artifact we have to embody one of the most controversial address changes in sports/pop-culture history. Crazy colorways and special editions come and go, but the Pre-Heats will always a firm grasp on their place in sneaker history and be forever linked to LeBron's earth-shaking decision to leave his Cleveland home for championship glory in Miami. We'll have to wait to see if King James gets his rings, but from a sneaker perspective, the electricity supplied by the South Beach colorway may just have saved the LeBron 8 by reminding everyone that the pursuit of hot sneakers almost always comes before any personal grudges we may have against an athlete.

#2 – AIR JORDAN XI RETRO 'COOL GREY'

2010 was an incredible year for Jordan Brand and the Air Jordan Retro collection. One could have started a Jordan Collection this year and finished with a pretty deep spread at December's end, and in terms of Legacy-inspired Retro releases, there was, on average, more than one pair up for grabs per week. The month of December in particular featured four great Retro releases that some would rank one-through-four in a list of Best Jordans of the Year – and two of them just so happened to crack the Top 10 in a list of our own. You might think it would be somewhat difficult to pick one from the bunch, but this particular sneaker solidified its spot the very second its release was confirmed.
The Air Jordan XI is considered not only to be one of the most beloved Air Jordans ever, but near the top in all-time greatest footwear designs in history. Like last year's Air Jordan XI 'Space Jam', the Cool Grey XI was the absolute must-have of not only the month, not only the Holiday season, but of the entire year, and its release was treated like a star-studded, half-billion dollar budgeted blockbuster film. It was 2010's 'Avatar' of sneakers; everyone went out to buy a pair regardless of whether one was a diehard fan of the Jordan Brand genre or not, and it was hard not to like the product.


There have been gripes about the price, the somewhat superfluous packaging, and even the tint of the translucent sole, but the Cool Grey XI was an instant sell-out and a gargantuan hit regardless of the criticisms. The Air Jordan XI Cool Grey first released in March of 2001 with a $125 price-tag. Even then, the excitement around the super-clean colorway was measurably high, which tickled the curiousity of a TLC-network program called 'Buy-ology'. One particular episode featured the Air Jordan XI 'Cool Grey' and its surrounding hype, as the program filmed the release of the shoe at NikeTown in Chicago, IL, taking down notes from Jordan fans whose comments contained a clairvoyance not realized at the time. They called Michael Jordan 'an icon' and the shoe 'a relic', a sentiment that still holds true nearly a decade later.
And based on the world-wide desire for the shoe, willingness to pay nearly double the retail price to get a pair early, and purging of stock-rooms on the release day, the passion and excitement that encircles Michael Jordan and his brand has clearly grown exponentially over that time. The Jordan Retro allows sneakerheads to re-live the past, and on December 23rd, the Cool Grey XI made a triumphant return, satiating the appetites of those who had been anxiously waiting for a pair and easily making it a lock as one of the upper echelon sneaker releases of the year.

#1 – PARRA x PATTA x NIKE AIR MAX 1


Call it a hypebeast pick if you want, but we call it a perfect storm. Sometimes, all the necessary elements fall into place just right and an instant legend is born. In the case of the collaboration between Nike Sportswear, Dutch artist, Parra and Amsterdam sneaker shop, Patta, all the stars were aligned to make this past March's Air Max 1 team-up one of the most infamous recipes in sneaker history and our number 1 shoe of 2010. Start with Parra – one of the hottest contemporary artists around, as well as a veteran sneaker collaborator. Then, add the Patta crew – heavyweights of the Euro sneaker scene and owners of a relatively flawless history of fire Nike collaborations. With those two in place, let's throw the classic Air Max 1 into the bowl as the canvas and stir it all up, cook the batter and then make the deliciousness crazy hard to get your hands on. What wound up coming out of the oven quickly became one of the most ravenously sought-after releases in recent memory.
When a few quick flashes of the Parra x Patta Air Max 1 appeared in a Patta interview video last November, screen shots of the mysterious shoe quickly began showing up on every sneaker-related blog on the web, making the collaboration the talk of the sneaker community in no time flat. Patta has a killer track record with Air Max 1 collabs, so another version was regarded as a very welcome addition to say the least. Before any of the hype, all it took was a quick sneak peek of that colorway and the shoe was instantly on every sneakerhead's radar. At first glance, the shoe fell right into that "amazing Air Max 1 colorways that we've always wanted to see, but didn't know it" category, but as we began to get some better looks at the shoe, it became very evident that there was a lot more going on within the intriguing new design than many people may have even thought.

The Parra x Patta Air Max 1 is rare example of simplicity and complexity living together in harmony. At face value, the shoe is a tonal burgundy upper sitting on a white midsole, but a closer look reveals some more involved stylish touches. The upper features a combination of Cherrywood Red suede and mesh, with a matching tonal chenille Swoosh on the lateral side of the shoe and a Baltic Blue counterpart on the medial side. A matching blue chenille tongue label and medial ankle eyelets added a nice contrast to the deep red base, but the design team wasn't done there, as additional splashes of Del Sol and a lighter red on the heel logo and outsole provided further pop to the otherwise simple color palette. The design and colors are distinctively Parra, proving that no matter who he may be collaborating with, the artist can keep coming up with fresh original designs without sacrificing his artistic identity and trademark aesthetic.
By the time the widely coveted release hit retail at Patta's shop in March, people were eagerly ready and waiting. With quantities reported to be extremely limited, no one was about to let this one slip through their fingers. As expected, Patta's stock was cleared out in record time, leaving everyone wondering 'When will these be hitting the States?' The next week, they showed up in NYC at 21 Mercer, leaving those who got the news with week-long perma-smiles and those who missed the memo with their heads in their hands and a major sneaker void that would prove ridiculously pricy to fill. Lucky customers who purchased a pair at Mercer were reportedly being offered $500+ above retail for the shoes on the spot as they walked out of the store and down the street. The shoe immediately started hitting eBay and Flight Club for around $700, and from there, resale prices continued to rise until they began hitting four figures, in the process, helping to secure the Patta/Parra/Nike partnership's spot as a certified grail on par with some of the most revered limited edition releases in the long-heralded Nike pantheon.
You've checked out the Sneaker News Top 30 Sneakers of 2010, go create you own list of the Top 10 Sneakers of 2010 top10.sneakernews.com/2010top10