265867
Nike LunarGlide+ 3 'City Series' Pack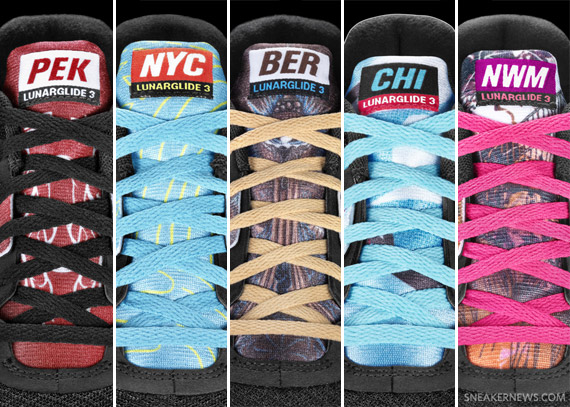 Nike has been bringing quickstrike packs to their runners for a minute now, earlier this year we saw the both theFree Run+ 2 and the Nike LunarGlide+ 2 get City Packs. Looking for the hat trick, Nike is going in again with a collection based on metropolitan centers. We already gave you previews of both the NYC and Berlin versions of the Nike LunarGlide 3 and we're back now with a detailed look at the whole capsule. This one leans a little US heavy with 3 out of the 5 cities represented being American. Hit the jump for full images of each of the sneakers include in the City Pack as well as background info on the collaborating artists. Keep your eyes out for these at Nike retailers near you.

Nike Lunarglide+ 3 City Pack – Beijing by Nod Young
Nod Young is an artist and designer from Beijing, China. His work has been seen in over 10 countries including the U.S, the U.K, Spain, Germany, and China. Young specializes in merging Chinese culture and visual elements from the Orient into his modern art work. This localization of artistic expression and creative attitude is particularly prominent and rare in the "era of globalization". Two years ago, Nod shut down his creative team after 8 years of operation to devote his time and energy into creating art independently. This is when Nike approached Nod allowing him to apply his pure expression of culture into commercial product concepts.
—
Nike Lunarglide+ 3 City Pack – Berlin by Mike Friedrich
Describing his style as "death to cuteness," Mike Friedrich's work mixes strong contrasts with fantasy and urban elements. His career as an artist began when he sold some of his first illustrations to tattoo studios in his hometown of Berlin. Occasionally seen running in one of the city's local parks, he credits the sport with helping clear his mind and sparking new ideas, like the freaky funky artwork he created for the city pack.
—
Nike Lunarglide+ 3 City Pack – Chicago by Tara D.
Tara D. spends her days diligently dreaming and her nights cleverly crafting. The hard-working City of Chicago provides her artwork with a beautiful balancing act of bold humor and simple positivity. Her city pack design borrows its inspiration from old signage buried throughout the city and the peacefulness of Chicago's greatest escape, the Lakeshore.
Nike Lunarglide+ 3 City Pack – New York City by Mike Perry
Artist Mike Perry began his career as a designer for a major fashion retailer before focusing all of his attention on colors and mechanical pencils. He currently spends his days and nights in a studio in Brooklyn, a city he loves for its energy, chaos, and the way people coexist so closely it feels more like a small town than a big city. This idea–of all sizes, shapes, and speeds running together–formed the inspiration for his city pack work.

—

Nike Lunarglide+ 3 City Pack – San Francisco Women Marathon by Hannah Stouffer
Shadowy, ethereal themes like love, lust, and gore define Hannah Stouffer's intricate designs. An avid runner, Stouffer finds balance from her journeys along San Francisco's shoreline, diverse neighborhoods, and steep hills. Her work for the city pack was inspired by urban symbolism found in the city and the deep emotional release running provides.