337005
Classics Revisited: Nike Air Max 95 "Olympic" (2004)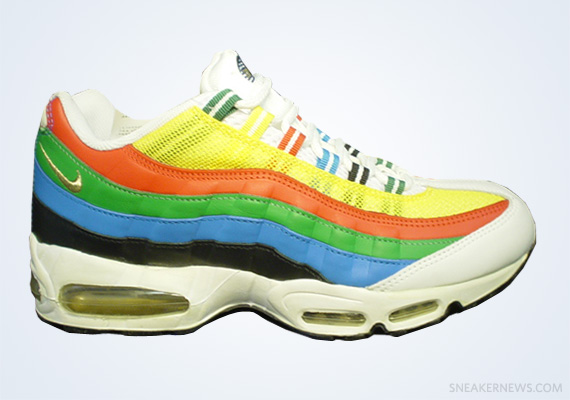 As the collaboration approach to sneaker releases exploded in the early part of the last decade, the various silos within the Nike Air Max heritage were consistently among the most selected as far as team-up projects. Take a look back through our other selections for the Classics Revisited Nike Air Max 95 models, or any of the Nike Air Max 1's and 90's also featured in the space previously, and you'll realize that bubble bottom sneakers where very much where it was at if you wanted to create a minimally produced masterpiece with the likes of Swoosh. And with all the hullabaloo surrounding those Tier Zero releases the in-house team out in Beaverton had their work cut out for them, forced to compete with the crazy ideas being brought to the table by the likes of DQM, Stash, and Dave White just to name a few.
How did they do? Take a look at this 2004 release and be the judge for yourself. The pair arrived right in time for the four year Olympic cycle with a rainbow of colors striping the upper to situate itself in the festivities. And unlike the host of Olympic styled models making their way to retail in 2012, this Nike Air Max 95 was a bit more worldly in its aim, opting for the five rings color scheme rather than something borrowed from Old Glory. Of course there was a bit of distinctly USA flavor, with the Air Max tongue badge boasting a simplified American flag design in the background. Continue reading for a better look at the Nike Air Max 95 'Olympic', a leather gem from nearly a decade ago that made its presence known amongst the fierce competition of collabs running the scene at the time. Let us know if you've got a pair in your rotation in the comments below and keep it here as we roll out the rest of Nike Air Max 95 week on Classics Revisted.
Nike Air Max 95 'Olympic'
White/Metallic Gold-Chili Red-Photo Blue
307272-172
2004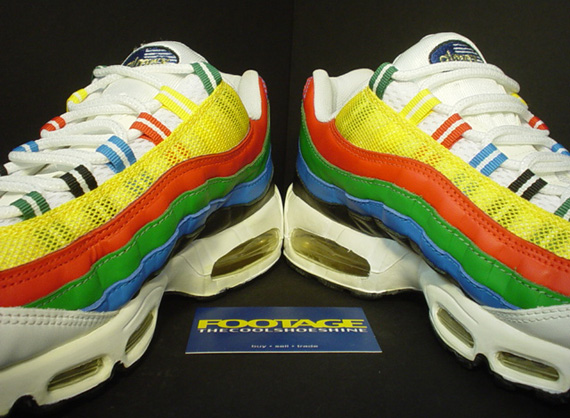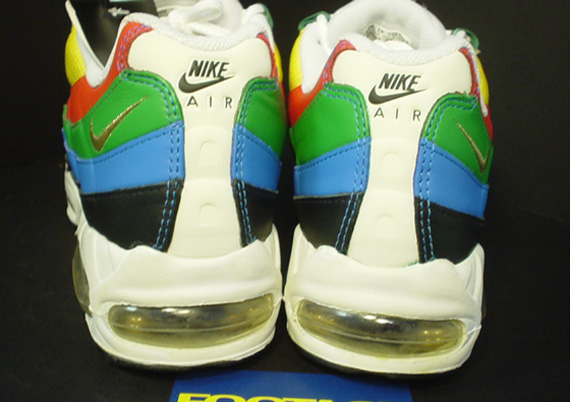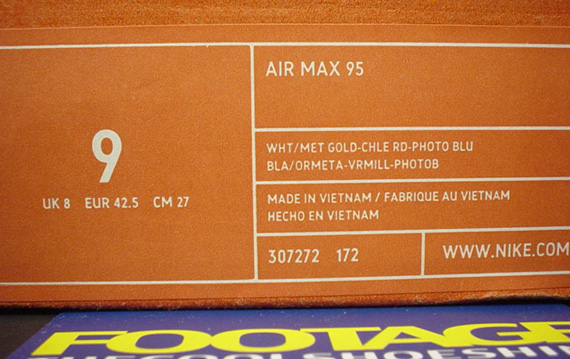 Photos: thecoolshoeshine on eBay.