343919
20 Years Of Nike Basketball Design: Air Hyperflight (2001)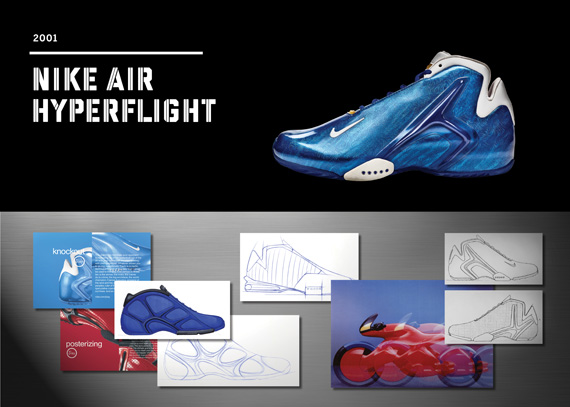 Sneaker News has followed Nike Basketball back through the first half of its examination of the past twenty years, and after Tinker Hatfield's name rang out through the first week, this second go-round has been dominated by another legendary designer.  But even with all the success of the Air Penny 1, Air Foamposite One, Flightposite and Shox BB4, Eric Avar looked to Nike co-founder Bill Bowerman for inspiration on the 2001 flagship release.  The Nike Air Hyperflight was a response to the question with which Bowerman met Avar in product meetings over the years: "Can you make it lighter?"  Click through to see the sketches that show the transition from the rocket-infused BB4 into a new era of synthetics and bold colorways and stick with Sneaker News for the second half of this series next week.
"So if Bill Bowerman was designing a basketball shoe, what would he do?"- Eric Avar
The Nike Air Hyperflight might look defiantly futuristic, but it's actually rooted in Nike co-founder Bill Bowerman's tireless quest for less. The Hyperflight's lead designer, Eric Avar, recalls the start of the project. "Bill Bowerman had just passed away, it was a powerful time. Bill was a spiritual icon: a teacher, coach — and what he means to Nike is indescribable."
On the indoor basketball court on Nike's campus, Avar happened to stumble into a rehearsal screening of a video celebrating Bill's life. "It was the day before the memorial and I wasn't meant to be there watching it," recalled Avar. "I was one of the only people in there and was totally lost in the moment."
It was then that the question of how Bill would design a basketball shoe struck Avar. He'd met with Bowerman a few times over the years. "Anything I showed him he'd ask, 'Can you make it lighter?' He definitely instilled that obsession into Nike design culture and reinforced it in me."
The answer to "What would he do?" became obvious. Avar stripped everything down and created a track spike silhouette for the court. The Nike Air Hyperflight's traditional approach to creating the unconventional was a fitting tribute to a legend.
The Nike Air Hyperflight's colors would also redefine the presentation of the basketball shoe forever, paving the way for an impending colorway assault.
–