357515
Sneaker News Sneakerpedia Editor's Crates: John Kim's Top 20 Sneakers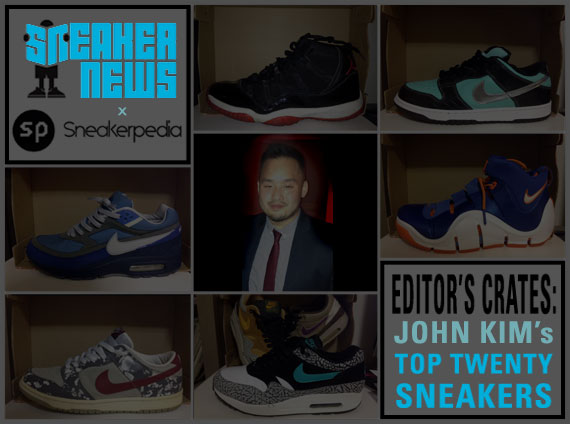 The Sneaker News staff teamed up with Sneakerpedia to give you, our loyal readers, a taste of the type of kicks that got the Sneaker News staff in the game. We're a behind-the-scenes kind of group, but after seeing Aaron's Top 20 stash yesterday, we hope you've got a better idea of who and what runs the Sneaker News machine. Moving forward with this week-long exploration of Sneaker News staff kicks, we'll take a look at my Top 20 with a backstory behind each selection – some sentimental, others a bit embarrassing. Summarizing nearly three decades of sneakers into 20 selections is a tougher task than it seems, but I'm confident the sneakers I chose will give you a better idea of who I am and why Sneaker News and the culture is important to me. Check out my Sneakerpedia Top 20 below and make sure you start your own personal Sneakerpedia Crate now!
I'm a collector at heart. I'm not sure when it started, but Matchbox/Hot Wheels, Marvel comics, basketball cards – pretty much every hobby in the late 80's-mid 90's that kids loved, I was knee deep in the game. I'm not sure if it's the rush of obtaining that rare piece or the pride of owning a coveted item, but the general thought of owning a library of anything was pretty darn awesome to me. I can guess where sneakers got into it, because I always had a visual fixation to things and often compared sneakers to cars, or cars to superheroes, or superheroes to my favorite NBA players. One reminded me of another, and it made me like it – or hate it – more.
Throughout the 90's, sneakers were incredibly important to me, and the fact that so many brands were offering up great products made sneaker buying a process rather than a simple purchase. Considering my parents did my sneaker buying for me and I had saved up enough to buy maybe one pair of shoes a year with my own money (the 'rents wouldn't allow more than that), most of the stuff that I loved never made their way onto my feet. I rocked a lot of the less expensive varieties – particularly Reebok Classics and Airwalks – while having that one sick pair of Nikes to anchor my rotation for a half-year of school, and I think that's how most kids had it. I was taught to appreciate what I had, and as a natural 'collector' of things, I did what I could to keep them pristine.
College was a fun time for sneaker collecting because outside of schoolwork and hanging out with friends, surfing Niketalk/eBay was one of my biggest hobbies. I'd religiously search for Air Max 1 and SB Dunk steals on eBay while looking through the latest leaked images of the Air Jordan XV and XVI on Niketalk or reading Kicksology.net like it was of biblical importance (and it totally was). I attended college in an area with a budding sneaker scene that didn't really establish itself until 2004, which meant any big-time release that hit the area was easy pickings and any decent release from before 2004 went on sale. Whenever I was back home in NYC during vacations and such, I'd trek around to all the great spots downtown, but I never did find deals as great as I did in college. I'm fortunate to have experienced that era of the 'sneaker game' at a time in my life where I had so much freedom.
Below is a mix of the sneakers I loved in the late 80's and early 90's, the sneakers I saved up for in the mid-late 90's, the sneakers I hunted around for and e-researched for in the early 2000's, and even one I fell in love with from the 2010's. You'll find a common theme with the occasional surprise here and there, so I hope you get an idea of what gets my sneaker juices flowing after flipping through my entire list. It's not the 20 'sexiest' or 'most valuable' of my collection, but easily the 20 shoes that I'd remember before taking my final step. Enjoy!
Follow me on Instagram: @johnbeejkim
–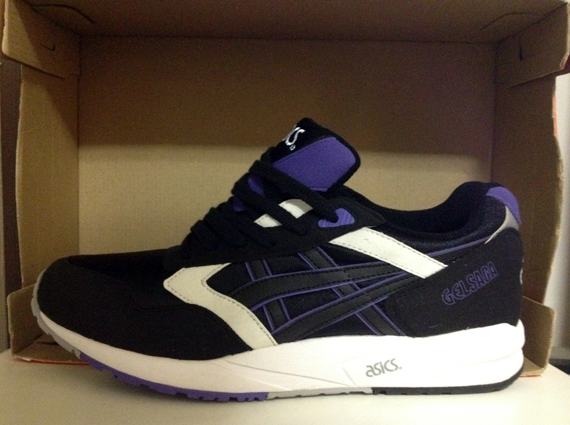 20. Asics Gel Saga II
True story – the Asics Gel Saga II is a great running shoe.  And a basketball shoe. And a dodgeball shoe. And a 'steal the bacon' shoe. And a Super Soaker street-war shoe. Truth be told, this wasn't my first choice of sneakers, but my family was outfitted in Asics for free and I wore the Saga EVERYWHERE. No, we weren't under an endorsement contract, but my uncle used to own a urban sportswear store on Knickerbocker Ave. in Brooklyn and whatever didn't sell well was ours to keep (my NBA jersey collection used to be pretty insane, as in only an insane person would have Shawn Bradley and Chris Gatling replicas).
I didn't like them at first because I just had a thing against Asics (because their basketball/training shoes like the Gel Infusion looked weird to me), but these are probably one of the most comfortable shoes I've ever worn. I really liked the Phoenix Suns so the purple was okay with me, but my dad had the white/purple GT Exult that were pretty awesome too. These Saga re-released in 2011 and at $80 shipped, it was a no brainer. Great shoe. Not my favorite Asics though – that would be the Asics Gel Viper, but I haven't even seen a pair in years.
–
19. HTM x Nike Lunar Flyknit
It's a bit weird putting a sneaker that was released in 2012 in my Top 20, but everything about this shoe spoke directly to me instantaneously. It coerced a response just like all the other ones on this list had done, so excluding them for being too 'young' would be foolish because I try to experience life open-hearted and vulnerable to life-changing experiences. I'm a nut for Woven and fabric-built uppers, so the whole concept of Flyknit already had the appeal that had been missing with Nike Running for several years. On top of Flyknit, the shoe was Lunar-based – and my Sneaker News compatriots know how much I love Lunar.
The final cherry on top was that this was the first release of the Flyknit – a 1-of-100 that like any other one of the super-limited releases, stumbled into my hands in a complete stroke of good fortune. An amazing colorway on an amazing shoe, with both Hiroshi Fujiwara and Mark Parker in the building? As much of a no-brainer purchase as I've ever come across. Flyknit didn't stop with the HTMs either; I purchased four different colorways during the last wide release and the 'Volt' Flyknit Racer sees heavy use in my rotation. Function and style rolled into one. Completely deserving of this spot.
–
18. Nike Air Max Plus
The Air Max '99, aka the Air Max Plus, aka the Air Max TN, was the last great Air Max sneaker. Disagree all you want, but most of what came out after that was an easy pass and opened the door for Nike Shox to take rule of Nike Running. It was sad, really, because Air Max was such a visual stunner and Shox was clearly better fit for basketball than for running, but that was just how things unfolded for Nike Running – I guess it was time for something new and Shox seemed like the way to go.
The Nike Air Max Plus featured the funky Tuned Air, but honestly, I was in it completely for the aesthetic appeal; the multi-compartment Air unit, the hard plate at the midfoot, the lava lamp-like upper with the gradient – it was just a jaw-dropping Air Max design that honestly deserves more recognition than it has. This was the last OG Air Max sneaker I owned until Nike unleashed Air Max 360 in 2006; everything else that fell in-between was bland.
–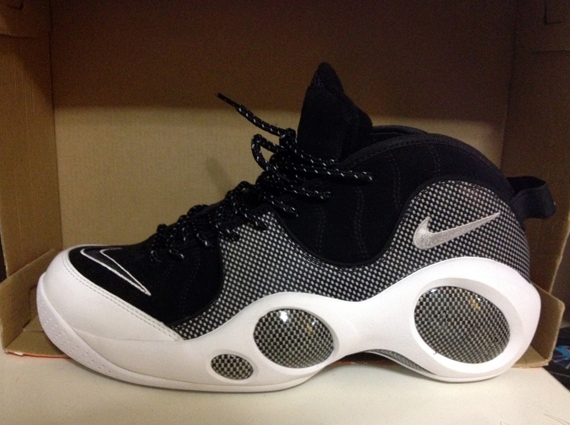 17. Nike Zoom Flight 95
I'll just say it – the Zoom Flight 95 is my favorite basketball sneaker of all-time. There are a few that are right on its heels, like the Zoom GP II, the Air Flightposite III, the Command Force, and the Converse Aero Jam, but the ZF95 takes the cake. 1995 was an amazing year for sneakers, and this shoe deserves a lot of credit for that heralded role because it marks the point where Nike Basketball sorta completely ditched that high-top look and experimented with some funky designs like the Air Go LWP and Air Unlimited. The eerie way the shoe sorta just stares at you with the slanted bug-eye pods on the side with the carbon-fiber inlay and the roped trail-shoe laces pulled me in – it was stunning from the get-go and to me, the Zoom Flight 95 kinda saved Nike Basketball after a few years of boring designs (save the surprise hit and the Barkley line).
I wanted this sneaker so badly, it hurt. I sold off some of my basketball cards to save up for these, but I never got close because parting ways with some of my prized trading cards was too tough to bear. Would you have been able to sell a Michael Jordan Fleer Ultra Scoring King '93-'94 or a Shaq/Penny 'Thunder and Lightning'? Didn't think so. Christmas came and my Air Max 95s were suffering from uncontrollable flatulence, so my parents hooked it up with the ZF95s a few weeks after Christmas (anything to save a dollar, I was cool with it though). Ended up trading those basketball cards for some video game – I think Street Fighter II for Sega Genesis. Anyway, when these came back out in 2008 (during a time when I admittedly paid little attention to sneakers, as I busy working for 'the man') I saw them at Foot Locker and bought them on the spot.
–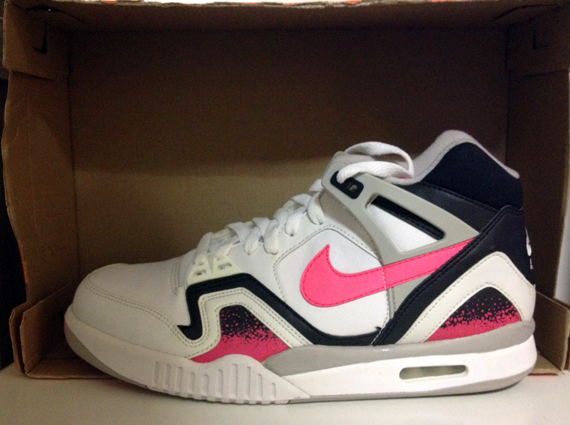 16. Nike Air Tech Challenge II
I don't think anyone will disagree with me when I say that the 'Hot Lava' is one of the best Nike colorways in history. As Aaron alluded to yesterday, the Air Tech Challenge line was like re-hash of the excitement surrounding the young Michael Jordan and his controversial Air Jordan 1, bringing in unprecedented flavor and attitude to 'tennis shoes'. When one thinks 'tennis shoes', on thinks the exact opposite of the Air Tech Challenge, and instead a clean, white, and unrelentingly boring pair of Stan Smiths – not Hot Lava spewing upwards from the midsole. The Retro release of a few years back is easily one of the Top 5 re-issues ever.
I played tennis a lot, but I was terrible at it. Like, really bad. Maybe it was the shoes (I probably wore #20 ranked Asics Gel Saga II during whatever sport I was involved in), but the only reason why I attempted the sport was because Agassi was cool and his gear was cooler, and I needed a way to convince my parents to let me buy these. A lot of great sneakers came out in '91/'92 and I simply didn't have the money – or the back-hand – to warrant a pair of Agassis. I never forgot the shoe and quickly copped the Retro release.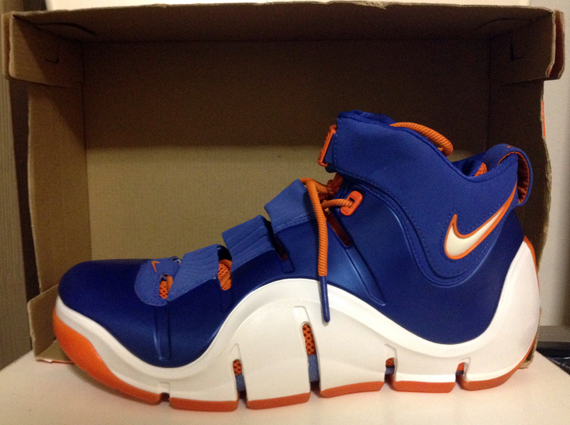 15. Nike Zoom LeBron IV 'Birthday'
It's crazy to see LeBrons so in demand like they are right now. Up to the point of the LeBron IV (2006), the entire LeBron signature line was lackluster and not nearly strong enough to pull me away from Air Jordan Retros (on a basketball shoe standpoint). The Air Zoom Generation was ridiculously comfortable, but I only bought them at $50 a pop at Finishline clearance, and the LeBron II and III came when Air Max 1s and SB Dunks were all I cared about, so I never gave LeBrons in general much thought. It wasn't until when the IV rolled around that Nike LeBron finally got my attention again, and it did so with an amazing design and the perfect colorway.
I'm not much of Nike Basketball guy anymore and I haven't worn a pair of LeBrons in…forever, but being from New York, Royal and Orange always deserves a spot in my collection. The LeBron IV alone is Foamposite-based and it could have very well been a 'Foamposite Two'; much like the Foamposite One, the Zoom LeBron IV didn't have a midsole, and the fit was created via a inner bootie. It looked like it came from outer-space, but the only problem was that the colorways were a bit too pedestrian and 'team'-based. I knew I wanted the LeBron IV – all I needed was the right colorway to pull me in. I immediately fell in love with the 'Birthday', and I'll gladly include it as the lone 21st-Century Nike Basketball shoe on this list.
–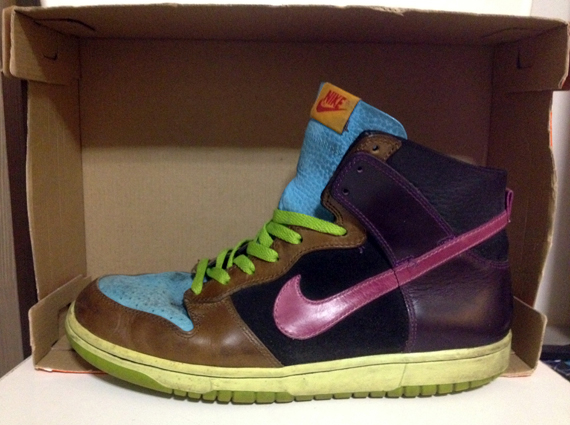 14. UNDFTD x Nike Dunk High NL
As much as I love Dunks, the High never got that much love for me. I was never really into high-tops with the whole jean cuff-tucking steez, and the ankle-collars of Dunks were just too thick for my taste. I never gave Dunk Highs – even SBs – much attention until Nike experimented with the build of the shoe and slimmed it down considerably. In 2005, Nike introduced 'NL', or 'No-Liner', which stripped the upper of any padding and gave it a super-sleek silhouette (much like what you see with the contemporary 'Deconstruct' builds); suddenly, the Dunk High was much more wearable.
UNDFTD designed these and the colorway is just flat out insane. Brown smooth leather, a emerald teal suede, an opaque green midsole, grey wool uppers, purple Swooshes – on paper it seems like a blind mash of colorways that have no business being connected, but the color-blocking was done perfectly and tastefully and achieved that multi-colored effect while many other color-blasted Dunks looked out of touch. I beat these to the ground. Fun trivia – I wore the UNDFTD x Dunk High during my first interview with Sneaker News.
–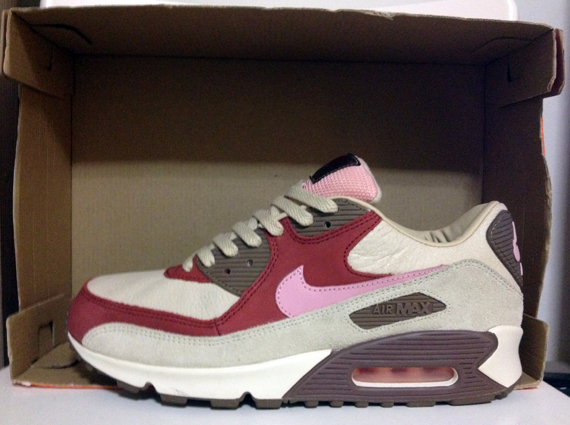 13. DQM x Nike Air Max 90 'Bacon'
Not much more can be said about the Air Max 90, but not enough will ever be said about Bacon. It's the perfect food, and DQM's 'Bacon' might be the perfect colorway of the 90. This sneaker released back in 2004 and I didn't get them in my hands until a couple of years back when I purchased them at a great price at Sneaker Con of all places (that's right folks, it's totally worth attending!). The leather is buttery soft, the colorway can't be duplicated because it looks unnatural on another shoe, and the concept behind it came from a group of guys at DQM – one of the many stores I wasted way too much time at. Just another sneaker that I've always wanted, only to hunt it down years later when I wasn't on a college student's budget!
–
12. Air Jordan XI 'Bred' – 1996 Original
How can you not love this shoe? My first pair of XIs came from a neighbor who worked at a Foot Locker I used to go to all the time. He lived downstairs and whenever he called to say he was coming upstairs to hang out and play video games or something, I knew I was in for a hook-up – an old video game, some comic books he no longer needed, some sneakers, or any cool hand-me-down that he outgrew but knew I would go nuts over. I remember the moment he walked in my house, cradling a pair of the Bred XI. They were used, and I was barely a size 9 at the time (the shoes were 11.5), but there was no way I was going to turn them down.
Those shoes are still in my closet today and even at 16 years of age and under secondary ownership, they're still rockable. That's 90's quality for ya. I wouldn't mind sole-swapping them to give them new life, but i'm comfortable with letting these ride into the sunset and die a peaceful and natural death. Since the original, I've had the pleasure of owning the '01 and '08 Retro as well (and I'll likely pick up this December's release). Going back to my neighbor, Matt Oh: Wherever you are, thanks for everything.
–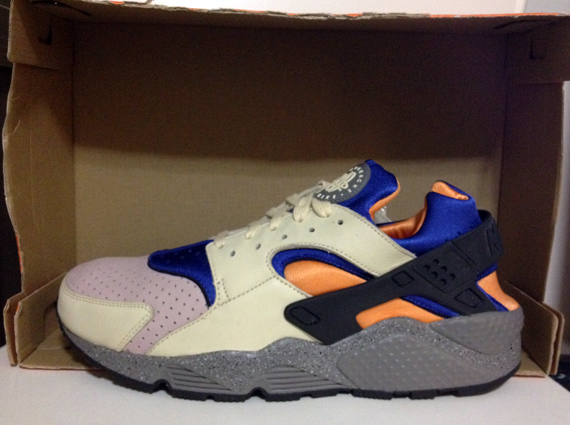 11. Nike Air Huarache
This was another early-90's runner that I absolutely loved because I thought it looked like a hybrid sports car/speedboat. I never owned a pair in the 90's, but what got me crazy about the shoe again were the two Stussy collaborations and the 2001 Retros were available everywhere for incredibly cheap – as low as $10 at outlets. They disappeared for a bit until the ACG-inspired Quickstrikes, which were some of the best releases of that time. I wasn't really down with the 'Free' releases that hit stores over the last year, but that only made me appreciate the Huaraches I had even more!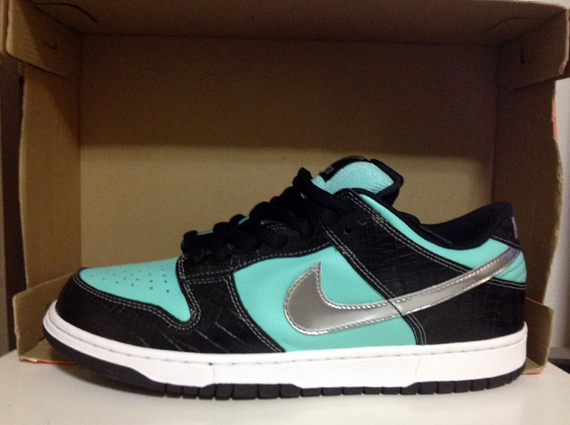 10. Diamond Supply Co. x Nike SB Dunk Low 'Tiffany'
Being a Dunk-nut already, the SB was easy to get into. I already loved the silhouette, and the creative, artsy stories behind most of the releases made them irresistible to me, but being in college at the time made it a bit tough to get my hands on all of 'em. The height of SB Dunk supremacy came during the later years of college, so money – and time – were extremely tight, and 'turning my back' on the SB Dunk was something I just had to do.
Truth is, there wasn't a single 'miss' in the 2002-2005 golden era of the SB Dunk. Most were standouts – from the limited collaborations/colorways to the simple two-toned GRs. I knew I'd never realize that dream of owning every SB Dunk from the first four Series' because it was just too damn costly, so I essentially quite cold turkey once I graduated and sold off a major, major chunk of my SB Dunks and deadstock Air Jordan collection to support myself financially. Only a few of those remain with me to this day. If I had to pick one SB Dunk from the entire bunch, it'd be the Diamond Supply Co. collaboration from the Team Manager Series – the Tiffanys. I will, without shame, admit that I camped out for these at Blades on Broadway in August of 2005. The colors and materials worked out perfectly – it was the epitome of the pink-box era of SB Dunk and perhaps the last hurrah of Nike SB.
–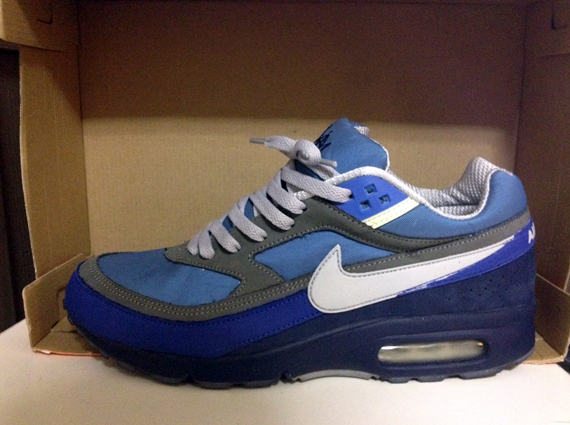 9. Stash x Nike Air Classic BW
The Air Jordan 1 'Black'Royal was the first individually numbered sneaker I ever owned. But out of tens of thousands, I didn't feel special enough, and that's the sole reason why I love the Stash x Air Classic BW. All kidding aside, Stash's insane colorway and the ACG-like materials on this underappreciated Air Max sihouette is what made this sneaker the best of the entire Artist Series releases, and I'm proud to say I own two pairs of these – that's right, I own 0.2% of all the Stash BWs in the world (0081/1000 and 0047/1000).
It's safe to say that in 2003, the Stash BWs were the crown jewel of my collection. I was away in college at the time so a dude from Niketalk actually did me a favor and got the shoes for me at no cost. I paid the guy with a USPS Money Order – yeah, it was that long ago – and wore them right away to match the new Buffalo Bills uniforms (Eric Moulds). I picked up another pair of the BWs a couple of years back for a pretty decent price. Definitely one of my favorite sneakers of all-time.
–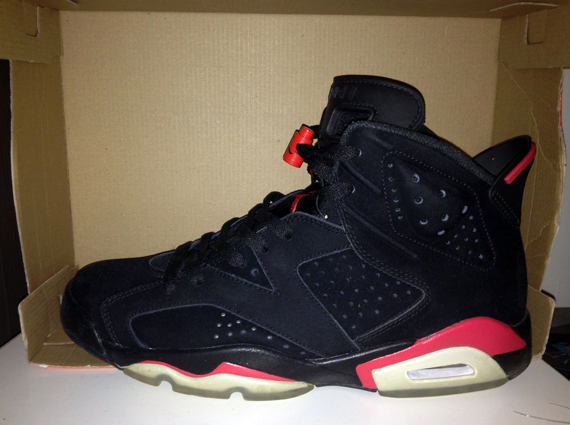 8. Air Jordan VI 'Black/Infrared'
There are sneakers that are revered for their style and history, and there are those that have sentimental value. This Air Jordan VI 'Infrared' is indeed the first shoe that Michael won a Championship in, but for me, it was my first Air Jordan sneaker period. I was too young to comprehend the Air Jordan III (although it is included my Top 20) and when the IV and V came out, I was hardcore into Reebok Pumps. What made me make the switch was that the Air Jordan VI, to me, resembled a Ferrari Testarossa in that neck-breaking Red/Black paint-job. Collecting mini match-box cars was another vice of mine at the time, so I knew right away that the VI would be my next sneaker.
One of funniest moments in Niketalk history also involves the Air Jordan VI 'Infrared' 2000 Retro, terrible photoshop skills, and a misguided kid trying to make a quick buck; I can't forget that crazy story because it was one of the earliest photoshop 'memes' before the meme became the unholy monster it is today. On an unrelated note, the Air Jordan VI 'Infrared' is also a shoe that I can proudly say that I've owned the OG and all the following Retros. I'll close with a bit of an embarrassing history: when my Infrareds were getting really beat, my best friend and I took a pair of scissors to the tongue and cut out the pieces above the 'windows', essentially transforming the tongue into a big 'W'. TL;DR – I had custom-made Supra Jordan VI Infrareds. This was back in '91, so cut me some slack.
–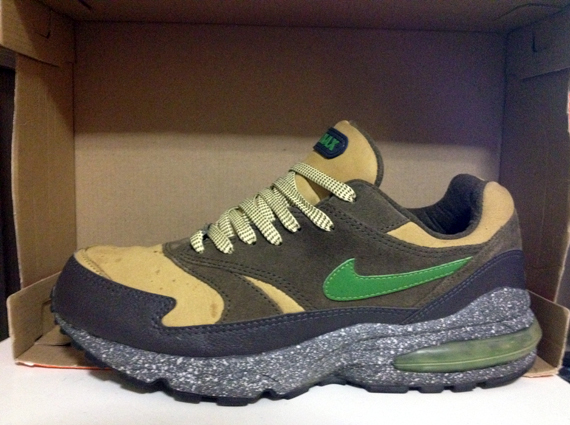 7. Nike Air Burst
I still remember the first day I laid eyes on the Air Burst. I used to frequent a Foot Locker in my hometown of Flushing, NY on a near-daily basis (for those who are familiar with that area in Queens, I'm referring to the one on Roosevelt Ave. between Main and Union) and on those ritualistic daily trips after school, I stared at the Nike Running wall – particularly on the Nike Air Burst. It was like an Air Max 1 upper with one of the juiciest Max Air units ever created – it was so plump that the Air unit was sticking out on all sides, ready to 'Burst' at any moment.
Sad part is, I never got to rock a pair of OGs. I believe the retail price was around $125 and I was unable to afford them with my 6th-grader allowance, and the one pair my mom did buy me was the Air Trainer Max '94. I just stared and stared at the Burst all day and did what I could to somehow will them onto my feet, but it never happened. But once the Burst started to roll out again in the early 2000's, I bought as much as I could – my favorites are the 'Storm' and the Staple-designed 'Navigation' Pack, but all the suede/mesh GRs are dope. The organization of my personal Top 20 list is a bit wacky since I group one model together while other models get repeat mentions, but the Burst, as a model, is what made me stray from Basketball/Trainers to Running shoes for good.
–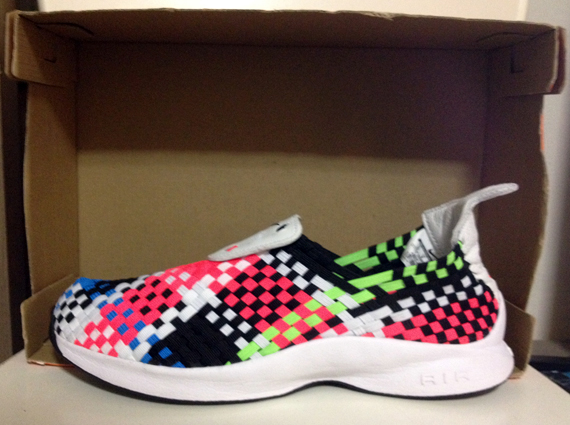 6. Nike Air Woven
The Air Woven is one of the weirdest shoes ever created, and that's probably why I like it so much. It loudly yet lucidly screams that Japanese design concept of eccentricity and efficiency. What totally stinks about it being categorized in that way is that most of the good releases from the Woven debut came out in Japan and Japan only! Finding Wovens were pretty tough and it's sad to say that prior to the 2012 releases, I have owned just two pairs.
The Woven made a serious come-back in 2012 with the Euro Cup Pack, and this colorway in particular instantly grabbed my attention – but I kept my emotional distance. I already accepted defeat with the assumption that a U.S. release was unlikely and that getting a pair would require me to shell out close to double the retail price, but once we received word about a U.S. release, I kept my ear to the ground and copped a pair for myself and Yu-Ming the moment they appeared at 21 Mercer. This colorway is flat-out outstanding.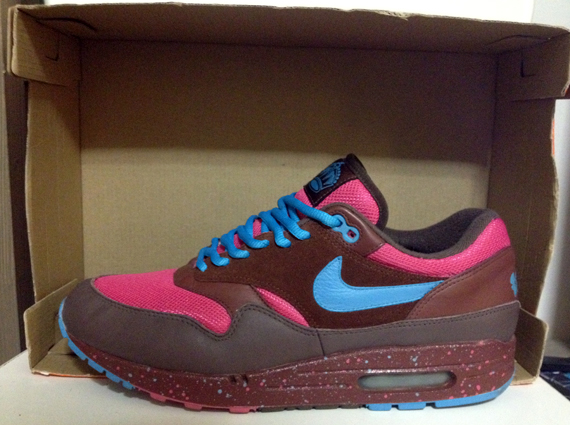 5. Parra x Nike Air Max 1 'Amsterdam'
This is what you call 'grail status'. The first Parra x Air Max 1 was a sneaker that I've always wanted, but never came close to ownership. Asking prices during the time of the release were in the $400 range, and for a college senior with limited funds, the Amsterdams were a pipe dream. I tried wheeling and dealing to get a pair, but it just never happened until recently; I fell victim to the much maligned term 'YOLO' for a split second, and suddenly buying these made total sense.
I won't disclose what I had to pay to get a pair, but I honestly don't regret it a bit. I had to let go of a few pairs in order to come up with the funds (there was no way i'd dip into my savings, so I essentially traded for these), but I'm happy to close the book on this life-long hunt. I don't even need to describe to y'all the rush of finally getting that one elusive pair, and even if I wear it just a handful of times for the next several years, I'm more than happy knowing I have this beast of a sneaker in my stash, ready to wear at my heart's desire.
–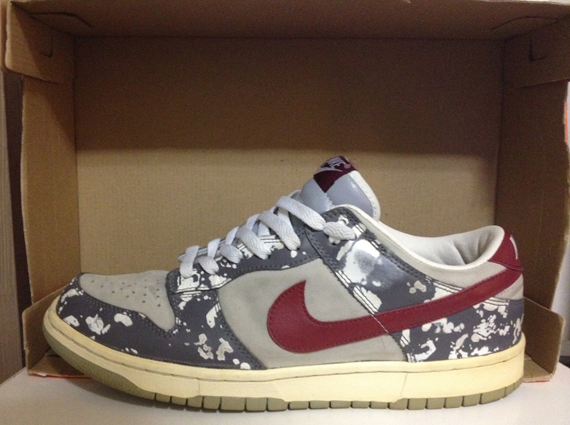 4. UNDFTD x Nike Dunk Low 'Splatter'
This is the shoe that got me hooked on Dunks for life. Nike was never shy about splatter and speckle prints in the past, but it's never been done as gaudily as it was done on these. On top of the paint explosion on the upper, the Grey upper is reflective material, so whichever way you look at it (flash, natural light), it's going to turn heads. These are a decade old and have seen the best and worst of times, but Dunks are built so sturdily that I can wear these for another ten years if i wanted to. Another relatively overlooked fact about the Splatter is that these were actually designed by UNDFTD – kudos to those guys for making this list twice (both on Dunks, no less). There's a Hyperstrike version in Pink that's ridiculously rare, but I'll happily drop a couple of Benjamins for another crisp pair of these!
–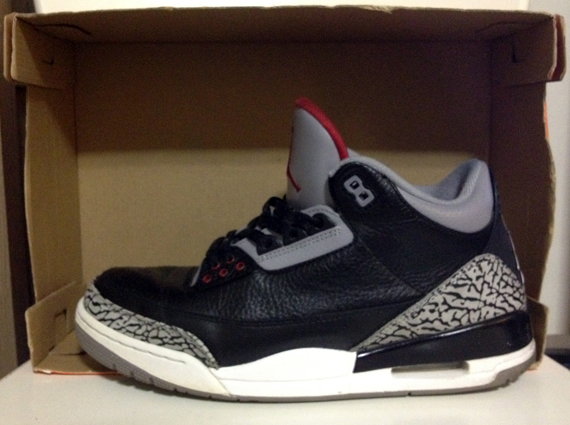 3. Air Jordan III 'Black/Cement'
Again, a no-brainer in this list. And again, another embarrassing story to tell. Almost a decade ago – I remember seeing this first on Niketalk – someone lace-swapped their '01 Black/Cement III's with volt-colored laces. It seemed like such a good idea at the time, but if I could go back in time to past John K., it would be that very moment I made that fateful decision. Oh how unwise and foolish I once was. For a short while, I had removed the bright-Volt SB laces from my Jedis and put them on the IIIs. It was an incredibly smart way to look dumb.
Didn't take long for me to realize that I was doing sneakers and the general public an incredible disservice, so I quietly erased that memory from the past and swapped them back to the regular black laces. Anyway, the '01 Retro served me well and I actually threw away my pair when I was purging my sneaker stash to downsize to a manageable number after I graduated, but once the 2011 Retro rolled around, I signed up for four pairs. Set for life, once again. No volt laces this time – I promise.
–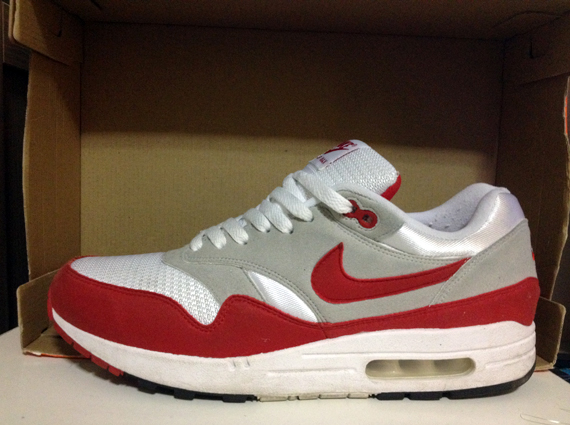 2. Nike Air Max 1 'Sport Red'
Not surprisingly, the Air Max 1 is my favorite sneaker model of all-time, and while I own several pairs of Air Max 1s that are undeniably more 'limited' and 'sexier' than this much-Retroed version, all the esteem has to go to the original. Sport Red is already a daring colorway in itself and the shoe as a whole is the pioneer of the entire Air Max legacy that, in the grand scheme of things, essentially shaped my personal tastes. This shoe is and always will be an icon, and quite honestly, it's on a level of its own.
I was heavy on running shoes my entire life and honestly, most of what I wore in the 90's were just cheaper versions of the Air Max 1 and the Air Max line in general – the Reebok Classic, the Air Pegasus, Air Span, all the sub-$80 models that kept me sane without having to spend too much money. The Air Max 1 took a bit of a back seat once Nike came out with all the sick Air Max models in the 90's, and it wasn't until the early 2000's that I revisited the Air Max 1; all the GRs and collabs were sick and I did what I could to stockpile them all, and I probably have close to 70 pairs of this model alone.
–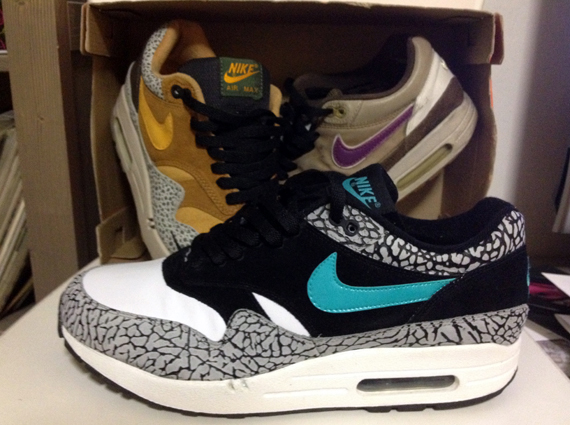 1. Atmos x Nike Air Max 1
Here it is: Number One. Atmos just can't miss with a sneaker collaboration. The 'Viotech' and 'Safari' Air Max 1s are definitely some of the first sneakers I ever bought on eBay. The Viotech came first and I beat them to the ground and back, eventually becoming snow-shoveling shoes. My Safari pair looks pristine, but I actually wore them a ton of times – chalk it up to the durable materials. The Elephant Print pair actually dropped during a time when I was forced to take a hiatus from sneaker purchasing, but I managed to pick up a pair a couple of years back at a rather fair price.
This trio of Air Max 1s deserve their own individual spots on this Top 20, but grouping them together just shows how insightful the atmos crew in Japan really is. When you hear their name tied to a shoe, there's no doubt it's going to be good. I don't have to buy any more Air Max 1s for the rest of my life and I'd be more than content with these and the other pairs I have in my closet – that's how fulfulling the Air Max 1 is. But since I don't see any restriction on what to buy, I'll gladly continue my Air Max 1 hoarding for as long as I shall live.