365053
Michael Jordan Makes Key Pass To Steve Kerr In 1997 Finals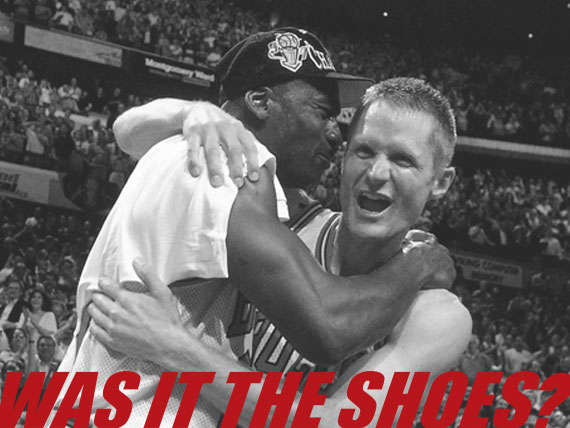 Sneaker News: Was It The Shoes? has focused on the many great shots and scoring outputs Michael has produced over his career, but Jordan certainly was not a one-trick pony. Sure, he was the greatest scorer of all-time, but he's got top-notch defense that earned him plenty of accolades and for a man who draws so much of the attention of the opposing defense, his passing was as much of a dangerous weapon as his shooting touch was. One pass, in particular, stands out the most; it's perhaps the reason why the Chicago Bulls was able to win a second-straight NBA Title after MJ made his come-back. Read on for tonight's Was It The Shoes? feature and let us know if this pass is one of Michael's greatest career highlights.
The best scoring guards in NBA history are rarely noted for their passing. Sure, they have the ability, but buckets is what they're relied on and idolized for. The Jordans, Kobes, Iversons, McGradys, and Wades of the world are only relevant if their names are near the top of the list of PPG leaders, and more often than not, if they can't keep up the scoring numbers, they need to supplement with point guard-like abilities or resort to a smaller role. Passing was a key weapon for Michael because he was often double-teamed, and an outlet pass from his hands would often lead to the ball getting to the open man. Jordan averaged as high as 8.0 assists a game back in '89 – a rather high figure for a player in that position.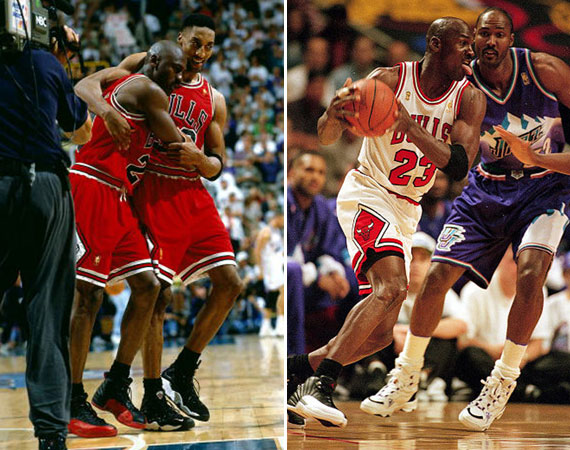 The 1997 NBA Finals was unlike any other Finals Michael has been in. The Utah Jazz were arguably more formidable than any of the first four he faced (the Lakers, Blazers, Suns, and Sonics), and after four games, the Series was tied 2 a piece. Game 5 would be the legendary Flu Game, during which Michael scored an astounding 38 points while battling a crippling flu. We'll get back to Game 5 later on in our Was It The Shoes? series, but let's move forward to Game 6, when Michael and Bulls sealed their fifth NBA Title.
With seconds to go and the game tied at 86, the ball ended up in Michael's hands. There was no doubt the shot attempt was Jordan's to take; he had already hit a buzzer-beating game-winner in Game 1, and his massive scoring output throughout the series (Michael had scored at 31, 39 and 38 points in the Bulls' three wins) was enough reason for Jerry Sloan and the Utah Jazz to put the utmost pressure on Jordan. Michael received the ball on the left wing (nearly the same spot where he hit the game-winner in Game 1), drove left against Bryon Russell, drew a double-team from John Stockton, and made a pass to Steve Kerr, who was open at the top of the key, roughly 17 feet from the hoop.
Earlier in that Series, Michael attempted a similar move, but Stockton ended up stealing the ball. This time around, Jordan adapted and made the pass to Kerr, one of Jordan's most trusted teammates, and hit nothing but the bottom of the net. Before that play went down, Kerr said to Michael "If [Stockton] comes off, i'll be ready." Steve was, and with just seconds left on the clock, the Jazz failed to make an attempt. Jordan's pass to Kerr is considered to be one of Michael's greatest plays of his career because it displayed an offensive awareness and a trust in his teammates (which Michael had a tough time with throughout his career). Even during the Championship parade and ceremony in Chicago, Kerr spoke of the play and joked that he had to "bail Michael out again". Kerr, of course, continued his career and won two more Championships with San Antonio, retired as the most accurate three-point shooter in history with a .454 percentage, and went on to serve in the front office for the Phoenix Suns.
Michael's shoes during his most significant "assist" of his career? The Black/White Air Jordan XII commonly referred to as the "Playoffs". Michael wore these during the '97 All-Star Game and during his Home games in the '97 Playoffs, clinching his fifth NBA Title in the shoes. The Playoff XII re-released once in 2004 and again earlier this year to much fanfare, and stands as one of the most popular Air Jordan model x colorway combos of all-time.