366591
Michael Jordan Blocks Ron Mercer
The art of "sonning" is achieved without planning or preparation – it just happens if you've got that natural bravado in you. There have been several moments in Jordan's career during which he mercilessly "sonned" an opponent by hitting clutch shots and whatnot, but in this masterful display of defensive awareness and hustle, Michael pretty much told Ron Mercer to sit his %$# down. Tonight's Sneaker News: Was It The Shoes? takes a look back at one of the most gut-wrenching defensive plays in history, so get the popcorn ready and read on below.
The shot-block is an art-form mastered only by a select few players in NBA history. Height is just one of the factors of being an effective shot-blocker; it's all about instinct, defensive awareness, and hustle, which clearly explains why a 7'0″ behemoth like Eddy Curry has a career blocks-per-game average of 0.7. Boston Celtics legend Bill Russell is undeniably the greatest shot-blocker in NBA history, as his masterful defensive prowess not only denied his opponents, but sparked fast breaks to the opposite end. But does Russell, or other greats like Dikembe Mutumbo and Mark Eaton have the distinction of owning the best block in NBA history? A strong argument could go in favor of 6'6″ guard Michael Jordan.
Like most NBA guards who patrolled the perimeter on the defensive end, Michael Jordan never amassed a ton of blocked shots. He did average 1.6 a game during his MVP season in '88, but overall, his defensive praise was primarily for his man-to-man D and thievery. But the block we're focusing on didn't happen during his early years when his best legs were under him, but during his first come-back season with the Washington Wizards at the age of 39.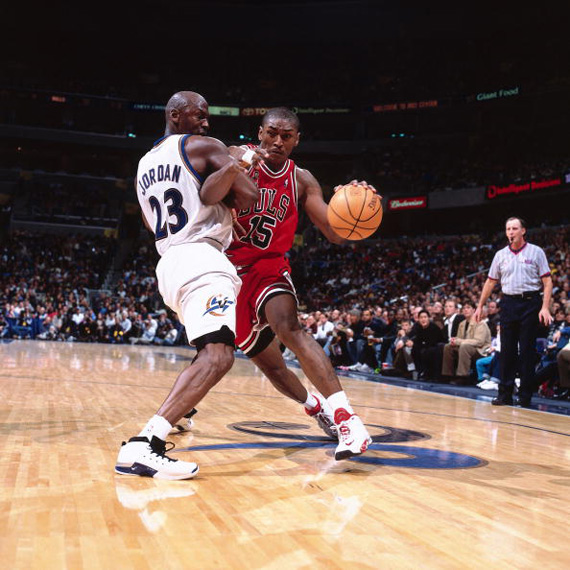 It was January 4th, 2002 – the first time Michael and the Chicago Bulls were on an NBA Court as opponents. The Bulls were still deeply entrenched in severe "rebuilding" mode, but the Shooting Guard position seemed to be somewhat secure with former 1st Round pick Ron Mercer providing some ample scoring at the 2. During one offensive possession late in the game, Michael's fadeaway jumper attempt was gently blocked, sparking a fast break for the Bulls. The ball got into Ron Mercer's hands, who drove to his right and seemed to have another two points secured for the Bulls.
Jordan is known to never give up on any play, so an unassuming Mercer thought he had a clear lane to the basket, but out of nowhere, Michael flew in directly toward the basket and pinned the basketball against the backboard with two hands. Was it a block? Was it a steal? Regardless of the official categorization, that play was marked down as a complete and utter "sonning". What's strange is that Ron Mercer, who seemed to be entering the prime of his career was never the same player again. An injury forced him to miss six weeks from late-January to early-March, but his hiatus seemed to have an odd effect on him as he never averaged more than 8 points a game after that. Mercer was out of the league by 2005.
What was Jordan rocking during this jaw-dropping play? The Air Jordan XVII in the White/College Blue colorway. This is the second time an Air Jordan XVII has made it to the Was It The Shoes spotlight, but if you remember, that first occasion was for a blundering dunk attempt and not a soul-stripping defensive play. The question now remains – will the Air Jordan XVII be re-issued? There are no signs of Jordan Brand stopping its Retro movement, so we hope the original College Blue joints make a come-back.