373269
Nike Designer Leo Chang Gives the Inside Scoop on the KD V
It's been a pretty big year for Kevin Durant. In addition to claiming his third consecutive scoring title, taking his first trip to the NBA Finals and winning an Olympic gold medal, KD has also taken huge strides when it comes to not only letting his personality show, but letting it shine. As a result, he has gone from shy and unassuming rising star to full blown superstar, and his marketability is at an all-time high right now. Along for the ride on KD's dominating 2012 campaign was his fourth signature Nike shoe, the futuristic KD IV, a true gamechanger for the KD line that helped catapult it into the same rarefied air with the annual LeBron and Kobe sigs.
There's no doubt that the humble and easy to like young star's growing popularity had a lot to do with the shoe's status leap, but a large share of the credit goes to Nike Basketball Design Director, Leo Chang, who has overseen the entire lifespan of the KD signature lineage, focusing on mirroring the evolution of Durant's game with each shoe, each step of the way. There's no doubt that Leo raised the bar with the KD IV, which turned a monumental corner for the line in the hearts and wallets of consumers, so expectations were understandably high for the fifth shoe and Leo was up for the challenge. The result was an unexpected sharp turn away from the previous models, both functionally and aesthetically – a decision that Leo told us came from KD, himself, and one that he was eager to oblige with. Continue on for our one on one interview with Leo Chang to get the full lowdown on the new KD V, and look out for the first colorway hitting Nike Basketball retailers everywhere this weekend.
Sneaker News:  The KD IV definitely upped the ante for the Durant line, both from a design perspective and in its eventual popularity with consumers. Does that success create extra pressure for you to to outdo yourself with the V and keep that momentum rolling?
Leo Chang: I don't know about outdoing ourselves, but we want every shoe to be better than the next. The IV was good, but there are still a lot of things that could be better about it. I read comments online and stuff like that and it seems that people either love it or hate it. One of the things that I think back on is, people were like – what about the lowtop and what happened to the lowtop with the strap? And its like – if I just came back with another lowtop with the strap, people would be like – oh, that looks just like the IV. So then I'd get killed for that, so I don't necessarily listen to that. I listen to what KD really wants and this time it was purely driven by what he was thinking. And he wants to keep us on our toes a little bit and do something unexpected every time. That's why I like this (KD V). He came up to me and was like, "I want a midtop this time, I don't want a strap, I want a bubble in the back." And I was like, oh, okay! When it starts with that, then its like grounds up new. It's a different beast then the KD IV.
SN:  KD's feelings about wanting his shoe to be affordable are well known, and although we've gradually seen the pricetags get a little higher, they're still way below the LeBron and Kobe models. What challenges do you face in trying to create a premium performance shoe without being able to incorporate some of the more premium materials and technologies that can drive the pricepoints out of range?
LC:  Yeah, I think you'll start to see him evolve his thoughts on that. I think he definitely wants them to be accessible to everybody and we'll still try to position them to be the most accessible out of our signature guys. For me, it's just about being smart with the things we do on the shoes and not get carried away with things we don't necessarily need on it. Not to say that the other shoes do that, because stuff like the full-length Zoom on the LeBron is really expensive, but I think it's just about being smart and clever with how we construct the shoes to get the best bang for the buck.
SN:  You just touched on a few of his initial requests for the new shoe. When you first sat down with Kevin to start on the KD V, what other kinds of input did he have on the direction and how involved is he along the way?
LC: Really involved. Each year it gets better and better and better. He started out pretty shy on the KD 1 and he was just grateful to have a signature shoe and respected what we did. But for me, I want him to tell me no sometimes and tell me 'I don't like that.' And this was a case where I showed him a design and he was like "Yeah, it's okay. It's still early." This was during the lockout last year and I went to OKC and went to his house and showed him all this stuff and told him the story and the idea behind the V and all that. And then I showed him the design and he was like "Yeah, it's alright."
And then a couple weeks later, he came up to Portland for LaMarcus's (Aldridge) game and we met up again and he pulled me aside and was like "Hey, I want a mid. I want a bubble. I don't want a strap." And he said he would send some images too, just some inspiration stuff. So I was like, cool! He'd never done that before.
SN:  What kind of stuff did he send you?
LC: He had just gotten a (Mercedes) SLS, so he sent me images of that. An Audemars watch. A few things like that and we just bounced back a few ideas, so just kinda wanted to know why he liked certain things and just getting the general flavor from that inspiration.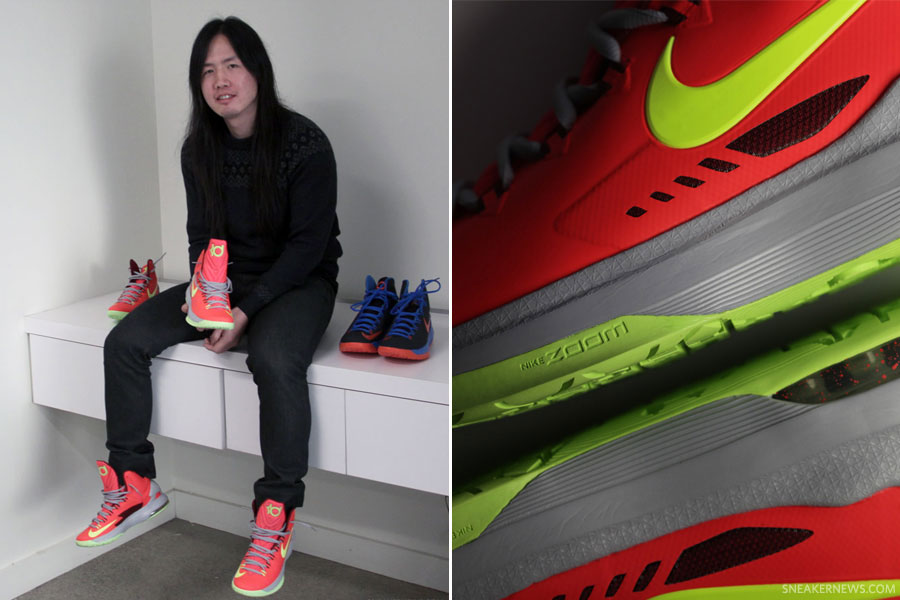 SN:  KD's shoes are always heavy with storytelling aspects. How do these narrative elements help to guide the overall design process and in what ways can they sometimes evolve into performance benefits as well?
LC: With KD, we just have a lot of fun with the stories, whether it's the Weatherman and the Nerfs and those were fun moments that I think were pretty true to him. So we always wanna do that and with the V, I asked him why he wore the number 5 in Turkey and in the Olympics and stuff. And we've always talked about "team" with him and it was very true to why he wore number 5. It takes five guys on the court to win. So it was crazy how it all comes back to that. And then I started digging a little deeper into the shape of a 5-sided shape and that's a pentagon. And I was like, he's from D.C. – Pentagon! So I started with this (heel) logo and using the star shape in the negative space between the 3 and the 5 and started seeing that the pentagon is within the heart of the star and I thought that was kinda dope.
Then it was about messing around with how to make that pattern into a functional outsole design and you can see how the channels break up the outsole to be this multi-directional pattern that allows it to bend in various directions. And obviously, it's a storytelling element, but it has to work too. So we tested the crap out of it and one of the feedbacks we received from one of the testers was that it felt like a gecko's foot the way it sticks to the ground. So, I was like, alright it works, nice! That's the best you can wish for – having that art and science come together where it tells the story but is also functional.
SN:  The KD IV had a very distinct look that stood apart from the rest of the Nike Basketball family at the time, but the KD V seems more aesthetically in line with the other 2012 models. Is there a concerted effort to maintain a certain continuity across the Nike Bball category or does it sometimes just work out that way?
LC:  It just works out that way. There are definitely some things we wanna tie, but we wanna make sure the signatures are still distinctive. I can see it sometimes, but I'm not thinking it's a direct connect. And there's an element with the Hyperdunk and Hyperfuse where anyone and everyone can wear those shoes and that's kinda where we wanna position the KD as well, so he's the go-to guy when you're looking at a wall of shoes like where can I go? I like KD, I like his game, and he's also very versatile and that's what the shoe should represent.
That's why I thought it was kinda interesting with him asking for the mid. It adds to that versatility story with him. He's so versatile and it's like – how do you get more people in the shoes? If people can't get into the low, they can feel more secure with the mid. And stuff like adding the Max Air in the heel just opens it up even more while still trying to maintain a super lightweight shoe. You get the best of impact protection there and the great Zoom ride in the forefoot still.
SN:  It's been said that big men don't sell shoes, but KD is not your typical big man and has already proven otherwise. Is it difficult to design a shoe tailored to an athlete of Durant's size and frame that will also provide the same benefits to the average consumer?
LC:  I think where his mentality is is actually very in line with the masses of athletes that are out there. He wants the shoes to be super lightweight so that's how I design it.
The upper is super sleek and light and we wanna provide a really stable and accommodating ride underneath that gives great protection underfoot. You know, we've got Kobe who really pushes the needle – super low to the ground, lightweight, almost like a sock. You've  seen the Kobe VIII. It's all mesh and super thin Lunar and it's really flexible. I think where KD is and what he needs is what most people need. A great underfoot ride and protection, not too heavy, but not super stripped down where you don't feel confident. But then having a really sleek and lightweight upper felt like a cool clashing of the two things coming together.
SN:  It seems safe to assume that the obviously Nike Mag-inspired heel counter is a cool little nod to KD taking up the Marty McFly role in last year's Mag 2011 "Back for the Future" promo spot. At what point in the process did you guys have the idea to incorporate that into the design?
LC: (Laughs) Actually it was more about not necessarily the Mag, but what Tinker actually said about why he designed the Mag the way he did.
That was 20 years ago or something and his thinking was so forward-thinking and innovative back then and all those ideas are still relevant today. And one of them was just the idea of a dynamic heel counter that really moves with the body that I was really intrigued by, not necessarily the actual Mag. The shape of it actually started out very different. It was more asymmetrical and free floating on the medial side, but I was really intrigued by that idea of a dynamic counter that really allows the foot to move and bank and do all these things without sacrificing support. So that was the notion that I kinda went off of and then, obviously, it was a fun little nod since he was in the commercial.
SN:  Like in the case of the KD V, it's getting more and more common now for some of these models to go up on Nike ID before they're even available in stores and people have a chance to do their own colorways before they can even buy it. As a designer, how do you feel that impacts the stories you're trying to tell with the shoe and the inline versions that you guys eventually have coming to retail?
LC:  Great question. I think we're prepared for it because we work closely with iD to make sure that the things they do don't overlap with what we do and the options that they have there may not be the options that you'd get inline. So we work really close with them and we share graphics and all that. That's stuff that Erick Goto is providing to them so it's like, hey if you're gonna use this, don't do it before we do this.
SN: So do you coordinate with them so, for instance, someone can't go on Nike iD and make an exact version of this Bright Crimson "DMV" colorway?
LC: Yeah, we share all the colorways and the flow of everything so the makeups that they do in there don't come too close. And even though the shoe launched on iD earlier, kids won't actually get it until the shoe hits stores, because it takes some time for them to make them. So it all works out.
SN: The energy created by the Nerf and Weatherman colorways of the IV took the KD line to new levels of desirability in collector's circles and the resale market. We've already seen the Chiristmas version which is pretty nuts, but are there any special editions of the V on the way that will give those some competition?
LC: Yeah, I think there's some really cool ones. The All-Star is gonna be crazy! All-Star is gonna be next level. It's pretty wild. I won't give away too much on that, but Erick Goto and Eugene Rogers who worked on building that collection have taken it to another level this year, so it will be hot! Christmas Day was a fun one. It was around insights from asking KD what his favorite gift was growing up. And he was like, "Oh, I had this sweet SEGA system!" So I was like – what was your favorite game? Sonic? Oh, that's cool. And I was like, we can't really work with that direct link because it feels like Sonic is kinda OKC colors with the blue and yellow belly and red shoes and all that stuff. So let's not do that, but let's just have fun and actually make a shoe that's like – what if KD was a video game? So we kinda played off of that.
Goto one day on his computer had this malfunctioning glitch on his screen that completely went haywire and it created this crazy pattern that was kinda like static on old school CRT TV's. So he started doing these screen grabs like, whoa this is amazing and we were like, we gotta find someplace to put that. You know what? Old school video games. You had to hit the machine a few times and blow into the cartridge and stuff, so that was kinda the inspiration there – a static glitch. And there's also the idea that KD wants to feel faster and that pattern almost feels like it's a blur. And if you look at the sockliner, we have this old school pixelated version of him dunking and having little points and rewards and stuff. And it's going back again to that's his story and what we wanna play up on. And we'll continue to do that. Aunt Pearl will come out again but we'll have a different take on that this time around. I think it's a little more sophisticated twist on it.
SN:  Thanks in part to some of those crazy colorways on the KD IV, it had some huge crossover appeal as a street wearable shoe in addition to the basketball court. Do you think the V can have as much off court appeal as the IV and is that something that's on your mind during the design process?
LC:  Absolutely. I think that's what KD wants. He wants kids to wear the shoes to and from the court and have as much integration into everyday life as possible. That's definitely something I look into and the shoe this time is pretty clean, you know? You see people – KD even wears the tongue real crazy. He laces them out to here and then just has the tongue flap down and stuff. People find a way to wear it. Like on the KD IV, people early on struggled trying to figure out how to wear that strap, because it was coming out of performance – this adaptive strap.
And you see people with that strap real tight or laying all over and they just have fun with that and that's the thing. I don't wanna tell somebody how to wear the shoe. They should find their own creative way to wear it.
That's the best part. I had a lot of fun just watching how different people wore the IV. So I could see the same thing happening with the V. And for us on the performance side, we have a whole NSW world – you've seen with the Cork LeBron X's and stuff. We'll always focus on making sure that what we do with graphics and color and stuff don't take away from performance so you can play and walk off the court with it. But the Cork stuff takes it to a whole nother level where it may not be for the court at all.
SN:  That brings up a good question. We've seen some previews of upcoming Nike Sportswear designed lifestyle versions of the LeBron and Kobe. Moving into the future, is that something we'll see for KD shoes as well?
LC:  Potentially, yeah. We're looking into the whole entire lifestyle of the athlete and their everyday, like what's their life 365? So I think there will be elements of that for sure.
SN:  We heard rumors and then eventually caught a glimpse of the Elite version of the KD IV. Why didn't it ever see a retail release alongside the others and will we see some type of postseason version of the KD V this year?
LC:  I don't think we're ready to talk about the Elite Series yet, but ultimately, when we gave him the shoes (KD IV Elite), he was already doing so well in the (standard) IV, I don't know if he was ready to have that drastic of a change in the upper. We stripped it out to be pretty minimal and somehow it changed the ride for him, so he just wasn't quite comfortable in it and we didn't want him to be screwed up by it.
SN: The old if it ain't broke, don't fix it?
LC: Yeah, and if we couldn't make him feel more confident and better, than there's no point of having him in it. That was the whole point of the Elite Series – to make the best of the best and make our product even better. So if we didn't achieve that, then don't change something that isn't broken.
SN:  Looking into the future a little, as Kobe is getting towards the end of his career, KD seems to be the logical successor to move into that signature shoe upper echelon with the LeBron and become a more premium product with a higher pricetag. Is that transition already in the works with the future models you're working on now?
LC: I think within reason, yeah for sure. We wanna make sure our products evolve with his game and make sure he's getting the best of the best as well. We don't wanna shortcut KD at all on the performance side, so you'll see some moves from us for sure, but still within reason. Nothing astronomical. Especially after last year, you know pricing is different, but we honestly treat the three signature guys pretty equally. We feel like each one of those guys in any given year could win a championship, so we wanna do what's right for them.
And honestly, stuff like full-length Zoom on the LeBron came out of fulfilling the needs of LeBron. He's a beast and so he needs that great responsive ride and that cushioning underfoot.
Those are things that end up driving the performance and the pricepoint of the shoe, because that bag is really expensive to make. It's just based on performance really, where it kinda naturally falls into that. This time around when KD asked for the Air bag in the back, I asked if he was good with that if it meant it going up in price a bit because that costs money to put in there and he was like, "Yeah, I'm good with that." So I think he's asking for it too, so we're gonna move with him.
SN: Before we wrap up, is there anything we should know about the KD V that hasn't been addressed much and you'd like to get out there?
LC: There were commentors online that were like – 'What's up with KD not having the heel technology he had before' and 'You've been selling on the idea that he was a forefoot player.' Because for the most part, he used to primarily be on his forefoot, but his game evolves, and last year, he added more to his post game. Whereas before, he was on the perimeter more, but watching his game last year, it was really appropriate to start adding some cushioning to the heel. Because he's taking these big long strides to the basket through traffic and all that, which he wasn't doing as aggressively before. When you watch him, he's got long legs and he's taking these long strides and the angles he's coming in on are pretty sharp and pretty hard. So you want something there so it's not bottoming out the foam or whatever. That was really the thing that made it all make sense. And just watching him work out and developing that post move a little more.
SN:  So when you watch KD play, are you watching him play or are you just focused on his feet and the way the dynamics of everything are working?
LC:  Yeah, I've gotta watch his feet, you know?
SN:  But are you ever able to separate the two and sometimes just watch a Thunder game and enjoy it or are you always focused on those feet?
LC:  No. (Laughs) I'm always focused on the feet. Usually, when we give him his first pair of size 18's, he's at his skills academy or something and he's shooting around before the kids come in. He's got the shoes on and I've got my camera out and I'm like, literally just focused on the shoes. Shooting that and making sure it looks stable and it's working. And also just watching his foot motions and his footwork. Those are the things that help a lot – just observing versus always asking him questions – just watching it. Everything from off the court, to on the floor, practice, him and his boys, all that. It's just being an observer and soaking it all in. Eventually something will come out of it. Little things like just watching him do something will make it into the shoe somehow.
A big thanks to Leo Chang and the Nike team for taking the time to chat with Sneaker News.