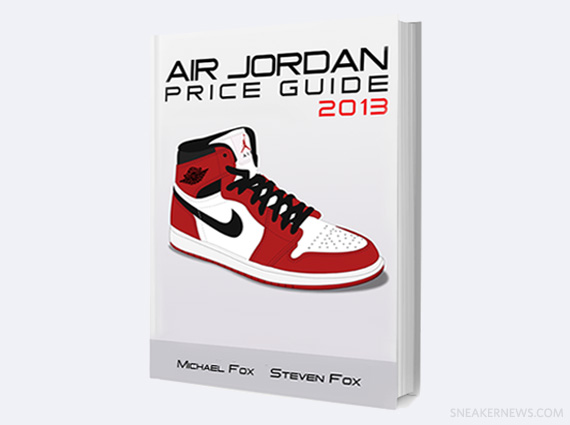 Shopping for sneakers isn't limited to retail stores and online shops. It's a practice that has long since jumped into the realm of eBay, internet sneaker forums, and other unofficial third-party resellers (most notably Flight Club, which has been around for over a decade and has served as an unofficial price guide), and if you are indeed buying outside an official retailer, chances are you're paying more than the suggested retail price. That's because the Air Jordan and sneaker culture has always been strong and kicks have held dollar value rather impressively with rates following the most basic "supply and demand" ideas of economics. Paying above retail after a sneaker release has become an accepted part of the culture these days, and getting a firm grasp on the "value" of a sneaker post-retail is paramount in ensuring that you're not spending more than you probably should. Two fellas by the names of Michael Fox and Steven Fox (either brothers or a funny coincidence) have compiled tons of data and neatly arranged it into the Air Jordan Price Guide 2013, which includes over 400 Air Jordans that date back to the original days in '85.
A resource like the Air Jordan Price Guide 2013 sorta calls back to days when other popular collectibles like basketball trading cards and comic books had dedicated price guides in Beckett Basketball and Wizard that we enthusiastically read through front to back just to keep tabs on our personal collections and those on our "wanted" lists, and sneaker collectors can attest to the fact that sometimes the simple act of ownership gets the blood flowing like no other. And let's face it – we're not playing basketball with our Star '84 Jordan XRCs in our socks and we're not fighting evil-doers at night with copies of original Spider Man issues in our back pockets, so "collecting" Air Jordans and other sneakers and keeping them in pristine shape shouldn't be treated with disdain because hey – someone could be fiendishly hunting for a pair you've left deadstock in your closet.
Of course, a sneaker price guide of some sort might be much better off as a monthly publication rather than a yearly one, because sneaker prices tend to fluctuate (usually in an upwards direction), but some unusual events could lower the overall price of a shoe. Take the Air Jordan XI "Bred" restock for instance; with more pairs ready to flood the market and the opportunity to purchase at retail popping up once again, the price for a pair of Breds from an outside seller will undoubtedly go down – for now. The fact is that sneakers have and will always have a primary purpose – to be laced up on your feet and be broken into the ground, but there's no telling when you'll have the urge to cop a release from years ago or maybe unload a few of your own to cop something newer. Your thoughts on this Air Jordan Price Guide 2013 book? Let's get the discussion going on below.

via garywarnett