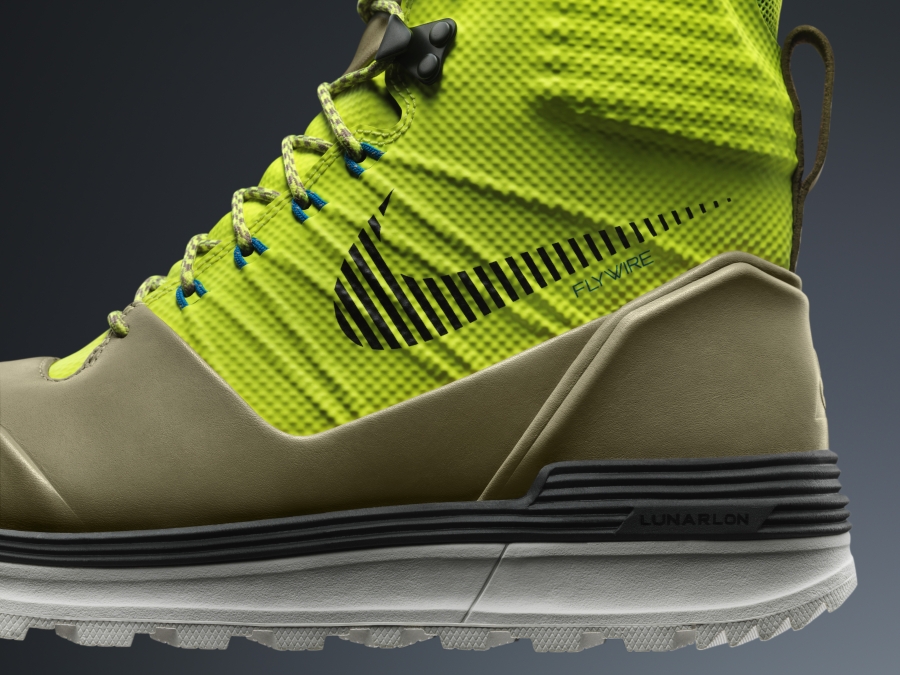 Nike's new SneakerBoot line isn't the only way in which the Beaverton based company will be helping you trudge through the pending winter. Also on its way is the new Nike LunarTerra Arktos, a model designed by Nate VanHook of Air Yeezy 2 fame. The shoe pairs the lightweight Nike Lunar platform with a rugged boot build, one that benefits from a couple more proprietary technologies like Hyperfuse and Dynamic Flywire. Continue reading for a complete look at the bootie-inserted zipper-equipped Nike LunarTerra Arktos and watch for the sneakers to make their debut at NSW retailers starting October 1st.

Source: Nike INC
Each year, a time comes when you need something more substantial than your everyday sneaker. Faced with that problem, Nike senior designer Nate VanHook took inspiration from the modularity of Matryoshka dolls and the toughness of arctic bears to develop the ultimate solution.
"The word "arktos" is ancient Greek for "bear" and is where the term "Arctic" is derived; meaning the land of the polar bear. The idea was to create a product so warm and utilitarian that it could exist in the Arctic."
Delivering the lightweight comfort of a sneaker with the rugged, insulated protection of a boot, the Nike LunarTerra Arktos is a modular solution to harsh conditions. This is the new and improved cold weather system of dress.
To create the perfect boot, all of the latest Nike technologies were utilized. Developed for running and performance basketball, Nike's dynamic Flywire and Hyperfuse construction are used in the upper for an adaptive fit and increased resilience. The tongue, toe, and foxing all feature Nike's Vac Tec molding to reduce seams and potential leak points. Inspired by the comfort of Nike running shoes, a Nike Lunarlon midsole shaves weight, maximizes comfort and increases mobility. A zoned sticky and hard rubber outsole renders any terrain null and void and helps to ensure stability. Lastly, a sealed medial zip makes for easy on-and-off and releases a removable bootie that keeps the foot warm and dry after a hard day's wear.
"When looking for inspiration I researched Russian design and was drawn to traditional Matryoshka Stacking Dolls. The idea of modularity and pulling things apart to create a system that is stronger is perfect for creating a warmer product, much like a waterproof shell and insulated liner."
A recent trip to Japan also bolstered VanHook's creativity.
"In Japan it's customary to take your shoes off before entering some restaurants or anyone's home. From there I imagined someone trekking mud all over my house. Creating a system with an insulated liner that can be removed from the outer shell allows you to take your boots off at the front door while keeping your booties on for warmth and traction."
Veneering an amalgamation of innovation, waterproof leather overlays contrast the tech savvy upper with the look and feel of a classic leather boot that gets better as it ages.
The Nike LunarTerra Arktos will be available at your local Nike Sportswear retailer beginning Oct. 1.