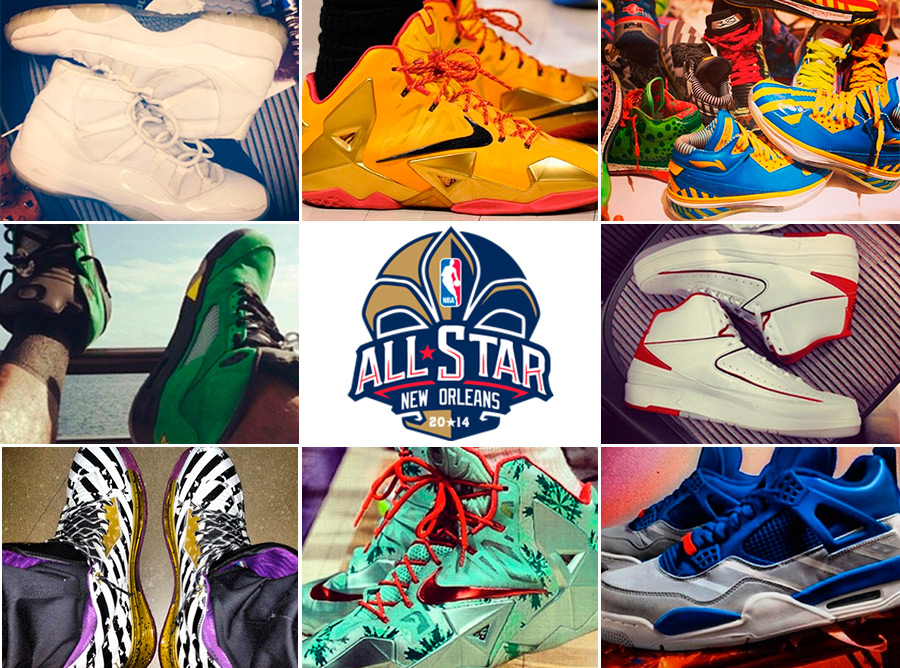 We're more than halfway through this NBA season and every February basketball fans and sneakerheads alike salivate for two respective reasons – the first is that the annual NBA All-Star weekend rolls into town and we'll be treated to some of the best athletes on the planet showcasing their skills. The second is that February is usually the busiest month release wise for sneakers across the board. And while this year's festivities will be taking place in New Orleans, brands are gearing up to drop a bunch of special edition "All-Star" collections to long lines and clambering hands. So in honor of All-Star weekend dawning upon us, we've scrolled through the archives to bring you our selections for our All-NBA sneaker squad by conference.
Whether it was Nate Robinson's sneaker bag of surprises for the first half of the season with his usual plethora of Air Jordan retros, Nick Young debuting the Nike Kobe 9 Elite with Kobe sidelined, or LeBron's increasingly diverse selection of models from his LeBron like throughout the season, the first 50 games have showcased how sneaker savvy the increasingly young NBA has become. Be sure to check out who we have on our All-Conference squads for our All-NBA-Sneaker Team and be sure to let us know what you think of the selections by penning your thoughts in the comments section.
Dwyane Wade – G – (Miami Heat) Eastern Conference
OK so thus far, our list hasn't deviated too far from the actual All-Star roster with D Wade garnering yet another All-Star starting role, but you have to hand it to Dwyane Wade. He took the unconventional route by ditching Jordan Brand (can you imagine how hard that must've been with all those Retros and glorious PEs given to you from the man himself?) But he did so to start his own signature line in the Li-Ning Way of Wade and has been a vocal spokesperson of the sneaker line, peaking interest stateside despite no general release date in site. He's given sneaker customizers some love in the past too and has given us plenty exclusive colorways to gawk at via his social media accounts. We're looking forward to what Wade has cooking up for this post season.
Tony Wroten – G – (Philadelphia 76ers) Eastern Conference
Tony Wroten has been lacing up some of the best kicks from around the league all season. If you're thinking of a rare colorway from the Air Jordan archives, then the second year guard out of Washington probably sported the pair at some point this season (word to his week long Air Jordan 11 "Silver Anniversary" spree). The Sixers reserve has hit career bests across the board as his minutes increased on a Sixers team that's more interested in off-season acquisitions than winning right now, but Wroten's footwear selections alone have been one of the rare reasons to tune into Sixers games. He even gave customizer Mache some love early on in the season with pairs of both the Air Jordan 12 and Air Jordan 4 customized in vibrant royal blue and team red shades to match his gameday attire.
LeBron James – F – (Miami Heat) Eastern Conference
Much of the MVP talk surrounding LeBron has halted due to not having that one stand out moment this season, or how he might be "coasting" until the playoffs start. And yet, for as consistent as his numbers are, his sneakers have been all the more inconsistent with a toebox problem on the Nike LeBron 11 being resolved, yet he still switches to the Nike Zoom Soldier 7 fairly often. Nike's done a great job at handling the situation by giving us exclusive looks at metallic editions of the strapped team shoe in the LeBron line, while we still get appeased with a number of great LeBron 11s – Fairfax PE against the Clippers, anyone?
Carmelo Anthony – F – (New York Knicks) Eastern Conference
The Knicks have had a more turbulent year than necessary, and yet in the grand scheme of things, they're still posed to make a playoff run if they can get healthy and focused. The play of Carmelo Anthony lately has only shown more promise (he set the single game record for most points at the Garden with 62 recently), as the frequent All-Star makes our list with the addition of his new Jordan Melo M10 – possibly he best yet in his line of Melo shoes in collaboration with Jordan Brand and famed sneaker designer Tinker Hatfield. He became JB's first signature athlete since the man himself to reach the ten shoe milestone and you can tell Jordan Brand made him the focus of their 2013 crop of signatures. And while most of the talk surrounding Melo happens to be about whether he'll depart New York, we're at the very least looking forward to where Jordan Brand takes his signature line in the future (and whether they'll release those coveted Air Jordan 5 "Melo" pairs in a Knicks colorway before it may be too late).
Andre Drummond – C – (Detroit Pistons) Eastern Conference
In a couple of years we'll be seeing Andre Drummond's name in the actual All-Star roster line-up – the dude is that talented, and he's only 20 years old. Averaging a double-double at nearly 13 points and 13 boards a game, you may have come across Drummond's name on Sports Center's Top Ten a few times this season. He even took the extra effort to lace up a pair of the Air Jordan 10 "Old Royal" and write the names of all the victims of the Sandy Hook Elementary tragedy in Sharpie on the eve of it's one year anniversary (Drummond is a native of Connecticut). An aficionado of the Air Jordan 3 and Air Jordan 14, Drummond has been one of the bright spots on a rather disappointing Pistons squad loaded with talent. And yet, the East is as wide open as ever for the Pistons to claim a playoff spot, and with a brand new head coach at the helm, we may be seeing Andre lace up even more Jordan retro heat come post-season time. Here's to hoping.
Nate Robinson – G – (Denver Nuggets) Western Conference
We're as sad as you are to see this high energy guy have to sit out the rest of the season, but by no means does that mean we'll leave Nate Robinson off our list. Nate's been a spark plug off the bench for a number of seasons now, and helped the Chicago Bulls reach the second round of the playoffs last year despite a Derrick Rose injury that had skeptics shelving the Bulls for a lottery selection. And while we were treated to a number of classic Air Jordan looks due to his Bulls membership, Nate's signing with the Nuggets this off-season had us wondering what he'd lace up next. From the obvious "Gamma Blue" 11s and Air Jordan 12 pairs that he wore to even giving the Air Jordan 9 "For the Love of the Game" some love, his selections managed to keep us interested. Nate's absence will be felt as the Nuggets vie for a Western Conference playoff spot, but his on-court selections will be missed by us even more. In the meantime, we'll be getting our fix by checking Nate's recovery process (and sneakers) on his Instagram, just easy on the filters, Nate.
Nick Young – G – (Los Angeles Lakers) Western Conference
Lakers fans are entering a strange territory not seen since the days of Nick Van Exel and Eddie Jones (the post-Magic, pre-Kobe and Shaq phase). How fitting then, that a Los Angeles kid that grew up watching those two guys as a youngster takes the reigns as a scoring threat for the purple and gold this season. Nick Young's shoe game has been diverse, from being the first guy to lace up the Nike Kobe 9 while Kobe watches from the sidelines, to a bevy of Air Jordan and Foamposites. His Swaggy P moniker on social media has never made more sense, but above all else, he managed to make Lakers games missing a certain number 24 watchable this season.
Kevin Durant – F – (Oklahoma City Thunder) Western Conference
Ladies and Gentleman, your 2014 NBA MVP. Well, at least for now (you can never count out the lurking monster of a late-season LeBron James). But with a January where he averaged over 36 point per game and a Thunder squad that claims the best record in basketball without Russell Westbrook, Kevin Durant is having his best season yet. His sneakers, meanwhile, just tallied $175 million last year – a jump from $35 million the previous year, begging the question of whether Kevin is posed to jump over LeBron not only in the MVP category but also in sneaker sales. His brand new Nike KD 6 has made an impact beyond just KD's feet as well, just look on any NBA roster to see a bevy of players lacing up NIKEiD iterations of Durantula's latest silhouette. Not too bad for a guy that claims to not "far from a sneakerhead", but when you're a part of Nike's big three you don't necessarily have to be.
Blake Griffin – F – (Los Angeles Clippers) Western Conference
Blake takes a lot of heat around the league against opposing defenders and his endorsement resume may play a big part of that, but this season, Griffin has upped the ante, playing some of the best basketball of his life while Chris Paul was injured. What resulted was a stronger Clippers team and a Blake Griffin All-Star selection that went beyond his highlight reel dunks. Last year's All-Star game ushered in the Jordan Super.Fly 2 and while the release date continued to be pushed back until late this past summer, we ended up with a more than formidable playing shoe and a respectable first sneaker as a member of Jordan Brand. Where the Jumpman decides to go with Blake Griffin's tenure there is still a guessing game, seeing as how the Super.Fly 2 isn't technically a Blake signature, but we're more than excited to see what he'll be wearing for takeoff over the next few seasons.
DeMarcus Cousins – C – (Sacramento Kings) Western Conference 
Wait, so how did DeMarcus "Boogie" Cousins not make the actual All-Star game when he averages 23 points per along with nearly 13 rebounds per game? Your guess is as good as ours, but Cousins has given us more entertainment this NBA season than most players. Add into that the amount of crazy footwear selections that Sacramento's big man has sported this season, ranging from being one of the few players to rock the Nike LeBron 11 early on in the "Terracotta Warrior" edition, to the likes of the Air Jordan 10 "Steel" and Nike's new Hyperrev and he was an easy selection to highlight our Western Conference All-Sneaker team. His sneaker wears were as eclectic as his many moods, and his actual All-Star snub shouldn't last too long, as DeMarcus will be a star in the league for years to come.