502955
How Much Do NBA Athletes Get Paid By Sneaker Brands?
It's a signature shoe world, isn't it? It's become almost necessary for a brand to have that headlining athlete in order to establish a category, and in this era when LeBrons, KDs, and Kobes dominate the wish-lists, brands have had to up the ante in order to keep these guys around. What makes the case further is that brands are relying on bringing back older models to boost sales (Kobe Prelude Pack, Jordan Melo 1.5, and it's definitely not stopping there). We already know of the long-term contracts signed by these guys, but did you ever wonder about the actual numbers behind these deals?
Here we have a collection of some of the highest paid signature athletes in the NBA based on this Forbes article. There are the obvious names in here, considering there aren't much more than ten signature athletes actively balling the league, but there are some surprises in here for sure. Most importantly, this order is bound to change, with guys like KD pulling in massive numbers and other fellows struggling in that aspect. Check out this list below, and let us know which name and figure surprises you the most.
Russell Westbrook | Jordan Brand | Under $3 Million
Russell Westbrook made a power move by moving from Nike to Jordan Brand back in 2012. Since then, he was been quickly inserted as the go-to guy to wear the Air Jordan signature model – not a bad move considering the OKC Thunder are likely to go deep into the Playoffs every year. While the exact figure isn't confirmed, his off-the-court endorsement deals (one of which is with Nike/Jordan Brand) are said to be about $3 million.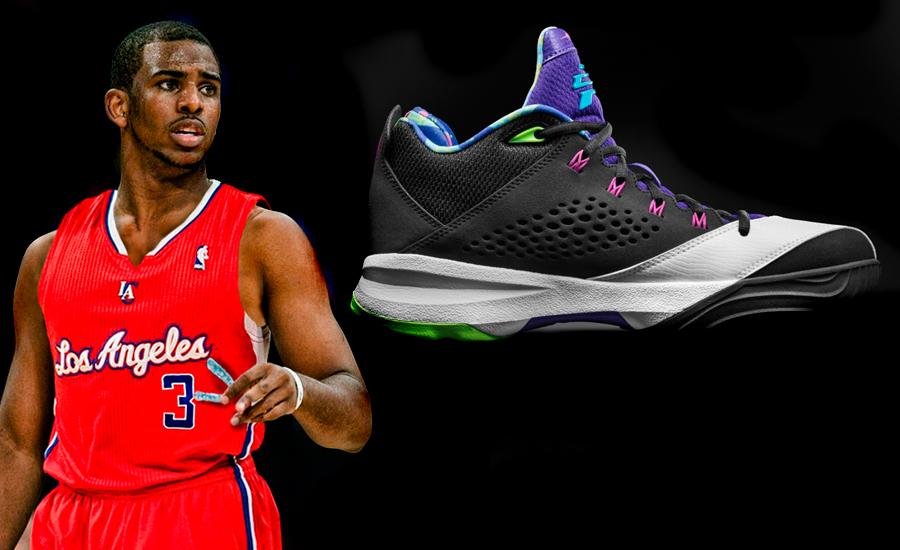 Chris Paul | Jordan Brand | $4 Million
We'll continue this breakdown with one of the longest-tenured signature athletes at Jordan Brand – Los Angeles Clippers point guard Chris Paul. He's currently on his seventh signature shoe, but sales were never outstanding and the "street credibility" of his shoes are questionable to this day. However, numbers are rather strong in two demographics – China, and with kids.
Blake Griffin | Jordan Brand | $6 Million
A lot of brands went after Blake Griffin when he exploded onto the scene with his massive dunks during the 2011 NBA All-Star Weekend. While he was a Nike athlete at the time, he was a sneaker free agent the following offseason and Jordan Brand quickly picked him. His marketability and charisma are unquestionable, but thus far he's yet to have a signature shoe with his name. Instead, he is the primary athlete to rock Jordan Brand's top performance gear, namely the Jordan Super.Fly 2.
Dwight Howard | adidas | $6 Million
The game's best center has been a member of the adidas roster for a decade now. His signature sneaker, however, isn't a key player in the market and the whole "big men don't sell shoes" bodes true here, as reports of just $5 million in U.S. sales puts D-Howard's deal under the microscope.
Amar'e Stoudemire | Nike | $6.5 Million
STAT is the most surprising name on this list. While everyone named in this exclusive group has a signature shoe to boast, Stoudemire has been out of that loop for a while now. Years ago, Amar'e was the best frontcourt player in the game and he did have a short-lived sig shoe line, but today his rotation consists of Zoom Soldiers for the most part.
Carmelo Anthony | Jordan Brand | $9 Million
Melo is Jordan Brand's longest-tenured signature athlete, and his global popularity can't be questioned. Ever since he entered the league, he and LeBron were unofficial rivals of sorts, and the signature shoe category is another section that LeBron has dominated. Still, the Jordan Melo series is regarded as one of the best performing basketball shoes of this era, and he still brought in $30 million in 2013.
Dwyane Wade | Li-Ning | $12 Million
Wade's departure from Jordan Brand and arrival at Li-Ning was one of the more buzzworthy stories in the rather quiet signature sneaker news category. Sources say his deal is $12 million a year to push Li-Ning product in the States, and there's no denying that the brand recognition is rising. Wade, however, only has a few years left in the NBA, but will he have that post-career popularity like Michael Jordan has?
Kevin Durant | Nike | $14 Million
In a few years, Kevin Durant might outsell LeBron James, and when he does, he has every reason to demand more money from Nike (depending on when his contract ends). KD is paid $14 million according to the source, but his U.S. sales in 2013 were $175 million!
Derrick Rose | adidas | $21 Million
One of the saddest stories in the NBA is Derrick Rose's potential being capped due to the knee injury. Before he went down, D-Rose had everything going for him – especially the lucrative deal he signed with adidas to sell shoes. He's definitely not the highest paid signature athlete, though…
Kobe Bryant | Nike | $34 Million
The Black Mamba comes in at number 2 on this list, getting a nice check for $34 million from Nike. While the sales numbers don't match that of LeBron James, Kobe is revered all across the globe and brought back that winning attitude to Nike.
LeBron James | Nike | $42 Million
No surprise here – King James is tops in the sig shoe world. His U.S. sales were reported to be $300 million last year, and he gets a nice $42 Million payment from Nike for his influence and ability to sell shoes. Of course, having the talented Jason Petrie pen his kicks doesn't hurt!