507829
Tailor Made: The Finer Details Of The Air Jordan XX9

Jordan Brand introduced a new performance-woven upper technology in today's unveiling of the Air Jordan XX9. The highly anticipated successor to the XX8 was shown for the first time at a media event in New York, billed with the tagline 'Tailored for Flight'. Russell Westbrook described the Jordan 29 as feeling extremely comfortable the instant he put them on, and that's no coincidence. A team of legendary Jordan Brand designers, which include Tinker Hatfield, Mark Smith, and Tiffany Beers, created a revolutionary new flagship that combines the heralded Flight Plate with a one-piece upper carefully crafted to mold to your foot.
Moving from a more traditionally layered if unconventional design like the Jordan 28 to the 29 is a huge leap. It required extensive collaboration with the master craftsmen in the Italian factory responsible for the game-changing upper. This is a shoe whose material allows for it to surpass old school layering while simultaneously providing a more precise expression of prints and patterns than any other; quite simply the most advanced upper ever seen in the Air Jordan line. There's a lot to take in from Jordan Brand's latest foray into the Air Jordan, so let's examine this next generation masterpiece in greater detail:
The Air Jordan XX9 will debut in September after appearing on court in the 2014 NBA Playoffs. It features an Italian-made performance-woven upper with Flight Web Fit System and articulated collar padding, atop a re-engineered Flight Plate with clear and solid rubbers for optimum traction. The first two colorways will be Black/White-Gym Red with Elephant Print and Black/Team Orange-Dark Grey. Retail price is $225.
When asked for his favorite design to date, Tinker Hatfield responded that the Air Jordan XX9 is the biggest leap forward since the XI, which he noted as his personal choice (the biggest leap forward since the shoe many consider to be the greatest in history is quite the endorsement). This all started with a wholly new approach to basketball shoe uppers. The designers started with the physical properties they needed and let the design flow from there, and a knitting technique found in Italy turned out to be the key to uniting the shoe's performance and aesthetic goals.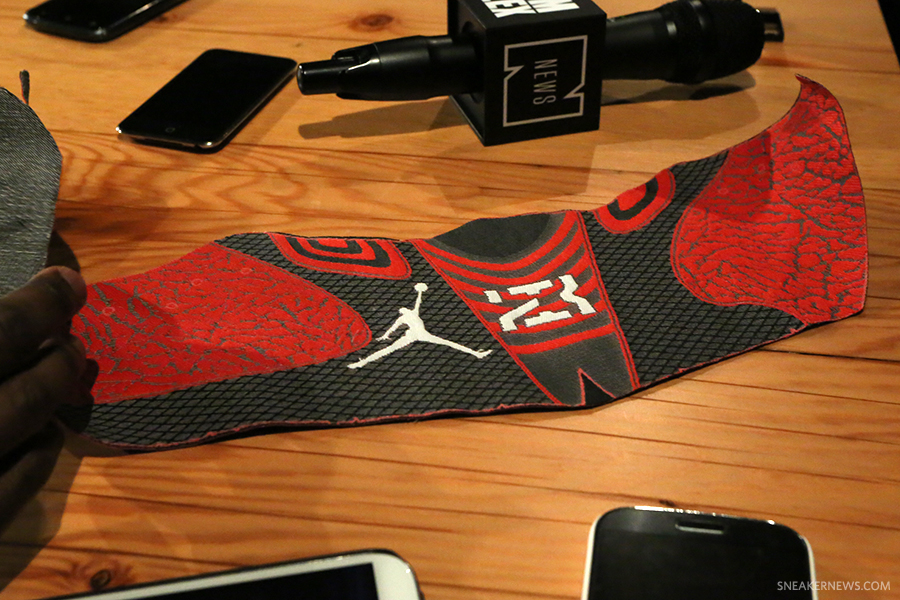 The Jordan 29's uppers are made on Italian machinery so complex it takes workers three years of training to use one and eight to program it. Adapting techniques used on fine labels and luxury bowties, the Italian-made upper has been designed in one piece to provide stability based on how tight it's woven. There are no layers as with traditional shoes, and both the level of support and aesthetics can be defined down to the square millimeter. The ability to take sample swatches back to Beaverton instead of engaging with the traditional layered sampling process could alter the future of footwear production.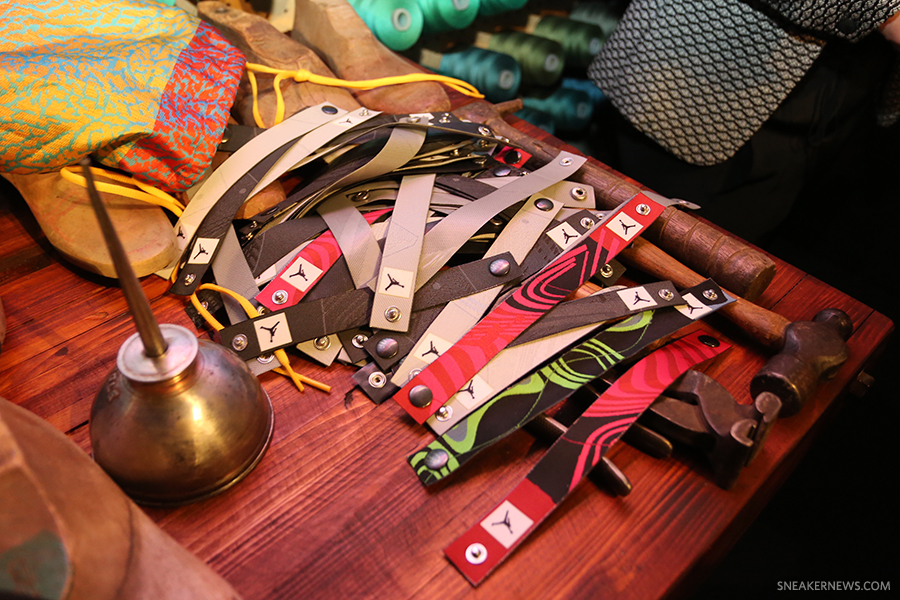 Enter the greatest footwear designer of all time, Tinker Hatfield. His first exposure to the woven concept came from, of all places, an automobile airbag. You might be surprised to know that most of their material is woven, and specifically because it's great at absorbing the tremendous force generated. That had Hatfield thinking something similar could excel on the hardwood. He created a 'lasted upper shell', which was basically a 3-D model of a generic upper with darker lines indicating areas of greater structure and lighter pointing to flexible zones.
Tinker also had a more traditional 'plan b' upper waiting in the wings just in case, but most of the effort in perfecting the XX9's top half went into integrating it with the rest of the tech. First, designers had to figure out how to incorporate the Flight Web System, which provides a personalized, dynamic fit. From there, engineers had to figure out how to get the uppers that had been flown from Italy together with the updated Flight Plate soles over in Asia.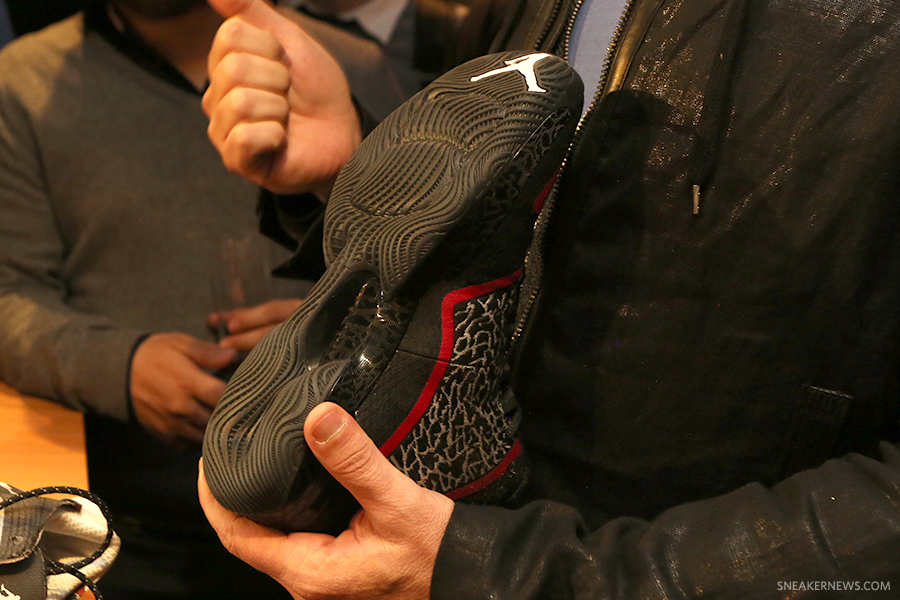 The Jordan 29 rides a re-engineered version of the critically acclaimed Flight Plate sole. Because it's an evolution from the XX8 begun before that model even released and not a brand new concept, Hatfield was able to make this new Flight Plate simpler but better. Based on feedback from weartesters, designers found it might be better to smooth out the transition from heel to toe. Compared to the 28 or even the Jordan 11 and its carbon fiber plate, the 29 takes a slightly different approach. And it's not just fleshing out the otherwise podular approach either, they set the angle of the midfoot area to facilitate the smoothest landing. Responding to testers' feedback meant JB needed to make a change relatively late in the design process, but they were committed to doing whatever it took to produce the greatest basketball shoe to date.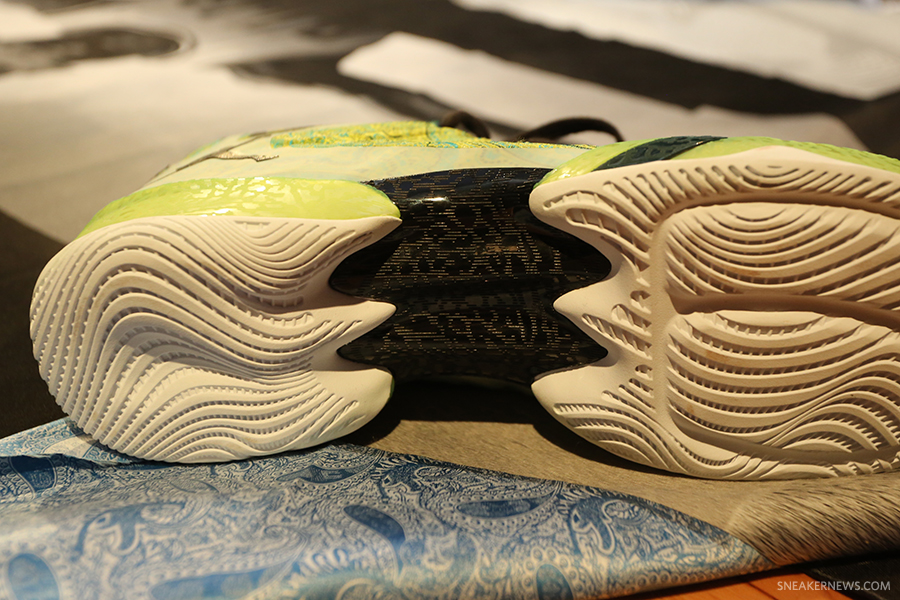 Once the performance side of things was given its proper priority, the design work moved to the shoe's look. Beginning with providing that signature elegant Jordan look from a distance, this new upper allows you to go in and add whatever colors, prints or graphics you might imagine. We have seen Elephant Print, paisley and abstract jacquard-ish textures so far, and the possibilities are endless. Even the outsole has a signature pattern, 'Jordan Plaid'. This pattern was programmed based on numbers significant to Michaels's career (23, 6, etc) and early returns suggest this numerology pattern is a real performer.