586154
An Epic Collection of Air Jordan and Nike PEs For Baseball Superstars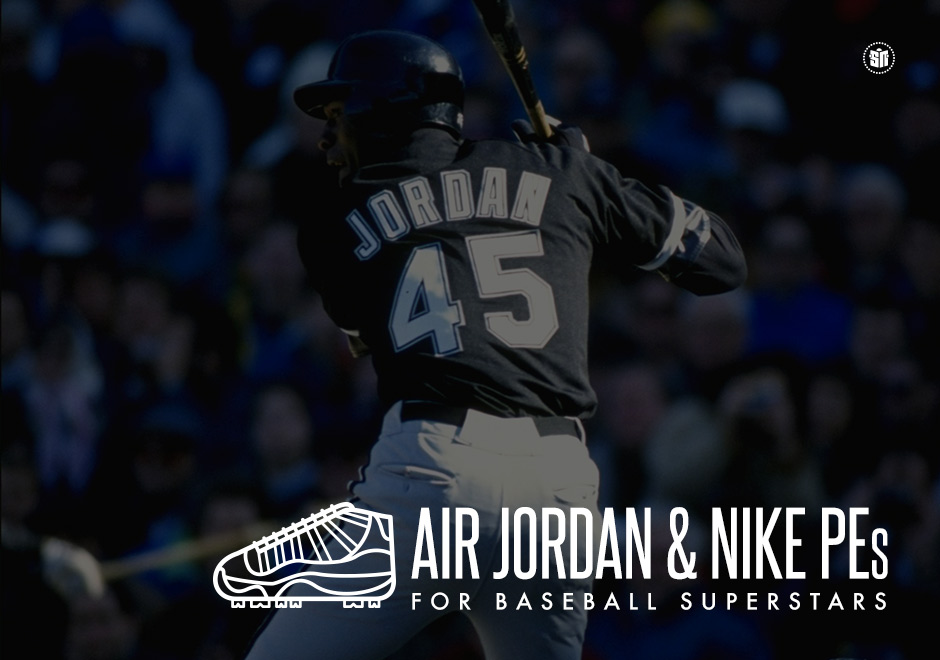 The first full month of baseball is almost wrapped up and fans around the nation have adapted to the smell of fresh-cut grass. Pitching rotations have turned around a few times and batting orders are pretty much set in place, but about 140 games are still ahead for each of the thirty teams in the league. Sneakers are never a consistent headline from this sport, but the game of basketball, where kicks are key, infiltrated the game when Michael stepped foot onto the diamond in the mid-90's. Since then, brands have targeted the top sluggers, with Jordan Brand playing the most relevant role thanks to their Player Exclusives.
Featured here is a collection of some of the rarest and most exciting made-for-baseball Exclusives we've ever seen. Andruw Jones is, of course, a recurring name, but you'll find some incredibly rare gems from Nike, a popular Air Jordan XI for a former Ace, and OG Xs from Jordan's baseball days. A big thanks to Puneet for sharing a part of his incredibly massive collection, so be sure to follow him on Instagram at SoleSupreme23 if you desire to get your jaw dropped with his incredible sneakers.
Air Jordan X Sample for Michael Jordan
A baseball-ready version of the Air Jordan X was created for Michael as he took his talents to the baseball diamond.
Air Jordan XI "Space Jam" for C.C. Sabathia
The Yankees ace stepped up the PE game when he moved to the New York Yankees. A "Space Jam" version of the Air Jordan XI Cleat was one of the highlights of his on-field rotation.
Nike Air Show 3/4 Look-see Sample for 1998 All-Star Game
Nike fashioned these all-red All-Star Game cleats for the '98 affair in Colorado, which was dominated by the American League.
Nike Air Show 3/4 PE for Ken Caminiti
The late slugger wore this black/yellow pair of the Air Show 3/4 during the 1999 season. The Black/Yellow colorway was a match with the Houston Astros uniform, but the franchise would bring on new colors and logos in 2000.
Jordan Six Rings PE for Carl Crawford
The Jordan Six Rings made its first-ever appearance on the baseball diamond when Jordan Brand created these Jackie Robinson Day specialties for its athletes in 2013.
Air Jordan IX Cleats/Turf Set for Andruw Jones
Jordan Brand hooked up Jones with two versions of the Air Jordan 9 to go along with his White Sox garb.
Air Jordan IX Turf PE Set
Seen here are two PEs for Andruw Jones (Texas Rangers, Chicago White Sox) and one for Gary Sheffield (New York Mets).
Air Jordan VI PE for Gio Gonzalez
The Nationals pitcher loves to flaunt his latest pick-ups on his Instagram. Here's a pair of Air Jordan VIs made just for him.
Nike 2003 "All-Star" PE for Andruw Jones
Prior to signing with Jordan Brand, Andruw Jones was issued this glittered-out reflective PE for the 2003 All-Star Game.
Air Jordan XII PE for C.C. Sabathia
C.C. Sabathia's Air Jordan 12 in black and grey patent leather was another gem from his Retro rotation.
Air Jordan VI PE for Carl Crawford
Some never-before-seen color-blocking adorns this Air Jordan VI PE for Jordan athlete Carl Crawford.
Air Jordan III 2008 All-Star PE for Andruw Jones
Centerfielder Andruw Jones has several Air Jordan III PEs to his name, but this one with the "flip" treatment and his signature logo on the heel is one of the best.