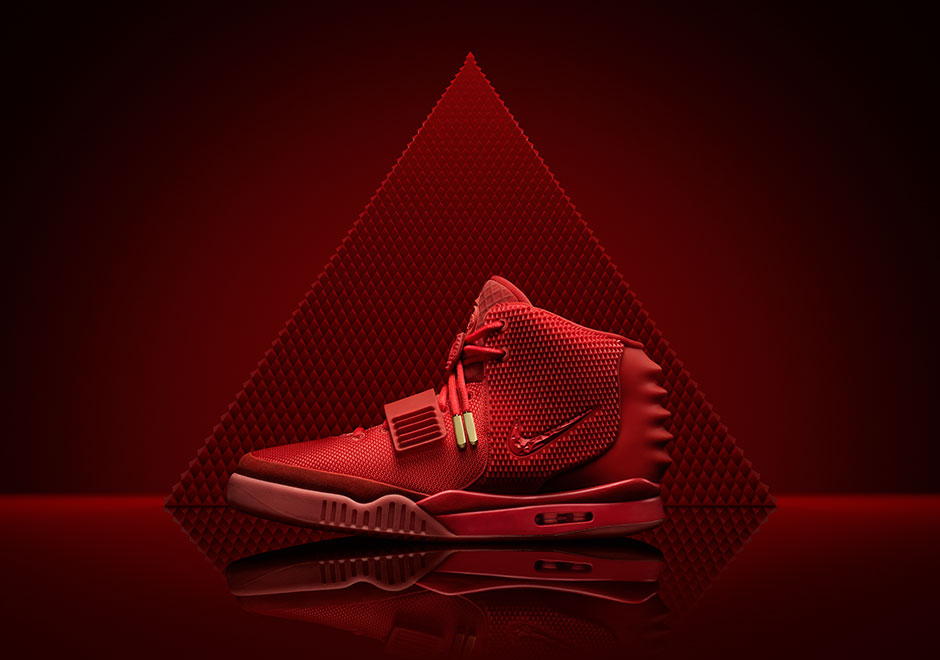 The online release of the red Yeezy 2s has a strong imprint in sneaker history – so much so that you probably remember what you were doing at the exact moment you heard of the news. That eventful Sunday afternoon will indeed be remembered forever as the most epic online sneaker release in history, and those who were late to the game only had the incredible imagery of Kanye's Nike design to pine over. The timing of the release only added to the unpredictable nature of the release, because by that juncture rumors of Kanye jumping over to adidas were in full effect and his ties to the Beaverton brand were all but severed.
Despite what went down between Nike and Kanye, the third and final release of the Yeezy 2 would only add to Ye's impressive sneaker resume. As it turns out Nike might have had plans to release the Red Yeezy 2 much earlier based on Shane Griffin, the visual designer who worked on the images three months before they finally released. We got in touch with Shane, the NYC-based designer who played a role in stopping the sneaker world in its tracks, so read our interview below.
Check out more of Shane's work at www.shanegriffin.nyc.
Above: Shane's work for Nike at the Nike Sneakerball
Sneaker News: Shane, tell us a little bit about yourself.
Shane Griffin: I'm an Irish born designer, currently living in New York City, working as creative director of a visual effects studio in Manhattan. I love sneakers, and it's a dream to be creating artwork for some of the worlds biggest and most culturally impactful sneakers and brands. My favorite sneakers in my collection currently are either my Riccardo Tisci x Nike Air Force 1, or plain black Adidas Tubulars. Today I've got some Air Max on with a grey & orange colorway. I need a new summer sneaker though, still undecided!
SN: When did you start doing these types of projects with Nike?
SG: I started working closely with Nike about 18 months ago. I don't necessarily work with the same crew every time – sometimes I get a call from Amsterdam, sometimes from London, and sometimes from Portland. But no matter where, they always bring great creative ideas and art direction to the table. It's a very collaborative, and enjoyable process. Hopefully we can do another before the year is out.
Above: The original photo used for the Nike.com release
SN: What was it like to work on a project that is likely the most
talked-about Nike sneaker of all-time?
SG: I assume you mean the Red Octobers?! Pretty sick, to be honest! Everybody has a job that people know them for, and that is probably mine. I experimented with about 50 different style frames for the campaign, and I was pumped for their release. Then Ye fell out with Nike and I thought they were never going to drop! About 3 months after I finished the images they popped up online. It was awesome to be able to show off the work. They were originally created for billboard size, so there's an incredible amount of detail in there that we don't really see.
SN: Did Nike ever hook you up with a pair of Red Yeezys?
SG: Still waiting!! *cough*
Above: Imagery for the official unveiling of the HTM x Nike Kobe 10 Elite
SN: Talk us through the concept of creating the imagery for the Kobe 10 HTM series.
SG: The objects you see in the campaign represent Kobe Bryant's ruthless precision, traction, and tactical brilliance. The creatives at Nike wanted to hit three notes with the imagery. The first, was to have the object as a light source. Creating this sort of self illuminated glass whose light spilled onto the shoe. The second was a dark, moody environment. We created just a hint of a floor with caustic light spill, in a black abyss. The third was dramatic overhead lighting.
I worked closely with photographer Sun Lee  to discuss matching the shoe lighting with the CGI backgrounds, making rue they integrated perfectly. Creating the master look for the imagery was done be combining a selection of different lighting styles and reflection layers. I used a dispersion technique within the glass to create very subtle chromatic spectrums, adding that extra bit of flavor and realism to the objects. Sorry, had to nerd out!
Thanks to Shane for taking the quick chat. Check out some more of his sneaker projects below.
"Sneakerball" for Nike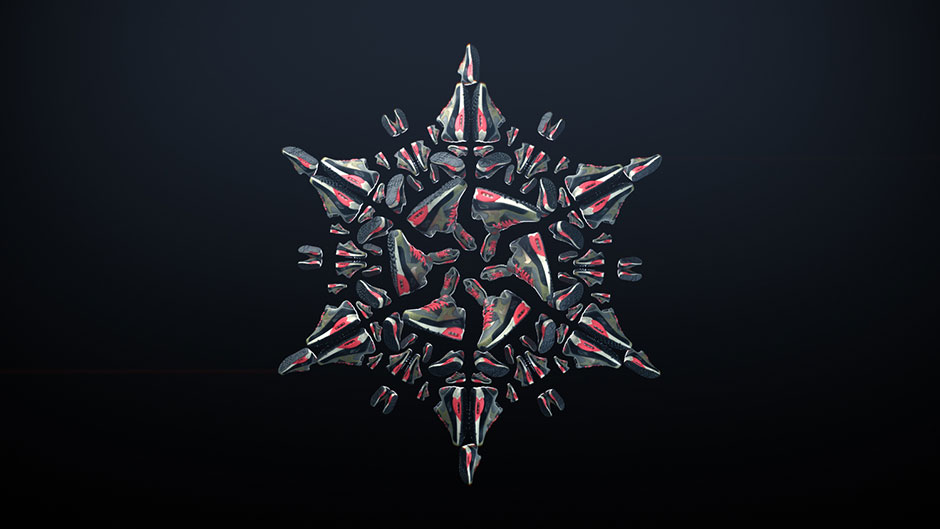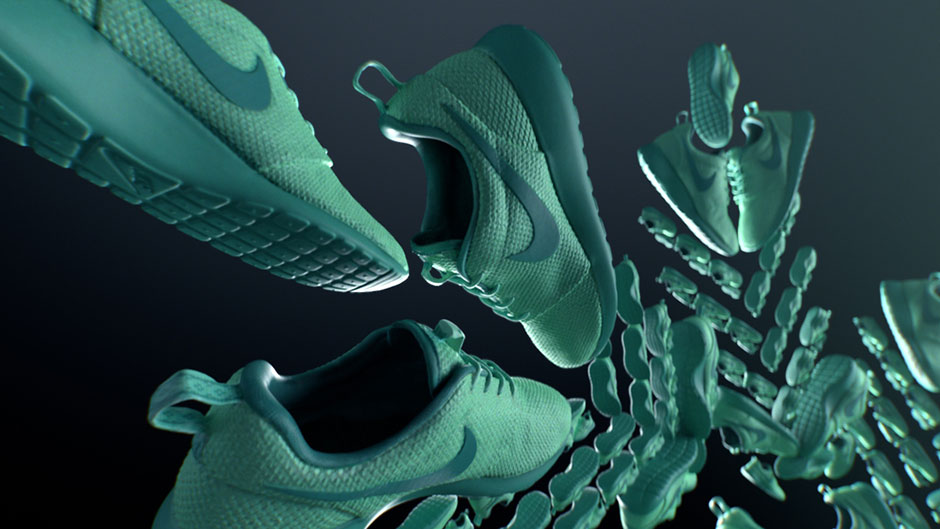 "Shoeflakes" for Champs Sports