Jordan, Kobe, LeBron, Duncan…all of these NBA stars went to the NBA Finals multiple times, but they all had that first game to break the seal into legendary status. We all know it was the Air Jordan VI that Jordan wore to his first-ever NBA Finals game, but do you know what the other players wore for their first-ever games? How about Steve Kerr, who won several titles and is now going for his first as an NBA coach? Check out this historical list of great sneakers worn in NBA Finals debuts below, and catch Game 1 of the 2015 NBA Finals in just over an hour.
LeBron James – 2007
Shoes: Nike Zoom LeBron Soldier
First Finals jitters? Believe it. LeBron's first-ever championship-level game was one of the worst of his career; he scored 14 points on 25% shooting and committed six turnovers.
Steph Curry – 2015
Shoes: Under Armour Curry One
Game One kicks off tonight and Curry and his Warriors are the favorite to win the series. How he'll perform in tonight's contest will dictate that.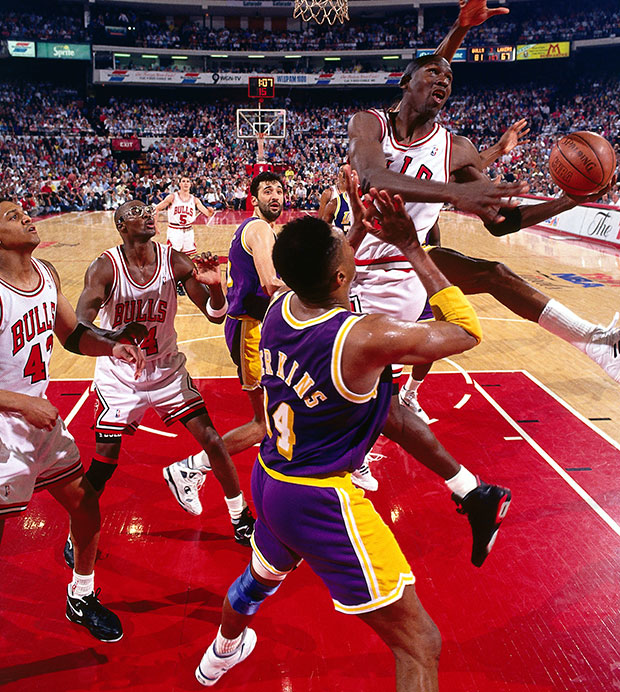 Michael Jordan – 1991
Shoes: Air Jordan VI
After finally defeating the Detroit Pistons, the Chicago Bulls reached their first-ever NBA Finals and faced the talented Lakers squad. Jordan proved to be ready for the limelight by scoring 36 points, but the Bulls ended up losing the opener. MJ and the Bulls went on the win the next four games to capture the franchise's first-ever championship title.
Kobe Bryant – 2000
Shoes: adidas The Kobe
Kobe Bryant's first official signature shoe and his first NBA Finals coincided in this exciting point in the young star's life. Shaq dominated that first game, but Kobe contributed his part with 14 points, 5 assists, and two blocks.
Penny Hardaway – 1995
Shoes: Nike Air Flight One
Penny's signature kicks would come later that year, but the Air Flight One was sorta his own. He poured in 26 points toward Orlando's effort to steal the first game in Houston, but they came up just short and ended up getting swept by the Rockets.
Allen Iverson – 2001
Shoes: Reebok Answer IV
Arguably one of the most iconic images in NBA Finals history, Allen Iverson took down the Lakers with an unstoppable scoring barrage which can only be summarized by this photo.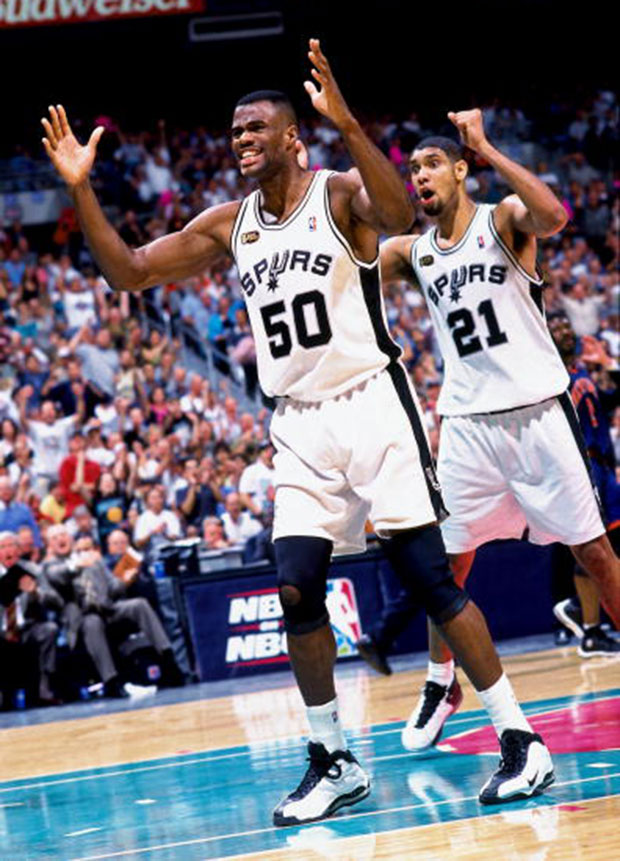 Tim Duncan, David Robinson – 1999
Shoes: Nike Air Team Max Zoom (David Robinson), Nike Air Holistic Uptempo (Duncan)
The legend of the Big Fundamental came in 1999 when Tim Duncan and David Robinson dominated the surprising New York Knicks in five short games. The younger of the two big-men dominated Game 1 with 33 points, but The Admiral was just one rebound and three assists shy of a triple double.
Jason Kidd – 2002
Shoes: Nike Zoom Flight Turbine
J-Kidd found the perfect home in New Jersey and helmed an offense that was one of the most entertaining in the league. He and the Nets had a huge task in taking down the Los Angeles Lakers, who were in search for a three-peat. Even a 26-10-10 triple double wasn't enough for a Game 1 win.
Dwyane Wade – 2006
Shoes: Converse Wade Playoff Edition
D-Wade's first-ever title came without LeBron and Bosh, but with Shaq in 2006. The jubilant shooting guard poured in a Jordan-esque 28, 6, and 6 en route to a loss, and despite his scoring prowess throughout the series, it was his free-throws that remain as the most memorable stat of that controversial Finals.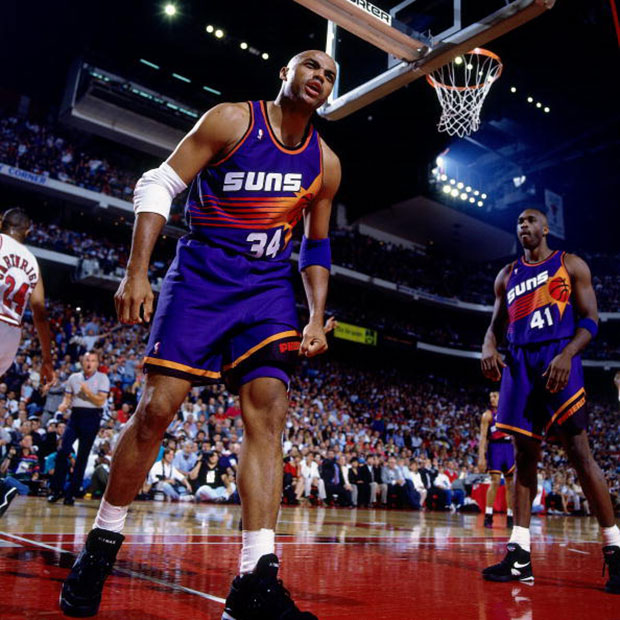 Charles Barkley – 1993
Shoes: Nike Air Force Max
Many believed that Barkley and the Suns would end MJ's run. Barkley struggled from the field in Game 1 despite contributing 21 points and 11 boards.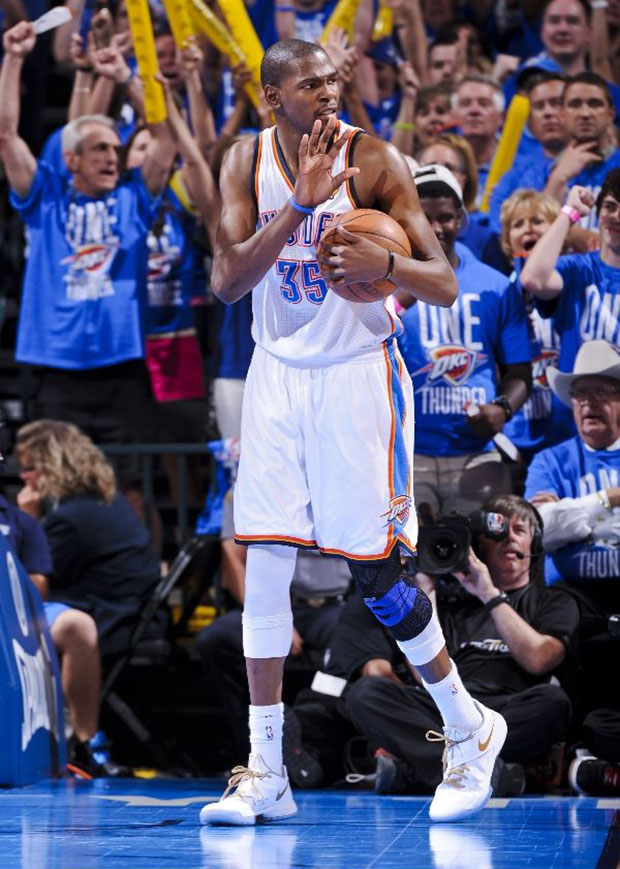 Kevin Durant – 2012
Shoes: Nike KD IV PE
Durant and the OKC Thunder were poised to win it all, even over a Big Three that seemed to play as a cohesively as they ever have. KD dropped 36 on Miami and took Game 1, but the Thunder ended up losing four straight by small margins.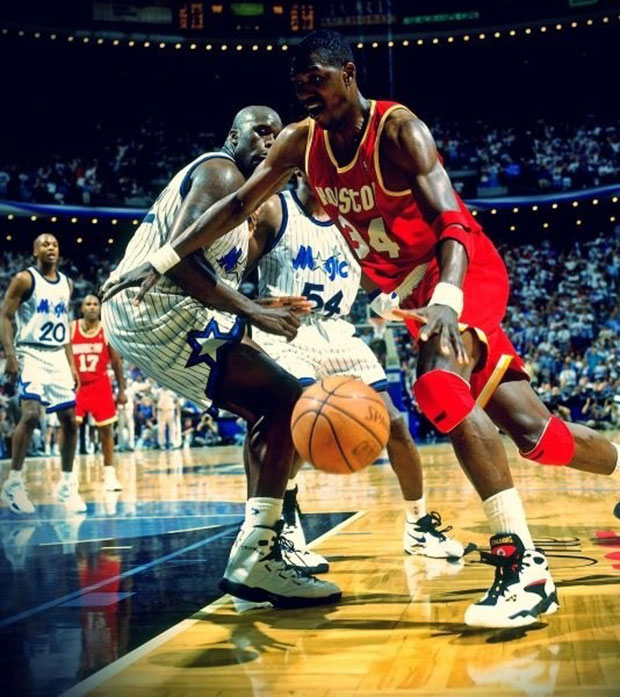 Shaquille O'neal – 1995
Shoes: Reebok Shaq Attaq PE
O'neal first NBA Finals came just three years into his career. After defeating the Bulls in the Playoffs (the '95 Magic were the only team in the Jordan era to beat Chicago in postseason play), Orlando collided with the Rockets, who had an elite center of their own. O'neal was just one assist shy of a triple double, and it might've made a difference because the Magic lost Game 1 by two points and ended up getting swept. For this series, Shaq wore an unreleased model of his Shaq line, which ended up becoming the Shaqnosis the year after.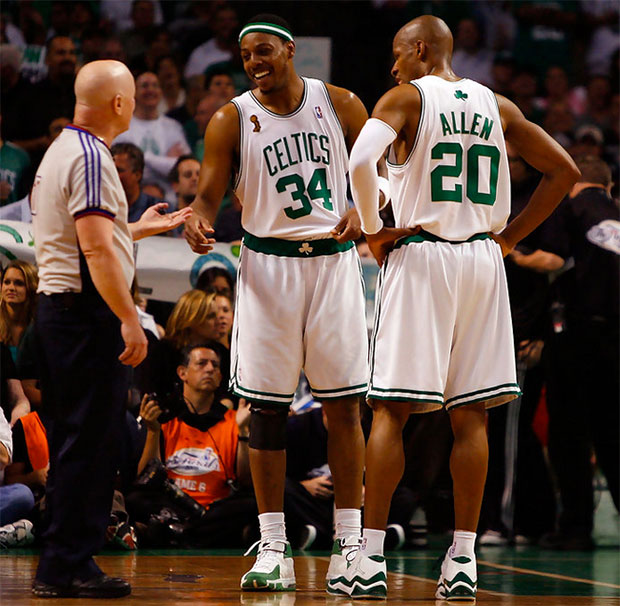 Paul Pierce – 2008
Shoes: Nike Air Max P2 IV
Paul Pierce's scoring ability in the clutch is the reason why he's been such an effective player his whole career. He was depended on to carry much of the load in the '08 Finals, and his MVP trophy for that series is proof that The Truth delivered. Here is wearing one of his signature shoes, the Air Max P2 IV.
Gary Payton – 1996
Shoes: Nike Air Thrill Flight
Could Gary Payton aka "The Glove" contain Michael Jordan? MJ scored a pedestrian 28 points, but the Sonics guard was the one who actually struggled from the field. Payton rocked the Air Thrill Flight, a takedown version of the Air Zoom Flight.
Ray Allen – 2008
Shoes: Jordan The Game Is Mine
After being traded to the Boston Celtics in 2007, Ray Allen joined forces with Paul Pierce and KG to bring the storied franchise back to the big stage. Ray, known for his Air Jordan PEs, opted for a Team shoe called The Game Is Mine. Fitting, considering his 19 points helped the Celtics win Game 1 over the Lakers.
Patrick Ewing, Hakeem Olajuwon – 1994
Shoes: Ewing Athletics Image (Patrick Ewing), LA Gear Hakeem Signature Shoe (Hakeem Olajuwon)
With MJ gone, two of league's best centers clashed in the Finals for an old-school battle of big-men. Hakeem got the upper hand by scoring more points and, more importantly, winning Game 1.
Shawn Kemp – 1996
Shoes: Reebok Optix
To go against the 72-10 Bulls in the NBA Finals was a losing battle, but Shawn Kemp certainly held is own, even with one of the best defenders in history chasing him down. Kemp actually kept the Sonics in the game thanks to his 32 points, but the Bulls really never broke a sweat.
Reggie Miller – 2000
Shoes: Air Jordan XV PE
After Michael Jordan retired and Jordan Brand was formed, a select number of NBA athletes represented the Jumpman logo to carry on the legacy. Reggie Miller, a former Eastern Conference rival of Jordan's, was one of those guys, and for his first-ever NBA Finals game in 2000, the sharpshooter wore a PE of the Air Jordan XV.
Dirk Nowitzki – 2006
Shoes: Nike Air Max Astonish
Dirk's first Finals appearance should've been his first Finals championship, but we'll save that for another conversation. Here is the Mavericks legend wearing the Air Max Astonish, but in PE form without Max Air on the heel.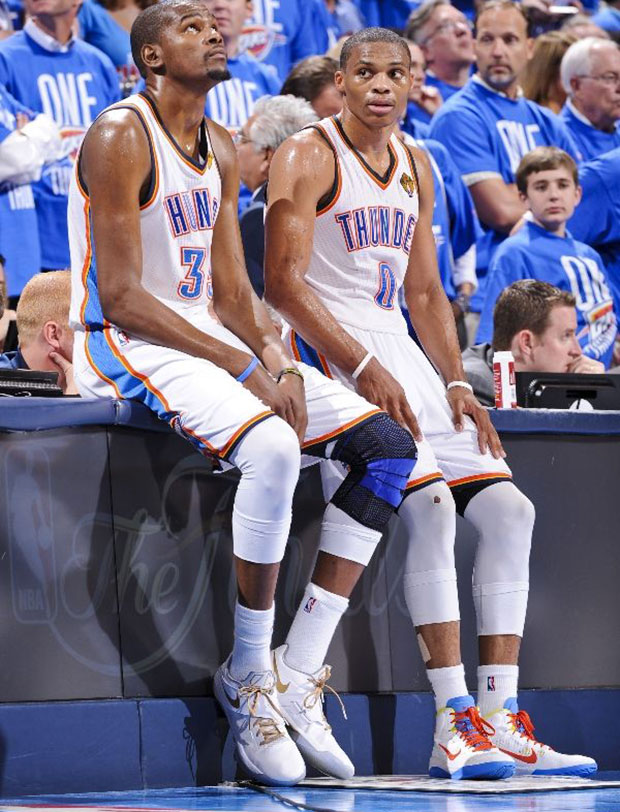 Russell Westbrook – 2012
Shoes: Nike Hyperfuse "Why Not" PE
In 2012, Russ West was still a sidekick to Kevin Durant, but everyone knew that the explosive guard was a star in the making. During Game 1 of the '12 NBA Finals, he poured in a massive 27 points, 11 assists, and 8 rebounds in a "supporting" role. For the game, Russell actually wore shoes that were two years old – the original Hyperfuse from 2010.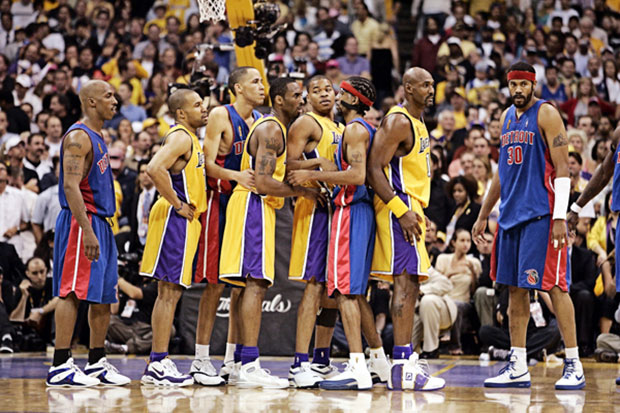 Chauncey Billups, Richard Hamilton, and Rasheed Wallace – 2004
Shoes: AND1 Rise (Billups), Air Jordan 12 "French Blue (Hamilton), Nike Air Force 1 High PE (Wallace)
The 2004 Detroit Pistons will go down as one of the best teams in NBA history. While they lacked a true "superstar", their sneaker game was entirely on point; Chauncey wore the wildly popular AND1 Rise, Rip did his thing in Air Jordans, and 'Sheed was kicking it with Air Force 1 Highs. The photo above is pretty epic in itself.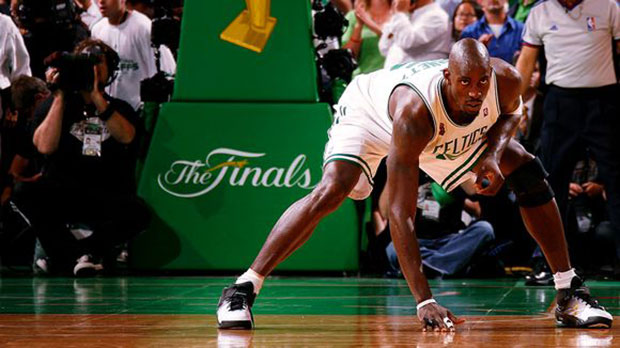 Kevin Garnett – 2008
Shoes: adidas Team Signature KG Commander
Like it was for Ray Allen and Paul Pierce, the 2008 Finals was the first for Kevin Garnett. Here he is wearing a PEversion of the adidas Team Signature KG Commander, which didn't release until October of that year.
James Harden – 2012
Shoes: Nike Hyperdunk 2011 Elite Low PE
While James Harden was the MVP runner up this season, he came off the bench for the OKC Thunder in 2012 during the Finals run. While he's an established star now, his struggles in the Finals were one reason why the Thunder fell in five games.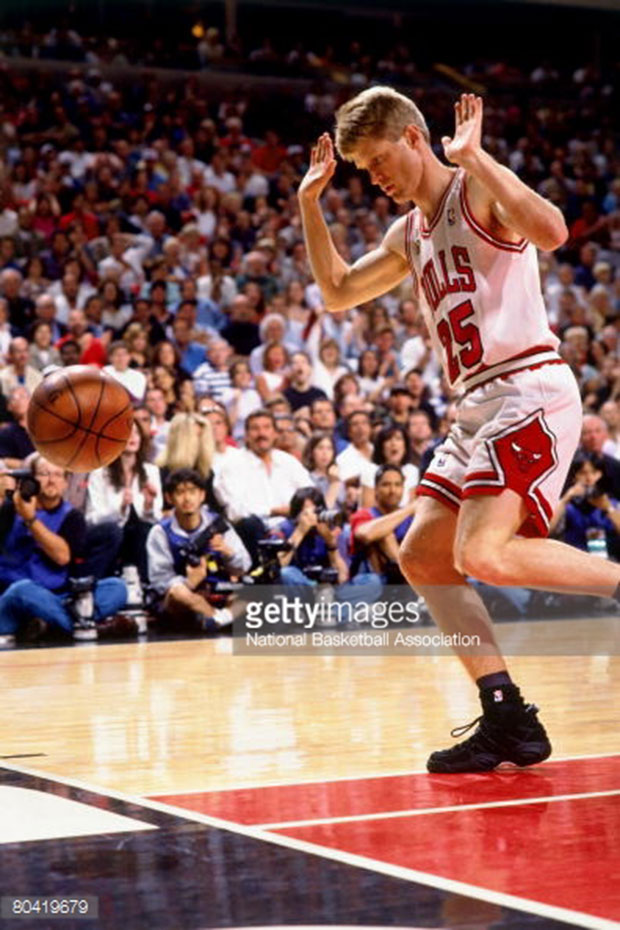 Steve Kerr – 1996
Shoes: Nike Air Thrill Flight
Steve Kerr was by no means a star, but he did play integral roles in NBA Championships for the Bulls and Spurs. He came off the bench for Chicago in '96 and actually shot blanks (he went 0 for 5).