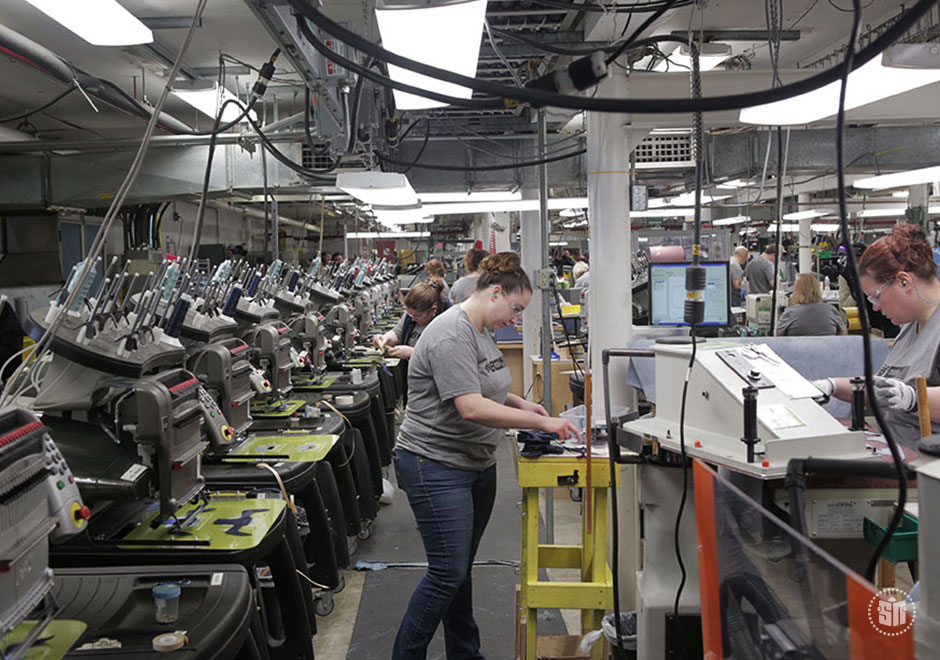 In the wake of the 2016 Presidential Election, New Balance caught some serious flack for bashing the controversial and now defunct Trans-Pacific-Partnership deal, introduced in a speech by President Barack Obama at rival Nike's World Headquarters. "The Obama administration turned a deaf ear to us and frankly with President-Elect Trump, we feel things are going to move in the right direction," a New Balance PR spokesperson said to Wall Street Journal reporter Sara Germano back in November 2016.
The support the brand gave to President-elect Trump at the time received quick and stern backlash and even calls for boycotts. People criticized New Balance for being out of touch, that they were just a white man's running brand anyways so it would make sense for them to throw their support behind someone like Mr. Trump. There were even brief stints of social media users boldly showcasing their burning pairs of New Balance retros on Instagram.
But behind the scenes, New Balance was doing what now seems like the polar opposite. The Boston-based brand was undergoing a renaissance thanks to their American-based manufacturing by innovating their lifestyle imprint with a number of upcoming models to appeal to the lifestyle minded, sneaker-savvy culture we currently live in, and they're doing it with more precise techniques and style than ever before.
It's mid-week and the more this New Balance-sponsored tour bus drives north, the more the sun reflects on the snow-covered ground to wake me up. It's early and the bus is packed with thirty-something 20-somethings – all either sneaker influencer types or those connected to the fashion and sportswear industry – venturing on an early morning route from Boston to tour New Balance's Norridgewock, Maine factory. We're going there to see the upcoming New Balance 1978 Made In USA in action, from the production floor to store shelves where it will be available this Saturday, March 18th for $150 USD.
I have to wonder how much of this open-door policy New Balance currently champions is influenced by the President Trump-sponsored controversy last November. They had issued a clarification: that they believe in community, humanity, those typical PR buzzwords that sounded like they were cleaning up a mess. And it always felt like they were fighting a losing battle – sportswear brands will continue to manufacture their products overseas where labor is cheaper and product margins are higher. It's the standard of the industry. It isn't until we all put on our safety goggles and earplugs and hit the production floor that New Balance's passioned plea and somewhat underdog mentality makes more sense than ever.
The New Balance 1978 showcases a new era of the Boston-based running specialists as they continue to overhaul their lifestyle imprint. The MADE 1978 is inspired by the classic New Balance 990, a shoe that took over four years to develop starting in 1978 and subsequently reaching retail shelves in 1982. The groundbreaking silhouette was the first running model to hit the $100 price point, and New Balance wanted the same premium manufacturing techniques to be implemented in this lifestyle offering from the Vibram outsole unit to the three-piece upper in luxurious suede and leather.
These things take time though, and the NB 1978 took nearly three years from concept and early sample testing to be ready to start production according to Global Design Director for New Balance Lifestyle, Brad Lacey. But if the excitement within the New Balance organization is any indication, we can only expect bigger and better things to come out of the New Balance Classics line with an ever-growing dependence on their Made in America manufacturing practices.
New Balance's Norridgewock, Maine factory: the upcoming New Balance 1978 and all of its components were laid out for us to see from the three-piece suede upper to the premium leather tongue and Vibram bottom.
New Balance employs around 350 associates at their Norridgewock factory, each working together to produce over 4,000 pairs by the end of each day. Without the factory's locale, most of these people would struggle to find work, let alone thrive in an environment that leads to as much upward mobility as New Balance's often does. Brendan Melly, Senior Director of Manufacturing, is used to close comradery; he's a veteran of both Afghanistan and Iraq and after a period of searching for the same close-knit companionship that the military has to offer, he found just what he was looking for in New Balance. He's quick to tell stories of his team building up the community together with different volunteer projects but also showcases the reality of just how sparse manufacturing jobs are in the area. He mentioned that some employees may drive up to two hours during their morning commute.
The New Balance factory floor is precision personified. They're focused on eliminating waste through a single flow process that has individual workers specializing in certain pieces of each shoe. While the New Balance 1978's outsole was made in Boston's factory, the three-piece shroud upper is assembled entirely on location and is then firmly cemented to the provided outsoles and packaged as a completed model. This process used to take up to a week and now New Balance can assemble the NB 1978 in a total of just three hours.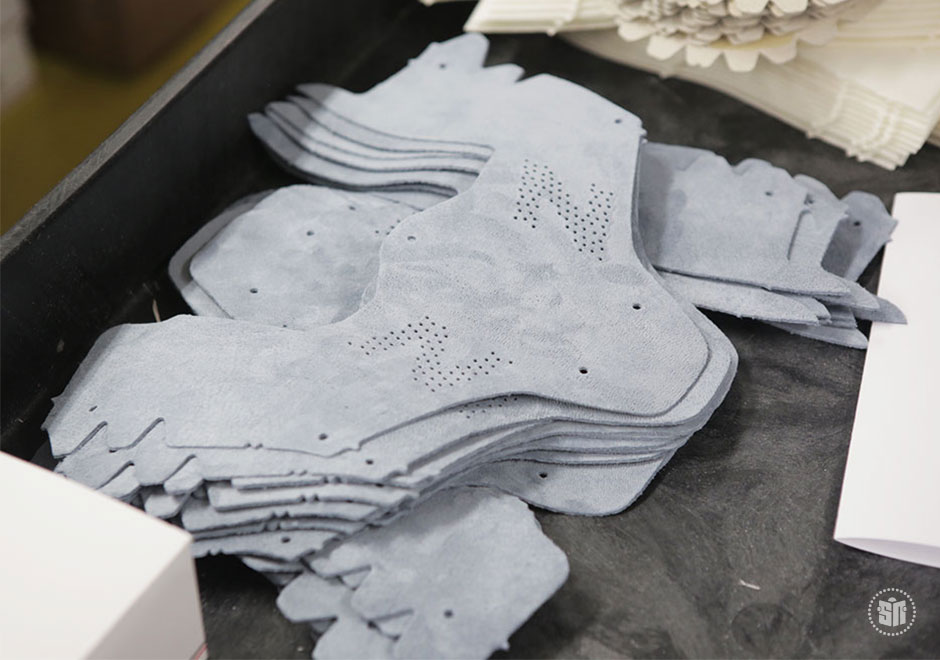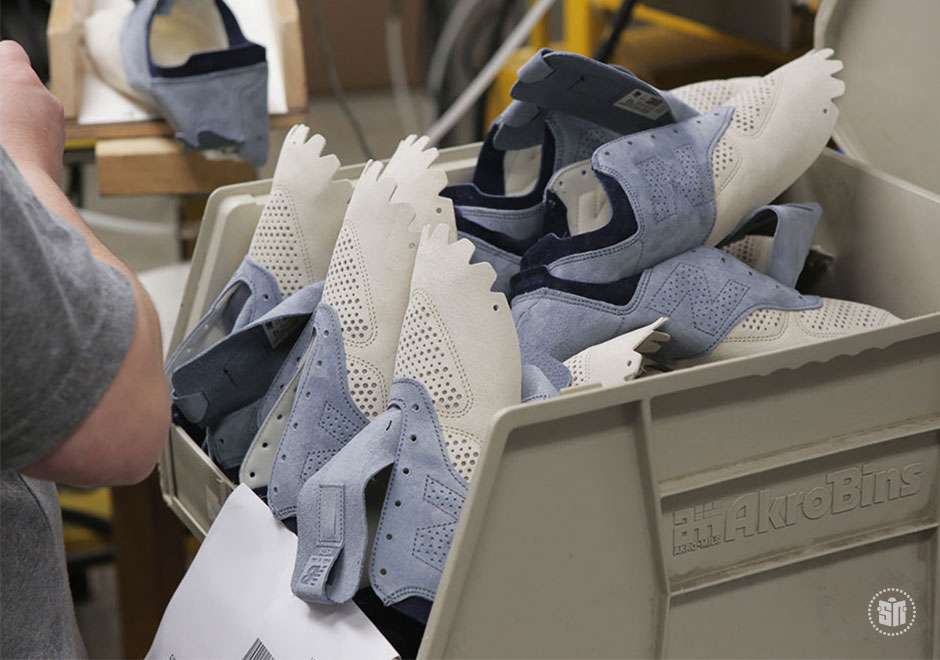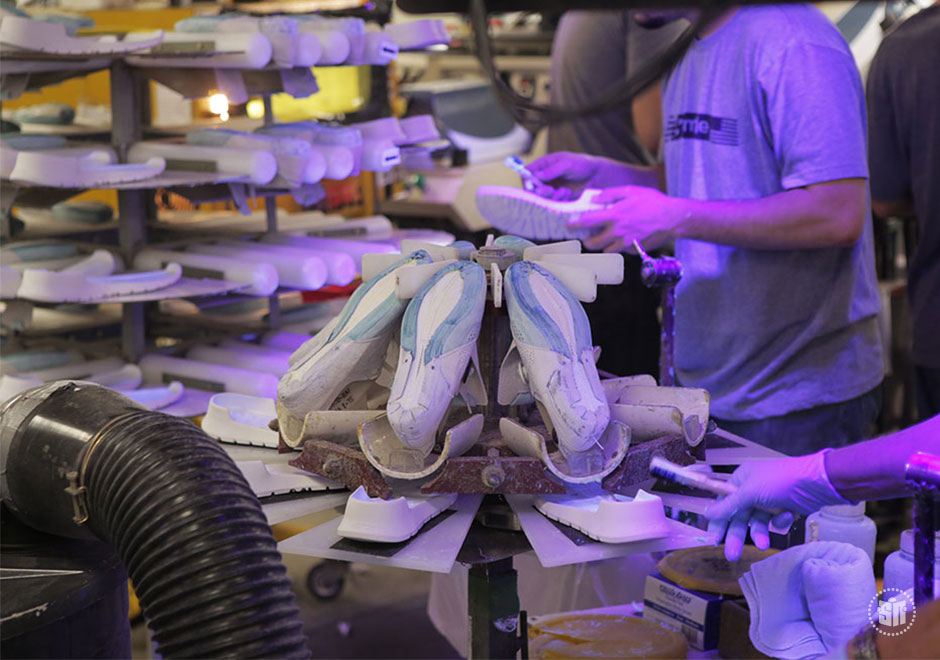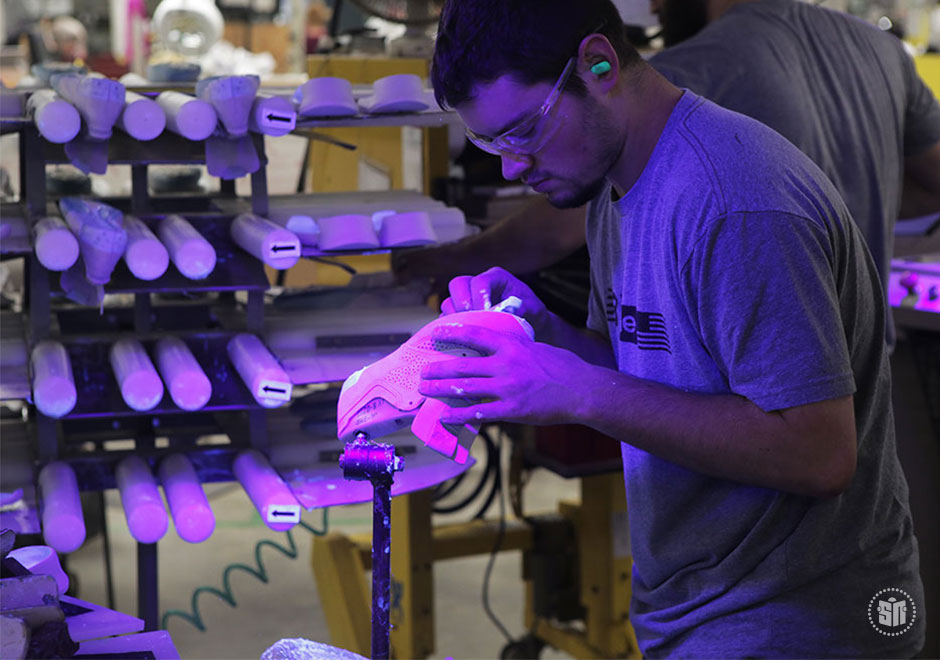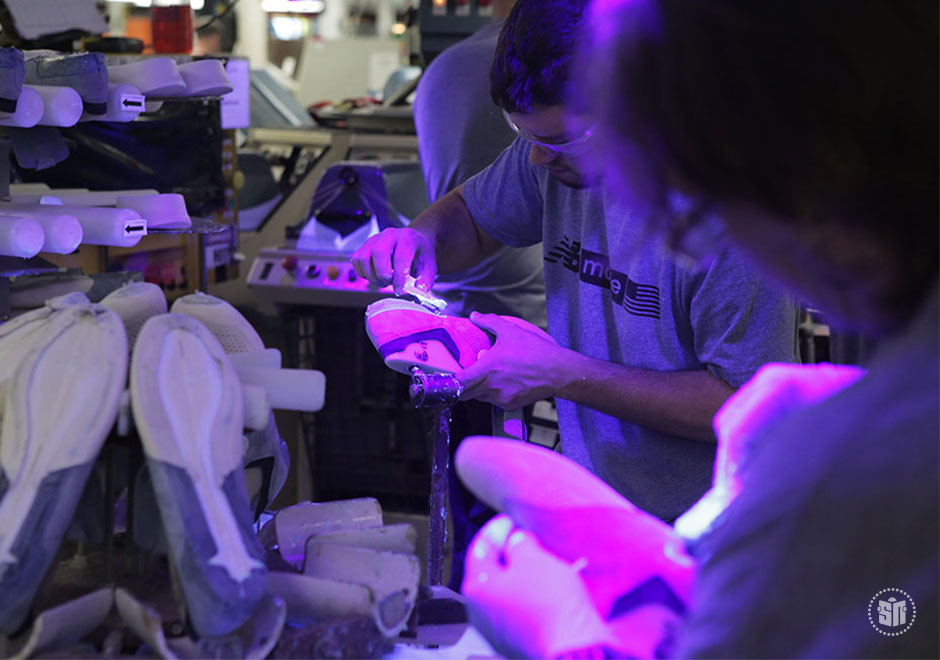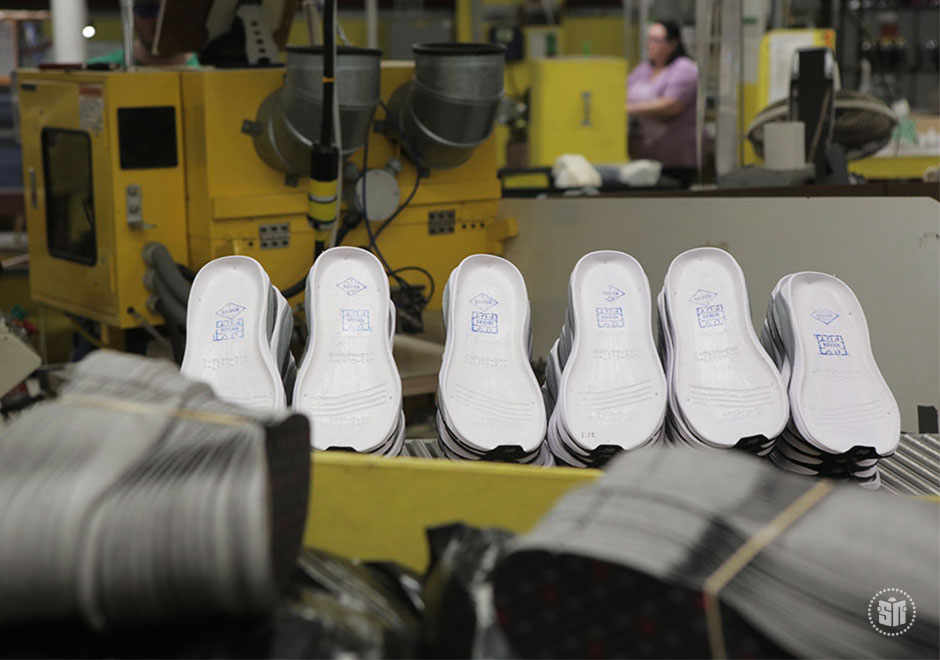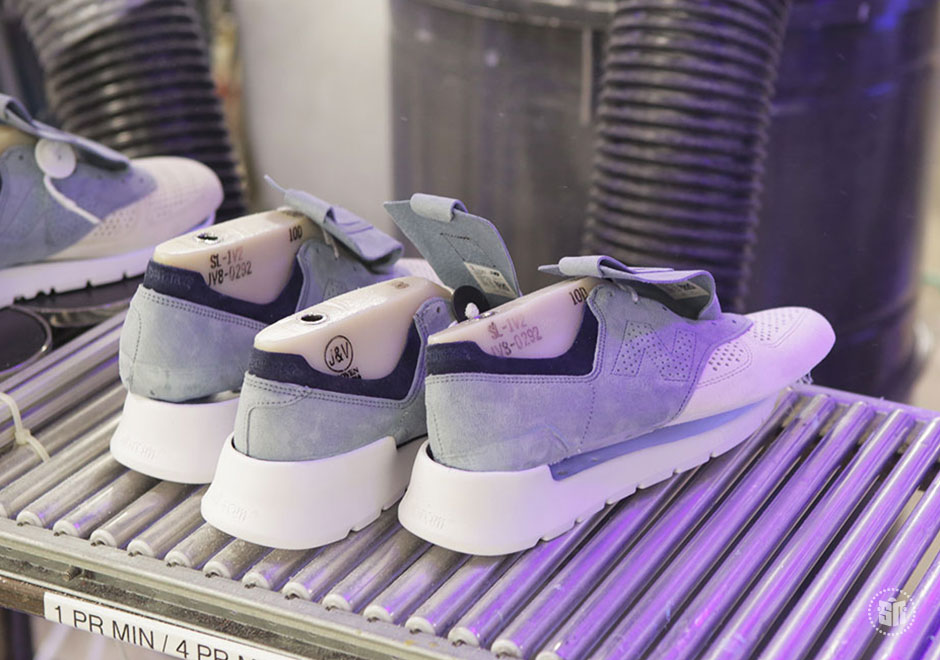 The New Balance 1978 also brought New Balance back to the futuristic IMEVA machine to help create the incredibly lightweight Vibram outsole unit in their Brighton factory. It's the only part of the shoe that isn't produced entirely in the United States as the actual Vibram beads are outsourced from Asian supply chains. It's worth noting that in order for a New Balance shoe to be billed as 'Made In America', at least 70 percent of the construction must be sourced and crafted stateside. According to our New Balance sources, the NB 1978 well exceeds that percentage.
The IMEVA machine was initially purchased to help New Balance produce military footwear right here at home in the states, but was repurposed when the possibility of working with Vibram popped back up again, this time in the form of a lifestyle-minded model that referenced the NB 990, the perfect opportunity for Vibram to come back into the fold. Tiny foam beads are inserted into a mold where pressure and heat's applied, and then factory workers wait for any air pockets to cool and expand overnight. Per the New Balance 1978 press release:
"New Balance is committed to domestic manufacturing and has been for over 75 years – it is our heritage and authentic to the brand. Each pair manufactured in our six factories in the US and UK is made by American and British craftsmen and women who have a strong passion for creating the most high-quality product. The premium crafted footwear that we deliver, influences and pushes the brand to strive to be authentic, high-quality and premium in everything we do,' said Shinichi Kubota, Vice President, New Balance Lifestyle and Enduring Purpose. 'With the MADE 1978 we challenged ourselves with a new, innovative silhouette to offer the most relevant, modern style for our always-on-the-go consumer who appreciates the blend of function, fashion, sport and premium craftsmanship. The MADE 1978 isn't a conventional classic, it is the first MADE silhouette designed under our evolutionary concepts, 'Style of Your Life,' and delivers versatility for the modern style seeker."
By updating their stateside manufacturing arsenal with an elegant, sleek design in the NB MADE 1978, New Balance proves that they can create relevant, non-retro models once again. They're doing it the right way too, by keeping vital manufacturing jobs in the USA and dedicating their brand to homegrown products that everyone can be proud of.
The New Balance 1978 Made In USA launches this Saturday, March 18th in three debut colorways starting at $150 USD. Check out more of the trip through New Balance's stateside factories below and stay tuned for more updates right here on Sneaker News.
Vibran beads are the only outsourced product inside of the New Balance 1978. They'll help create the midsole and outsole unit once placed into different sized molds.
At the New Balance Boston factory, we're shown a graphic of the New Balance 1978 value stream. Just 36 associates work to create the new model, and they'll churn out 840 pairs a day leading to 140,000 annually.