Yesterday, Nike officially announced that Sean Wotherspoon's design for the RevolutionAIR program was voted by the public as the winning candidate. The result? His shoes will release in 2018. Of the twelve designs, Sean's concept was the most balanced; it had "sneakerhead" appeal while others were just a bit too radical. Sean's huge following on social media as well as the support of his celebrity clientele of Round Two certainly played a role in campaigning for votes, but that's not taking away from how impactful and appealing his design is.
Just before the voting took place, we chatted with him at the Nike Sneakeasy at 45 Grand in NYC to discuss his background, how he get Round Two on its feet, and how his Air Max 97 / Air Max 1 hybrid design came to life. Get to know Sean below, follow him on Instagram, and stay tuned for the release of his shoe in 2018.
Sneaker News: Sean, how did Round Two get started?
Sean Wotherspoon: Long story short, I moved to Richmond maybe five or six years ago, and I just fell in love with the vintage thing. Thrift stores, estate sales, swap meets, auctions, things like that were really big there. I've been collecting that sorta thing for about twelve years now, but heavy in last five or six years.
SN: Most people in big cities don't get the experience a "swap meet". What's the scene like?
SW: I call it the jungle. It's kinda in a "hood" spot, there's stuff hanging up everywhere, and you're swimming through there just picking things up on the way. Then there's the flea market style swap meet, and that's outside and open air so it's a little more laid back and the vendors there have a lot of different things. It's sick. You can find anything.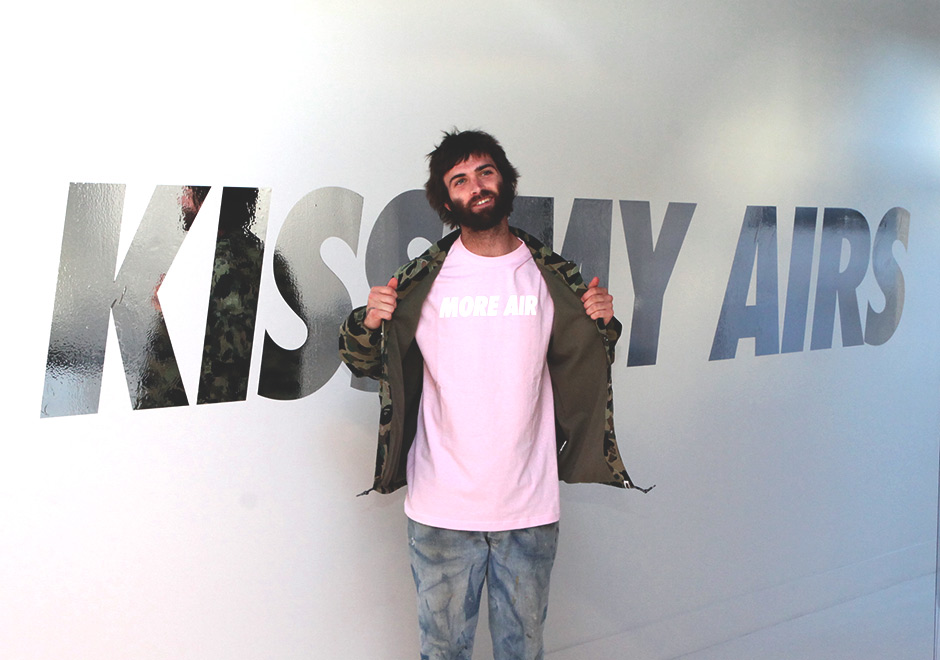 Above: Sean at the Nike Sneakeasy on 45 Grand
SN: So how did this RevolutionAIR program start out, and how did you get selected?
SW: It all started with Nike's whole thing that "Nike Air is not a shoe", you know? And what they did this year is similar to what they did last year, letting the people vote to bring one shoe back. So this year, instead of letting them vote back something old, let's let them design something fresh. I just got a random call on day, and it was probably the best phonecall of my life! I was so hyped on the phone and trying to keep it all in. They told me I was going to design an Air Max, don't hold back, go crazy with it, you're designing your dream shoe. Since then my mind was racing.
SN: Sometimes not holding back yields a questionable product. Was that a challenge, especially knowing that you had pretty much anything at your disposal?
SW: I really take in people's reactions, and i'm watching customers shop all day. I'm watching what rack they go to, what colors they pick, what materials they like. At flea markets I pay attention to what vendors are selling the best. I see what Japanese customers like, what customers from London and Paris are buying, what people from Australia are buying. So i'm always seeing what attracts the customers. I'm on social media a lot and i'm seeing why people like one shoe more than another.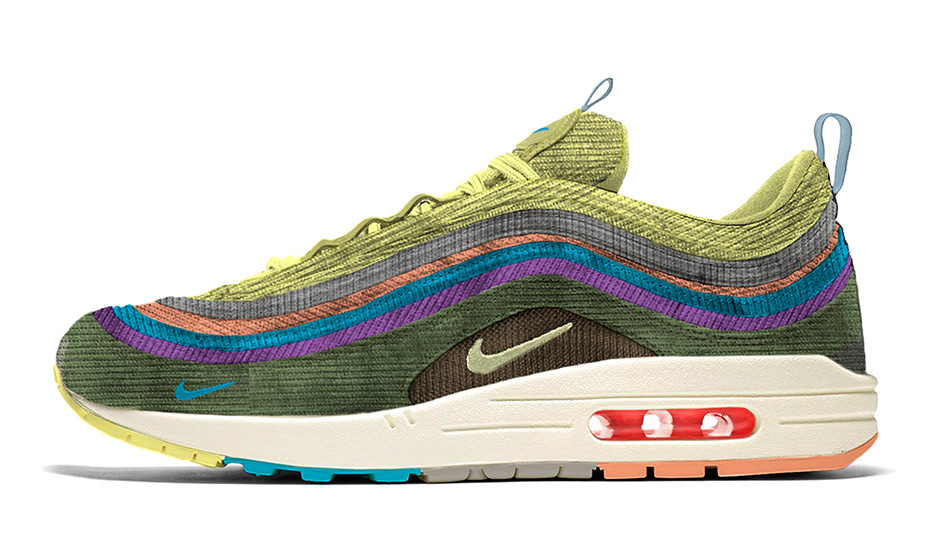 Above: Final rendering of Sean's design
So I was thinking about all that, and I arrived at this corduroy material. For me personally, I love corduroy material. I love corduroy pants and button-ups, a lot of the older Stussy stuff, and in my head, I thought Nike hasn't done much corduroy on a shoe, and the Patta Air Max 1 was the first shoe that came to mind. It's really a great material – if you hit it one way, it's like suede where to color kinda changes. If you scuff it, it gets a really nice tattered look. If you look at a really aged pair of corduroy pants from the 60s, the knees are always washed out and gives this crazy fade and that's what I wanted to achieve from the toe. Corduroy is an under-used material. I thought it would stand out to people like it does for me.
SN: Why the Air Max 97 upper?
SW: The same with Corduroy man. The 97 is vastly underused. Think about how many Air Max retros come out every year. How many of them are 97s? Maybe a couple. I was thinking about the True Air Max 97 (released in 2005) and how the gradient looks so good on it, so I pictured that with corduroy and thought it would be the sickest thing. Originally I thought about using the Air Max 1 upper, but during my design session with Nike, they had the 97 right there with the gradient look and it was just too perfect. The 97 is definitely underused man. Every time I posted a 97 on my Instagram, it go the best feedback.
I really wanted to keep the 360 Air bubble on the shoe because that's my second favorite thing about the 97, but in my head I thought – do I really want to be the guy going into this and reusing an old silhouette? So I changed it up, I knew the Air Max 1 was going to be this year, I myself love it, and Nike has never done it.
SN: So how long was the design process?
SW: It didn't take long at all. It was the fasting thing in my life! From the time I heard about it, it was like next next next next. I feel like it was just a couple of weeks from the time I got the call to "here's your itinerary to go to Portland". Got to check out the HQ, talk Nike all day, it was awesome.
SN: For a lot of people, Air Max is their Air Jordan.
SW: I'm the same way man. This was the dream come true.