714380
Ernest Kim On How Kicksology.net Got Started, Nike REACT, And More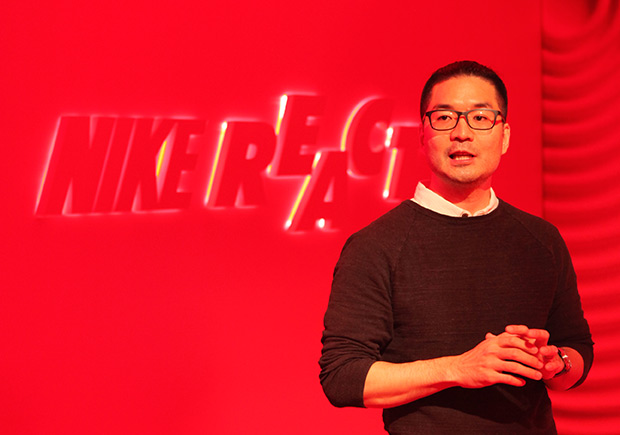 Ernest Kim needs no introduction, but we'll go ahead and do it anyway because the man is simply deserving. Known as "Professor K", Ernest started one of the earliest sneaker sites called Kicksology.net, the only source for in-depth reviews of basketball footwear and sneakers in general. His style of content paved the way for the sneaker sites that operate today, but elevated what it means to give a product review. Simply put, he was influential across those who reviewed footwear, gadgets, cars, and other consumer goods. If you were obsessed with shoes in the early 2000s, then you more than likely stumbled upon his sneaker reviews, his signature five-dot rating system, and his clean on-court and white-background photography.
Kicksology.net ceased operation in 2004 as Ernest went on to do work for Sole Collector, eventually getting hired by Nike to work on the innovation end. In September of 2014 Ernest revived Kicksology.net, using it as a general blog with the occasional shoe review. We were fortunate enough to chat with him during Nike Basketball's big unveiling of the REACT Hyperdunk and Super.Fly 2017, so read below.
Sneaker News: Why and how did Kicksology.net get started?
Ernest Kim: When I lived in Chicago, I used to love going to Niketown. One time I went, I saw the original Air Flightposite for the first time and I was with a friend of mine, and I said "that's the ugliest shoe ever", and so he dared me to buy it and try it out. So I tried it on and my mind was blown because I couldn't believe how good it felt, but it was $165. So I went home to see if there was a review on it somewhere, but there were no reviews whatsoever. This is just when Niketalk started and there weren't really any reviews, so I bought them and I knew that there were people out there that wouldn't even try on the shoe because it looked so crazy, but I knew it was awesome and I wanted other people to be able to experience them. So that's the shoe that made me start Kicksology.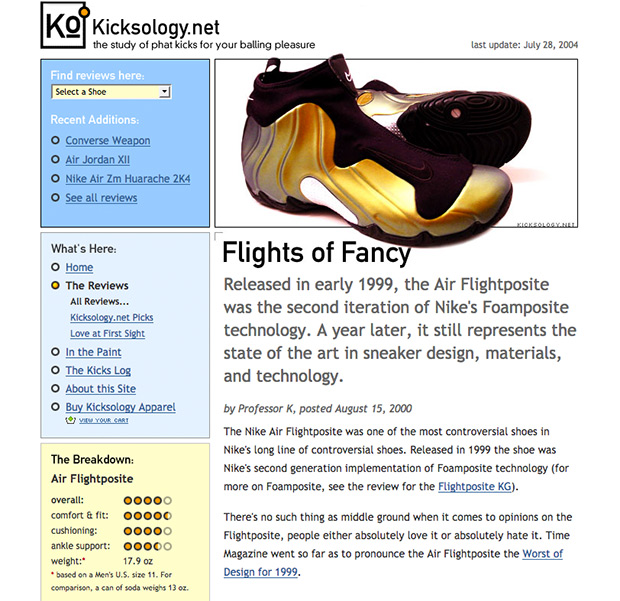 Above: Nike Air Flightposite review on Kicksology.net
SN: From that point on you were pretty much regarded as the ultimate sneaker reviewer, specifically for basketball shoes. Was there any direct channel with Nike or other brands? Were they sending you shoes?
Ernest: It was crazy because I just started it for fun, and I didn't think it would be anything. But after a while, all the brands started sending product mainly so I can publish reviews right around the launch of the shoes, because everyone wanted to read the sneaker review before they bought it.
SN: So how did you go from buying a pair of ugly shoes at Niketown, to working for Nike, specifically for Innovation?
Ernest: It's definitely not a normal story (laughs). Most people that work at Nike don't have a "normal" story. It was really just about being honest about product and sharing an honest point of view. The footwear product director at the time, a guy named Phil McCartney, wanted somebody who could bring in an outsider perspective and that honesty, so he brought me in even though I had no prior experience in the industry and it just went from there.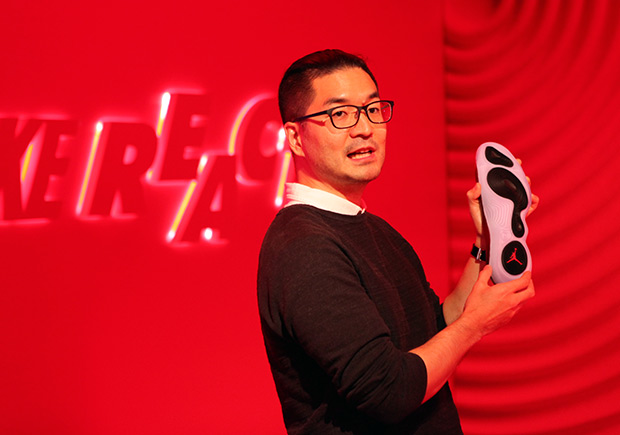 Above: Ernest Kim, Nike Innovation Director, detailing the Super.Fly 2017
SN: What's it like working for a company that is viewed as a leader in innovation, not just in footwear, but in general?
Ernest: It's fantastic. All of us within the innovation team bring this attitude of never being satisfied. We always think there's a better way and we want to make that, so to be with a company where that's just part of the spirit of the company itself and you're surrounded by a bunch of people who are incredibly smart and bring these capabilites and do these great things – to be a part of that is really awesome.
SN: Let's talk REACT. Is it tailored specifically for basketball?
Ernest: We felt that with the unique blend of benefits that REACT offers – cushioning, energy return, lightweight, durable – basketball was the really the natural place to launch it. But as you know, we work in different sports and so we're continuously working on different ways to apply it to make better footwear in all different phases of activity. I can't speak to any specifics really, but stay tuned.
SN: For a basketball player who has used Lunar or Zoom cushioning – how is REACT different?
Ernest: Lunar is still a great foam and it will continue to be part of our overall portfolio of foam cushioning, but what really sets REACT apart is that it's a totally different material. Lunar is still an EVA-based foam with a little bit of rubber in it, but REACT is a completely different chemistry and you can really feel it. I think the key is once people get it on, they'll feel it instantly. And with durability, that's something you won't think of at first, but it does really last. That overall combination of benefits is something we haven't been able to deliver until now, and that's something we hope ballers around the world will realize.
SN: Working specifically at Nike Innovation – do you ever get numb to any of this? Are there still those "eureka" type moments?
Ernest: Absolutely! People ask that a lot because i've been with Nike for so long. They ask how I come up with new things. But it's amazing because athletes will always tell you something new, something you haven't thought about before. That's what really keeps us inspired and it's what fuels us. None of this innovation matters if it doesn't help the athlete.
Above: Draymond Green in Nike REACT Hyperdunk Flyknit during 2017 NBA Finals
SN: Draymond Green is an interesting superstar because he's not the most explosive or the quickest player. If anything, his game is more akin to the everyday baller. Is there a difference in working with a Draymond compared to a LeBron?
Ernest: That's an excellent question. The muses we work with definitely inform the ultimate product. Draymond was a great muse for the Hyperdunk because he is that all-around player kinda guy. Not the best at one thing, but put them all together and he's amazing. So that's really what the team wanted to deliver – a shoe that fits all facets of the game, whereas the Super.Fly 2017 was directly with Blake Griffin, a high flyer who plays above the rim. LeBron's shoe has more structure to it because he's such a beast and what he says all the time is "protect me from myself".
SN: Nike has pioneered the process of listening to the athlete. What's it like listening to Draymond, the most outspoken pro-athlete of the current generation?

Ernest: That's the kind of athlete we love working with, someone who is really gonna be honest and not gonna just say what he thinks you wanna here. That's just really refreshing and necessary for us because we need that honesty to get better.
SN: 2017 has proved to be a marquee year of innovation for Nike, with VaporMax, ZoomX, and now REACT. Can you speak on that?
Ernest: It's what our COO was talking about, delivering a cushioning revolution with those three amazing platforms. I think that's what makes Nike so special – we're not a one trick pony. We're not saying this one thing is best for everybody. We're delivering these different experiences based on the preferences of different athletes, so I think that's what I love about Nike because we're not saying this shoe is the right shoe for everybody, but for a lot of basketball players they're going to love the Hyperdunk experience. A lot of guys are gonna love the KD experience, or the LeBron experience. And doing all this faster than we were before, accelerating the rate of innovation, it's a really exciting time.