719441
Last week, Under Armour introduced
Cam Newton's signature lifestyle shoe – the UA C1N – at a launch event in Cam Newton's hometown of Atlanta, Georgia. Throughout the evening, it was evident that Cam is focused on self-expression and sharing his success with others. The creation of his sneaker symbolizes the platform he's earned to demonstrate his trailblazing style off the football field – an opportunity few athletes in the NFL have ever experienced. Cam lit up when talking about his shoe, making it clear how proud he was to share the moment with the city that raised him and the people he's connected with in his hometown community over the years.
At times misunderstood, Cam has never shied away from the spotlight. Over the last 8 years, we've seen his creativity, originality and personality shine as he's achieved major success at the most demanding position in professional sports while becoming an influential sports culture icon and fashion aficionado. His supreme talent, charm, flair for the dramatics, and million dollar smile have captured the world's attention and he now heads into his 7th NFL season as one of the most recognizable faces in sports with the task of leading the Panthers franchise and Under Armour football to new heights.
With great power comes great responsibility and Cam doesn't take that lightly as he's shown an unwavering generosity to fans. After scoring a touchdown, it's customary for Cam to handpick a lucky young fan to give the ball to. And his devotion to youth doesn't stop there. It extends far beyond the field as he continues to serve and contribute greatly to his hometown community of Atlanta and the Charlotte community where he plays.
Off the field, Cam defies convention with his penchant for style and refusal of fashion conformity, making him a rare style icon in the world of sports and with his Under Armour project, he joins a small, exclusive and elite group of football superstars to have their very own signature lifestyle shoe. When speaking about the process of creating his new C1N signature shoe, the campaign titled "Ferocity Meets Artistry" and what he is looking to accomplish with his signature line he says: "Under Armour gave me free reign. We only have one time to make a first impression. I want to grasp people's attention. I'm a big proponent of self-expression without having to open your mouth. My main focus is to inspire and impact people and to have them say, 'He did it and I want to do it too.'"
Although Cam has been linked to UA since his historic National Championship and Heisman Trophy season at Auburn University in 2010, the two giants are just scratching the surface together when it comes to the impact they can have in the world of sports and fashion.
Cam and his hometown of Atlanta might be at odds given the NFC South rivalry between the Falcons and Panthers, but that hasn't prevented the quarterback from staying true to his Southern roots. Newton takes pride in giving back to the community that helped raise him. His foundation partners with the local Boys and Girls Club and he heads a seven-on-seven youth football league there where he can impart his positive influence (and some competitive trash-talking advice) during the off-season.
The debut UA C1N "Hometown" colorway takes inspiration from the swagger and fashion sense that the hip-hop hotbed had on Newton throughout his childhood. Cam's connection to Atlanta is obvious as one of Cam's friends and muses – rapper 2 Chainz – was in attendance at the launch event to perform and support the project.
A video Cam created with Under Armour shows him in his hometown telling the world, "Being from Atlanta has impacted my life in so many different ways. The way I think, the way I dress, the way I act, the swag that I bring on and off the field and just the trailblazing mentality. It's all in the way I walk, I hope people see in the way I talk and I hope people are seeing it in the way I carry myself. There's something different about a person from Atlanta and you already know by the type of swag that person represents."
The flashy all-red colorway of the C1N utilizes touches of metallic gold throughout for a luxurious feel that fits right into Cam's bold fashion choices, like his Abraham Lincoln-esque top hat that added a few more inches to his towering 6 and a half foot frame.
"Being from Atlanta has impacted my life in so many different ways."
Cam Newton
Set to debut on July 20th for $120, the C1N features the latest in Under Armour's woven Threadborne technology with a lightweight slip-on construction perfect for casual implementation into any wardrobe.
At Cam's shoe launch, Under Armour's Senior VP of Global Brand Management Adrienne Lofton spoke about Cam, "There's more that he can do for the culture, for the brand and for kids. Everybody that knows Cam knows that he lives for kids. He's a mentor like we've never seen in our brand. Young men look up to him. Young men learn from him. Young men understand what can be because of him. He takes his team not just to the field but he takes his team to dinner. He talks to the boys about confidence and making sure they can be who they want to be on the field. The authenticity and the truth of Cam is just awesome. What's awesome about Cam is he's an entrepreneur, he thinks differently, he's a creator."
In 2010-2011, Cam led Under Armour-sponsored Auburn University to the National Championship game against Oregon. It was reported that 17 Under Armour logos could be seen on Cam's body in the game in which he led the Tigers to a 22-19 victory, clinching the National Title. Cam's rise was one of the most meteoric in collegiate football history as he went from a short stint at the University of Florida, to a one-year Junior College stop, to winning college football's most sought after prizes in a short two-year span. He won the Heisman Trophy, AP Player of the Year, secured an All-American nod, with the National Championship as a nice bookend to his college stint.
Fresh out of college, Under Armour was quick to sign the future superstar quarterback to an endorsement deal. He was drafted first overall by the Panthers and went on to win the 2011 Offensive Rookie of the Year in memorable Superman inspired 'Super Cam' cleats, which sent a message to the league that the kid had arrived and was here to stay. It only took a driven Cam two more seasons to lead the Panthers to a division title, and shortly after that, he spearheaded a 15-1 regular season campaign where he was named league MVP and was topped off with a Super Bowl appearance.
As Cam embarks on a new NFL season, he talks about telling his stories through his UA signature shoe, "I figure there's no better person to tell the story than myself. They (Under Armour) gave me the opportunity to do that and it's important because I've been an Under Armour athlete ever since Auburn University pretty much." At the Atlanta event, Cam and UA unveiled 3 different colorways of the C1N. The all red "Hometown" colorway (available today, 7/20) paying homage to his roots in Atlanta, the Silver/Black/Blue "Chairman" colorway (releasing 9/8) honoring Cam's love of '50 swank and his hunger to make an impact in Charlotte and the Black/Gold "442" colorway (releasing 10/20) is inspired by his classic muscle car symbolizing his journey.
Under Armour's aggressive push to become a serious competitor in the footwear space came on the heels of Steph Curry and the Golden State Warriors' success, but the brand has been making resounding noise in the football industry for quite some time. Their 'Protect This House' ads featuring Ray Lewis were some of the most memorable and hype-inducing apparel spots of all-time and now they're allowing their current roster athletes do even more of the talking.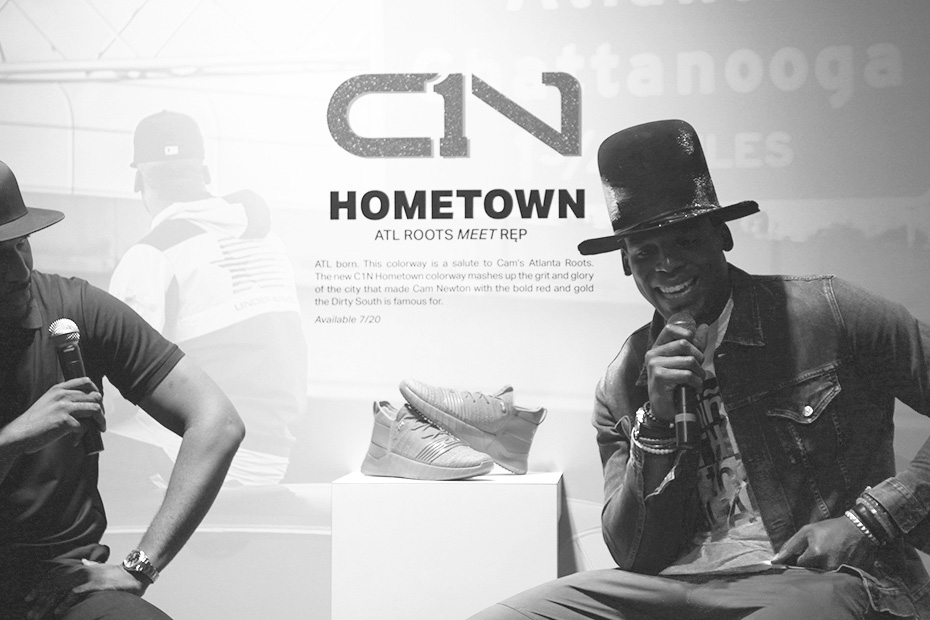 The UA C1N initiative gave Cam the chance to add to his growing resume the prestigious title of Creative Director – a title that perfectly matches his quarterback position on the gridiron. UA SVP Adrienne Lofton talked more about collaborating with Cam, "He literally is the guy who is changing our entire voice for Under Armour football. He's our Creative Director for Under Armour football and now we're driving the idea of a shoe that kids can wear on and off the field. It's interesting and a first for us."
"To be honest I pride myself on being a trailblazer, a 1-of-1 kinda guy."
Cam Newton
Always one to improvise on the fly with creativity and precision, Cam was very hands-on to deliver his numerous inspirations in shoe form. Whether it be his hometown of Atlanta, his love of customized muscle cars, or his charismatic swagger, the future is as bright as the launch colorway of the C1N.
More important than any of Cam's success, riches and fame is that he's done everything his way. When asked about his personal style he says "To be honest I pride myself on being a trailblazer, a 1-of-1 kinda guy."
The Under Armour C1N "Hometown" launches today, July 20th for $120 USD and will be followed by six more colorways throughout the year. Stay tuned for more right here on SneakerNews.com.