734292
LeBron's Shoe Designer Jason Petrie Chases Down Flyknit For The Nike LeBron 15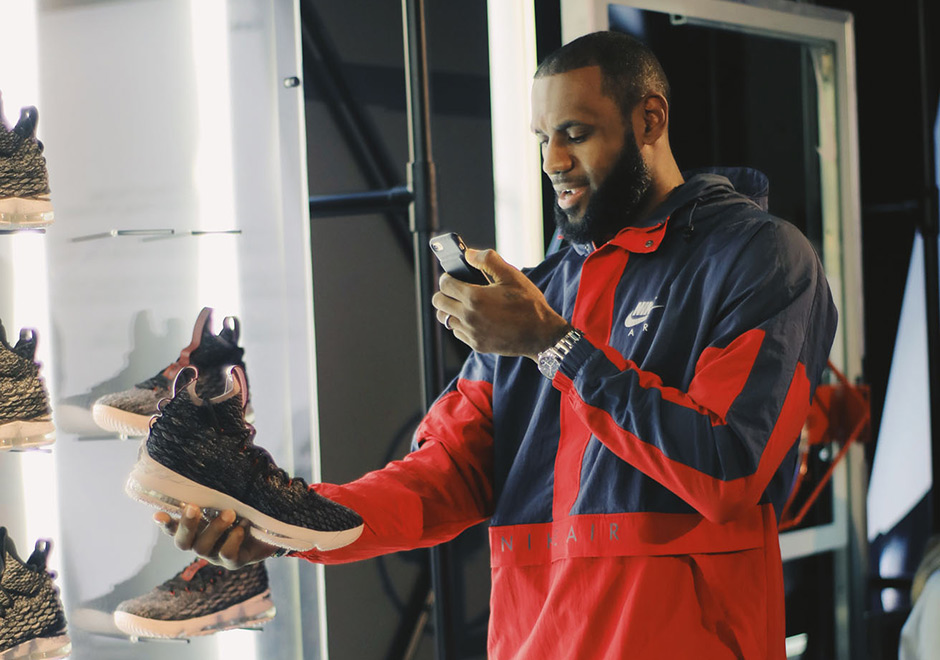 The task of creating a shoe for the world's most important athlete is a challenge that only a few can really handle; it has to look right and feel right to the masses while being suitable for a 6'8″ 250 lb. powerhouse to run literally every play at every position in the history of basketball. Imagine designing a shoe for a player whose game is shaped by a point guard's vision, a shooting guard's ability to move off the ball, a small forward's athleticism, a power forward's blend of finesse and strength, and a center's above-the-rim operation. We actually talked with Jason Petrie, the designer behind the LeBron signature line since the VII, about all this back in 2009, but with Nike's huge strides in innovation, the process looks entirely different.
Nike LeBrons have always been on the bulkier end for good reason; LeBron just needs the protection. The featherweight Flyknit, out since 2012, wasn't close to being ready for basketball, let alone its best player. What Nike's material engineers have done with it over the years is pretty remarkable. Shoe uppers are now being built with mathematical processes comparable to 3D-printing as Flyknit is now purposefully engineered to be fit for sports that are most taxing on feet.
Above: Jason Petrie's early sketch/rendering of the LeBron 15
Flyknit first appeared on a basketball shoe in 2013's Nike Kobe 9 Elite, but it was mostly an attractive shell above an interior boot that did most of the work. It continued its evolution with following Kobe models, while the KD 9 in 2016 and its new Flyknit upper demonstrated its ability to provide strength and relief where needed. Flyknit has now become a standard for Nike's best as the KD 10, Kobe AD NXT, Hyperdunk 2017, and now the LeBron 15 all feature Flyknit. However, the material acts entirely differently on each model as the shoes are intended for different athletes, but there's an added spotlight on LeBron as he is clearly the most powerful and uncontainable athlete of them all.
While LeBron's effectivity on the court hasn't changed, his game certainly has evolved. Footwear designer Jason Petrie has readily translated those in-game adaptations to LeBron's shoes, and that adjustment over time resulted in a very apparent direction toward a less bulkier and less heavier look. According to Jason, "Flyknit offers a brand new solution to what LeBron needs as well as offering a new aesthetic". In addition, the advent of the new Zoom/Max Air bag offered up a completely new look for a monumental fifteenth chapter.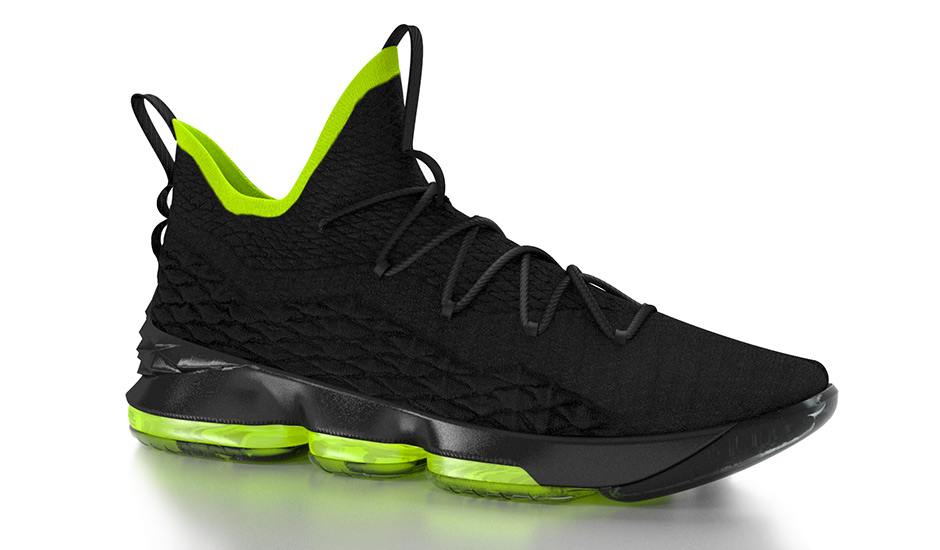 Above: 3-D rendering of the Nike LeBron 15 (Photo: Nike)
While everything seemed to have convened at the right point, there were plenty of hiccups along the way. For one, this was Jason Petrie's first foray with the material. "On that perspective, we have to design different and we have to think differently, so we have to start from a brand new place."
Jason continues: "This was kind of like a 'universe exploding' type of event. It was all hands on deck just because of the things we weren't anticipating" in terms of creating a demanding shoe with what is essentially a new species of Flyknit.
Thus begins a new era of the Nike LeBron 15. Flyknit has that effect of creating a "refreshing" point, just like how it created a newer "lux" perspective on Kobe Bryant and Kevin Durant's signature shoe line. After all, the LeBron 15's grand debut was more on the fashion side of things as the floral embroidered and zippered versions were prominently featured in KITH's FW17 fashion show back in September. Jason confirms that in addition to those KITH collaborations, a lifestyle/EXT version is in the works, but the overall direction of the shoe was to be less playful with the wilder colorways and reflect his maturity, style, and sophistication.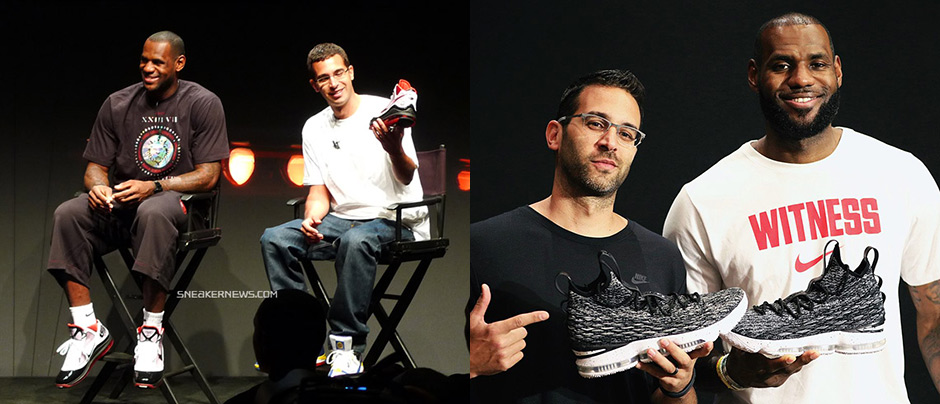 Above: LeBron James and Jason Petrie in 2009 (left) and 2017 (right)
So how much is LeBron really involved in his shoes? According to Jason, he's incredibly attached and involved. "The conversations we are able to have now – the way he can be more directive with design and express that – he's basically a footwear designer now. He's more comfortable and open, and the shoes are starting to reflect that personality." The Flyknit on the LeBron 15 itself is a direct response to what LeBron's primary ask since his first shoe, which is the protect him from his own explosiveness. Inspired by chain mail armor and protective gear worn by terra cotta warriors in China, the upper is a blend of strength and elegances as it features the aggressive armor pattern and diamond scales.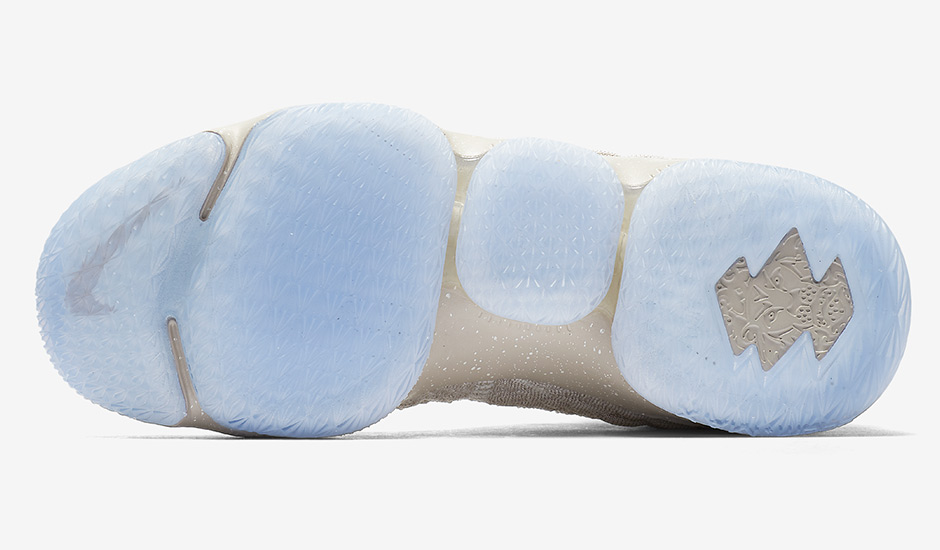 Above: Outsole of the Nike LeBron 15 (Photo: Nike)
Petrie also describes the new Zoom/Max Air as the culmination of all of LeBron's best cushion rides over the years. We all know that visible Air has been a key attraction for Nike since '87, but for LeBron, it's been what's worked best for him. It combines the super-fat Air from the LeBron VII, the visible Zoom Air in the LeBron X (his favorite cushion), and the zonal/podular Zoom from the LeBron 12.
At the end of the day, LeBron's needs and Nike's innovation dictates the design of the shoe – Jason Petrie, Ross Klein, and the rest of Team Nike art the chefs that realize the product. "You're at the mercy of the knit." says Jason, who explains that working with Flyknit is no longer cut-and-sew and truly changes the his design approach. Even LeBron's subtlety in fashion choice informed the placement of the Swoosh, which is practically hidden. "We're not going to design a shoe around a logo, and with the 15, we tried it in a number of positions and it just didn't work. But this knit is so iconic, it's so 'Nike', it's so 'LeBron'. The Foamposite didn't have a big Swoosh on it and it was simply a beautiful shoe. You can just see him fly down the court and you'll just see a kiss of the Swoosh."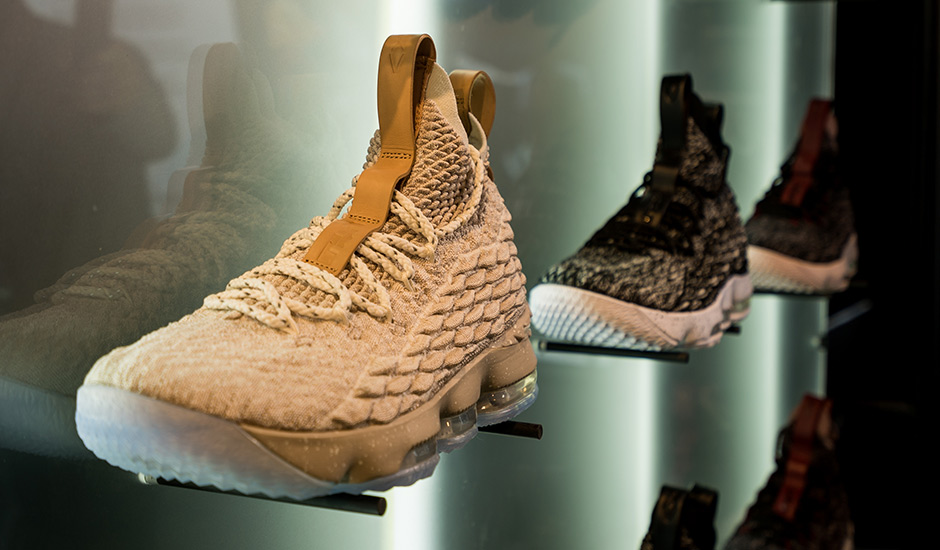 Above: LeBron 15 in "Ghost", "Ashes", and "Pride of Ohio"  (Photo: Nike)
The Nike LeBron 15 debuted today in the "Ghost" colorway. The "Ashes" is set to release on October 28th, while the "Pride of Ohio" releases on November 18th.
Recent Stories