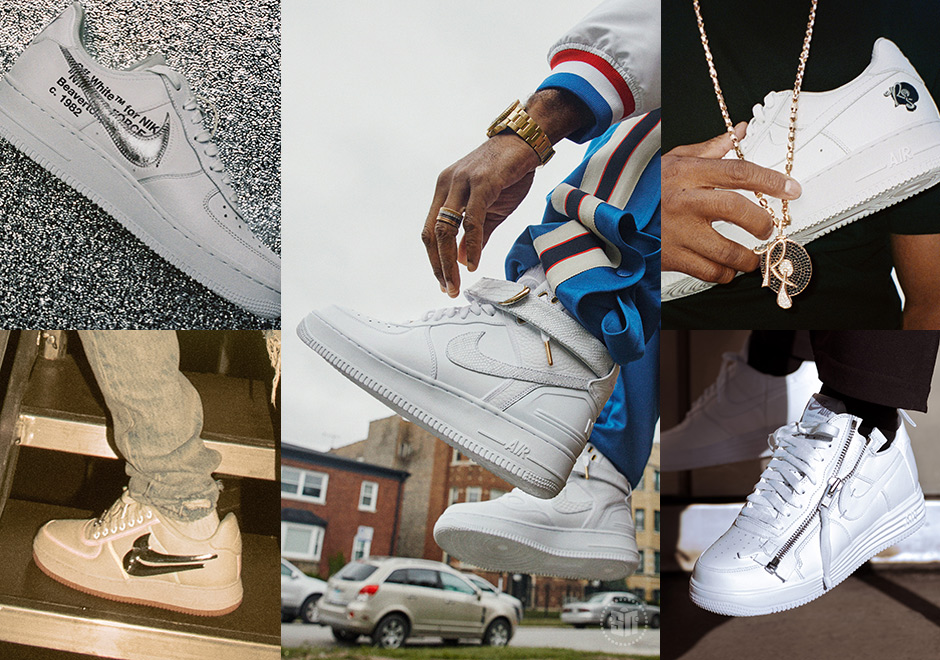 In the history of footwear, there is no sneaker quite like the Air Force 1. It acts as a point of intersection for sports, music, art, and much more, deeming in the most authentically "street" shoes of all-time. As part the continuing celebration of the silhouette's 35th Anniversary, Nike officially presents the AF100 collection, comprised of five distinct takes on the white/white Air Force 1 by today's great visionaries.
In this collection, Travi$ Scott, Virgil Abloh, ACRONYM, Don C, and Kareem "Biggs" Burke present their unmatched spins on the Air Force 1, and clearly the level of distinction between each shoe speaks to just how impactful each has been to culture. Don C draws in elements of the Air Force 2 and Air Force 3 into his premium blend, representing the importance of family. Kareem "Biggs" Burke helps Nike re-issue the 2004 Air Force 1 "Roc-a-fella" as the iconic music label celebrates its own 20-year milestone. Errolson Hugh of ACRONYM brings back his original Lunar Force 1 collaboration in a powerful all-white composition. Travi$ Scott, who considers himself "the acid of rap", brings a wild design that speaks to his personality. And finally, Virgil Abloh presents another take on his OFF WHITE x Air Force 1, finishing off a trio of designs.
The Nike AF100 collection will begin releasing in November exclusively at Complex Con, followed by individual releases on the Nike SNKRS App at later dates (with the exception of the OFF WHITE x Air Force 1). See below for a full release schedule.
OFF WHITE x Nike Air Force 1 Low
Complex Con Exclusive Release Date: November 4th, 2017
Roc-a-fella x Nike Air Force 1 Low
Complex Con Release Date: November 4th, 2017
Release Date: November 30th, 2017
Just Don x Nike Air Force 1 Hi
Complex Con Release Date: November 4th, 2017
Release Date: December 1st, 2017
Travi$ Scott x Nike Air Force 1 Lo
Complex Con Release Date: November 4th, 2017
Release Date: December 2nd, 2017
ACRONYM x Nike Lunar Force 1 Lo
Complex Con Release Date: November 4th, 2017
Release Date: December 3rd, 2017
Shop this Article
More like this at ebay