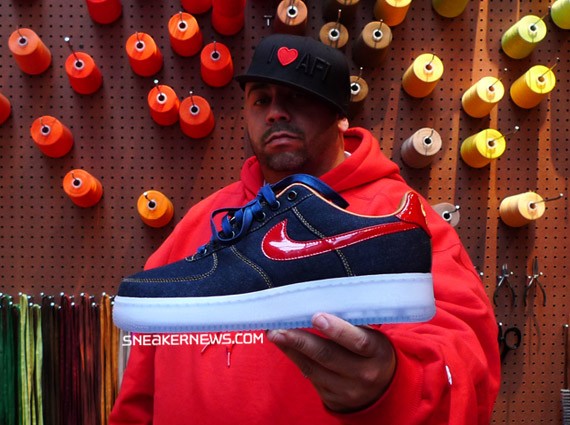 The Mayor (not the one who tried to increase the legal term limits of his office, but a different Mayor who has much better taste when it comes to kicks) has been at the epicenter of all things Air Force 1 since news broke of his finally hitting his 1000th pair landmark in is personal Air Force 1 collection.  In case anyone was wondering, the 1000th pair cooked up for Mayor at the Nike Innovation Kitchen was in no way the mark of a slowdown in the Mayor's collection or creativity.  Mayor shows, with his newest Nike iD Bespoke AF1,  that his influential mark on the sneakerworld is still very much growing.
Most recently, The Mayor made another trip to the Nike iD Bespoke studio at 21 Mercer Street in NYC to play around with some of the new options available for customizing and personalizing his muse of footwear; the Nike Air Force 1.  After brainstorming and playing around with a lot of different ideas, Mayor finally came up with the fresh Air Force 1 "Bespoke" you see above.
The shoe, which just arrived at the Bespoke studio today, features a lot of lux features including a dark, denim upper with gold stitching and a gold insole.  To go with the clean details on the upper, Mayor chose to construct the swoosh, heel tag and tongue label in red, patent leather.  The sole is white with a clear outsole on the final product, but Mayor's initial intention was to have the outsole be colored a solid red in order to match the red details on the upper, but there was some miscommunication in the outcome of design process.  Regardless, the shoe is definitely a dope look.  Another cool feature are the lacelocks, which are stainless steel with "MYR" elegantly printed on top.  The shoes come with the original factory tag from the well known Feng Tey factory in Taiwan, which is an accessory we usually see on samples.  If you like what you see, and you are going to be (or are in) New York City, take a trip down to Nike Sportswear and have a go at cooking up a dope, one-of-a-kind Air Force 1.
Nike Sportswear
Nike iD Bespoke Studio
21 Mercer Street
New York, NY 10013
More photos below…