295784
Nike #MAKEITCOUNT in 2012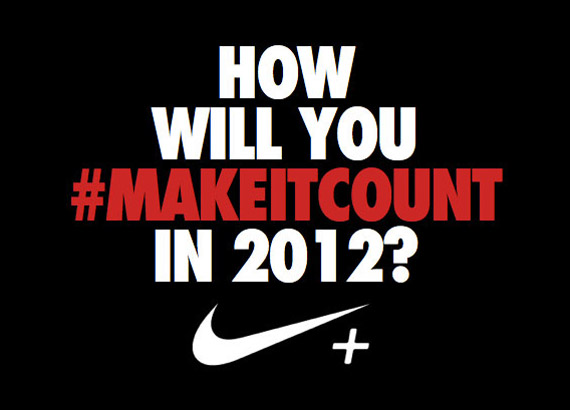 By now, it's hardly news that Nike has some big things in store for the new year. In addition to the recent activation of Nike's official Twitter and Instagram accounts, they are also launching a new inspirational campaign dubbed, Make It Count, asking you what you will do to make 2012 a legendary year. In addition to some tweets from notable athletes, Nike has also launched some teaser vids, one with an intriguing "save the date" message letting us know that something major will be going down on January 19th. No word yet on if the announcement will be sneaker-related, but in the meantime, stay tuned to @NIKE for a number of upcoming #MAKEITCOUNT videos and Instagram pics by guest photographer, 13th Witness. Check out more info and teaser vids after the jump and let us know – How will you make it count in 2012?
2012 promises to be one of the great years in sport. Throughout the year, athletes around the world in some of sport's greatest arenas will be delivering career defining moments.
To inspire themselves, each other and every athlete at every level, Nike and some of the greatest athletes are challenging you to bring your best, and then better it, in 2012.
Athletes such as Cristiano Ronaldo and Lance Armstrong have been pledging on Twitter on how they will #makeitcount in the next 12 months.
While the athletes tell us about their goals, Nike is also asking everybody to join them and pledge how they will #makeitcount over the next twelve months.
So whether your ambition is to run that first marathon or simply do more than you did in 2011, however you choose to #makeitcount, let @NIKE know.
How will you #makeitcount?
Over the first few days of January, some of Britain's top athletes including Paula Radcliffe, Mo Farah, Mark Cavendish, Rio Ferdinand, Jack Wilshere and Perri Shakes-Drayton tell us how they will #makeitcount in 2012 in a series of web-films breaking over the New Year. Check out the taster below. And stay tuned for more.