392402
The Sneaker News Staff Shares Our Latest Pick-Ups on Sneakerpedia
A few months ago, the Sneaker News team decided to get in on the Sneakerpedia fun and give our readers a look into some of the sparks that have kept our inner shoe flame burning throughout the years. Of course, sneaker collections are an ever-changing entity, with new additions being added on a consistent basis, so for this latest update into the Sneaker News Sneakerpedia crate, we've decided to share some of our latest conquests. Below, you'll find five recent sneaker pick-ups from each member of the Sneaker News staff, and like any new pair we welcome into our personal vaults, there's usually a story behind them. Take a look below to see what recent releases had Team Sneaker News cracking their wallets open, and be sure to check out Sneakerpedia to get your own personal crate up to date.
AARON KR'S PICK-UPS
It's come to the point that I've completely run out of room to put more sneaker boxes in my house without my wife setting fire to all of them. Now, every new acquisition requires carefully calculated and often physics-defying Tetris-style rearranging, so I've been very disciplined about keeping my sneaker purchases strictly to the essentials. As a result, I've barely bought any shoes in the last few months and two of the five shown here actually date back to last year. Every pair required me to put in tedious work just to find them a spot in my house, so that's my new gauge for how bad I need a shoe.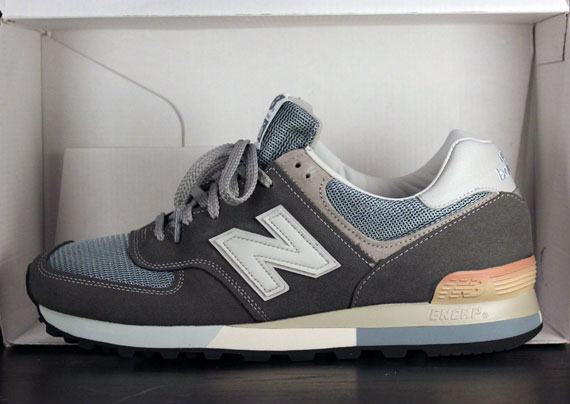 New Balance 576 25th Anniversary

In a word, these shoes right here are superb. Materials, color scheme, comfort – triple check plus. Everything about them feels plush and luxurious, and although the 576 isn't that high up on my personal NB pecking order, there was simply no way these could be ignored. I'm usually not that fond of vintage treatments, but this might be one of the best applications I've ever seen. The discolored heel cap really brings these to life and goes even a step further towards helping this grey pair to resemble the 1300JP edition of the classic "Steel Blue" colorway. NY/NJ weather has been a little sloppy lately, so I'm yet to give these a proper test run, but they'll be making a debut any day now and are likely to quickly become a mainstay of the rotation.
–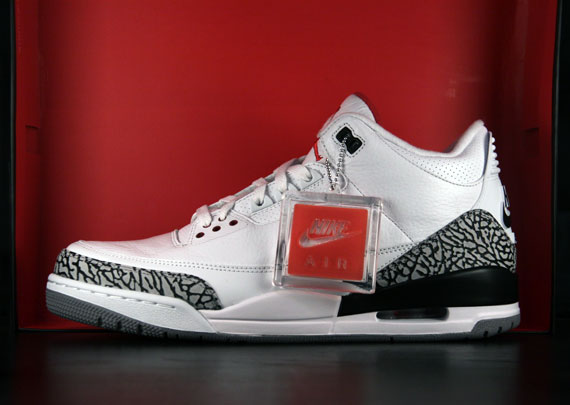 Air Jordan III Retro '88
As you know, a few weeks back Jordan Brand sent shockwaves through the sneaker world with the special edition 25th anniversary release of a set of $40 "NIKE AIR" heel tabs packaged along with a matching pair of White/Cement Air Jordan III's. Needless to say, the whole world had to have them and Team Sneaker News was right there ready to add to cart when the afternoon online drop went live. Out of the four of us in the office that day, two got lucky and two got depressed. I was one of the unfortunates, and while I wasn't happy about missing out, I quickly started convincing myself that my white III's with the Jumpman were just fine with me.
I stuck with that mindset for a few days, but in the back of mind, I knew I was in denial. Then one night, while trying not to think about it, I figured, let me just see what they're going for on eBay. Prices will be absurd and it will give me the needed closure to just let them go. To my surprise, there were some floating around for only $100-150 above retail, which actually seemed like a bargain considering they'll probably go for twice that in a few months. I pounced on a pair with the quickness, all the while feeling ridiculous that I need to have Nike Air on the back of my Jordan III's that bad. But I'm sick and I did need it that bad, and now I have $165 heel tabs to show for it.
–
Solebox x adidas Torsion Allegra
This recent Solebox x adidas team-up is further evidence that the whole collab thing works. In most cases, sneaker companies don't really rely on collaborations to make money. They're primarily used more to create buzz around the brand and the model and are usually produced in small quantities, so we should be glad that they exist at all. When they're done right, they've resulted in some of the best sneaker designs ever produced and can sometimes draw your attention to a model you would have otherwise overlooked. I saw a few inline colorways of the Torsion Allegra a few months before they released and they looked pretty nice, but it wasn't until I gazed upon the Solebox version that it became a must have. I'll definitely be on the lookout for more Allegra colorways in the future and it's all thanks to this collaboration. The system works.
–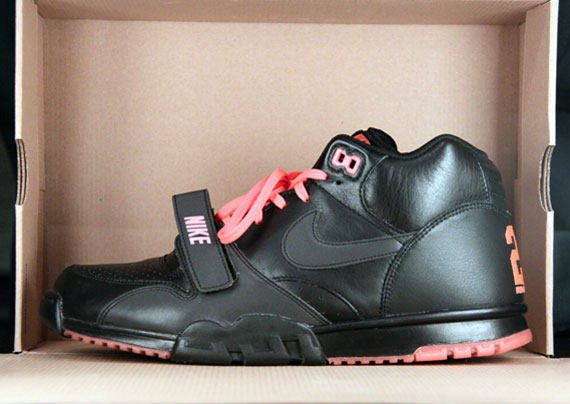 Nike Air Trainer 1 "Revis Island"
I'm a New York Giants fan, but not the kind that hates the Jets – although I am glad I chose the right side on that one as a kid (the Mets keep me just miserable enough). Among the things I don't hate about the Jets is Darrelle Revis, who is easily one of my favorite NFL players to watch. I've been a fan since he came into the league and have been loving the Revis footwear offerings from Nike over the last few years. I think the Zoom Revis is one of the best new Nike performance models in a while, and although I'm all for new technology and innovation, the Air Trainer 1 will always be the pinnacle of the category for me. It was nice to see a bunch of AT1s release last year, but aside from the Chlorophylls, there weren't too many that got me excited. This "Revis Island" edition snuck in before the end of 2012 and turned out to be the best of the bunch in my opinion. Simple color scheme, a healthy amount of 3M, crazy vibrant Bright Crimson accents that photos do no justice to, and last but not least, the best leather I've felt on a Nike shoe in quite some time.
–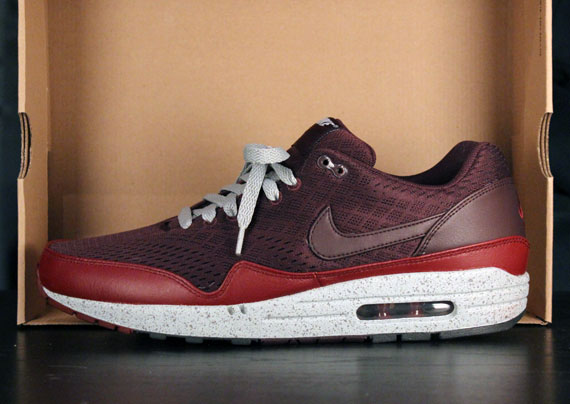 Nike Air Max 1 EM "London"

These shoes made a hypocrite out of me this past weekend. While I can appreciate the benefits and aesthetic appeal of "Engineered Mesh" on performance models like the Kobe 8, it's not really something I was looking for on an Air Max 1. I admittedly didn't have too many nice things to say about the recent set of OG Air Max models re-introduced in EM form and will leave it at that. Photos of the "London" Air Max 1 EM from the recent City Pack were kinda intriguing, but definitely not something I had any thoughts of buying. Then, last Saturday when I saw these on a store shelf, it all changed. I'm a sucker for a burgundy/grey color scheme and an even bigger sucker for a grey "cement" speckled midsole, so the trap was already set. I reluctantly tried them on, wanting not to want them, but they looked and felt amazing and before I even knew what happened, I was handing over my money just like so many times before.
I still want nothing to do with the OG colorways, but I've definitely changed my tune on the Air Max 1 EM in general, which brings me to this – as much as we try to present our readers with the best possible photos of the shoes we cover, it still pays to get out to your local shops and actually see them for yourself in the flesh. Sometimes it can make a world of difference to have the shoe in your hands and put it on your feet. You never know when you might fall in love with a shoe you never knew you wanted.
JOHN KIM'S PICK-UPS
My 2013 sneaker pick-ups haven't really surprised me thus far – the usual suspects in the Air Max 1, a pair of LunarGrands, something 'Woven', and a two significant February releases. It also marks my first-ever Twitter release success, so that's reason to celebrate right? Check out five of the latest additions to my collection below.
Nike Roshe Run Woven Premium 'Rainbow'
If you remember my Editor's Crate, you might remember that I have a thing for the Air Woven. Add in a multi-colored Rainbow and I'm doubly intrigued. Anything in the "Rainbow Woven" formula is an instant cop for me after I slept on the two SOPHNET. x Lunar Woven Chukkas from 2010 (I bring it up once every other week I think), so I took to Twitter and tracked down the rare size 11.5 (translates to a mens 10) and picked up a pair through a ridiculously easy transaction from the good folks over at Oneness.
–
Nike Air Max 1 "Pimento"
If I see an Air Max 1 colorway I like, I don't ever really think about it – I just buy as a reflex (with a coupon…always with a coupon). The recent PRM releases impressed me a lot in terms of  the quality of the suede/nubuck/call-it-what-you-want material, and this colorway is just too alluring. I have a weird thing against black midsoles, but these remind me too much of the True Red SB Dunks so I had to cop (thumbs up to anyone who has the original Air Max 1 'Pimento' in their collection). Still trying to figure out the proper lace-swap or if I should keep it with the tonal red.
–
adidas Energy Boost
Received this pair from the folks over at adidas when I attended their media launch event. Appears very unassuming and you'd almost never pick them out if you saw them being worn out in public, but these are surprisingly clean 'on-feet', are deceptively lightweight, and VERY springy. The entire SN staff hopped around like a flock of nerds for a few minutes just to test the shoe out. I run roughly 15-17 miles a week – will definitely add these to the Running rotation soon and put Boost to the test.
–
Air Jordan III Retro '88
I still have my '03 pair of White/Cements that I bought at Finish Line – repainted midsoles and all. I haven't worn them in a while, but they're without question one of my favorite Jays of my collection and even though I wore them proudly, I've always had a bittersweet attitude toward it since it didn't have Nike Air and the '01 Black/Cements did. Yes, it matters. I lucked out on the Twitter release – definitely surprising considering it was my first and only Twitter release purchase ever.
–


fragment design x Cole Haan LunarGrand Saddle
I briefly lobbied for the Cole Haan LunarGrand to be in our Sneaker News Top 30 of 2012 even though I knew it technically was not a sneaker. With that said, it's been one of my favorites since the launch and I rotate the OG Grey/Volt and two other colorways at the moment, and have several more on ice once the LunarGrand channel stops (just an assumption considering Nike and ColeHaan are not connected anymore). I missed out on the first fragment design release, but the identical colorway reprised itself on the Saddle and I gladly paid a smidge above retail on eBay. So clean.
AARON HOPE'S PICK-UPS
I've accumulated quite a few fresh pairs of New Balances here in the last little bit, so while these don't accurately portray the distribution of my recent pickups, the casual running theme is one of my go-to looks and the key thread unifying these selections.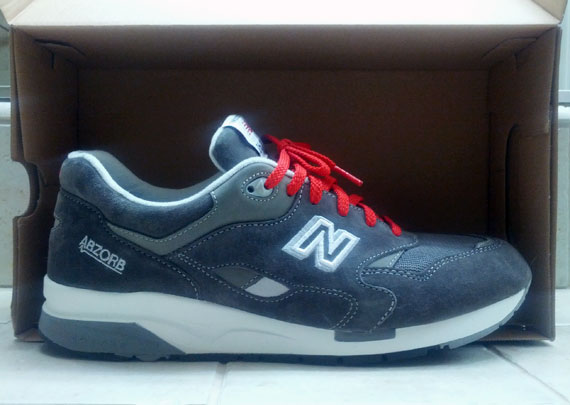 New Balance 1600 – Grey

This shoe had been exiled to the Far East for the most part in recent years, but came back strong with some new colorways in 2012. People are going crazy over the Elite Collection duo that just dropped and rightfully so, but this pewter pair and its three compatriots are responsible for resurrecting it here in the States after the notorious 'Liberty, Justice & Freedom' kibosh. Speaking of collabs you can't get your hands on and bringing the NB Japan thread full circle, I swapped in a red lace to give these a look approximating the Beauty & Youth x Briefing 1700s.
–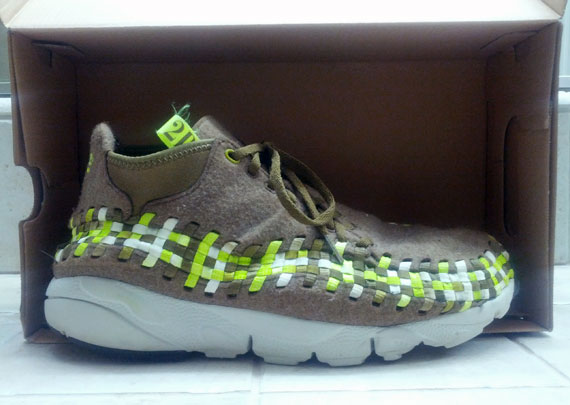 Nike Air Footscape Woven Chukka – Raw Umber/Volt

An October purchase makes for the oldest of these selections, but if there was a pair most likely to be my most recent wear, it's been this one. The Raw Umber wool upper is a tricky match with earthy pants, but if you pull it off right, the Volt weave can provide the explanation point to so many outfits that I just can't stop wearing them. Highly cushioned soles and barefoot motion sometimes seem mutually exclusive, but this supremely comfy design is a prime example where it works to perfection.
–
Packer Shoes x Saucony Grid 9000
Bodega prepared me for what to expect when subtle suede shades meet up with perhaps the single most underrated piece of early '90s tech. And now that the G9 hybrids are rolling out, the Grid platform is getting more exposure in the sneakerhead set, but it's hard to picture anything topping this earthy yet energetic mix from Packer Shoes. The base tone on these looks grey in most images but it's more of a mauve depending on the lighting, and the purple undertones make beautiful music with the soft blue laces and sole. I love how the orange serves a similar function on these as the Volt on those Footscapes, but I enjoy wearing them so much that every pair of Grid 9000s I own ends up with their soft midsoles scarred and me in tears.
–
New Balance 996
This one was my favorite Christmas sneaker gift of 2012, one that arrived at my door just in time to celebrate the 996's entire 25th anniversary year. This fawn grey makeup is Made in the USA at its finest and the reflective branding elements add a serious punch to a very low-key colorway, but to me, it's the small sand strip and ivory heel cup that give this pair its unique charm. I write these posts at a glass desk and whenever I wear this pair of 996s, I find myself amazed each time my gaze is reflexively drawn down to admire the glimmer.
–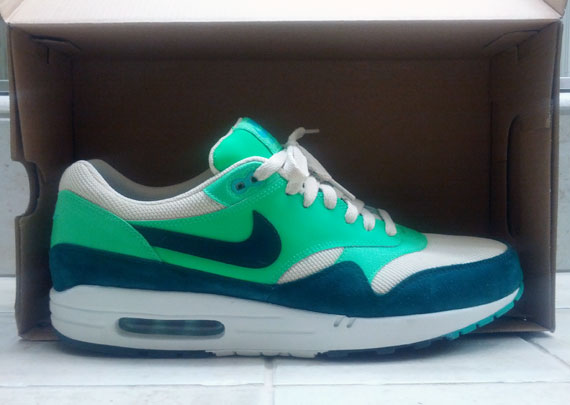 Nike Air Max 1 Essential
Dark Atomic Teal is the 'it' color for Nike Sportswear this spring and this pairing with the 'regular' counterpart has become my new favorite since arriving last week. The key with this pair is the Birch mesh, which takes what could have been a dope design had they just matched the white midsole, and elevates it to a level that really reflects how important subtle tweaks are to creating the perfect colorway. This is right in my wheelhouse: colorful and expressive but still has plenty of friends on all sides of the color wheel, but then again, that's why the mints, teals and pinks of the world are so popular these days.
BRENDAN DUNNE'S PICK-UPS
My sneaker pick ups as of late consist of a fairly diverse bunch that's split pretty evenly between calculated purchases that I'd been scheming on for months and some surprises that randomly found their way into my closet. The on-sale stuff in the mix manages to balance out the average price point jacked up by the LeBrons in the group, which I guess makes me feel more sane on some level about spending so much money on footwear. Anyways, check out the full list below and bring yourself to the slow realization that I'm a hypebeast piece of garbage.
Nike LeBron X 'Cork'
Never thought this one would happen. Twitter RSVP strike-outs are pretty standard for me and I've had zero luck lately on any Beaverton sneakers when it comes to purchasing online (Hi Air Jordan 1 'Royal', Air Jordan III '88). As last weekend approached I knew that Nikestore would be my best bet on these. There was of course the standard handful of Euro sites to try your luck on prior, but the best I could do there was getting a 10.5 in my cart over at Crooked Tongues and crashing and burning shortly thereafter. Anyway, I have a tendency to fall right back asleep after setting my Saturday alarm for these 8AM Nikestore releases. Sure enough I did, only to wake back up at around 7:57. On top of that, my wireless router has a tendency to randomly give up through the day, so I had to get up at lightning speed, race down to reset the thing, race back up to my computer, pull up Nikestore's Twitter, frantically mash the keyboard to read new tweets as fast as possible, and then let their spinning wheel of fortune decide my fate. Turns out I was one of the lucky ones.
–
Nike Roshe Run 'Iguana'
The 'Iguana' colorway of the Nike Roshe Run was one that I ignored when the sneaker was first making the rounds last year. Regret set in pretty soon and I was sure that the sneaker had eluded me when the Roshe began to don all sorts of unnecessary bells and whistles throughout the remainder of 2012. When the first shop or two announced that they had size runs, I missed out, but then they started popping up at more and more places and I eventually got my hands on a pair. Actually I got my hands on about four after the whole office decided that these were a must have. I've yet to pick up the sport red on this go-round but I'm sure I'll crack on that sooner or later.
–
New Balance 1600 Elite Edition – Grey/Blue

I'm pretty certain that I've been buying more New Balances than anything else over the past year or so. The New Balance 1600 isn't a sneaker I'd usually pay attention to, but I knew I had to have this pair when we first previewed them here on Sneaker News way back in July. I grabbed one of the all-grey versions in the interim period to tide me over until these beauties made their way to retail. Sure enough, they finally arrived and I didn't hesitate to grab a pair. The other Elite Edition stuff hasn't been too enticing for me (The 1500s are so-so and I'm still a little weary of the 999 shape) but these are a huge hit in my opinion.
–
Kazuki x CLOT x adidas Originals Superstar 80s
This one was another random sale sneaker that I'd been eying for a while. My collection is most lacking in the adidas department, so I'm always on the lookout for random Superstars, Campuses, and the like for the low. It's obviously not a sneaker I'll be wearing anytime soon as the swiss-cheese sides render them a no-go for the NYC winter, but I'm excited to break them out once the weather turns. Again, the 3M pop pushes these over the edge for me and I'm pretty happy that I was able to put them in my closet after snatching them up on super sale up at West NYC.
–
fragment design x Nike Air Magma Zip
The fragment design x Nike Zoom Meriwether was a pair that I had been wanting for a while after their release. I was waiting for the right price, but they never dropped low enough for my tastes on any of those random European sites that still had pairs in stock well after the release. Fast forward almost a year and some change and I find the Nike Air Magma Zip that they whipped up in this navy colorway sitting on a sale shelf for an amazing $50. Right after grabbing them, I was still pining a little bit for the Meriwether version, but at this point, the Magma Zip has won me over. I love me some 3M and the laces on these are bonkers. It's my go-to rain shoe at the moment and a pick-up made all the better by the crazy sale price.