443424
Nike Air Force 1 Bespoke "LeBron X Denim" by Slovadon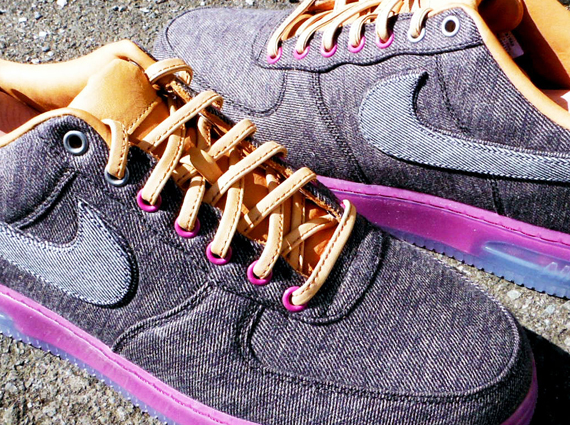 The Nike LeBron X "Denim" was one of plenty of EXT versions of LeBron's latest that had folks feeling left out in 2013 due to its super limited nature. Coming in as quite the consolation prize is this Nike Air Force 1 Bespoke creation from the likes of frequent 21 Mercer customer Slovadon. The shoes do their best to mimic that King James release what with their denim and leather upper and purple treatment along the bottom. Get the technical details after the click along with the rest of the photos for Slovdaon's Nike Air Force 1 Bespoke "LeBron X Denim".
-Water proof denim uppers and swooshes.
-Grey denim outer swooshes.
-Tan leather tongue & linning.
-Tan vachetta leather laces.
-Vivid purple MX midsole & ice bottom.
-Top 2 eyelets are brushed silver and the rest are vivid purple.