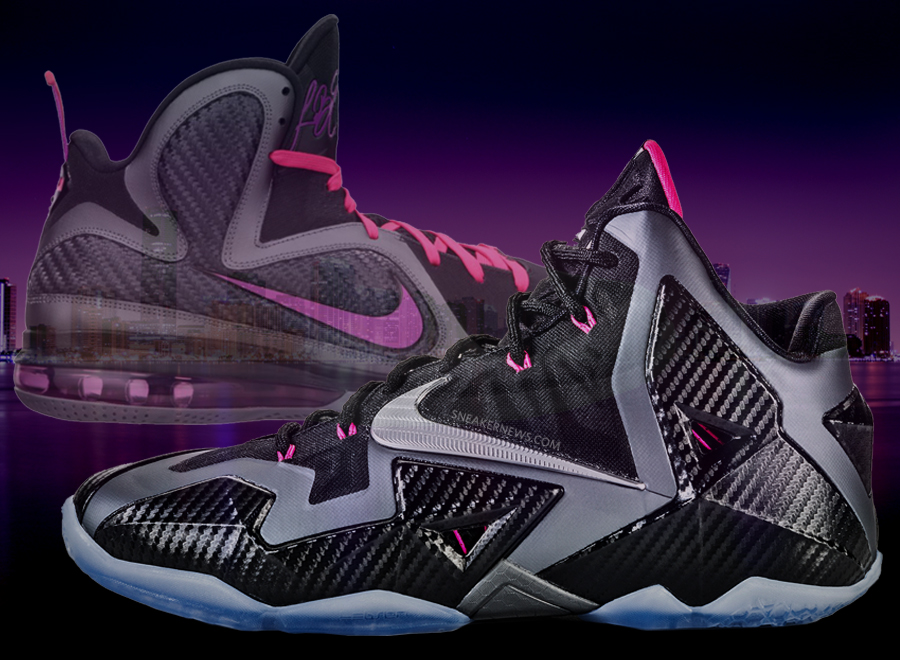 This morning, Nike officially unveiled two upcoming colorways for the Nike LeBron XI, both of them sporting geographic nicknames derived from LeBron's personal history. Included in the twosome was the Nike LeBron XI "Miami Nights" – a slick Black/Pink/Grey colorway that had been making its rounds on the web as the "Carbon Fiber" edition. If you're at all familiar with LeBron James' signature line, you're well aware that the "Miami Nights" theme made its debut back in 2011 on the Nike LeBron 9, drawing on the highly-touted nightlife scene and the colors that represented the vibe. The Nike LeBron 11 "Miami Nights" encircles the same exact concept from two years ago – pink flash accents, backstory, and all. In the age of sneaker nicknames, Nike has been rock solid with creating new and fresh concepts, which makes this Miami Nights "recycling" of sorts something of a head-scratcher.
As mentioned earlier, Nike Basketball has a pretty strong track record of laying even their hardest hitting themes to rest in favor of fresh colorways. Consider the "South Beach", perhaps the peak of the LeBron line in terms of memorable colorways; while there was a sequel of sorts in the form of the Nike LeBron 9 Elite "Miami Vice", it was far from a direct copy and the brand made it clear that it was telling two distinct (yet clearly connected) stories. Due to the success of the teal and pink, Nike had every reason to go another round, which makes the choice of "Miami Nights" a rather questionable one. LeBron James is a pretty multi-faceted guy with all sorts of stories to tell, so it would appear that a fresh spin would've been the proper route.
What's more, sneakerheads already have their own avenue with which to recreate old colorways on new sneakers: NIKEiD. That customizable process has long since satisfied the needs of those who want to see classic Nike palettes (South Beach, Infrared, Nerf, etc.) transferred onto more modern models. Should Nike leave the already established LeBron palettes to be recreated in that realm, or are they justified in bringing back hits of old? Tell us in the comments whether or not you approve of the LeBron line doing the sort of revisiting exemplified by the LeBron 11 "Miami Nights" and if there are any specific themes/colorways you'd like to see retired or reintroduced with respect to King James' shoes.