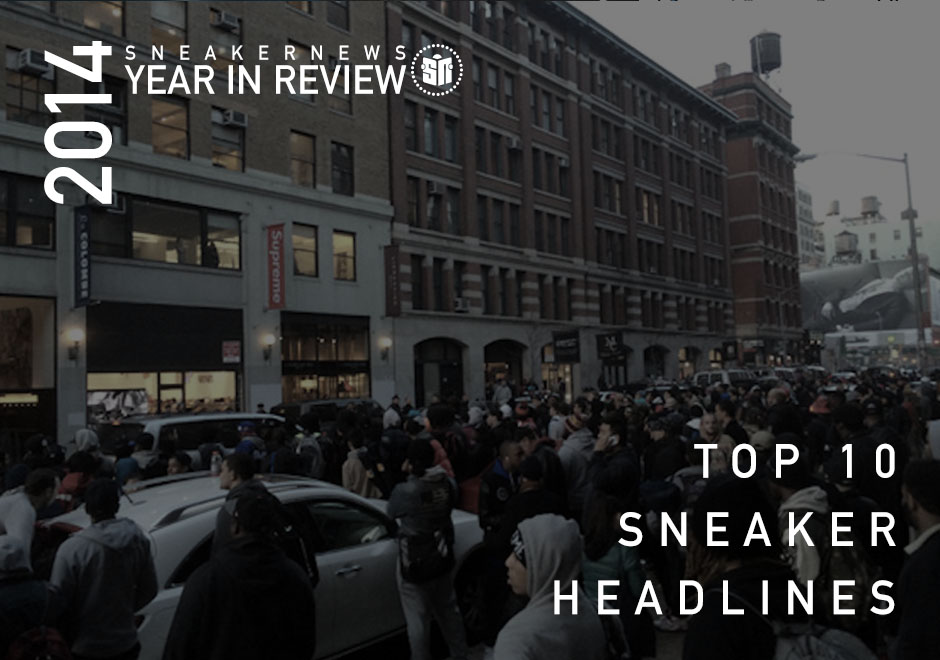 The sneaker game ain't about weekend releases anymore. This year in particular, there were a number of noise-making headlines in the industry regarding superstar athletes mulling decisions to move between brands, key employees doing the same, botched releases affecting future scheduled dates, and much more. Sneaker News Year in Review continues with a look at the Top 10 Sneaker Headlines of 2014, so take a look below.
THREE NIKE DESIGNERS LEAVE FOR ADIDAS, LAWSUIT FOLLOWS
Marc Dolce, Denis Dekovic, and Mark Miner were three stars of the Nike product design team, which each prolific artist earning directorial or senior positions in their respective categories. That said, it came as a huge surprise when the three announced, on Twitter, their decision to not only leave the company, but join the brand's top rival adidas and head a brand new design studio in Brooklyn, NY. Jumping to a rival company is totally acceptable in any field and it, quite frankly, happens all the time. But the slick manner in which they publicized their "coup" was hardly as smooth as they probably perceived it to be.
In fact, a lawsuit by Nike against the three designers revealed much more beneath the surface, particularly under Denis Dekovic, who is believed to be the mastermind behind the move. Their former employer alleges that confidential material was shown to adidas by the designers, that adidas would cover any legal fees that the three would most


certainly incur for breaking their non-compete agreements, that Dekovic swindled Nike to commit financially to him and his family by assuring the brand of his loyalty, and that his disloyalty would transfer over to his new employee based on some shaky details regarding his desire to start his own footwear company not long after making the official move.
At the end of the day, Nike loses three talented designers, but none of whom really made a lasting impression. Miner was and will continue to be a talented designer of performance running shoes, Dekovic's efforts in international football footwear were enhanced through marketing and the global bonanza of the 2014 World Cup, and Dolce, who was the most recognized name of the three among the sneaker community, led the categories he was responsible for in a direction that didn't exactly blaze trails like the legendary designers of Nike's past.
KEVIN DURANT GETS COURTED BY UNDER ARMOUR
Was it possible that Kevin Durant would leave Nike? In the Fall of 2014, it came really close for the Swoosh to lose its fast-rising superstar athlete to an equally ascending Under Armour. The Baltimore-based brand, which became a billion dollar label company thanks to its devotion to performance, courted its fellow DMV native with a contract that reportedly would pay him $300 million for ten years, give him equity in the brand, and construct a community center named after his mother Wanda. Signs were pointing to a confirmed move; the CEO of UA Kevin Plank was fairly outspoken about KD, who tweeted some compliments about the basketball star, and during the Nike-driven World Basketball Festival in Chicago, Durant could be found in Maryland – specifically, the UA world headquarters.
Nike was, without question, forced to ante up, but they were fully confident that Durant would return to the brand that had so much faith in him from an early age. The terms of the contract haven't been disclosed, but it was reported that he is being paid nearly the same dollar amount as the 10 year/$300 million contract offered by UA and that he would receive royalties on his KD kicks and gear. Did the Swoosh overpay? Absolutely not; not only do they retain Durant, who has proven himself to be perhaps the most marketable athlete in the world, but it keeps Under Armour at bay in a category that is unquestionably the most important for Nike in the United States.
A PHOTO OF KANYE'S ADIDAS YEEZI SURFACES
The major headline of 2013 was the aligning of the German sportswear brand adidas with hip-hop superstar and influential fashionista Kanye West. In 2014, adidas officially introduced 'Ye at a company-wide event, during which a June release was disclosed. The shoes obviously never released this year, but we did get a first look at what was confirmed to be the adidas YEEZi thanks to a cell-phone photo taken on an airplane.
JORDAN BRAND ANNOUNCES THE REMASTER PROGRAM
We've all heard the outcry regarding diminished quality and inattention to detail regarding Retro Jordan releases. Finally, the brand took notice and triumphantly unveiled its Remaster Program, which aims to address these key issues while maintaining a fair price-point. Better materials, focused manufacturing, and emphasis on the smallest of details (such as the tongues of Jordan's shoes on the logo being shown) is what we can expect with the Remastered Jordans, and after a soft launch of the fragment design x Air Jordan 1, these upgraded Jordans will make their presence known on January 10th with the release of the Columbia IVs.
NIKE SHUTS DOWN STOLEN SAMPLE OPERATION
Are you fan or follower of a trigger-happy sneaker collector who amasses PEs and unreleased samples for hefty dollar amounts? If it's a Nike Basketball sneaker, then they likely came from the individual pictured above – Kyle Yamaguchi, former Product Line Manager for the category. During his tenure with the brand, Kyle approved production of these not-for-sale items called Look-See samples, smuggled them out of the Nike campus, and sold them for incredibly high amounts to Jason Keating of Miami, who then re-sold them to his exclusive network of buyers.
The operation continued on after Kyle left his position because his protege and successor, Tung Ho, was in on the whole thing, too. It all came crashing down when Chase bank began investigating the consistent transfer of funds between Keating and Yamaguchi. The ironic part of the ordeal is that after leaving his position at Nike and facilitating this illegal sale of stolen property, Kyle launched a lifestyle eyewear company named Look/See.
ALLEN IVERSON-INSPIRED NIKE ZOOM FLIGHT 96 SCRAPPED
We don't often refer to Allen Iverson when considering the great signature shoe legacies of the industry. Reebok is indeed pushing forward to another signature sneaker for its most popular signature basketball athlete ever, but the biggest headline regarding AI and the industry isn't the Reebok Answer 14, but the stoppage of a pair of controversial Nikes. The Zoom Flight '96 pictured above, while not being billed an Iverson tribute, is clearly inspired by the #1 overall pick in '96, and considering the Georgetown legend has no professional relationship with Nike, he and the Reebok brass put a stop to a release (although a few pairs managed to leak out).
SUPREME FORCED TO CANCEL NYC FOAMPOSITE RELEASE
It's been quite a while since a sneaker release caused this much mayhem. Supreme's in-store release in NYC of the Air Foamposite One coerced droves of sneaker fiends the day before the release date. Lafayette Street was utterly engulfed with heads, and given the fact that only a small percentage of those who trekked it out there would secure a pair, the worst was only inevitable. The NYPD forced the skateshop to cancel the in-store release, and as expected, there was no in-store release for the Air Force 1 High pairs either.
JORDAN BRAND BEGINS TO DO RETRO MODEL COLLABS
The idea of a footwear brand collaborating with a local shop is what helped kickstart the "collector" era of sneakers in the early 2000s. Almost every brand hooked up with the respected boutiques of the world to give their inline shoes (typically archive models) an added umph, except for Jordan Brand. In 2014, the frequency of partnerships initiated by the Jumpman was revved up, with labels like fragment design, Public School, SoleFly, Drake, Macklemore, Lance Mountain, Craig Stecyk, TEDxPortland, and the beloved anime Slam Dunk getting thrown into the mix.
THE RISE OF MASSIVE NIKESTORE RESTOCKS
Nikestore restocks of years prior were rare occurrences and seemed to happen completely at random. Now, these coveted stock replenishments have been anticipated, with advance notice leaking out before they were scheduled to go live, and on one occasion Nike itself announced a restock (only to have it be shut down due to a bombardment of click-throughs). Nikestore, as well as Foot Locker, Finishline, Eastbay, and other large chain retailers treated customers with some Air Jordan and Nike goodies of months past, and while restocks are still few and far in-between, they've been available much more frequently than ever.
FRANK THOMAS FORCES REEBOK TO SCRAP HIS SIGNATURE RETRO
The popularity of retro footwear reached incredible heights over the last couple of years, and the signature athletes of the 90s were very much open to a second wind of profit from their past sneakers. Frank Thomas, however, was not one of those athletes, and it was perhaps the fault of Reebok for not properly securing the green light from the former MLB slugger. As a result, The Big Hurt sued Reebok for any profits made from the sales of the popular Reebok signature shoe and the wide release was entirely scrapped.