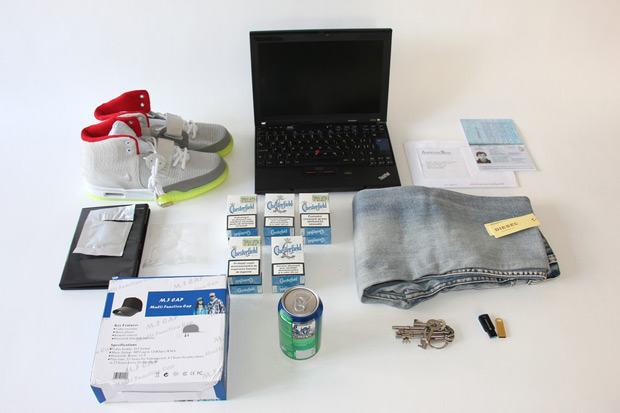 A group of 'artists' recently developed a shopping bot for a deep web like website in the same tier as the Silk Road. The aim was to have the bot, called Random Darknet Shopper, purchase an item on the Agora marketplace each week at random as long as it met or was under its $100 Bitcoin allowance. All of this was conducted in an effort to showcase the randomness of shopping consumption by exploring the deep web and all of the goods traded there. Each of the items purchased by the bot would later be put on display in an upcoming art exhibition. So what does this have to do with the world of sneakers?
The contents of the packages started to get a little bit shady, and once a sealed bag of Ecstasy was shipped to the artist space, authorities confiscated the MDMA along with all of the items that were acquired by the computer program over the span of multiple months. The bot was shut down completely. Included in the haul was a rather obvious fake pair of the Nike Air Yeezy 2, bootleg Diesel jeans, and even a fake passport. While none of those items had legal ramifications for the program's creator, accidentally purchasing ecstasy made the matter a bit more serious. The bot's creator eventually wasn't charged and received all of the purchases back save for the drugs to put on display through the art piece.
Kanye's tenure at Nike may be over, but his Yeezy series continues to have a longevity in shadier marketplaces possibly unmatched by any other silhouette. Is it the most replicated sneaker of all time? For those of you desperate enough to try to get your hands on a pair even if they're fakes, the good news is you can now have a bot do it for you just as on Nikestore, but expect the quality to be less than ideal. Be sure to check out the full story here.
Source: Bitnik.org