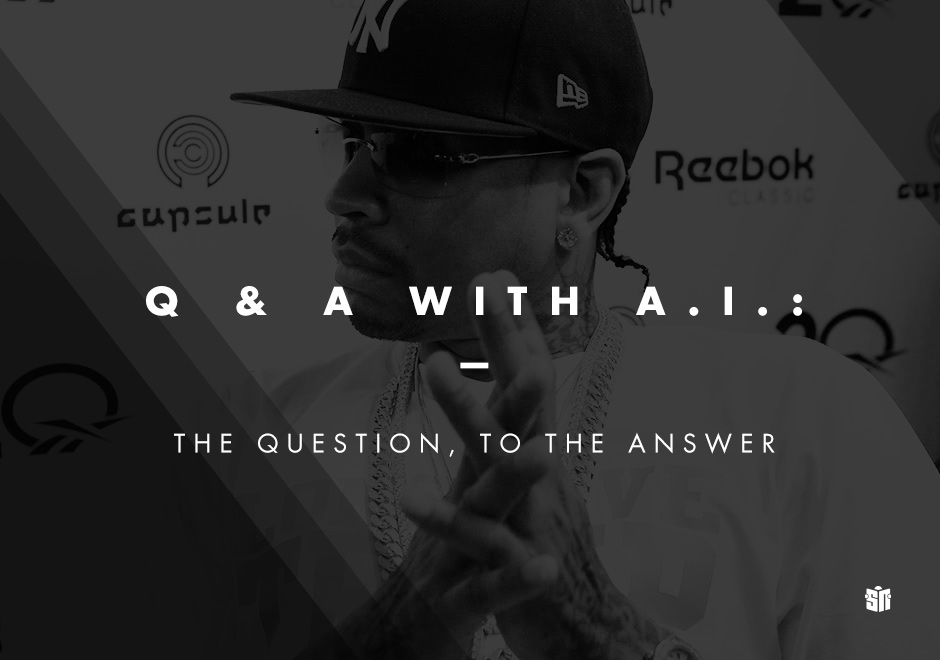 Allen Iverson is a once-a-generation athlete with immeasurable influence on his fans and, more importantly, his peers. A.I.'s garnered the respect from the superstars to the bench-warmers, and he's accomplished this without really…trying. The baggy jeans, braids, and blinging chains were just an extension of his genuine persona and to this day, The Answer remains true to his style. Earlier today, Iverson was the guest of honor at a special Reebok event held at sneaker boutique Capsule, and the outspoken star seemed eager to speak on a number of topics; he says Michael Jordan is still his biggest hero, that he doesn't feel bad about losing in the Finals because Shaq and Kobe were too dominant, and that he and Tyronn Lue are boys – and that friendship started because of the infamous "step-over" move.
Despite being retired for five seasons, Allen Iverson remains not only a staple of the All-Star scene, but one of the most scintillating fan draws because of his colorful past and authentic personality. Today's special event featured the former MVP alongside Shaquille O'neal and radio personality Sway, with the two hoop gods answering a variety of questions about their favorite moments in the NBA and the utmost respect they have for one another – especially during their epic battle in the Finals fifteen years ago. Sneaker News had the pleasure of sitting down with Iverson to talk about what the Question means to him and what role it plays in his signature sneaker legacy, and you'll be surprised with some of A.I.'s answers. Read on below.
Sneaker News: This gets asked to every athlete with his own shoe, but what did it feel like back in '96 when you got your first shoe [the Question]?
Allen Iverson: When you're a kid and you're a sneakerhead like me and you have all these dreams and aspirations, there are no words that can explain how I feel about it because I'm just overwhelmed with the fact that I had a signature shoe. It's actually "my shoe". It's a great feeling, It's hard to describe, but I just know it's a beautiful feeling.
SN: When you see a kid wearing the Questions, what does that mean?
AI: I remember the first time I saw a kid (wearing the Questions), I was in my car, I pulled over and watched him in the rear view mirror until he was out of sight. It was just the greatest feeling to see a kid with your shoes on. I remember having my favorite player's shoes when I was younger and how I felt to get a pair. It was a great feeling.
Above: Allen Iverson at the 2001 NBA All-Star Game
SN: When you set foot on the court for the first night wearing the Questions, what was that like?
AI: Man, I don't know! It was just surreal man. It was just unbelievable to walk on the court and to have your own shoe. This is yours! Like, you got all these different guys and they got on whatever sneakers, but these ones right here are YOURS, exclusively. I just take it back to being a kid, I was 21 years old at that time so you know it was exciting for me. At 40 looking back on it, it's exciting because that was a great period of time. It's like, "Damn that was cool."
SN: Talk about your Rookie of the Year campaign and then how you just flat out dominated in the league.
AI: I just played every game like it was my last. It was simple to me, it was honestly simple to me. Go out there, give everything you got, every night, try to put on a show and thrill them and that's that. Because any night could actually have been my last game so I approached it like that. I understood and felt like it could be my last game and it could be the only time a fan would get to see me play so lay it all on the line.
SN: What is your sneaker legacy?
AI: My sneaker legacy is everything that I gave to the game. To hell with the style, how it looked, when I put my foot in this shoe, I gave everything that I had. Any one of my shoes that I had, you knew that night in, night out, I gave my teammates and my fans everything that I had.
SN: What goes through your mind when you think about 20 years of the Reebok Question?
AI: Honestly, looking back, there's so many people that help you get to this point. So many friends, so many coaches, so many fans. So I just want to give thanks because it takes a lot to get to this point – all I had to do was to go onto the court and dance.
A big thanks to Allen Iverson and Reebok for the opportunity and for Capsule for hosting the event.