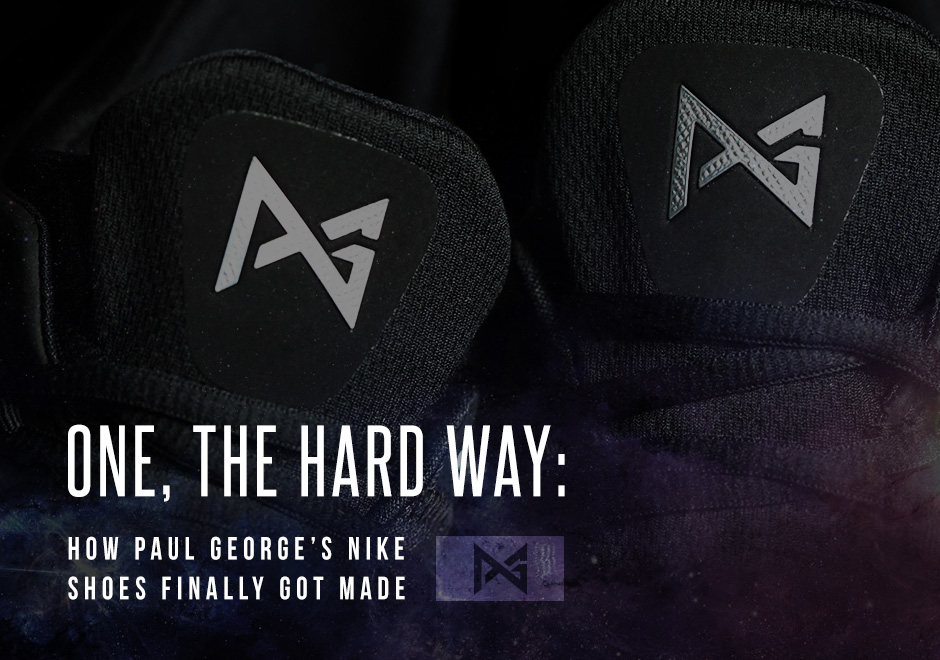 Without a doubt, the biggest news in the basketball sneaker realm this spring is the introduction of Paul George's first signature model, the Nike PG1. From young superstardom leading the Indiana Pacers to the brink of the NBA Finals in 2014 to a gruesome leg injury that could have completely derailed the career of a player less focused, PG's first shoe—now three years in the making—releases as he returns to his full skill level and potential on the court. Paul's journey to achieving the status of a Nike signature athlete is pretty incredible, but the journey of the man behind the design of the shoe, Tony Hardman, is also a tale of hard work and dedication to his own craft.
Now in his seventh year with Nike and his fifth in Nike Basketball, Hardman has definitely put in time in the trenches, so to speak, designing lower-tier, bread and butter hoops models while the big names like Leo Chang, Eric Avar, and Jason Petrie got the major projects. Looking back at his resume now (we'll let him list his best designs below), it's easy to see his time was coming, and now it certainly has. If the impressive PG1 is any indication, Tony Hardman may very well soon be a name sitting right there alongside those aforementioned Nike Basketball design legends.
Sneaker News: What were your first thoughts when you learned you would be creating a player's first signature shoe? Was there any extra excitement or pressure?
Tony Hardman: Being a guy that wanted to design signature basketball shoes for so many years since high school, and just being on this long road and journey, I was stoked. It's an honor, obviously, to design Nike Basketball signature product. So I was definitely super excited about it.
We know that before the PG1, you worked on the Hyperchase and Run The One. What else did you design leading up to the PG1?
I also did the Zoom Crusader, some of the older Hyperfuse models. I've worked on LeBron's Ambassador shoes since the 7. To work on his product has helped me learn the signature shoe process.
Do you feel that the PG 1 is a natural progression in the evolution of your designs? Or was there anything major that you learned or any big leaps in your style that you made along the way developing it?
I think as a designer, you're always kind of pulling from your wealth of knowledge and things you learn along the way. One of the interesting things with this process is initially we went out to Paul's house—and this is about three years ago when we first started talking to him—and we brought a bunch of footwear to talk through what he liked stylistically, from a performance standpoint. He said his favorite shoe of all-time to play in was the Zoom Crusader, and that was a shoe that I did, so I knew I could pull some things from that shoe as we started the process. So you see a little of that in the PG1, in terms of what he likes like the seamless bootie and the lower cut. The challenge really came with the strap, and how we got that to function, how we got that to work with different widths of feet, and being in a flex zone where we don't normally put a strap. Those were some of the challenges that we had to iterate on with his shoe.
You mentioned the Zoom Crusader, I was going to ask if there were any other specific models he called out to take inspiration from. We know he's a fan of low-tops and Kobe's line.
Yeah, he's definitely a big Kobe fan. There weren't many specific shoes we took inspiration from. We knew that he's a big fan of the Huaraches. The Fab Five Huarache from back in the day was one of his favorite shoes, so it just all goes back to comfort and the feel of that inner bootie and seamless interior. And he told us specifically that he wanted his shoe to represent comfort. He wants kids to know that that's what his shoe is all about. He's not really about technology, like, he couldn't tell you the difference between Zoom and Lunar. That's stuff that we've taught him along the way, but initially it was like, "I just want it to be comfortable".
And then bringing in other things he's saying to us, like, "I need to work on my explosiveness." So we thought about the forefoot, he's guarding some of the fastest guards, he's one of the best two-way players in the game, so how do we bring some explosiveness? He's usually playing on the forefoot, and we know that Zoom can provide that (explosiveness) for him. So if we combine that with a thicker sockliner, put some foam above the Zoom, we know that when he's playing he can engage that and then still get that amazing step-in comfort, and really kill two birds with one stone and meet his needs as a player. The sockliner is a couple more millimeters thick than the ones we usually use on a shoe at the $110 price point, so the step-in comfort is definitely better than some things we've done in the past at 110. We combine that with an even bigger Zoom unit than we typically do at that price point, and it's a perfect combination for him.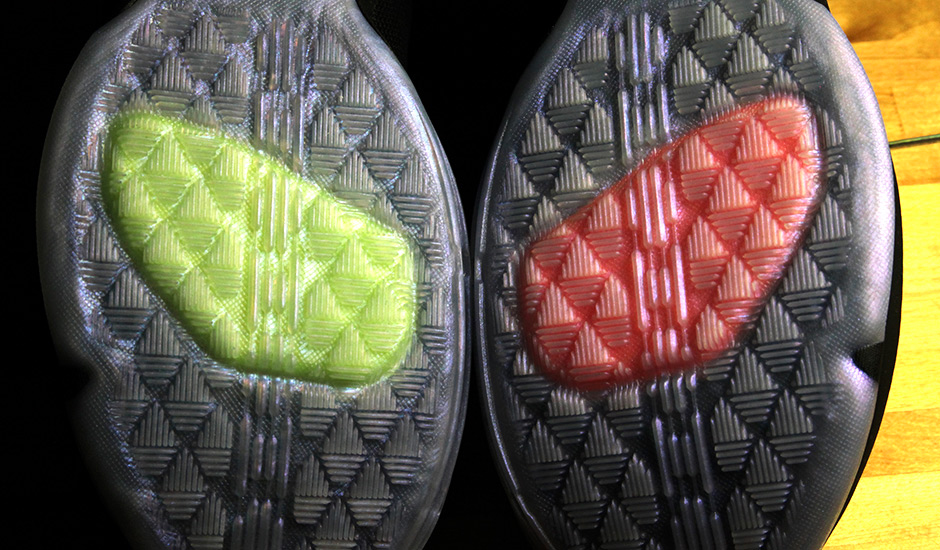 What specific elements of the shoe did you try to design to make sure that it's appealing on and off the court?
The shoe is pretty clean and basic, and one of Paul's other favorite shoes that he loves to wear when he's just kickin' it or fishing or whatever is the (Nike SB) Janoski, which is just a really simple low-top suede shoe. It was actually his call to bring some natural materials and leathers into the shoe. And like I said, we've been talking to Paul for about three years, because his injury pushed the process back a little bit longer than what we would usually take, which has almost been a blessing because we were really able to get to know his personality.
When he initially wanted leather, there was internally (at Nike) a little bit of trepidation about that. Like, "That's old, and we really need to push modern footwear. How are we going to make this suede and still technical?" And then we just kind of had to take a step back and be like, "I don't think we really need to overdo it", and just let it be. He's a sneakerhead and a retro guy. He loves a lot of shoes that have leather on them, so he was insistent about that's just what he stands for, and then we had to make it work. And it ended up being very trend-relevant. Now that the shoe is coming out, that's where kids are at. Kids are looking for that (simplicity and natural materials). It doesn't necessarily need to be overly teched-out. I think it's that "look good, feel good, play good" mentality.
I actually didn't even think of the fact that it has leather incorporated into it. It's the first performance shoe you guys have done in quite a while with leather on it, correct?
Absolutely. We've been doing nothing but Hyperfuse and knit for a while. You'll see it a little bit in LeBrons and other shoes here and there, but in terms of having a lot of leather on the upper, the PG1 is in a totally different space.
Who are your contemporaries or previous designers there at Nike that have really inspired you with your own work?
I always have to go back to the cliché answers like Tinker Hatfield and Eric Avar. Aaron Cooper was one of my mentors before I was on campus here, for years. Tinker for me was always like the god. He had so many hits year after year. That's really hard to do. You just have to respect the consistency. And his design always had a lot of personality. I always admired that. Even now, I get a lot of influence from Jason Petrie and Leo Chang. These guys are legends. And to work with them and see how they work and hear the wisdom that they drop is obviously going to be a huge influence. It's a lot of the basketball guys, because that was always my thing and it was my dream to design basketball shoes.