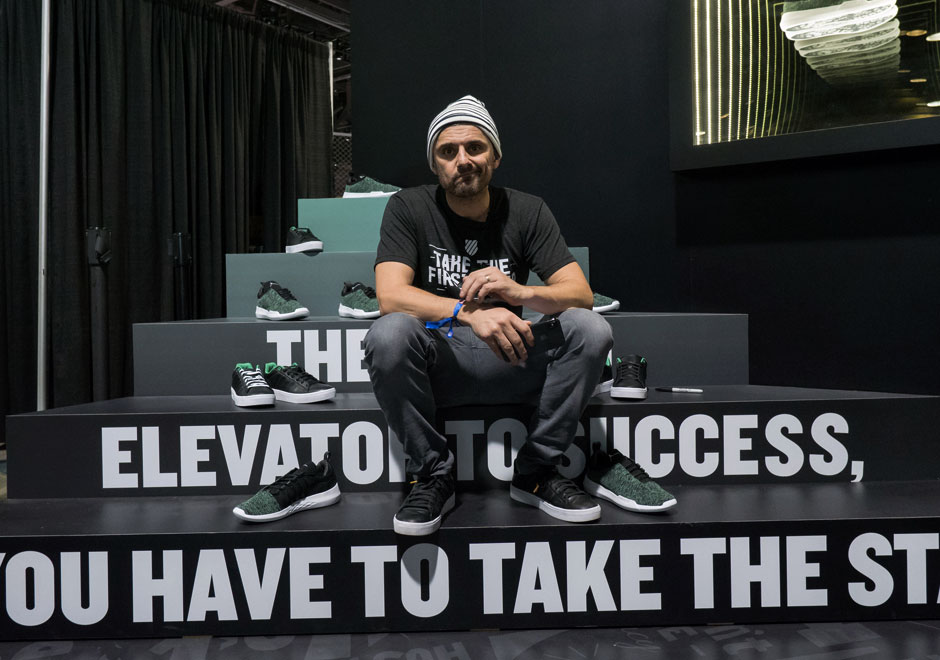 In the world of sneakers, we've seen countless partnerships formed between shops, athletes, entertainers and brands that have run the gamut. In an interesting twist, we recently saw KSWISS team up with New York-based social media mogul and entrepreneur Gary Vaynerchuk to create two signature shoes under the umbrella of their latest collection.
The partnership was initially announced when Vaynerchuk had KSWISS President Barney Waters and Global Marketing Director Patrick Buchanan on the #AskGaryVee Show published back on July 10th. Since then we've seen the shoes teased for months followed by the GaryVee 001 and 002 signature shoes being officially unveiled at the KSWISS booth at ComplexCon in California last Sunday (November 5th) where Gary was a guest of Marc Ecko and the Complex crew.
As you can see, the two models are the Gen-K Knit and the Court Frasco featuring the signature green of Gary's obsession, the New York Jets and his autograph, along with key details like the custom insoles with his often inspiring thesises and cork print lace tips tying back to his roots in and love for the wine business.
We recently spoke to Gary to celebrate his upcoming birthday and the release of both shoes on Tuesday, 11/14 at Foot Action in New York.
Sneaker News: First and foremost, what is your background with sneakers?
Gary Vee: Sneakers were something I grew up with. I'm 42 which means I was really there for adidas RUN DMC, the Jordans, the whole kind of beginning of it. Obviously there was a little Dr. J stuff and Converse before that, but I was smack on the east coast in Edison, New Jersey when sneaker culture really started happening, so it's always sat with me. I was into baseball cards.. If I was a kid today, I would be sneaker flipping. So there's that culture. I'm obsessed with the 15 and 16 year olds that are flipping. They're my favorite. They're like my friends, but they're cooler.
SN: When KSWISS approached you, why was this project a "yes"?
GV: Obviously a lot has been going on with my social media and I've noticed probably six months before Barney reached out to me, my Youtube and Instagram started getting much younger, more urban and more just kind of swagged out and I was like "Ok, there's something going on here." I felt that it would be natural, plus, the ultimate reason, which is that my longterm thesis is "Why am I grinding right now?" I'm grinding with this agency is because I want to buy nostalgic brands and flip them and this gives me an opportunity to play a little bit and see what my impact can be. The best part is that I rocked KSWISS to 6th grade first day of school. That would have been a lot of fun if I had that photo.
So, it was authentic, man. It was authentic and Barney (Waters) gave me the air cover, let me have impact on my sneaker but more importantly let me have impact on how to launch it and what marketing. It's not me just slapping my face on it, which is a big deal to me because I've never done an influencer campaign and that's not what I do. I'm in it as a business partner.
SN: By dropping these shoes, people get a piece of you. What is the feeling and the vibe you want to evoke with this release?
GV: I am excited. I started seeing a bunch of tweets and snaps and instas around "Hey this book is on my counter or at my desk and when I'm having a tough day, it makes me work harder." I'm super fired up that people can look down at their feet and I'm hoping that when people rock them they'll hear my voice yapping at them.
SN: There has been a lot of attention around this project. What has this sneaker experience been like?
GV: It's been crazy, man. It's been really, really, really, really good. It's so fun, man. Young energy is just incredible. There's just something about a 16 year old who woke up at 3:30am to get in line who's like coming to take a selfie and wants to be like you, it's intoxicating. It's been incredible man. It's also allowed me to really become extra energized.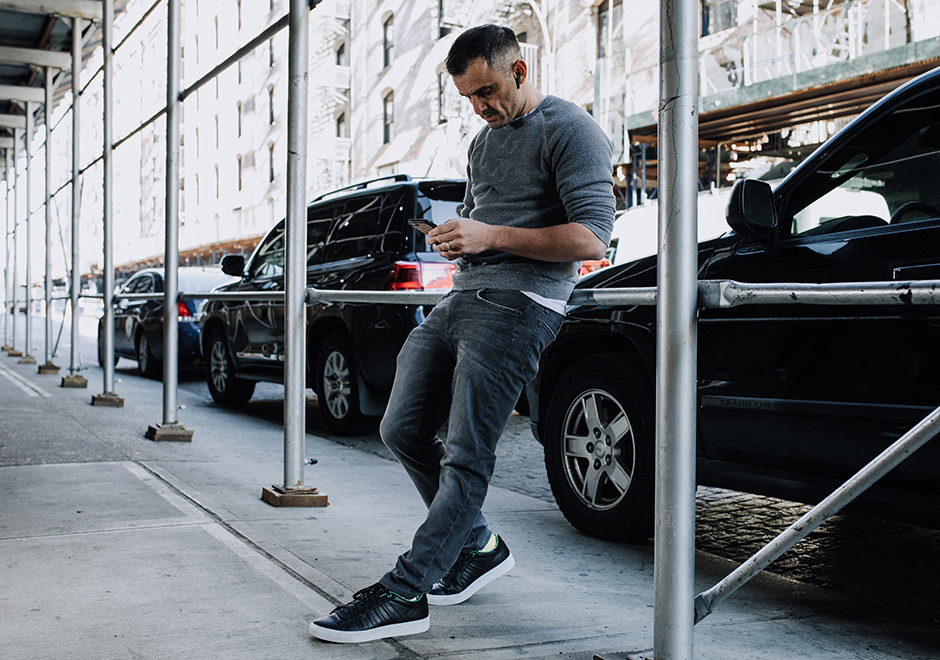 SN: The word that comes to mind when we think of you is catalyst. These shoes have been a catalyst for KSWISS. What does this project represent to you?
GV: To be very frank, I'm a little bit on a mission right now to change the narrative around entrepreneurship and what it's like to be a man, a winning man and I want to make it more about tried and true principles of work ethic and intent and being kind and emotional intelligence and empathy. I want to redefine what a winner looks like. As a human, the things that people are saying behind my back is something that I'm trying to inspire 15-25 year old men to do. No question, I'm trying to be a catalyst to the modern day entrepreneur being a noble renascence man. These good traits, if we can make them popular, we're on our way.
SN: All of the support has been pouring out around the shoes. What would you say to everyone supporting you and your shoes around your birthday?
GV: I'm just humbled. This whole experience is just ludicrous. It's so flattering. It's super surreal. Don't ever get it twisted until the day I die, I will never take an ounce of it for granted.