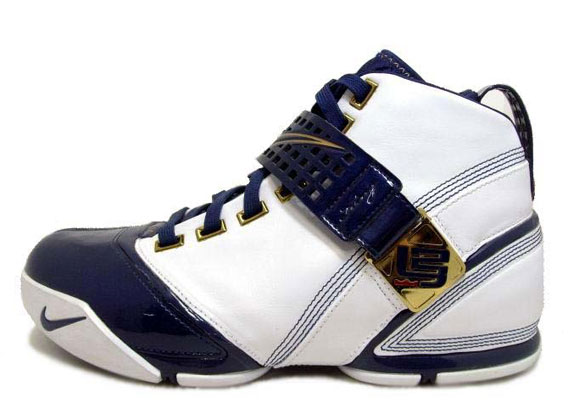 LeBron had adopted the King James nickname quickly into his young career, so for the fifth installment of the Nike LeBron saga, Nike had decided to design a shoe fit for royalty. While the LeBron IV was a huge hit given its sleek design and use of the ever-popular Foamposite upper material, the LeBron V again broke the seam and went along on its own hem using royal textures and designs.
A number of LeBron's personal accents were implemented into the design of the LeBron V. LeBron undoubtedly takes huge pride in his signature shoes so in addition to the luxurious design, the LeBron V is the most "personal" shoe of the entire LeBron line. The ankle strap design took after a milk crate which LeBron used to practice with during his younger days, and street maps of his hometown were placed on the bottom sole and behind the tongue, while the golden square emblem on the side and diamond-quilted tongue gave the shoe a regal tone fit for King James.
Under the hood, the LeBron V shed the Foamposite of the LeBron IV and instead went with a Phyposite endoskeleton, a material composed of Phylon and Foamposite. The V built on the "foot-bucket" idea from the LeBron III and introduced the Phyposite bucket, which used Foamposite on the lower and Phylon for the upper in an effort to further stabilize LeBron James' large frame. The traction given by the intersecting grooves on the sole deemed the LeBron V the most "gripping" LeBron shoe to date. This combination of high-tech materials and deliberate structure is completely hidden by the exterior, but like any high-tech spy-mobile, its about what you can't see.
The LeBron V was the first signature LeBron shoe that featured special colourways for schools other than his alma mater of St. Vincent-St. Mary. A special colourway was made for Christ The King High School, a high-school located in the borough of Queens in New York City, with another made for the Ohio State University, a school LeBron James might've ended up at had he not gone straight to the NBA from High School.
General Information:
Name: Nike Zoom LeBron V
Broad Launch Date: October 10th, 2007
Retail Price: $140
Product Specs:
Phyposite endoskeleton for lockdown of forefoot and heel
Intersecting sole grooves for optimal side-to-side and forward-backward traction
Use of LeBron's personal accents such as the removable  'milk-crate' strap and maps of his hometown
Full length Zoom Air cushioning Unit – double-stacked at the heel
—
—
—
Release Date: 11/15/2007

Color: White/Midnight Navy-Metallic Gold

Style: 317253-141
—
Release Date: 12/13/2007

Color: Black/Black-Varsity Crimson-Metallic Gold

Style: 317253-001
—
""

Release Date: 12/13/2007

Color: White/White/Varsity Crimson-Metallic Gold

Style: 317253-171
—
Release Date: 12/30/2007

Color: Gorge Green/White-Metallic Gold

Style: 317253-311
—
Release Date: 02/08/2008

Color: Black/White-Varsity Crimson-Black

Style: 317253-011
—
"All-Star Game"

Release Date: 02/12/2008

Color: Metallic Silver/Metallic Silver-Varsity Red

Style: 317253-003
—
"Dunkman"

Release Date: 03/14/2008

Color: Medium Grey/Medium Grey-Mean Green-White

Style: 317253-002
—
LOWS
—
Release Date: 04/01/2008

Color: Midnight Navy/Varsity Crimson-White

Style: 318696-461
—
Release Date: 04/05/2008

Color: Black/Black/Mean Green

Style: 318696-001
—
Release Date: 05/01/2008

Color: Stealth/University Blue-White

Style: 318696-041
—
Release Date: 06/01/2008

Color: White/White-Metallic Silver-Engine 1

Style: 318696-111
—
Release Date: 06/30/2008

Color: Black/Black/Anthracite

Style: 318696-002
—
"Remix"

Release Date: 06/30/2008

Color: White/Metallic Gold-Black-Varsity Red

Style: 318696-171
—
Release Date: 07/07/2008

Color: White/University Blue-Dark Obsidian-Sport

Style: 318696-141
—
EXCLUSIVES
—
"Mr. Basketball"

Release Date: 02/22/2008

Color: White/Black-Metallic Gold

Style: 317253-101
—
"New York Yankees"

Release Date: 03/05/2008

Color: Midnight Navy/White-Midnight Navy

Style: 317253-441
—
"Christ The King – Home – Patent"

Release Date: 03/24/2008

Color: White/White-Metallic Gold-Deep Maroon

Style: 317253-111
—
"Ohio State"

Release Date: 03/25/2008

Color: White/Varsity Red-Metallic Silver

Style: 317253-163
—
"St. Vincent-St. Mary"

Release Date: 03/25/2008

Color: White/White-Metallic Gold-Deep Forest

Style: 317253-112
—
"Christ The King – Away – Suede"

Release Date: 03/28/2008

Color: Deep Maroon/White-Metallic Gold

Style: 317253-612
—
Release Date: 06/10/2008

Color: Black/Army Olive-Fire

Style: 317253-031
—
"Dunkman"

Release Date: 06/17/2008

Color: White/Medium Grey-Mean Green

Style: 318696-101
—
Recent Stories