Michael Jordan Wins His First Dunk Contest
September 13th, 2012 by John Kim | 4 comments
Our last 'Was It The Shoes?' feature focused on one of Michael's most embarrassing moments – when he clunked a wide-open slam-dunk during the first quarter of the 2002 NBA All-Star Game. But as we know, it's the failures that drives Michael to succeed (one of the most humbling Air Jordan advertisements that humanized Jordan to the very core), but we're taking it back to one of Michael Jordan's earliest successes in the NBA – his first Slam Dunk Title. Continue on to re-live the story of Michael Jordan's first NBA Dunk Contest victory and you tell us: Was It The Shoes?
The majority of Michael Jordan's Championship-Winning years can be exemplified by one power-move – the fadeaway jumper. Michael admitted to utilizing the fadeaway to compensate for the slightly diminished vertical jump and the heightened athleticism of his defenders towards the later 90′s. Even so, Michael Jordan was always on the giving end of posterizing dunks, sending fellas towering big-men like Dikembe Mutumbo, Patrick Ewing, Greg Ostertag, Sam Perkins, Alonzo Mourning and any other Center that played in the 90′s into a humiliated hands-in-the-face position of embarrassment.
So as the slam-dunk served as a rather easy method of gaining two points for MJ, he actually did it for fun during the first few years of his career; Michael was one of eight contestants of the 1985 NBA All-Star Dunk Contest, joining an impressive pool featuring Dominique Wilkins, Julius Erving, Larry Nance, and more. The rookie ended up going all the way into the Final round (posting the best overall score in the second round), but an underwhelming Dunk in the Final garnered just 25 points from the judges, eventually costing him his first Dunk Contest trophy.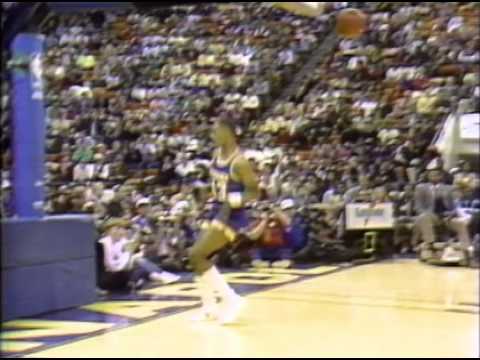 Dam those 2s look so good in the pictures,very underrated sneaker.
Chris Mullen and Ewing got smashed