174907
Jordan CP3.IV – Media Unveiling | Event Recap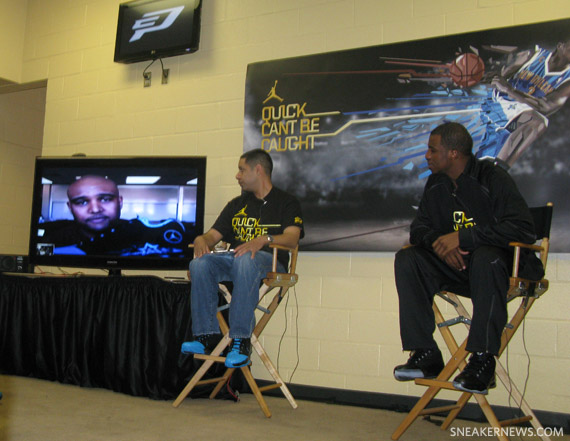 As you may have already seen yesterday on Sneaker News, Jordan Brand rolled out Chris Paul's new CP3.IV model at a media event held at the New Orleans Arena. Those in attendance were taken through back hallways of the stadium and eventually led to the away team locker room, which for the day was converted into the home base for the CP3.IV introduction. Each member of the media entered to find a locker equipped with their name and a full stock of CP3 gear, including of course, a fresh new pair of Chris Paul's upcoming fourth Jordan signature model. After suiting up for some surprise activities, the man himself, CP3 was introduced and sat down alongside the event's host and the shoe's designer, Jayson Mayden sitting in via Skype on a large flatscreen. Despite his recent departure from the Jordan Brand design team to pursue higher education at Stanford University, it was clear that his love for the project and friendship with Chris Paul made it no imposition to eagerly participate in the Q&A session.
Immediately, it became evident that, in addition to collaborating on the Jordan CP3 shoes, Mayden and Chris Paul have a tight personal relationship that translates into the design of the shoes. They got right into some of the back story of the new shoe, which according to Mayden (an avid toy collector) was loosely inspired by a Gundam-type figure that he came across on a visit to Asia. Another interesting piece of info came out as well, as Paul described how the idea to go with a lower silhouette on the CP3.IV came directly from Michael Jordan himself, who told Paul that as a lightning quick guard, he should look to explore more of a low-cut shoe. It was also revealed that there are some subtle design elements of the shoe inspired by the Air Jordan XIII, one of Paul's all-time favorites. Chris also added that one of his all-time sneaker regrets was that he had an OG pair of XIII's that was stolen from his school locker as a kid, so the nod to the shoe may help to fill the void of a traumatic memory that many of us have had the misfortune of experiencing.
A few times during the Q&A, Mayden made reference to Chris being a "motorcycle amongst cars." With nearly unrivaled speed and agility on the floor, Chris Paul is able to weave in and out of spots and change directions at high speeds, and his shoes are specifically engineered to support that style of play. After getting the lowdown on the features and story behind the shoe, it was time to take them out for a test-drive as we hit the arena floor to compete in a recreated version of the NBA Skills Challenge that CP3 has been an All-Star weekend participant in three of the last five years. Media was tested on their shooting, dribbling and passing skills and timed for speed, creating some exciting competition between media members, as well as some laughable moments on almost everyone's part. Keep reading for a look at the scene down in NOLA, and of course, some more pics of the CP3.IV, hitting Jordan retailers next month.