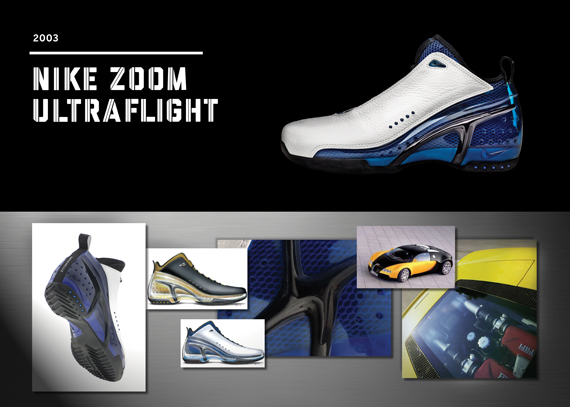 Building off the successful Zoom platform of 2001's Hyperflight, Aaron Cooper and Eric Avar set out to re-create the Hyperflight's performance while incorporating an aesthetic element of "half tradition, half amazing". Thus came the Nike Zoom Ultraflight in 2003, which seamlessly combined the luxurious feel of premium leather with a tech-driven translucent shell that exposed all the inner workings of the shoe – an idea form when Cooper and Avar visited a sporting goods store in New York City. This created the task of building a styish inner bootie now that the inner elements were completely exposed, and the finish product, of course, was another game-changer in Nike Basketball history. More of 2003's Nike Zoom Ultraflight below, so take a look and read up on all of Nike Basketball: 1992-2012 if you need to catch up.
"Design can put a dream on paper, so to speak, but it's development and manufacturing that turn the dreams into reality."- Aaron Cooper
After breaking new ground with the 2001 Nike Zoom Hyperflight, the objective was to maintain an innate sense of speed while building on a need for support. Continuing the Zoom lineage of the basketball shoe as an object of beauty, the Nike Zoom Ultraflight was the byproduct of absolute performance and total reduction.
New approaches need new processes, and the Nike Zoom Ultraflight's designer Aaron Cooper concedes that, "From a manufacturing perspective that was not easy to do." Half tradition, half amazing, this was one shoe with two distinct styles — an expected, premium leather side and a defiantly tech side. The development team managed to skillfully merge TPU, mesh and traditional fabrics seamlessly.
The Nike Zoom Ultraflight was informed by multiple inspirations: from a clear Nike track spike that was never produced, to a transparent deck lay on a performance car, to Cooper and Eric Avar's visit to a New York City sporting goods store. "We were amazed by this translucent snow helmet where you could see the structure of the foam underneath."
With every element visible in the Nike Zoom Ultraflight, even the inner comfort mesh had to look as good as it performed. The end result was a responsive feel and traction that changed the game again. Through pure experimentation and a conviction to manufacture the seemingly impossible, the shoe became a reality.
Twinned with a perfect balance of the huh? factor and classicism, Nike Basketball created its own challenge — beat that.
–