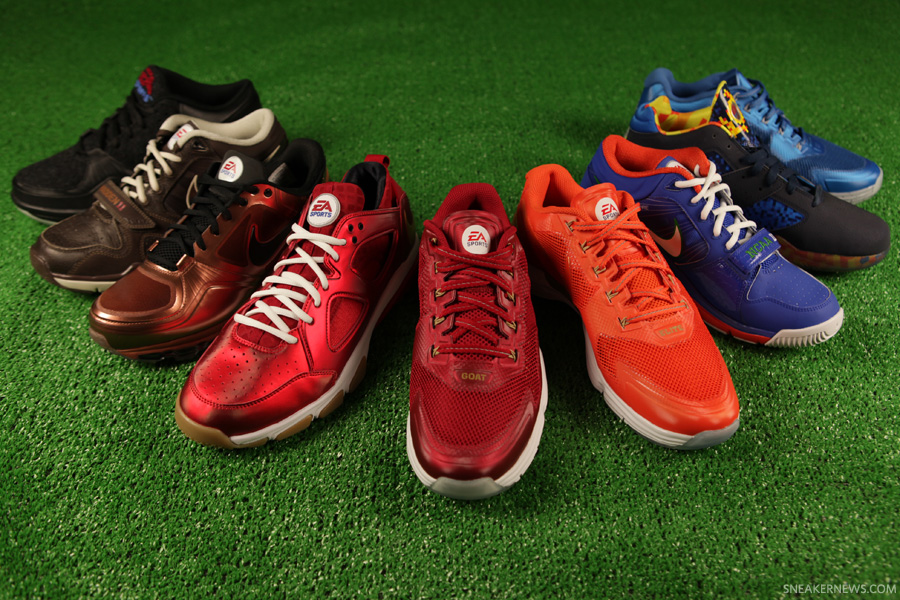 Over the last few years, we've seen an influx of great footwear releases led by sports simulation-game magnate EA Sports in the form of special editions, player exclusives, and much more. The overlap between kicks and gaming is larger than you might think, and and thusly EA Sports evolved itself into much more than a gaming brand and into a lifestyle label; it's connection with Nike and footwear brands in general goes back longer than you might be aware of, even teaming with Nike with the Air Force II back in 2003. Sneaker News got the opportunity to chat with EA Sports VP of Brand Marketing Chris Erb (a major sneakerhead himself) and discuss the past, present, and future of EA's relationship with Nike.
For as long as we can remember, EA Sports has been the eminent producer of sports video-games. We've come to associate EA Sports with real-time professional sports, and with Nike now the official outfitter of the NFL, we can certainly expect to see more from the EA camp when their new launches go down. In this interview with Chris Erb, you'll get insider info on the before, during, and after of these collaborative releases and some hints as to what may be in store for the future between EA Sports and Nike, so read on below for the full interview and a gallery of some of the best from EA Sports x Nike.
Sneaker News: Can you tell us a little about your personal sneaker background and how you came to help spearhead these collaborative projects with Nike ?
Chris Erb: I have been a sneaker collector forever. I am a little over 400 pair deep. Although I am a Jordan III and XI collector, my biggest collection to-date are the Air Max 95's. That has always been my favorite shoe. In reference to the collaborative projects with Nike, EA SPORTS has been working with shoe companies for years to make sure we have the latest and greatest shoes in our games to add to our authenticity. With the growth of both the gaming industry and mobile gaming, the EA Sports brand has started to evolve into a lifestyle brand. People were proud of their passion for the brand, but didn't have a lot of ways to show their love. That's what really started the discussion with Nike. There is a huge crossover between the shoe and gaming communities. Our collaborations create something that is able to build energy amongst our shared consumers and provides an outlet for them to show their passion.
SN: Nike and EA are both at the top of their fields so the partnership makes perfect sense, but where did it start and who approached who to team up?
CE: It was definitely a mutual start to the discussions. It really started in earnest around our 2010 games. We had been doing some small one-off projects in the past and wanted to do something on a larger scale with a more constant cadence. The partnership initially started with Tim Tebow when we signed Tim for our NCAA game; Nike and I both felt that this was a great opportunity for the brands to officially collaborate.

SN: What's the thought process and goals behind EA teaming up with Nike for these types of projects?
CE: The goal is, and always has been, to do something cool that would excite our shared customers. For us to cross over into the physical lifestyle space and build energy with Nike was a natural fit because of sports. I also think that Nike wanted to show EA Sports' huge fan base that Nike also shares a passion for the EA Sports brand, and wanted to be a part of the cultural movement that Madden and NCAA launches have become. Everyone that I work with at Nike are huge fans of our games. They get it. They are part of our culture too, so these collabs are not forced…it's always a collective group trying to make something that we would love and that naturally translates to our respective consumers.
SN: How does the collaborative process with Nike work and how much input does EA have in the creative direction of these projects?
CE: It's a truly collaborative process—I know that everyone usually says that, but it's totally true with this partnership. Essentially, we sit down with Nike and share the features of our upcoming game and the marketing story behind it. Following this meeting, Nike goes off and comes back to us with a specific shoe to use and the design to articulate the story we are trying to tell. We all then go back and forth on the colorways and details. It's really that simple. For example, the Tebow shoe was all about his career accomplishments at Florida. The Madden shoe the following year was all about the fact Marshall Faulk was getting into the HOF and we wanted to celebrate that with our Collector's Edition. The Fight Night shoes were really about the purity of boxing—light, quick with colors and textures that are reminiscent of robes and gloves.

Above: EA Sports NCAA '12 x Nike LunarTR1+ "Barry Sanders"
SN: What were some of the first shoes you worked on with EA and Nike?
CE: First Nike shoe I worked on was the Tim Tebow shoe. I had done some customized shoes for other reasons before then, but the first true shoe that Nike created was the NCAA Football 11 shoe.
SN: We've seen actual footwear being integrated more and more into sports video games to make things as realistic as possible. Are there any plans for EA to further explore the possibilities of incorporating player's actual shoes and gear into the games beyond the kinds of things we've already seen?
CE: Yeah, I think that is always the goal. Making our games as authentic as possible is always a focus and the gear the athletes wear, especially the shoes, is a critical part of that. But it's tough. If you look at how we make the games and how far out from release the games are built, it's always well before Nike is finished with shoes. So we always have to rush getting the right shoes in the game at the right time. But as changes in technology occur we are getting the gap closed more and more every year. I think you will see even deeper collaborations in the coming years and the design playing field becomes more balanced.

Above: EA Sports Madden '12 x Nike LunarTR1+ "Calvin Johnson"
SN: Most of the recent focus has been on football and baseball and using the Nike Trainer models. Will we be seeing any more basketball collaborations any time soon around your NBA games?
CE: Yeah, definitely. You tend to see a lot of collabs between us around football just because that's where the energy started. We also make games around FIFA, NBA, and some guy named Tiger…so Nike might have some shared interest around those sports too! I can't talk about anything yet, but you never know. Maybe sooner than later!
SN: Thanks to the Madden franchise, EA has long been a huge part of football culture. Now that Nike has partnered with the NFL, what does that mean for the possibility of more pro football-related sneaker projects with EA as a result?
CE: Nike partnering with the NFL is only going to ignite the things we do even more. Can't go into anything more on this yet as we are in the middle of planning for next year, but our joint relationships with the NFL will bring nothing but more positive things for our shared consumers.

EA Sports Madden '12 x Nike LunarTR1+ "Jerry Rice"

Above: EA Sports x Nike Zoom KD III

Above: EA Sports NCAA '11 x Nike Trainer 1.2 Mid "Tim Tebow"

Above: EA Sports Madden '11 x Nike Trainer 1.2 Mid "Drew Brees"

Above: EA Sports x Nike Trainer 1.3 "Letterman Jacket"

Above: EA Sports Madden '11 x Nike Trainer 1.3 Max

Above: EA Sports Fight Night Champion x Nike Zoom Huarache TR Low