475868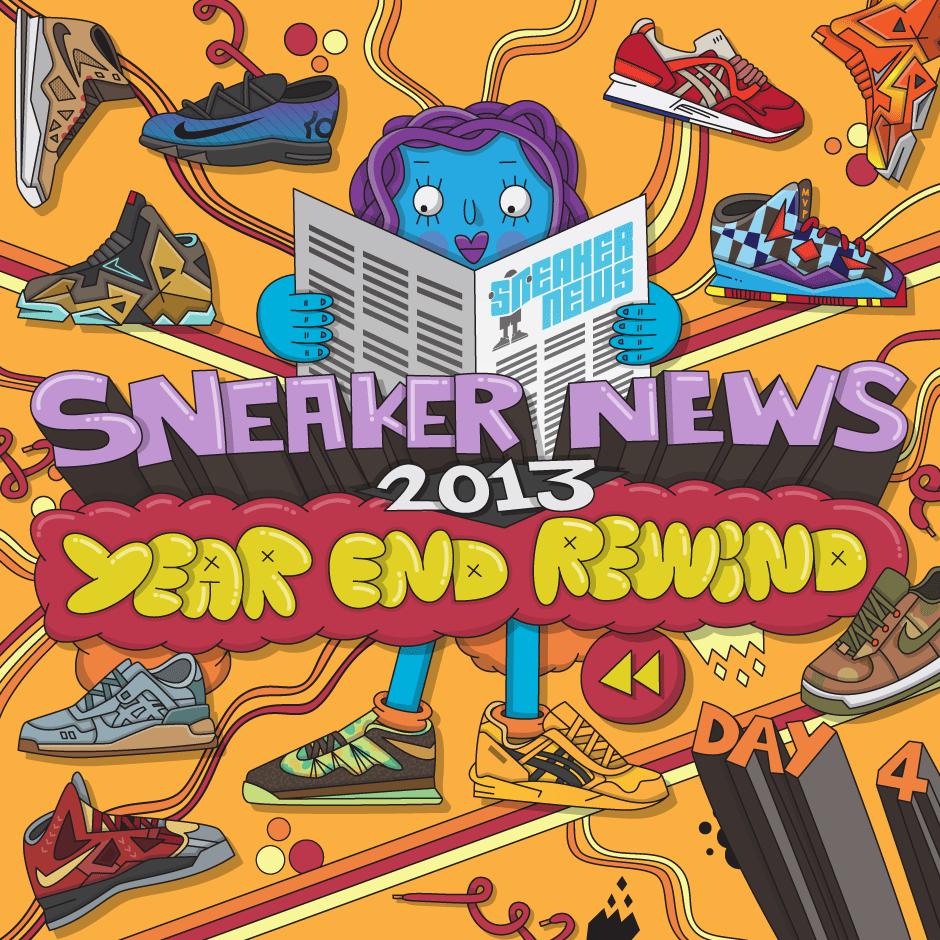 Sneaker News 2013 Year End Rewind: Day 4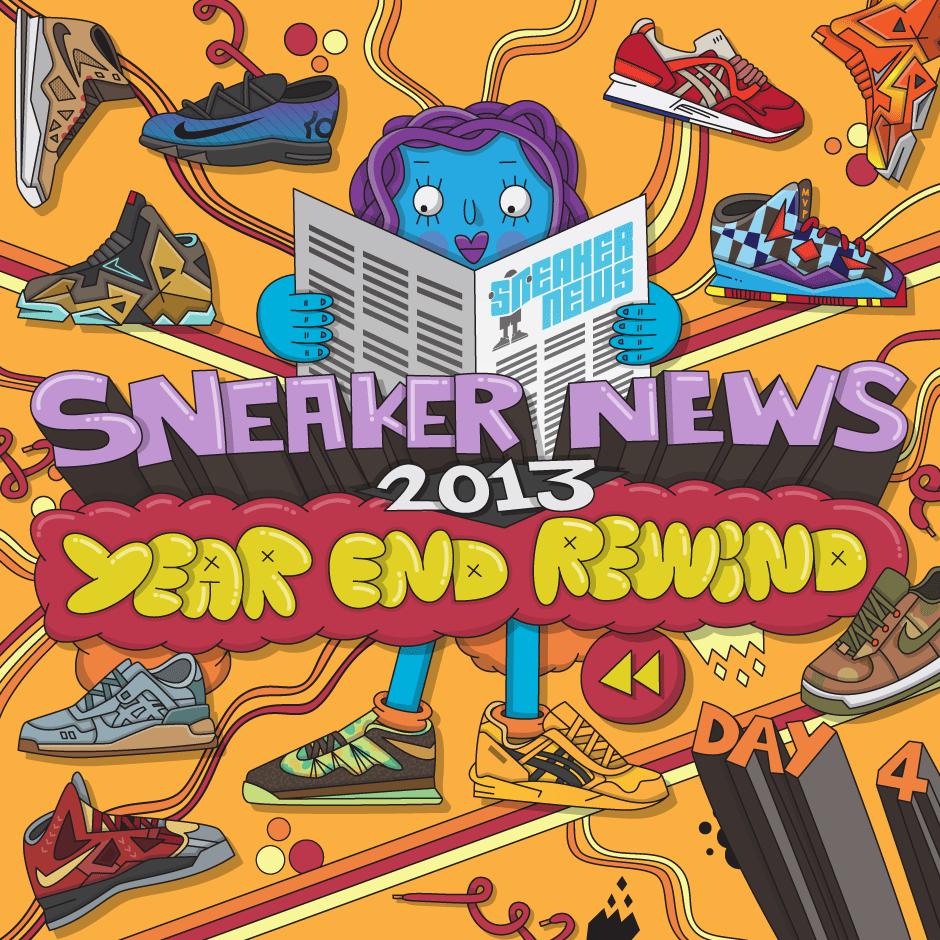 We're winding down to the final days of our week-long recap of the past year's most memorable sneaker moments, but there's still plenty to get to. Day 4 of the Sneaker News 2013 Year End Rewind has plenty of firepower left in store as we take a look back at some fan-favorite categories like the Nike LeBron series, the iconic Air Force 1, and a strong showing by Asics.


We also jump into the customizable sneaker world, whether it be the amazing artist creations that emerged in 2013 or the more traditional approach of letting Nike do it for you through their iD program. A cornucopia of compelling stories await you, so dig in and enjoy, and stay tuned for our final day of the Year End Rewind coming your way tomorrow afternoon.

Sneaker News 2013 Year End Rewind: Day 1
Sneaker News 2013 Year End Rewind: Day 2
Sneaker News 2013 Year End Rewind: Day 3
It would take a phenomenal force to dethrone the king of Nike Basketball, and based on the unstoppable rhythm of enticing releases we saw over the last twelve months, any attempt would have been rendered futile. The Nike LeBron silo was truly a juggernaut in 2013 thanks to the LeBron X signature, which boasted the first-class trio of All-Star, MVP, and Championship, and the newly unveiled LeBron 11 which drastically switched gears and presented an all-new design concept distinct from previous models. In between the two came some interesting lifestyle offerings to further expand King James' reach across to the off-court market.
Both the LeBron X and LeBron 11 maintained their stronghold as the marquee product line in the sneaker game, and with the superstar playing at a prime level, there was no question who this year belonged to. Nike came correct with just about every LeBron shoe that hit store shelves, blending cutting edge innovation with a futuristic aesthetic and making use of prime materials, well-composed colorways, and enticing plot-lines to give each release a memorable identity. We've compiled the best to bear the crown logo in 2013, so read on below for a quick recap of the past year in LeBron sneakers.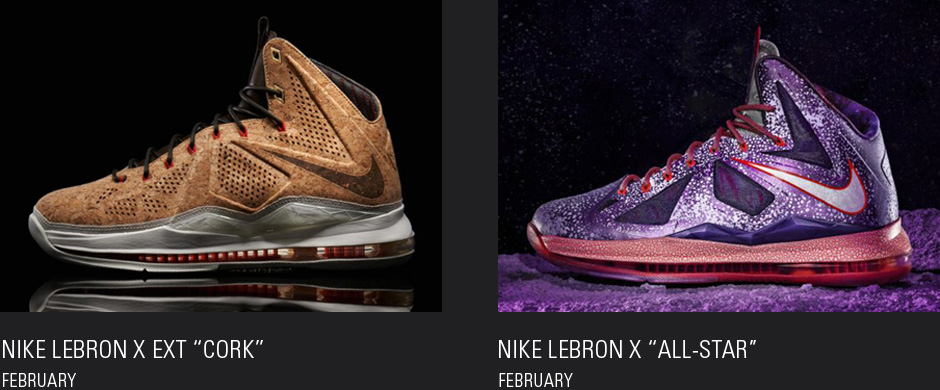 As a celebratory nod to LeBron's championship triumph back in June of 2012, Nike Sportswear jumped in the mix and created a special non-performance version of the X featuring genuine cork material on the upper with brown leather trim. The ravenously sought-after edition broke new ground in the Nike Bball realm and opened the door for other lifestyle renditions of their performance-driven signature models.
LeBron James headlined a star-studded affair in Houston, with Nike hooking him up with the annual "All-star" version of his shoe. This year's story positioned LeBron and his fellow Nike signature stars as interstellar constellations, with the LeBron X taking form with an exotic printed purple/orange colorway that was impossible to miss when 'Bron took the floor for the East.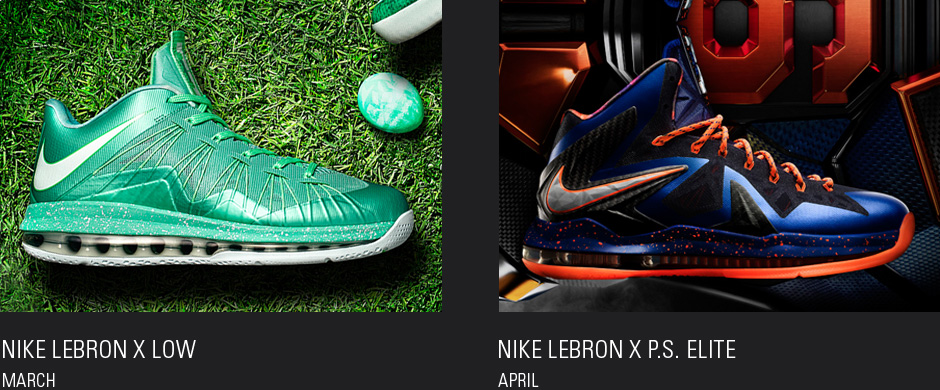 The yearly low-top installment of the LeBron X debuted in stores in March, with the annual "Easter" colorway rolling out the red carpet for an ongoing collection of Summer-ready compositions like the "Reptile", "Watermelon", and others.
Come playoff time, LeBron needs an upgraded shoe that will give him every on-court advantage possible after the long and grueling grind of the regular season. The LeBron X Elite, boasting a lighter package and carbon fiber appliques, allowed him to do just that en route to a second straight NBA Championship.
Every now and then a general release catches fire and rises to become one of the year's best. The eye-popping "Pure Platinum" LeBron X certainly fit that bill, with the holographic upper providing one of the most unique looks ever seen on a Nike Basketball shoe.
LeBron made NBA history by becoming the youngest four-time MVP in the league's storied history. Nike honored their star by mixing in every conceivable graphic from the model in "What The" format for one of 2013's most prized acquisitions.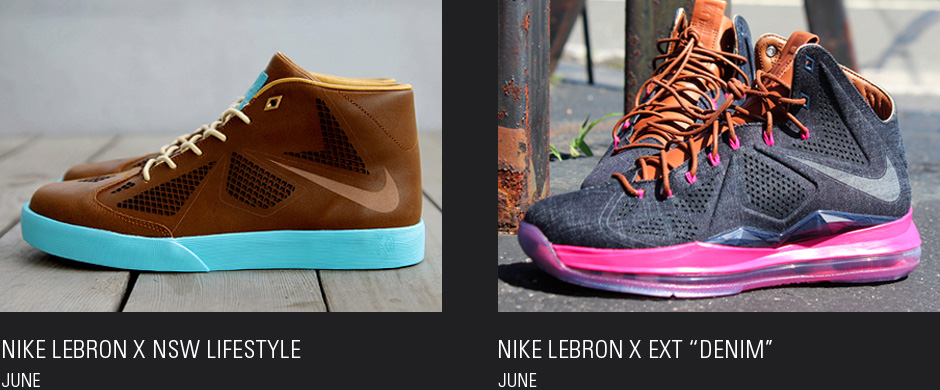 An entirely off-the-court build bearing the LeBron X style was created with a Blazer-like silhouette that featured elements from the anatomy of the performance model. While not quite the retail beast of it's on-court counterpart, the LeBron X NSW Lifestyle opened the doors for all kinds of inter-category crossovers in the future.
It's rare to see suedes and denim materials on basketball shoes these days because they're not as light and breathable as the synthetic stuff that Nike has engineered, not to mention too expensive to justify. But thanks to the EXT line, these materials were allowed to shine, with the blue denim version standing out as one of the strongest efforts.
Celebrating LeBron's second straight NBA Title was the Nike LeBron X Championship Pack. This two-pair set, featuring the LeBron X Elite and the LeBron X Low, was exclusive to choice retailers in Miami. As a consolation to those who came up short on the shoes, for the first few days after the win, Nike opened up a voicemail account for fans to leave personal messages for the re-crowned king.
The eleventh LeBron signature shoe was officially unveiled in late August, surprising fans with an entirely new design focus and a refreshed arsenal of performance technology. Hyperposite, Dynamic Flywire, and encased Zoom Air comprised the LeBron 11's weaponry, with the Parachute Gold Hyperposite upper and graphic lining serving as the perfect appetizer for the barrage of juicy releases that would follow.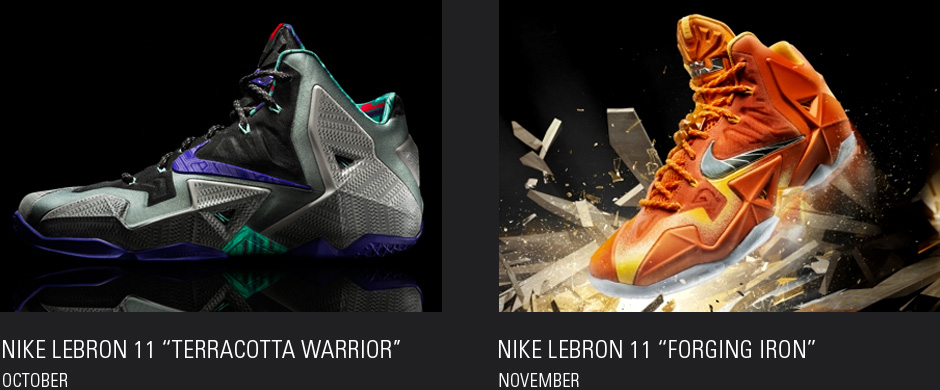 This year's "China" edition of the LeBron 11 traveled back to the time of the Terracotta Warrior, dressing up the shoe with some interesting patterns and textures to give this version a unique look unlike any of the others that we've seen since..
The long and arduous process of forging iron was used to symbolize King James' focused work ethic – and so this blazing orange colorway of the LeBron 11 was formed. The kinetic "Forging Iron" fade graphic also became available on NIKEiD, allowing for several different fan-made versions of the release.
Nike Basketball touched on LeBron's past and present when creating this eye-catching colorway. While many likened it to 2011's "Cannon" release, the Miami vs. Akron was actually a joint nod to his Ohio hometown and the Florida hotspot where he currently resides.
The year-end LeBron release finished strong with the shoe being wrapped in a metallic minty green and lush red colorway with holiday graphics dotting the upper for a next-level take on the traditional Christmas motif.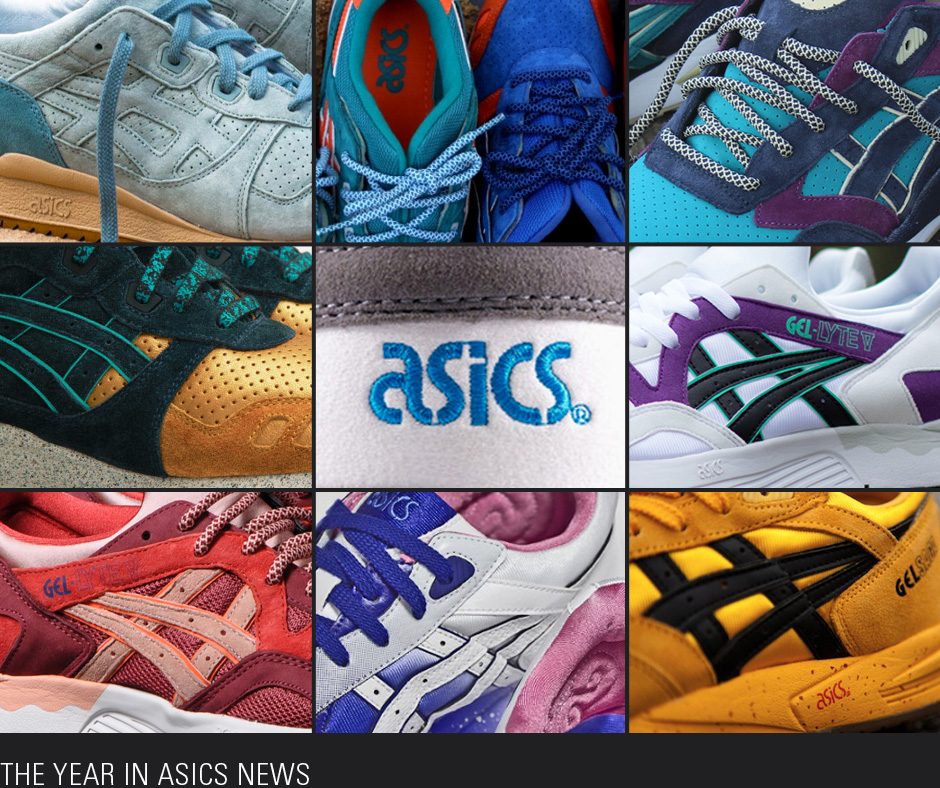 It was not many years ago that Asics retros were rather sparse over here in the US. The archived silhouettes were only available at a handful of accounts, with Asia and Europe getting to have all the fun for themselves outside of the sporadic collaborations that would trickle over into the States. In 2013, tracking down a pair of Gels or other Asics classics is thankfully a lot easier, and as a result, the shoes have become a bigger player in the market and the success has now led to even more treasures being brought back from the archives. Like some of their peers, they've figured out how to successfully use special projects and respected partners to build buzz for their general releases and lucky for us, both ends were clicking on all cylinders over the past year.
Most of their biggest hits from 2013 reflect that the collab stronghold is still going strong, but there were more and more inline pairs starting to pique interests as well. Ronnie Fieg remains one the biggest contributors to the collaboration circuit, but all of a sudden he's not the only American cranking out his own designs. Extra Butter, Concepts, Saint Alfred, and others also got in on the action, but the Asics team was plenty busy themselves whether it was resurrecting tasty models from the '90s or whipping up tempting in-house colorways. The brand has always been a powerhouse in the performance market, but this year proved that they're finally committed to going all out on the retro end as well.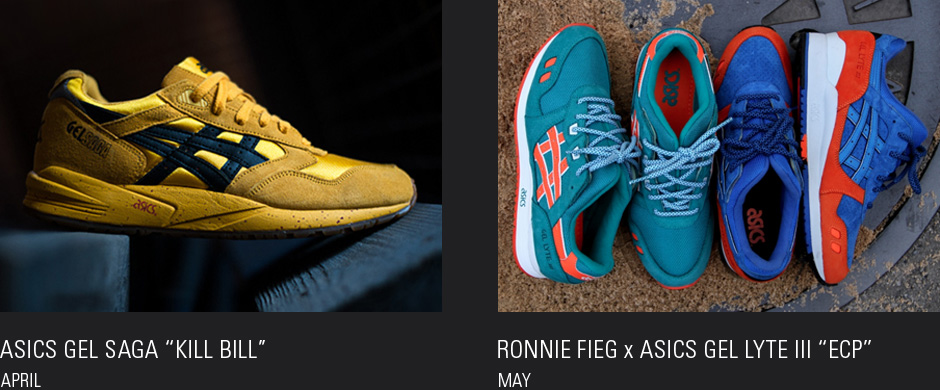 Bruce Lee by way of Kill Bill, blood splatter and all. The Asics team knocked this pair out of the park, for one of the most coveted general releases in recent memory.
Ronnie Fieg raised the stakes with a dual-runner release spread out across New York and Miami. Dubbed the East Coast Project, the Gel Lyte III tied in some local sports flavor with Knicks and Dolphins color combos.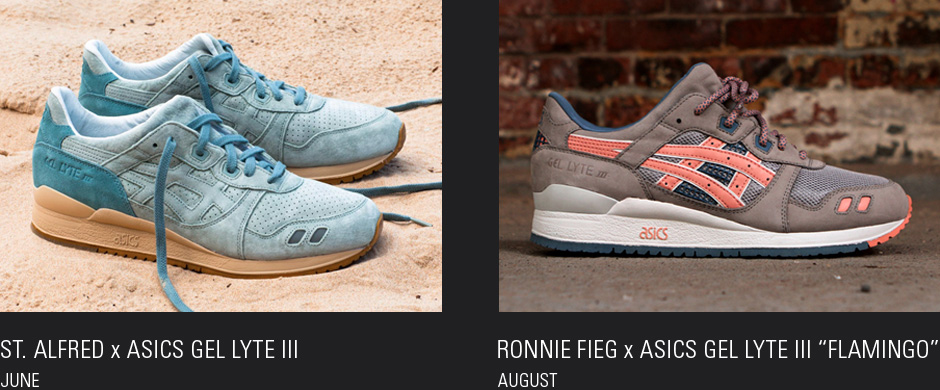 Lakeshore sneakers from one of Chicago's finest. This split tongue beauty featured a crisp, watery suede up top met by a sandy uni-color midsole down below.
Ronnie came with another pair of Gels before the Summer expired – this one dipped in a sublime grey and pink colorway and kitted out with his signature rope laces.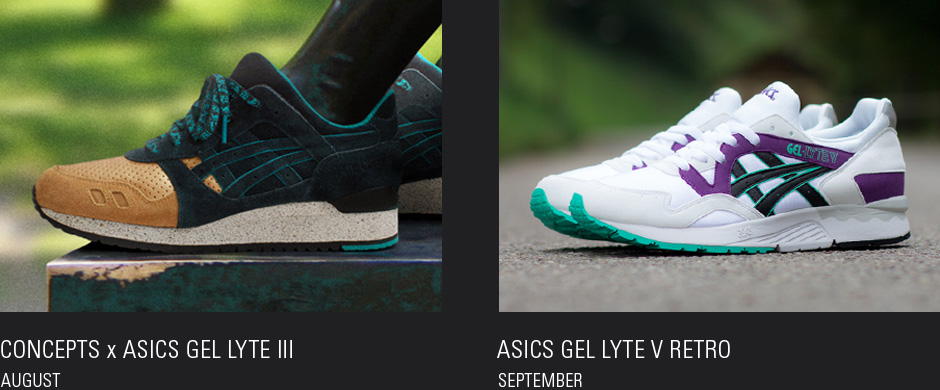 Concepts is no stranger to the collab scene, but they had somehow never done a shoe with Asics. When the day finally arrived, the shop drew on their Boston locale, crafting a Asics Gel Lyte III inspired by John Harvard's "Three Lies" statue.
The Asics retro range expanded at long last as this 1993 favorite entered into the fray. 20 years after its original run, the Gel Lyte V made its glorious return in original and new colorways and even popped up via some collabs.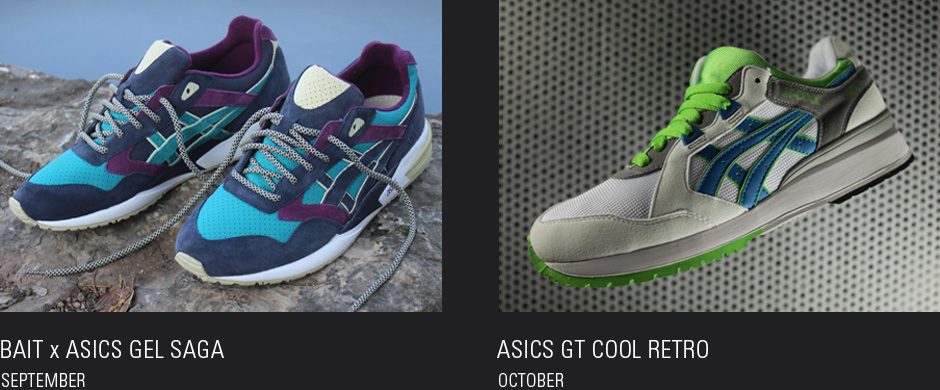 You should know by now about BAIT's tenure with the Asics team. This time around, they dropped a beautiful Gel Saga banger in what was an otherwise quiet year for the classic silhouette.
Its return may have been overshadowed by the Gel Lyte V, but if you were looking for more split-tongue Gels in 2013, this was the ticket. Just as Cool as they were back in 1991.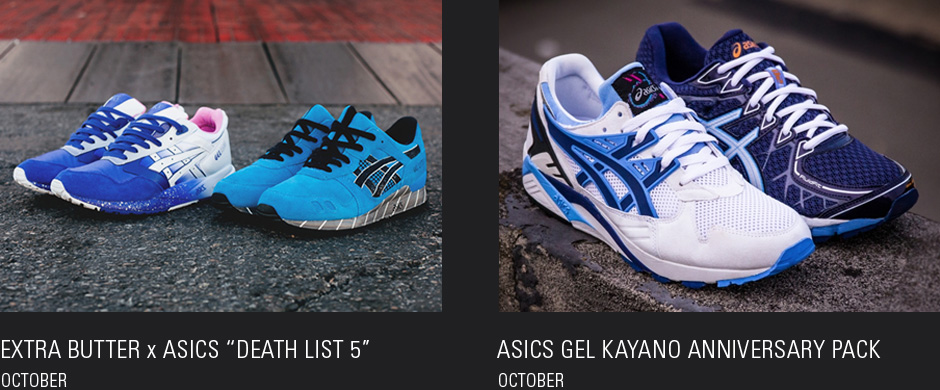 The Extra Butter team is never one to shy away from a concept-heavy collab. For 2013, they embarked on the "Death List 5" project inspired by the popular Kill Bill films with the Volume 1 installments in October and the second batch beginning to arrive toward year's end.
Something old and something new. Hardcore Gel fans were rewarded with the Kayano Anniversary pack, which connected the dots between two decades of Asics runners in one supreme box set.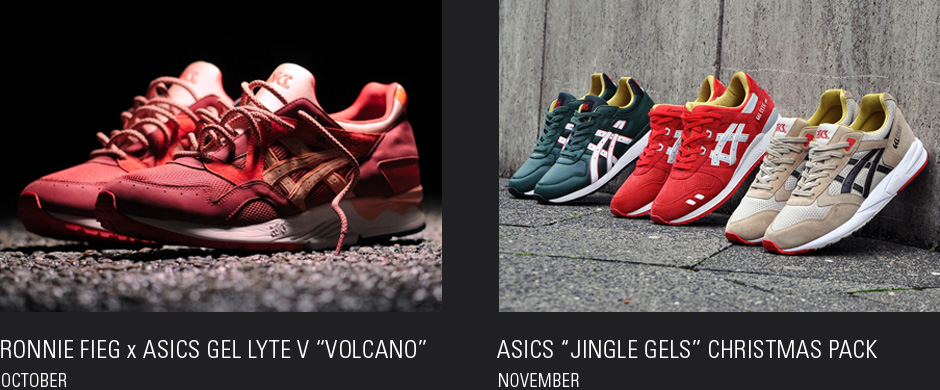 No one was happier to see the Gel Lyte V come back than Ronnie Fieg. A killer combo of fiery tones and supple materials on this "Volcano" colorway proved to be one of his all time best and helped the GLV erupt in popularity.
Now this is how you do an in-house sneaker pack right. Instantly recognizable theme, three different colorways, classic models – the Asics squad definitely spread some holiday cheer with this trio of festive Gel favorites.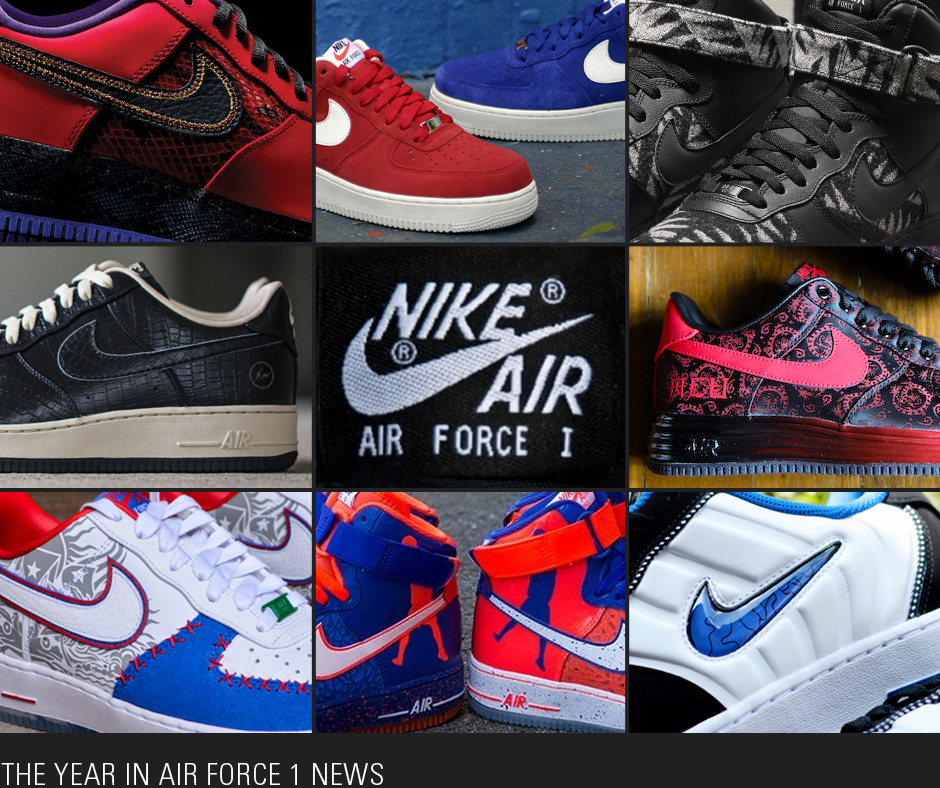 Coming off the sprawling XXX Anniversary collection in 2012, there was bound to be a drop-off in Air Force 1 offering's, but the classic model's 31st year produced plenty of new flavors to appease the demand. The Air Force 1 once again led Nike Sportswear in total releases with a huge number of colorways across the High, Mid and Low silhouettes, not to mention the addition of Lunar soles and Hyperfused uppers into the mix. There were no shortage of variations available with the AF1 Downtown further establishing itself after debuting late last year, the return of the Duck Boot, and even word of a LunarLon-cushioned wedge sneaker version to come.
2013 produced a ton of different colorways, packs and themes on the Air Force 1. There were plenty of attractive general releases, notable Quickstrikes and  limited editions, and even a few collaborative designs. NSW used a few turn of the century Air Force 1 Lows as inspiration for Dunk Highs this year, and offered a similar turn with the Uptown channeling Nike's first basketball shoe in a sizeable set of Blazer inspired color-ups. There was a tribute to the NBA's most notorious AF1 repper while some 1990s basketball stars saw their signatures mashed up with the iconic silhouette toward the end to extend the AF1's limitless potential into the coming year.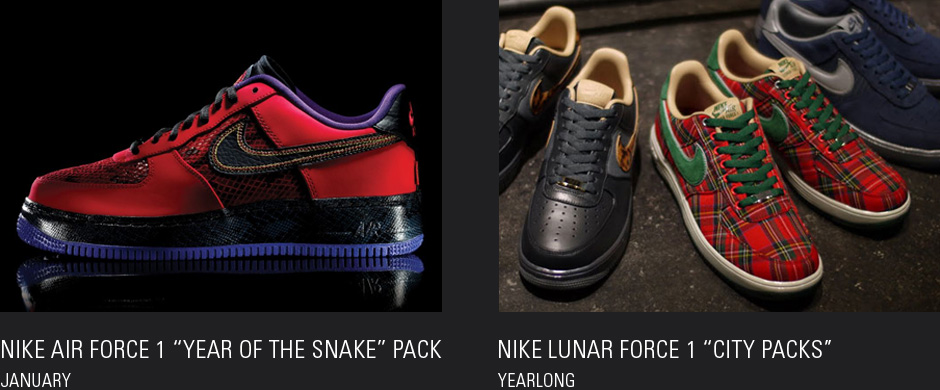 Nike Sportswear kicked off the Year of the Snake with a black Air Force 1 Foamposite followed by two more pairs that saw the Chinese Zodiac theme applied to the AF1 Low and High as well.
Following last December's trio, geographic themes continued to play a key role in 2013 Lunar Force 1s. There was another "City Pack" of lows in April followed by two Highs and a Low in September.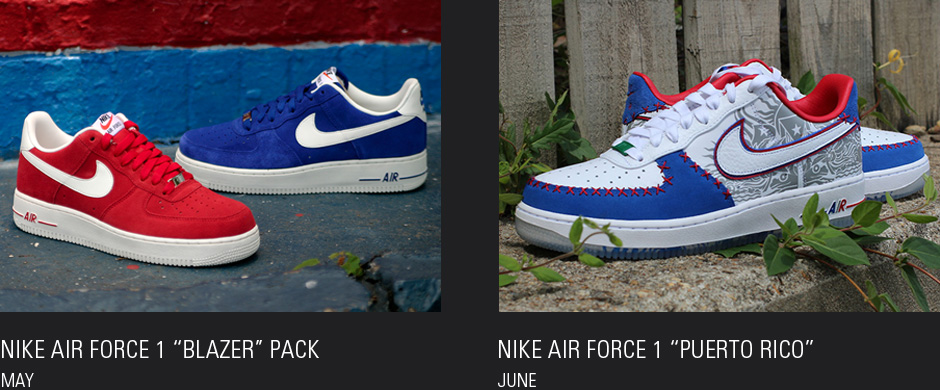 Paying tribute to Nike's first basketball shoe, the first one with Air cushioning donned classic suede colorways with white Swooshes. Blazer inspired AF1 Low, Mid and High releases totaled in the double digits and brought a crispy clean look across the board.
Puerto Rico editions of the Air Force 1 are nothing new. We've seen various versions pop up in 2006, 2007, and 2010, but the latest installment proved to be by far the most ornate addition to the ongoing series.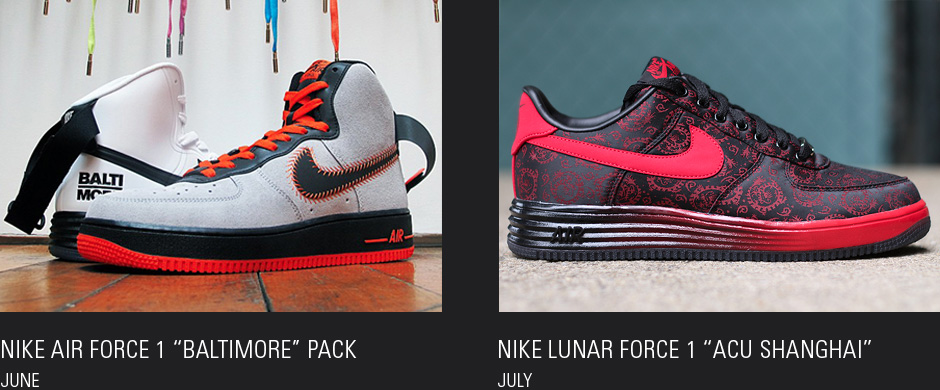 If it wasn't for shops in Baltimore begging Nike for restocks and new colors of the Air Force 1 back in the early '80s, the sneaker game as we know it may have never existed. Nike paid tribute to the city's efforts with a Lunar/Force two-pack of Highs.
Among the city-inspired Lunar Force 1s was this Shanghai edition celebrating the pioneering store ACU and featuring a gradient midsole contrasted by intricate patterns throughout the upper.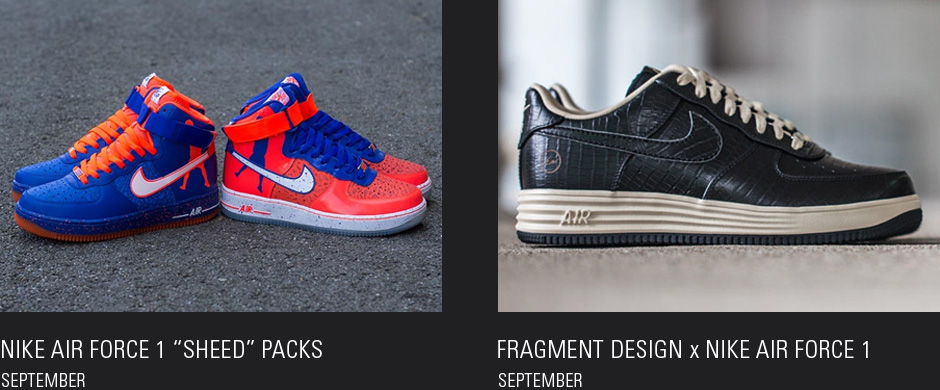 After retiring from the NBA, Air Force 1 High loyalist Rasheed Wallace was honored with two Lunar Force 1 Highs and a special event at 21 Mercer. A few months later, NSW hooked him up with two more AF1 Highs that stamped his fadeaway silhouette in the most visible way yet.
fragment design knocked out a couple of black croc Forces with the choice of Lunar or classic soles. After an initial drop in Shanghai, 21 Mercer ended up releasing the Lunar edition, leaving many AF1 fanatics scrambling for these worthy successors to the 2004 HTM originator.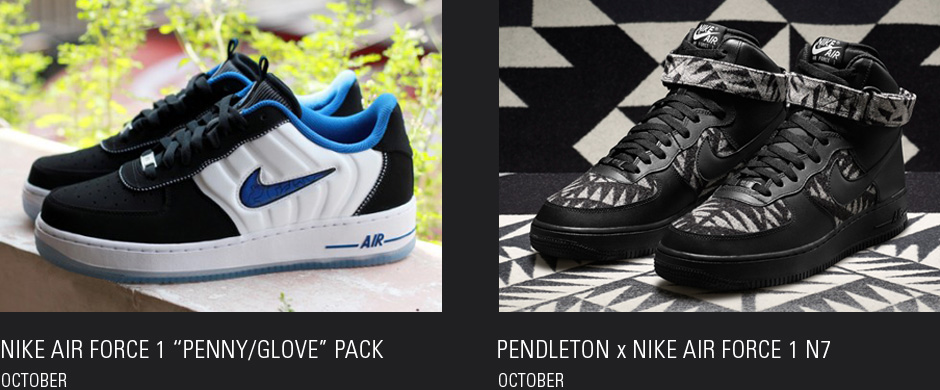 Air Force 1 updates and hybrids are numerous, but these two took it up a notch with significant alterations. Gary Payton's AF1 SIG added the zipper shroud from his first signature while Penny Hardaway's stuck to the molded foam and jewel Swoosh from his.
The Air Force 1 played a key role in this year's Nike N7 capsule, teaming up with Northwestern wool wizards Pendleton for a three-pronged assault. This patterned-up greyscale AF1 High was followed by Pendleton x NIKEiD options for the Air Force 1 Low.
Sneaker customization hit the heights of popularity this year, but for those without the technical skill to handpaint their own colorways or the cash to spend on professional-made customs, there was always good old NIKEiD. Putting their most popular silhouettes in the hands of the public to color-up as they see fit is certainly nothing new at this point, but Nike's iD program made sure 2013 was a banner year as they pulled out all the stops when it came to offering enticing design options and desirable models to work with. From the early days, when only a handful of different shoes and options were up for grabs, NIKEiD has expanded immeasurably into all different footwear categories and pushed the boundaries of what could be achieved.
As expected, the Air Force 1 was a major point of interest with each new month bringing a new batch of intriguing materials, colors and possibilities. Super popular new models like the Roshe and Flyknit Lunar1+ made their debut and the signature basketball lines all made an appearance featuring a variety of different patterns and bold looks. Nike even managed to work some collaborations into the iD mix with fabric options provided by Pendleton and Liberty. With the do-it-yourself approach becoming more and more commonplace, we can expect Nike to continue to tempt us with new entries in the new year, but before it arrives, check out some of the best iD moments of 2013 below.
Nike kicked off the year by celebrating the Year of the Snake on a variety of models, with one of its undeniable highlights being the arrival of colored snakeskin options for the Air Force 1.
The Roshe Run model shocked the sneaker world in 2012 by establishing itself as one of the surprise hits of the year, so it made perfect sense for Nike to start letting people color up their own versions.
The Nike Air Force 1 iD received some of its wildest looks to date thanks to the assortment of animal prints that were offered up in April.
Liberty floral patterns have popped up all over the Nike universe, but they finally made their way to a number of NSW models as selectable iD options.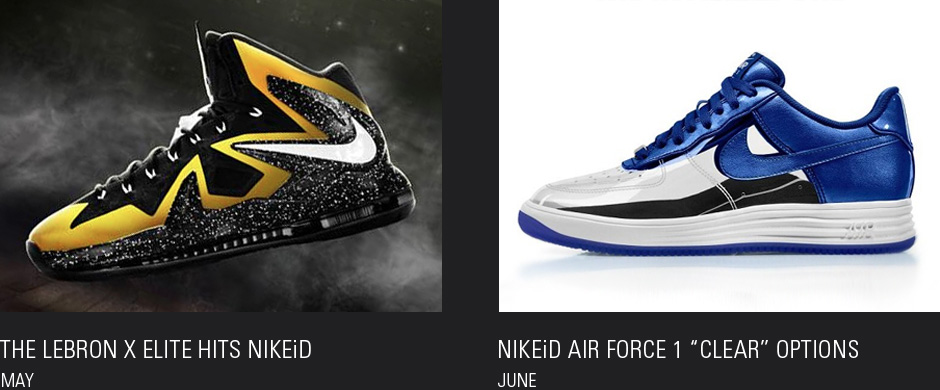 At this point, it's no surprise when the yearly signature basketball models show up on NIKEiD, but no one saw it coming when the Elite version made its way onto the menu.
In a throwback to 2006's "Invisible Woman" colorway, NIKEiD revisited the transparent look for the June Air Force 1 options.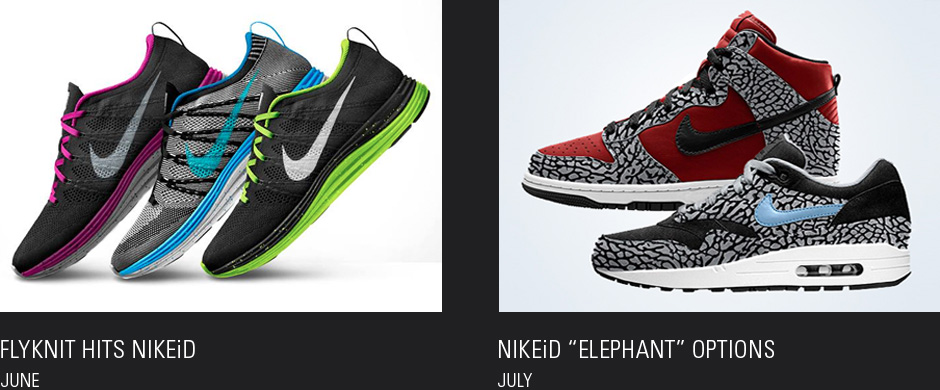 It was only a matter of time before another one of Nike's most popular new models found its way to iD. The Flyknit Lunar1+ debuted in June and we can only assume it won't be the last of its kind to be offered up for customization.
Elephant print has been seen before on NIKEiD, with the Air Force 1 and Spiz'ike as the usual culprits, but the iconic pattern made its way over to the Dunk and Air Max 1 this summer for some interesting new possibilities.
Plenty of different footwear styles received the camouflage treatment in 2013, but NIKEiD kept it more legit than most when some lifelike Realtree-branded patterns expanded the Air Force 1 options.
The "Chroma" concept became a popular theme in the second half of the year with the KD VI leading the charge as the color-changing iridescent treatment hit a handful of NIKEiD models.
Elephant print was more plentiful than ever on NIKEiD, but the Spiz'ike outdid the rest when they introduced a glow-in-the-dark version of the beloved material this past fall.
Pendleton joined Nike for this year's N7 collection and decided to stick around for a late year twirl on iD, making its way over to some mega-popular models like the Roshe and Janoski.
2013 was a huge year for the custom sneaker world as mainstream awareness grew and creativity was pushed to the limits. The last calendar year offered a never-ending supply of inspired creations from some of the most respected figures in the field as well as the emergence of some promising newbies as well. The bar seemed to be raised on a weekly basis and the competitive juices were flowing at an all-time high.
We saw custom co-signs from some big names in sports and entertainment as a number of the game's top artisans were commissioned to create masterpieces for high-profile athletes and celebrities. There was way too much good stuff to whittle down into a quick recap, so we put together some of the year's best custom concoctions from all your favorite sneaker artists, as well as some memorable random one-offs.