475937
Sneaker News 2013 Year End Rewind: Day 1
After four years of bringing you our annual year-end Sneaker News Top 30 list, we decided that it was time for a change in the name of evolution and progress. Rather than trying to narrow down all the year's footwear action into the 30 best selections, we thought we'd expand our scope this year to cover a lot more ground. Since our readers are already quite familiar with the SN Weekly Rewind format, it seemed to make perfect sense to transition our "best of" list into a full comprehensive breakdown of all the major releases and headlines from a wide variety of brands and categories.
We've split up all the highlights into five days of fun, with a new batch launching each day this week. Day 1 kicks things off today with all the top 2013 stories from Jordan Brand, Nike SB, Reebok and Saucony, as well as a full rundown of the year in NBA Feet. Continue on to refresh your memory on the last twelve months in sneakers, and be sure to stick with us all week long as we reveal a new crop of categories each day as part of the first annual Sneaker News Year End Rewind.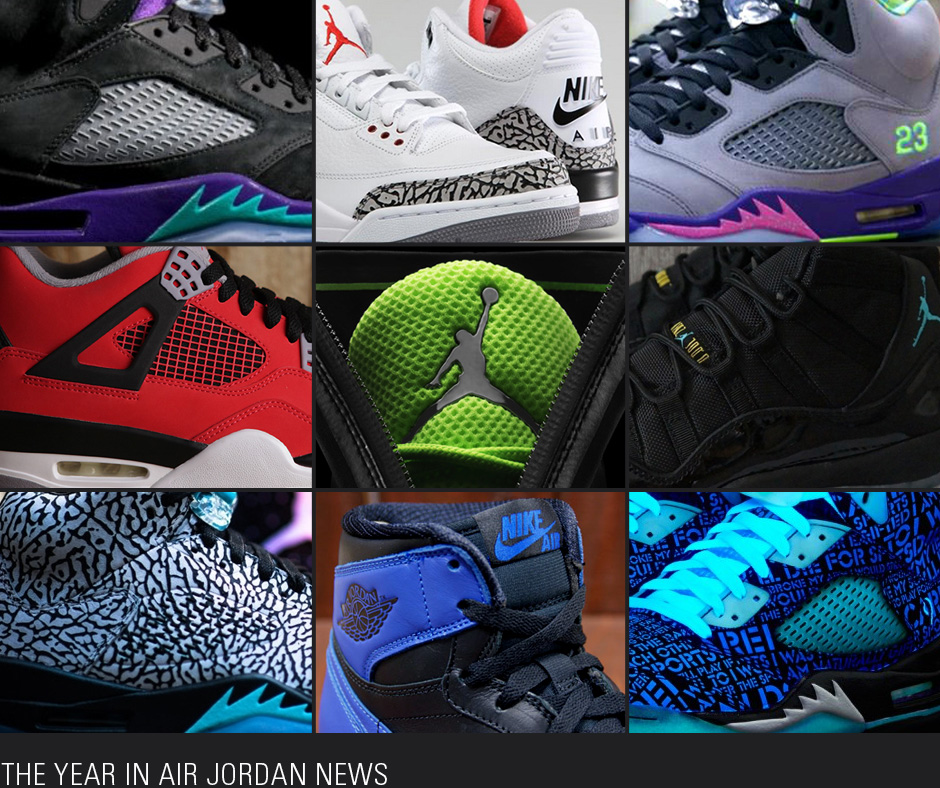 The undeniable powerhouse of the sneaker world is the Air Jordan – a series that for nearly three decades has managed to continually put out releases that end up at the top of must-have lists around the world. This year was no different, only that it had a rather tough act to follow. 2012 was solid front to back, with rich stories, great Retro comebacks, and the addition of key athletes to the roster, but 2013's output held its own from front to back. From the start, it was clearly the "Year of the 5" with no let-up in the 23rd anniversary celebration of the Air Jordan V, but the spotlight was inevitably shared by several other high-profile models – namely the Air Jordan 1, Air Jordan III, and even the newest addition to the legacy, the XX8 and its accompanying SE edition.
Perhaps the most significant general headline was the return of Nike Air branding, adorning several Air Jordan 1 tongues and the heel of the Air Jordan III Retro '88 – a special nod to the 25th anniversary of Michael Jordan's history-making Dunk Contest victory. Other titillating headlines that kept the Air Jordan category front and center were the release of not one, but two Doernbechers, the "Fear Pack" represented by JB's three most prized silhouettes, a unique approach to the heritage mash-up in the 3Lab5, and of course, the now annual year-end Air Jordan XI release. For a rundown of the memorable 2013 moments scripted by the brand that Michael built, read on below for a comprehensive breakdown.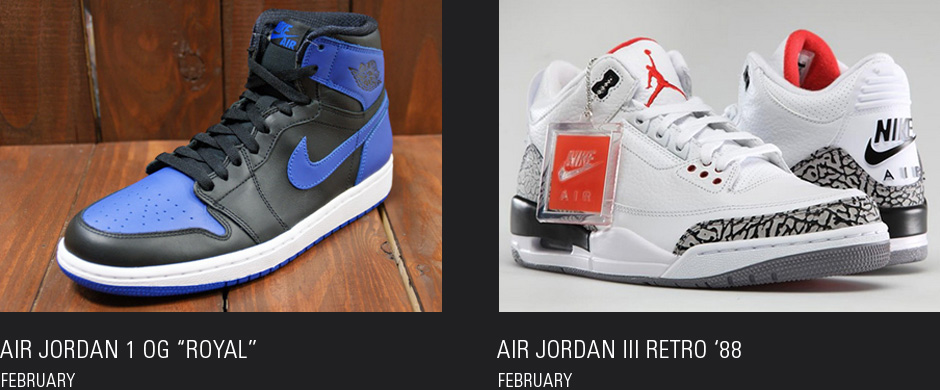 The longstanding debate centering around the return of Nike Air branding on Air Jordan Retros came to end with the release of the Air Jordan 1 Retro High OG. Four originals from '85 were brought back boasting the classic tongue label, as well a few new colorway creations that also received the vintage detail.
Jordan Brand celebrated the 25th anniversary of Michael Jordan's epic Dunk Contest win with the release of the Air Jordan III Retro '88. At long last, the iconic White/Cement colorway came fully equipped with Nike Air branding on the heel, marking the first time the shoe was released in its original form  since the 1994 Retro version.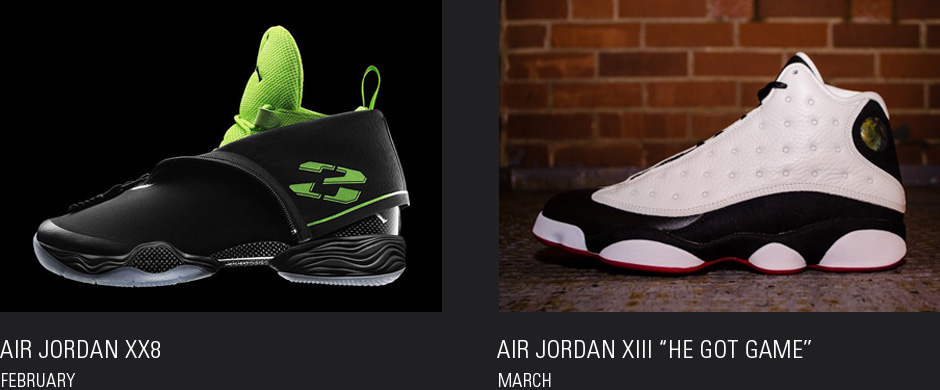 After a launch event in December of last year, the twenty-eighth Air Jordan installment made its retail debut during the 2013 All-Star Weekend, complete with its shin-high zip-up shroud. Leading up to the release was the launch of the #XX8DaysofFlight campaign, which featured daily giveaways of the Air Jordan Legacy volumes in the Black/Electric Green colorway.
One of the earliest Air Jordans to earn a righteous nickname, the "He Got Game", made its first ever solo Retro release in March. Despite being the first shoe to release under the autonomous Jordan Brand back in 1997, it had only ever been retroed as part of 2008's Collezione Pack. This Air Jordan XIII was one of three to drop this year – the two other being the "Bred" and "Squadron Blue".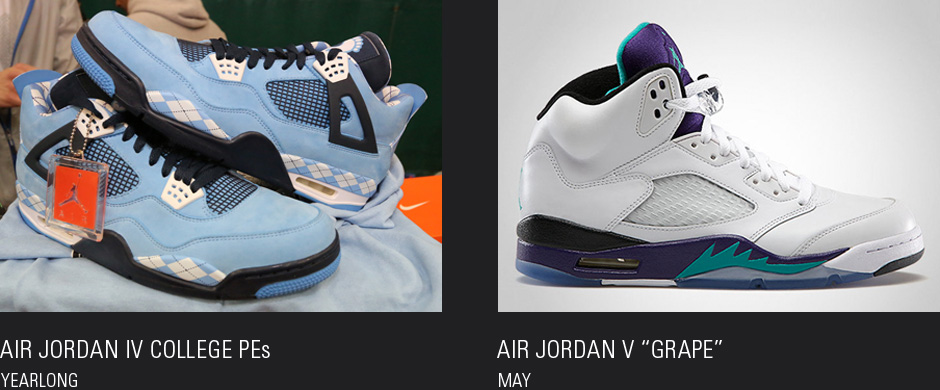 It's good to be an athlete at a Jordan Brand outfitted college, and even greater if you're a Duck. The Jumpman label hooked up UNC, Marquette, Georgetown, Cal, and Oregon with some sick Air Jordan IV PEs over the course of the year, with the last of that bunch receiving an added treat in the form of an Air Jordan V just in time for the tip-off of the new season.
The "Grape" edition of the Air Jordan V has always been a highly celebrated member of the Jordan family tree thanks to its OG status and standout color scheme. After years of speculating on its next retrun, the public outcry for a re-issue was finally acknowledged in 2013 as the legendary make-up hit stores for the first time since its 2007 Retro release.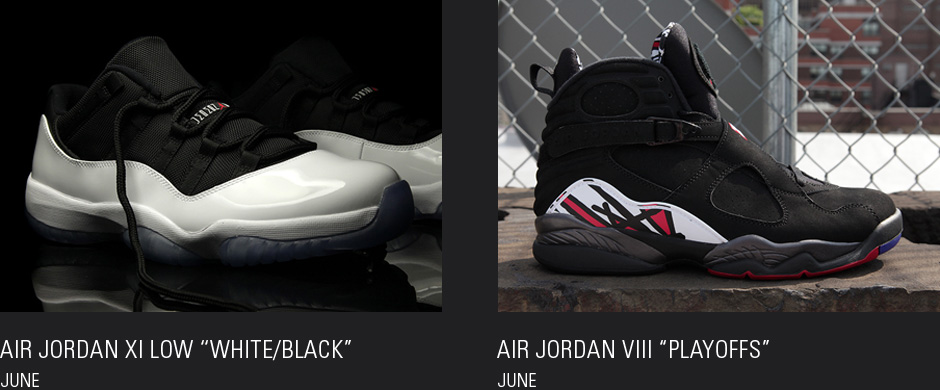 Jordan Brand was ready for the summer months with the release of a clean pair of Air Jordan XI Lows. The Bulls-friendly mix of White, Black, and Red attracted plenty of Jordan-heads to this shoe, making for one of the most popular non-OG pick-ups of the year.
With so much attention being paid elsewhere within the Air Jordan Retro universe, JB quietly brought back the Air Jordan VIII this year, honing in on two OG colorways commonly referred to as the "Bugs Bunny" and "Playoffs" editions.
Just when you thought the Air Jordan V "Grape" was perfect as is, Jordan Brand decided to switch out the white leather for black suede, and ended up dropping one of the best colorway flips of all time.
All-red Air Jordans have been a rare but satisfying treat since the "Raging Bulls" dropped. In July, demands were met with the Air Jordan IV "Toro" – a color-up originally spotted as a PE for Jordan Brand athlete Carmelo Anthony.
Justin Timberlake's name became a trendy topic in the Air Jordan category thanks to the special Retros that were made for his Legends of the Summer tour. He originally gave away autographed pairs via scavenger hunts within respective cities of the tour, but later on, they became the ultimate celebrity hook-up as several notable names began flashing their pairs.
Jordan Brand went back into story-telling mode with the Air Jordan Retro "Fear Pack" – a concept inspired by the fear MJ put into his opponents. Comprised of the Air Jordan III, IV, and IV, the entire set was colored in dark and gloomy tones and details with special insoles to help hammer home the theme.
Nike and Jordan Brand launched the "Ignite Shanghai" campaign, which celebrated the city's love for the sport of basketball. Trickling out of that celebration was the Air Jordan V "Shanghai Shen" – a limited edition Asia exclusive release that more loosely applied the "Black Grape" treatment to the Laney color scheme for an all new look.
Prior to the unveiling of the Doernbecher Freestyle X, Nike released a lone Air Jordan V designed by young Isaac Arzate. Isaac was a patient at the Doernbecher Children's Hospital, but tragically passed away last April. To honor him, the Swoosh brand shared his Air Jordan V creation as a stand-alone release, which turned out to be one of the year's best.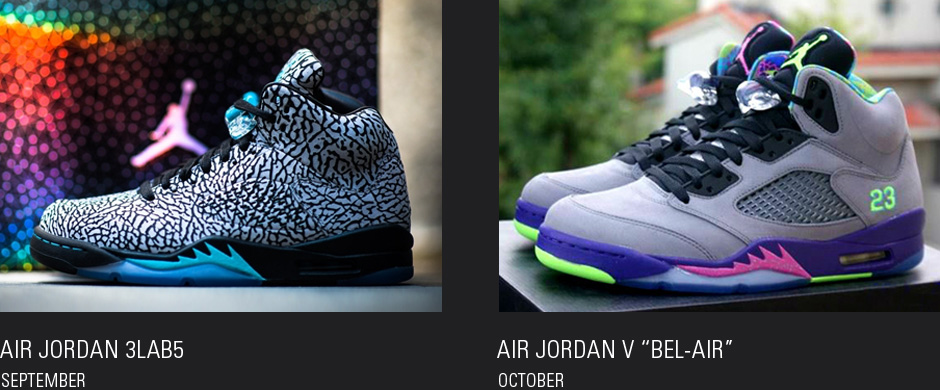 A new spin on the "fusion" concept was unveiled via the premium Air Jordan "Elements" Collection – a series of designs that would combine two models into one seamless heritage piece. The first of these releases was the 3Lab5, which unleashed the iconic elephant print from the Air Jordan III onto the entirety of the Air Jordan V upper.
One of the most popular new colorways among the year's Air Jordan V releases was the "Bel-Air", which paid tribute to one of the most influential television comedies of the early 90's. The colorway was inspired by the wild colors seen in the show's opening credits and the fact that it's main attraction, Will Smith, was often spotted wearing AJVs on-screen.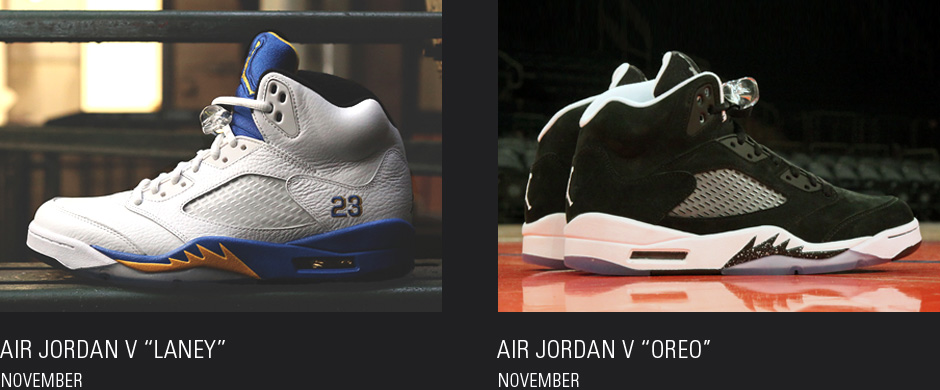 Commonly mistaken as an OG colorway, the Air Jordan V Laney – originally a 2000 Retro release inspired by Michael Jordan's high school team – made a heroic comeback during the month of November. While those Grape/Laney rumors from a few years ago may not have panned out, both pairs managed to make their way back separately in 2013.
Breaking the string of OG Air Jordans on Black Friday was the Air Jordan V "Oreo" –  a simple yet irresistible composition of black and white on the year's 23rd anniversary model. Although quite different from the approach taken by 1999's "Oreo" IV, the nickname still proved a good fit thanks to the speckled "shark teeth" on the midsole.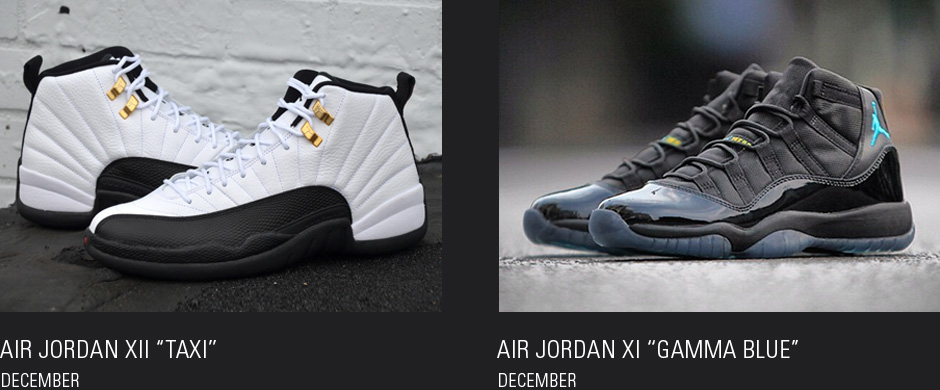 While a Retro release of the Taxi isn't exactly new territory, the 2013 version brought back an overlooked feature – the metallic gold eyelets. And as we know, when it comes to sneakers, the little details can make all the difference.
An Air Jordan XI release in late December is a formula that's been working quite well for Jordan Brand these past few years. Although the "Gamma Blue" isn't original flavor, it should have no trouble keeping the streak alive.
In the three years since Swizz Beatz joined the Reebok team as creative director, the brand has made huge strides in regaining its place in the upper tier of the sneaker foodchain. After building some major momentum last year with the return of Allen Iverson's Question signature model, Reebok raised the stakes considerably in 2013 – the year when "Reebok Back" transitioned completely from a statement of intent to a simple fact evidenced by twelve full months of quality product and a noticeable change in the way the brand is being perceived within the often finicky sneaker community. After drawing renewed attention to the brand in 2011 and following up with a flash of the Classics division's potential in 2012, Reebok opened the floodgates of their archives this year and trotted out a variety of models, colorways and collaborations to rival the likes of Nike Sportswear and adidas Originals.
Sweden's Sneakersnstuff were emblematic of Reebok's 2013, starting off their collab-a-month calendar in January with the first of the 30th Anniversary Classic Leathers, another ongoing initiative ably carried out by members of the Reebok Certified Network all year long. From there, the year saw a huge revival of '80s and '90s running and training silhouettes, but it was the late-'80s through mid-'90s basketball retro re-issues that absolutely caught fire and had us feeling warmly nostalgic with the return of long absent signatures from Shaquille O'Neal, Shawn Kemp and Allen Iverson, just to name a few. Successes with the Classics and CrossFit lines as well as recent rumblings in the basketball performance space have Reebok ready to begin 2014 from their strongest position in years. Here's how they got there with a rundown of this year's brightest highlights.
Reebok celebrated its most prolific heritage model in 2013. Driven by the 18 Reebok Certified Network collaborations and some top notch general releases, at long last the iconic Reebok Classic was finally back in the spotlight.
After many years of hibernation, Shawn Kemp's Kamikaze II finally came back in a big way this year. It all started with some original colorways followed by a slew of new make-ups and the promise of a Kamikaze 1 retro in 2014.
Shaquille O'Neal's first Reebok signature shoe returned for the first time this April. The Shaq Attaq hit shelves in its OG Orlando look back in April and continued with additional installments inspired by the soon-to-be Hall of Famer's career and personal life.
From Reebok's biggest ever athlete to one of the pound for pound best in NBA history, Allen Iverson's Answer 1 DMX returned in May. With the Question back on top and a strong showing by the Answer, we can only assume more Iverson retros are likely to follow.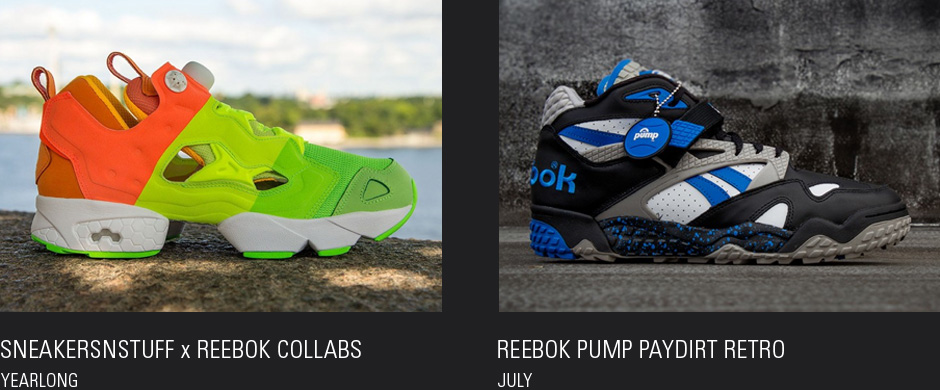 In one of the year's more ambitious endeavors, Swedish shop Sneakersnstuff released one Reebok collaboration for each month of the year. With an eclectic mix of running, basketball and casual classics, SNS produced one of the best single year outputs for any guest designer ever.
On the turf training side of things, a couple more of Emmitt Smith endorsed pairs returned this year. The Scrimmage came first in the spring with the Pump Paydirt Mid dropping in summer, both following the lead of the ES 22 by starting with OGs, then adding brand new styles.
Shaq's big year included the return of his 1995-96 signature shoe. The Shaqnosis returned in the heart of summer with the OG black/white and has parlayed its mesmerizing design into several more contemporary versions since.
Reebok teamed up with arguably the hottest brand in skateboarding this summer, issuing a pack of casual collabs with PALACE Skateboards. The surprise pairing proved a smash hit and led to the first Reebok skate shoes in years.
A huge 2013 for the Kamikaze II got its exclamation point in August when Packer Shoes executed a clever throwback theme with their "Remember the Alamo" edition. Inspired by the 1996 NBA All Star Game uniforms, Shawn Kemp's "What If" PE featured the memorable chili pepper graphic worked into the Vector logo and even got its own b-side version in December.
Back again for the first time this decade, the Reebok Inferno brought back the early '90s vibes with its OG "Neon Sign" colorway. The Inferno spearheaded a late-summer Reebok retro running renaissance that also included some underrated sleeper silhouettes like the GL 6000 and LX 8500.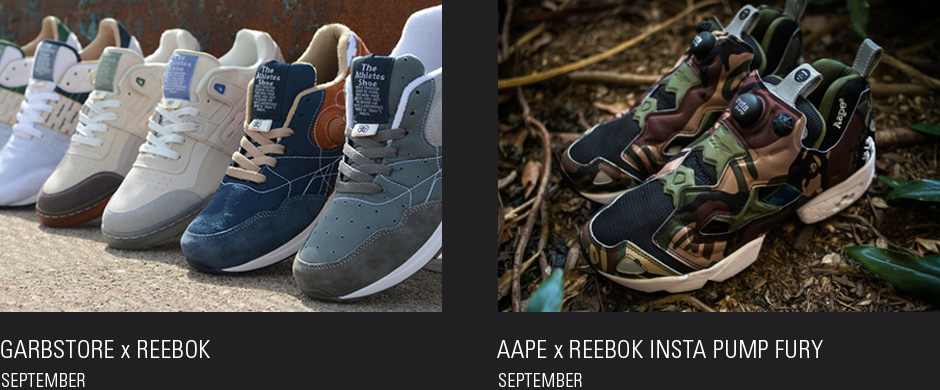 London based clothier Couverture & The Garbstore opened a shop in LA this September, commemorating the occasion with a set of 'Outside-In' Reebok Classics wherein a number of the brand's iconic models were literally constructed with the interior lining materials on the exterior of the shoes.
A Bathing Ape extended its influence to a new generation of sneakerheads with the AAPE imprint coming through (after a few delays) on a woodland camo edition of the Insta Pump Fury. Looking to the future, fans of the Insta Pump Fury silhouette can expect big things in the year to come.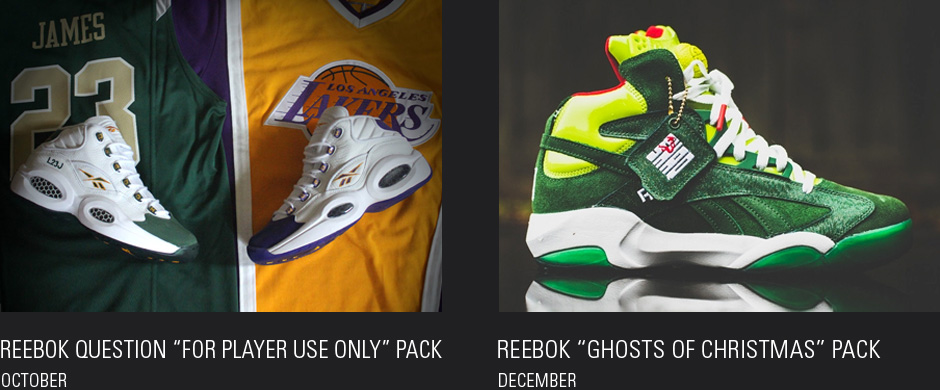 Two of the biggest names Nike has ever signed once wore Reeboks. Specifically, LeBron James and Kobe Bryant both had Reebok Question PEs around 2003, and Packer Shoes helped bring them to life/retail for one of the most uniquely themed two-packs in sneaker history.
Rounding out the year was a holiday set with a theme borrowed from Charles Dickens. The "Ghosts of Christmas" Shaq Attaq, Kamikaze II and Question ended the year with a bang for the three Reebok basketball retros that made the biggest impacts over the course of 2013.
Last NBA Season brought us a ton of riveting storylines around the league, culminating in an epic 7-game championship series that crowned LeBron James and the Miami Heat as repeat champions thanks to Ray Allen's heroic game 6 shot that will surely be played in historic highlight reels for years to come. The 2013-2014 campaign is a few months in the books and there have already been some major developments on the sneaker side of things. The last year of NBA action brought us some truly original footwear selections and memorable moments as more and more players have embraced the sneakerhead movement and made locker rooms around the league as competitive a place as the hardwood.
Whether it was players – and not just any players, but All-Stars in LeBron James and Dwyane Wade – embracing the custom sneaker craze, or some of our favorites like Nate Robinson and JR Smith lacing up non-basketball models, there were plenty of on-foot spectacles to keep us on our toes on a nightly basis. And let's not forget about all the signatures and PEs as the leagues top stars received a wide assortment of special editions and wild makeups, and for anyone who didn't, there were plenty of NikeiD options to help them keep up. We've selected some of the best stories from this year's NBA Feet coverage, so get yourself all caught up on 2013's standout on-court sneaker sightings.
2013 got off to a fast start when the best basketball players on the planet convened for the NBA All-Star Weekend in Houston. Whether it was Russell Westbrook switching up the Air Jordan XX8 "Green Camo" for mismatched Blue and Red versions on each foot in the second half, or LeBron and Team Swoosh showing off their "Area 72" editions, there were plenty of colorful kicks everywhere you looked down in H-town.
Nate Robinson has been prominently featured in plenty of our NBA Feet recaps thanks to his affinity for Air Jordans and his eagerness to show them off on court, but how would Nate top himself and his peers in the league? Breaking out the Nike Air Yeezy 2 in a game against the Spurs in March did just that and will have people talking about his sneaker heroics for years to come.
The custom sneaker game exploded in 2013 with all sorts of high profile athletes and celebs getting in on the fun. Last March we spotted Dwyane Wade on the floor showing off some work done by Mache Customs on his Li-Ning Way of Wade silhouette.
Although 'Bron struggled for most of the first half against the Knicks that game, it might've been because he was trying not to crease the exclusive "Carmex" LeBron X PEs that brightened up MSG in a vibrant yellow with red accents in an homage to the lip balm. The Heat eventually escaped with a win, so the "Carmex" X can go down as a shoe that LeBron went undefeated in, even though he took them off for the second half.
When LeBron returns to Cleveland, headlines are always plentiful, so how would LBJ welcome all of the boos this time around? He actually broke out a silhouette that he wore while a member of the Cavaliers squad –  the Nike LeBron VI "Fairfax" with its all black construction and red and yellow swoosh translating perfectly to the Heat's red alternates. With a 25 point-deficit and their now legendary 27-game win-streak in jeopardy, the MVP pulled off another astonishing come from behind win. Are we seeing a trend here?
The Chicago Bulls were one of the more formidable on-feet squads of last season thanks to Nate Robinson's selections, but it was also due in part to bench player Malcolm Thomas and his affection for Air Jordans. Facing off against the Brooklyn Nets in Round 1, Thomas broke out a custom pair of blacked-out Air Jordan XIs featuring a Bulls logo painted over the Jumpman.
For the second straight year, Nike outfitted their signature stars with revamped Elite Series models for the playoff grind. This year, however, the shoes started to show up on the feet of LeBron, KD, and Kobe a few weeks prior to the playoffs. With the Lakers in danger of missing the post season at the time, maybe Nike called an audible on the early debut to get Kobe in the shoe on court while they could.
Mache Customs struck again, this time helping Nate Robinson show some team pride alongside his love for the Air Jordan XIII with a special bright tonal red version. While the Bulls were supposed to be outmatched by the Brooklyn Nets on paper, they made an incredible run into the post-season that allowed us to watch Nate's footwear for a few more games.
JR Smith had a huge season last year, finishing with the Sixth Man of the Year Award that got him a brand new contract with the Knicks this off-season. He flaunted a ton of on-court heat over the past year and was known for the diversity of his selections, from Jordans, to Nike sigs, and even iDs, but nobody expected him to lace up a pair of Bo Jackson's Air Trainer SC's for a playoff game against the Celtics despite the perfect match to the Knicks unis.
The Toronto Raptors have the advantage of a "Bred" uniform color and it doesn't technically take a sneakerhead to realize the range of sneakers that could be worn to match. But the Raps did it so consistently with such a plethora of Air Jordans from the likes of Terrance Ross, DeMar DeRozan and Rudy Gay (now sent over to Sacramento), that it was almost as if they were competing with each other to rock the best kicks on a game by game basis.
Earlier this year, LeBron James became the fifth player in NBA history to win four MVPs and he's done so in only half a decade. Nike's special edition "MVP" Nike LeBron X honored the accomplishment by featuring a wild graphic scheme as diverse as the triple-double tendencies of the player who inspired them. The superstar broke out a pair against the Bulls in the second round of the playoffs after the award became official.
From Chris Bosh, LeMarcus Aldridge, Amare Stoudamire, and Anthony Davis – was there a power forward or center in the league that wasn't outfitted with Nike's resident basketball-geared Air Max model featuring a crazy Posite engraved upper? Let's not forget about Rajon Rando's Christmas themed PE either, as the model could be spotted in just about any NBA game turning heads in a number of vibrant color schemes.
On the way to his second straight NBA Championship, it seemed like LeBron James was breaking out a new pair of LeBron X Elite PEs on a nightly basis throughout the playoffs, but things heated up even further once King James and company got to the Finals and Nike hooked him up with an eye-catching red/metallic gold pair to finish in style.
Last season was a huge year for Nike iD, as all three of Nike's premier signature models were available for customization for the second straight year. What resulted was a plethora of players whipping up Nike iD PEs for themselves and rocking the LeBrons, Kobes, and KDs on court all across the league and at times, even against the player whose name was on them.
When Ray Allen won his first championship as a member of that 2008 Celtics squad, he started off the next year accepting the ring in a pair just as exclusive as the Larry O'Brien trophy – a white based Air Jordan XI with gold patent leather and green accents. After his heroics in Game 6, he definitely deserved another pair for Miami's Finals win and started off this 2013 season opener in his Heat-flavored Air Jordan XI "Two Rings" PE.
On opening night, King James returned to the hardwood to accept his second championship ring and begin defending his title against the Chicago Bulls donning an Iron Man-esque red and metallic gold PE colorway of his latest signature model, the LeBron XI. Since then, the assortment of LeBron XI PEs has been slowly growing in numbers, but regardless of what's to come, these will be tough to top.
The Toronto Raptors are known for their sneaker efforts team-wide, but one of the biggest contributors has undoubtedly been DeMar DeRozan. Never one to shy away from an exclusive pair, DeRozen broke out an Air Jordan V initially leaked by DJ Khaled that featured an all black finish and 3M accents. With this year signifying the 23rd anniversary of MJ's fifth signature, we were hit with so many colorways that this one just didn't make it to retail. How they ended up on DeRozan's feet remains a mystery.
While we've had some good looks at the Nike LeBron XI on court this year, James made headlines earlier this season by switching back to the LeBron X Elite for some games while some tweaks were being made to his in-game pairs. But even while 'Bron was taking a break from his new shoe, players like JJ Hickson, DeMarcus Cousins, and Eric Bledsoe have all been giving it love. Now that LeBron is back in the XI, it's unlikely that we'll see any more Xs in 2013-14, but it made for an interesting storyline while it lasted.
The Toronto Raptors were the first team to feature a camouflage uniform, so it was only a matter of time before one of their sneaker savvy players decided to lace up a matching pair of the "Army Camo" Foamposite Pros. Leave it up to DeMar DeRozan who is known to surprise with his footwear selections to pull off the ensemble with style. With Rudy Gay no longer on the roster, you can look for DeMar's role to grow, both on the court and in terms of picking up the sneaker slack.
Kobe wouldn't be Kobe had he not rehabbed as hard as he did over the off-season to come back after only missing the first 19 games of the season. In honor of his 9th shoe with Nike, the Swoosh rolled out the Prelude series – giving special retro treatments to all 8 of Kobe's Nike signatures, and in his first game back from injury, the Black Mamba sported the Nike Kobe Zoom 1 installment, appropriately against the team he put up 81 against while wearing that model in 2006.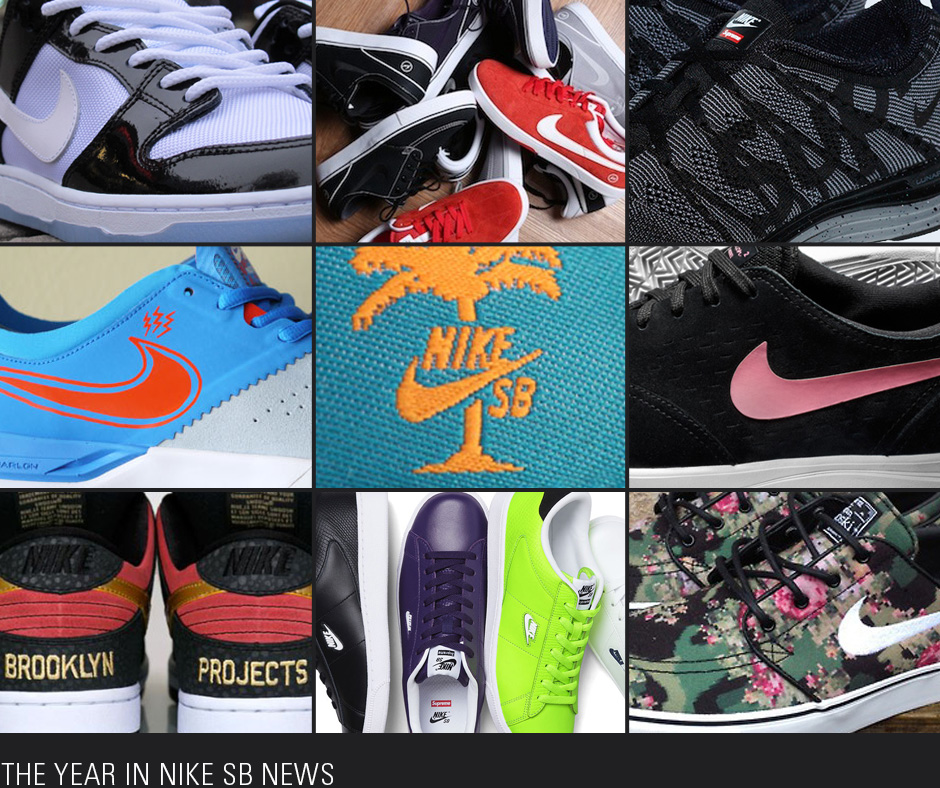 After crossing over into the mainstream market with the huge popularity of the Dunk, in recent years Nike Skateboarding has gotten back to a more balanced distribution of classic models and performance innovation. In what will be remembered as the only full year of the "Tape Box" era, the Nike SB catalog may have encompassed a more potent combination of quality and diversity than ever before. The cornerstones were on point with the Nike SB Dunk line continuing its reign as the most collectible skate shoe. Thanks to plenty of enticing general releases, must-have Quickstrikes, and well-matched collabs with some of America's top skate shops, the Dunk SB continued to go strong, while another SB staple, the Blazer, quietly ceded to the LR edition.
2013 also saw some other collaborations outside of the Dunk realm, with frequent collaborator Supreme putting their touches on something old and something new. The signature lines progressed with new numbered models for P-Rod and Eric Koston, while longtime SB rider Brian Anderson finally got a shoe of his own. As well-received as the other sigs may have been, it's still arguably Stefan Janoski's four-plus year old shoe that remains the most popular SB model, and this year gave us quite a few reasons to continue asking for more color-ups rather than a Janoski 2 sequel. These gentlemen's pro models will play key roles moving into 2014 with both new and hybrid models launching, but before we look to the future, let's review some of this past year's SB highlights.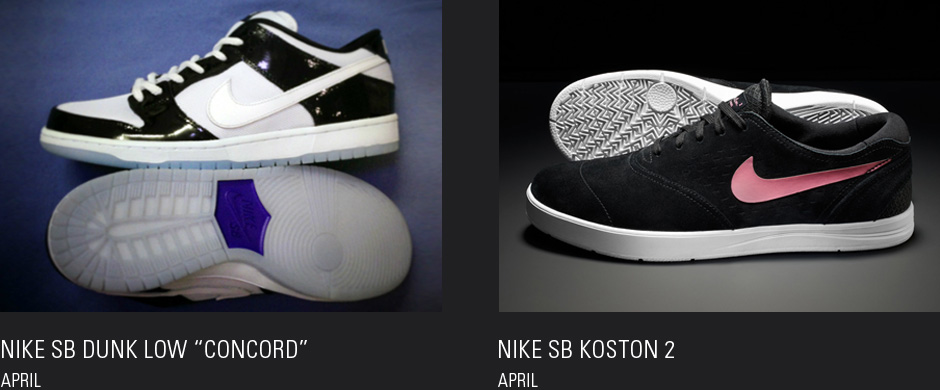 Another Air Jordan XI-inspired SB Dunk Low released back in April with the 'Concord' edition. This follow-up on 2011's 'Space Jam' edition once again borrowed exact colors and materials from its source of inspiration, luring more Jordan-heads back to the Dunk in the process.
Eric Koston was the first Nike Skateboarding rider to get a new pro model in 2013. The first edition of his shoe was so popular that it still remained in circulation while the Koston 2 went on to continue the tradition of elegant performance into the future.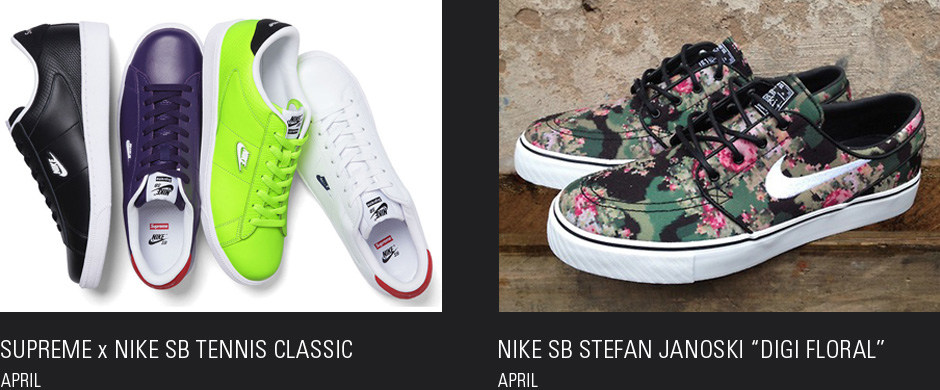 Supreme's first SB collab of the year re-introduced us to a shoe that had not previously been issued for skating. Released in four co-branded tonal colorways featuring faux snake embossing, Supreme put their stamp on the Tennis Classic silhouette, then yanked it back out of circulation like their SB '94 model.
The first of three digi-floral Stefan Janoskis released back in spring and was instantly one of the year's most coveted SB offerings. The unique take on the floral style proved so popular that even during a year awash with patterns and prints, it managed to stand out as one of the most memorable efforts of 2013.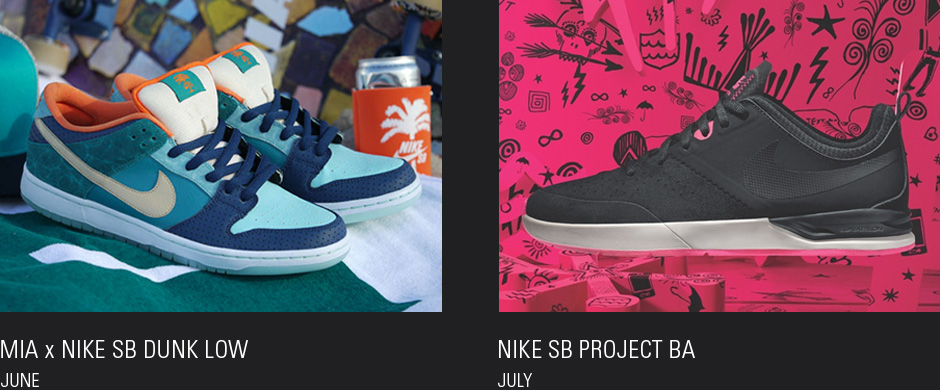 Southern Florida skate shop MIA celebrated its 10th anniversary in 2013 and commemorated the occasion by creating one of the more expressive Dunk designs from a year filled with formidable SB x core shop collabs.
Longtime SB team member Brian Anderson received his first Nike pro model this summer. The Project BA combines the past, present and future with a technical yet sleek design that further establishes LunarLon as the new standard in skate cushioning.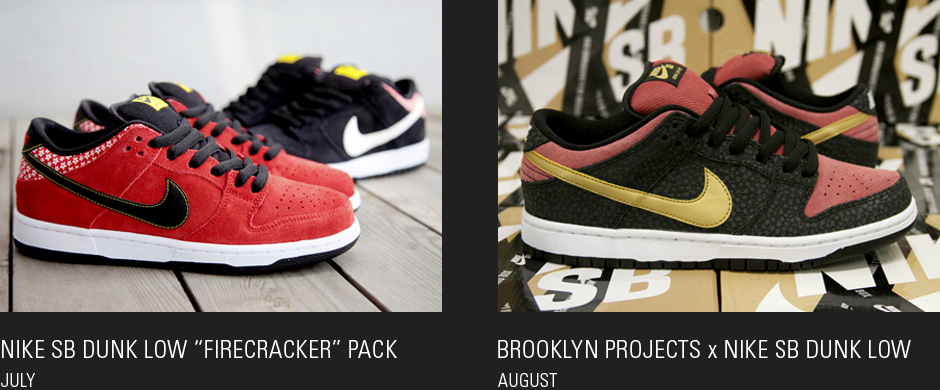 A suede Dunk explosion ignited around the Independence Day holiday by way of two "Firecracker Pack" Lows featuring fireworks graphics on the insoles and the classic firecracker paper pattern on the heels.
Brooklyn Projects' long awaited "Walk of Fame" Dunk finally dropped at the end of summer. A limited edition version with custom embroidery was released as a BP exclusive with around only 500 pairs made.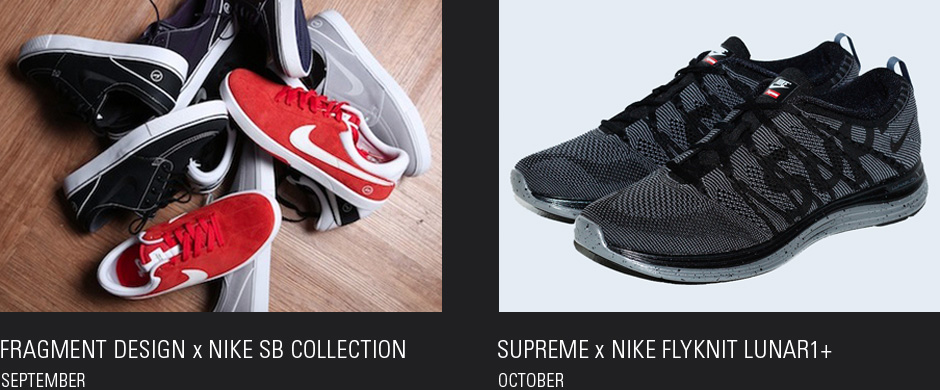 Hiroshi Fujiwara's fragment design partnered on a sizeable pack of SBs for fall. Multiple colorways of the Stefan Janoski and Koston 1 were done up in basic tonal colors with white contrasts including fragment's lightning bolt logo on the heels.
Supreme introduced another model to the SB division with the release of a Flyknit Lunar1+ packaged in the SB 'Tape Box'. This featherweight runner perfectly showed off Flyknit's graphic abilities with a truncated representation of the famed box logo branding scrawled across the side.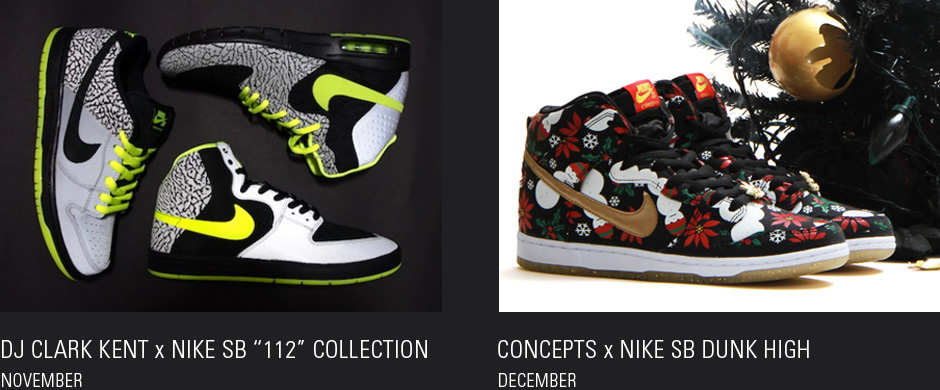 Now applying his "112" theme over to a completely different Nike division, DJ Clark Kent put his signature touches on a Black Friday pack that included the Dunk Low, along with the P-Rod 7 High and its Hyperfuse Max variation.
Concepts concludes their collaborative schedule for 2013 with two pairs of "Ugly Sweater" Dunk Highs. The more widely available grey pair was another 'red box' release, but the black limited edition topped it with a special Christmas tin box and ornaments.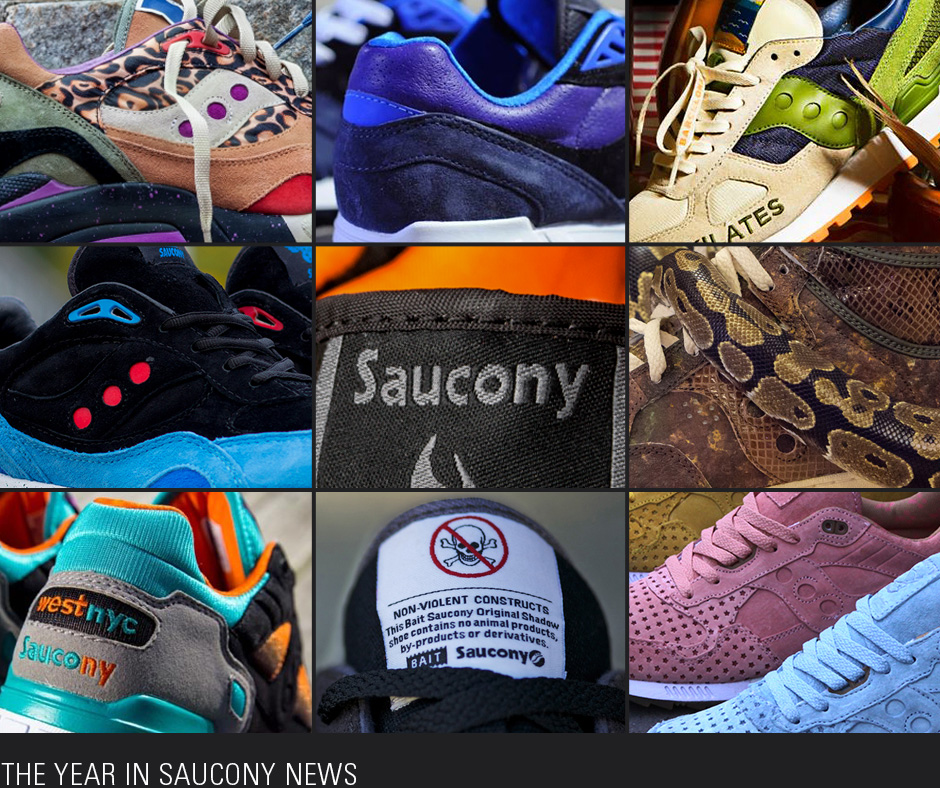 In case you missed it, Saucony just had a rock solid year of releases in their Originals category. The awareness and consumer support have been building for years thanks to an ongoing slew of well-executed collabs and the co-signs of well-respected sneaker shops around the world. Saucony has effectively used their collaborative projects to create buzz for the brand and its shoes and to draw additional attention to their inline offerings as well. They've been smart about how they've gone about their business, electing to pick their spots rather than bombard people with countless colorways of any model that sells. And it's paid off well so far as the brand has set themselves up nicely headed into the new year with a loyal consumer base in place and plenty of room to grow.
When it comes to the aforementioned collaborations, 2013 was as strong a year as Saucony has ever had. From beginning to end, they managed to space things out just perfectly so that just as one was releasing, we were catching wind of the next with little to no lull in the action in between. Not long ago, it would have been tough to imagine people lining up overnight for Sauconys, but we saw it for ourselves this year all around the world as kids went to great lengths to get their hands on special editions from the likes of Footpatrol, West NYC, Hanon, and others. We've got a full recap of the top stories below, so get all caught up on the year in Saucony news and expect them to hit the ground running in 2014.
Hanon kicked off a strong year of Saucony collabs with a striking grey/black/orange colorway of the Shadow Master – a shoe that combines the Master Control upper construction with the Shadow 5000 midsole.
No strangers to midsole swaps themselves, Bodega takes the Saucony Elite collection to daring new places courtesy of some wild prints and colors spread across a variety of new mash-up models.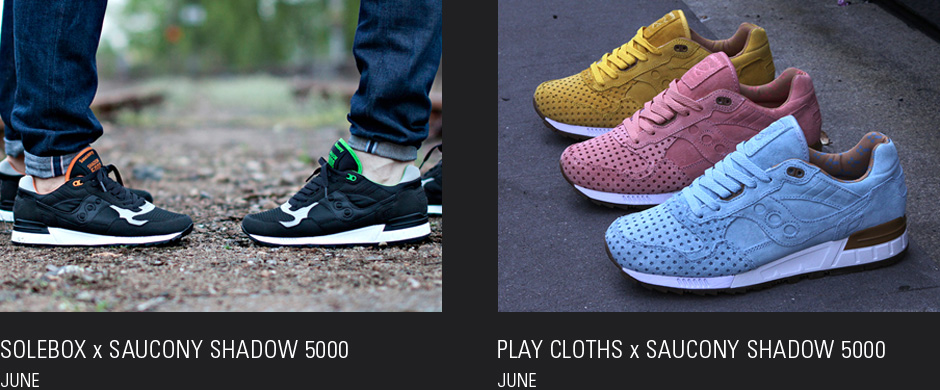 Solebox has been doing collab projects with Saucony for longer than almost anyone you can name, but they're still coming with fresh new ideas as seen by this summers Shadow 5000 "Lucanid" Pack.
Following up on their "Precious Metals" Pack, apparel brand Play Cloths returns with a similar formula that swaps out the metallic look for three different tonal pastel suede versions of the Shadow 5000.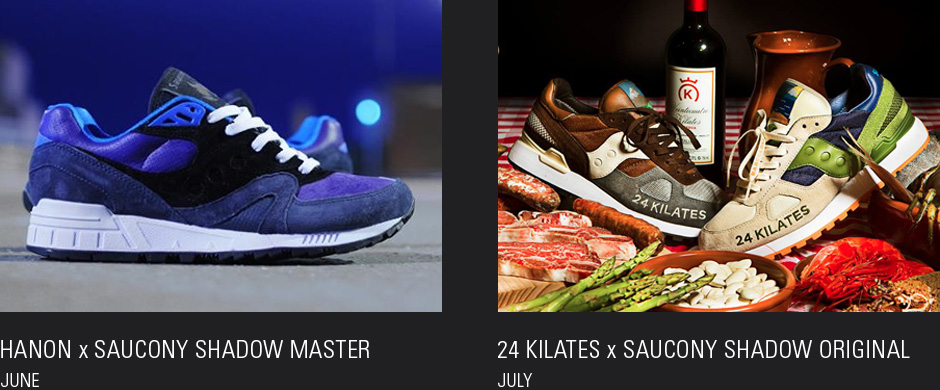 A few months after their initial Shadow Master offering, Hanon hit us with a round two installment dubbed the "Midnight Runner" and bearing a strong resemblance in color scheme to their New Balance 1500 from last year.
Taking inspiration from the Catalan region's world-renowned paellas, Barcelona shop 24 Kilates symbolically brings the sea and the mountains together with their Shadow Original "Mar y Montaña" Pack.
Teaming up with Saucony for the first time, West NYC gave the classic Shadow 5000 model one of its most unique looks to date with the "Tequila Sunrise" edition and its gradient orange side panels.
Already with one successful Saucony project in the books for the year, Bodega was back at it with a wild patterned two-pack of Shadow 6000s that seemed to pop up out of nowhere earlier this fall.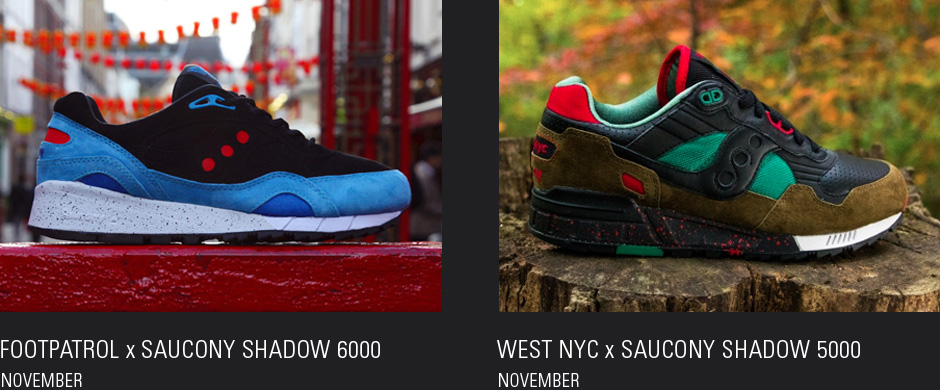 Inspired by the seedy London streets that surround their shop, Footpatrol brought some naughty fun and an amazing colorway to the Shadow 6000 with their "Only in Soho" offering.
West's second Saucony collab of the year changed it's tone dramatically, leaving the tropics behind for the rugged outdoorsy look of their "Cabin Fever" colorway of the Shadow 5000.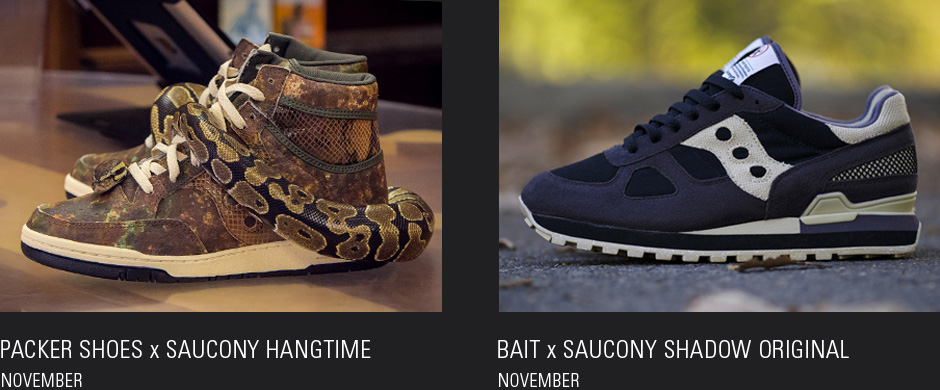 While it's Saucony's retro running silhouettes that come to mind for most, Packer Shoes reminds us about the brand's classic basketball offerings as well with the camo'd out "Woodland Snake" edition of the Hangtime.
BAIT took one of the more unique approaches of the year when they created their "CruelWorld" edition of the Shadow Original using only vegan-friendly materials and construction methods.