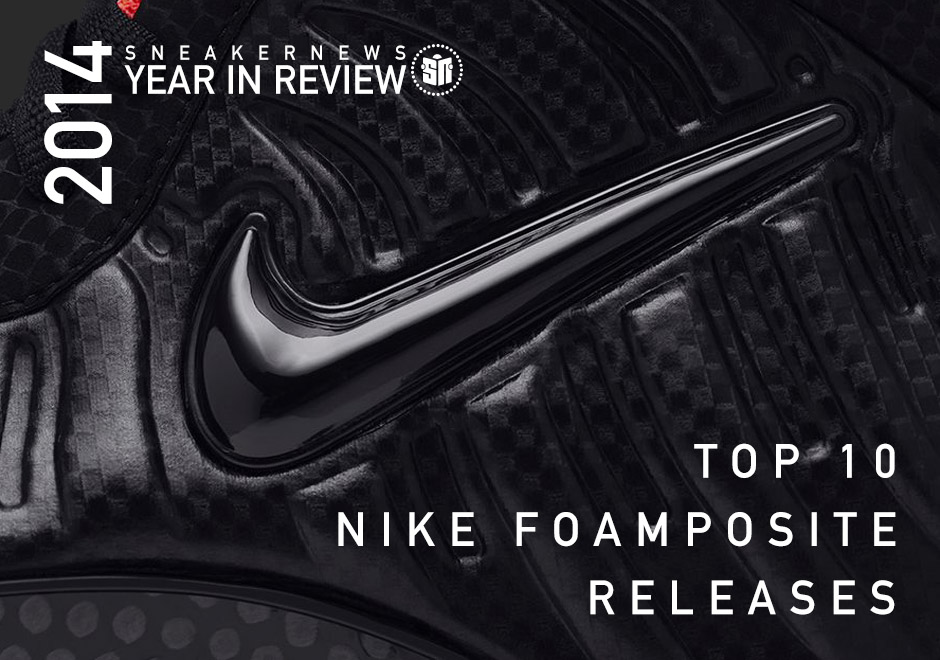 While Foamposites are no longer at the pinnacle of sneaker popularity, the Nike Basketball icon still has its devoted group of followers and loyalists that hold the model at high regard. 2014 can be considered a "bounce back" year from an underwhelming string of releases from the year prior, and the impressive mix of suede uppers, graphic prints, and unleashed Player Exclusives surfacing over the last twelve months gave us enough reason to believe that Foamposites are still very much a big player in the game. We've recapped all the hits from 2014 here, so check out our selection of the Top 10 Nike Foamposite Releases below.
(10) – NIKE AIR FOAMPOSITE PRO "ELEPHANT"
The once-sacred Elephant Print born from the Air Jordan III broke out in major fashion in 2014, with the Foamposite Pro release exemplifying the mainstream access.
(9) – NIKE AIR FOAMPOSITE PRO "SPIDERMAN"
Although there is no official connection with the webslinging Marvel Comics superhero, these blue, red, and black Foamposites were a popular item when they appeared in stores early this year.
(8) – NIKE AIR FOAMPOSITE ONE "SILVER/VOLT"
This Silver/Volt Foamposite release won't be mentioned alongside the Air Tech Challenge IIs major comeback this year, but this pair featured the wild Agassi-inspired graphic on the upper.
(7) – NIKE AIR FOAMPOSITE ONE "KNICKS"
Originally a Spike Lee joint and an homage to Penny's days as a New York Knick, these royal/orange Foamposites finally caught up to the rumors of a release by hitting stores during the Holiday season.
(6) – NIKE AIR FOAMPOSITE ONE "SHOOTING STARS"
Originally debuting as a PE for Penny Hardaway back in 2012, the "Shooting Stars" released this year as part of a two-pair set alongside the Lil' Penny Posite.
(5) – NIKE AIR FOAMPOSITE PRO "VOLT"
Nike showed no restraint with its signature Volt hue on this Foamposite Pro release. This late 2014 offering was a popular pick among those looking for an added punch on their feet.
(4) – NIKE AIR FOAMPOSITE ONE "BLACK SUEDE"
The "Blackout" Foamposites in 2007 are one of the most highly-touted releases of all-time, so an all-suede version was expected to be well-received (and it was).
(3) – NIKE AIR FOAMPOSITE ONE "WHEAT"
Foamposites were always viewed as boots thanks to their durability and toughness against inclement weather. Nike took it a step further and gave it a workboot look using a familiar "Wheat" aesthetic we associate with another staple of iconic footwear in urban fashion.
(2) – NIKE AIR FOAMPOSITE PRO "YEEZY"
Foams and Yeezys are unquestionably the two most "hyped" figments of the sneaker world over the last few years, so the idea of combining the two sounded a bit "clashy". However, that was hardly the case as the Yeezy Foams were a hotly coveted item and brought back some of that outer-worldly flair to the sneaker.
(1) – SUPREME x NIKE AIR FOAMPOSITE ONE
Nike collaborations with NYC-based Supreme have proved to be infallible thus far, and their duet of Foamposites is no exception. In fact, this highly coveted Versace-inspired release should be credited for recovering some of that lost fame that Foamposite endured since the Galaxy joints dropped in 2012, so the Supreme Foams shouldn't be looked at as just a sneaker release, but a much-needed boost for the silhouette itself.