Ever since the arrival of their Tokyo Design Studio, New Balance has continued to team up with more and more Japanese labels with 2019 geared to take them the furthest out of their comfort zone. Tapping 6 brands from across a diverse range of sportswear-influenced street and pure sneaker love, the Boston-based imprint's 996 silhouette heads overseas to dress the part of each of their unique outfits.
United Arrows is, fittingly, the quietest out of the set as it opts for an entirely white leather construction with embellishments only arriving by way of the mustard yellow suede heel tab. N.Hoolywood follows suit just slightly, though Daisuke Obana's love for vintage and militaria shines through amongst an olive-toned ballistic mesh and faded grey overlays of suede and squeaky clean leathers; yellowed midsoles follow in this same sort of ethos with embroidered branding across the toe sporting a faux sense of personalization amongst the capsule. In a similar vein, Beams+ keeps things largely muted though their color blocking is the most overt: off white felt materials completely cover the forefoot and rear, separating the midfoot, which sees a total blackout, from the rest of the kit.
A bit more adventurous than the rest, both mita and atmos — whose passion for the culture needs no explanation — are confounding in their surprising toolings. The latter draws on loose Viotech Dunk connection though dialed up in vibrancy with hits of orange, purple, baby blue, lime green, neon pink, and highlighter yellow scattering across in asymmetric fashion. mita themselves prefer a less colorful approach though their contrast white striping that repeats from front to back is no less loud; set atop a more neutral and classic grey-dressed scheme, the pair plays on New Balance's staples while adding in wild patterning and neon "N" logos on the lateral. nonnative's take in comparison, however, is nowhere near as bold yet still interestingly contorted to their typical ideal. Stripped down to its core, they feature nappy suedes throughout next to tight mesh in a pleasing off-white; sole units show off yellowed distressing and the typical profile branding is removed in favor of the embroidered "NB."
Grab a detailed look at each individual one right below and find them possibly releasing at select retailers with a New Balance release set for only Japan as of right now.
United Arrows x New Balance 996
Release Date: July 27th, 2019
18,800 Yen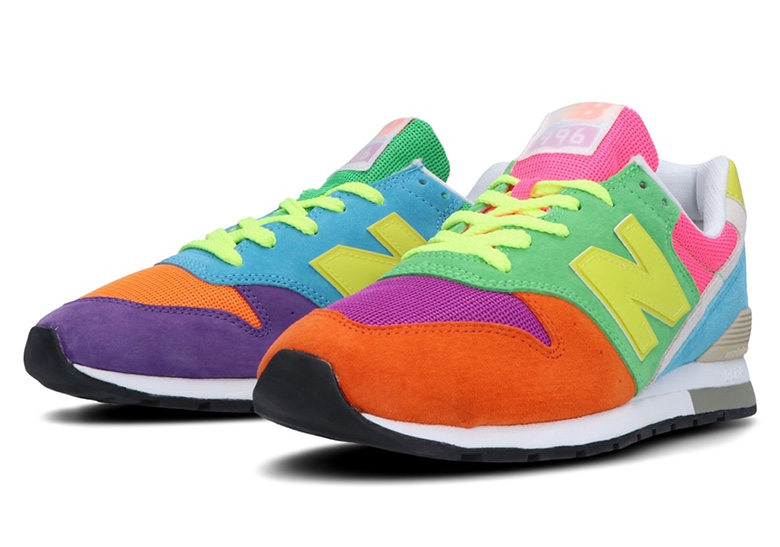 atmos x New Balance 996
Release Date: July 27th, 2019
15,800 Yen
nonnative x New Balance 996
Release Date: July 27th, 2019
18,800 Yen
N.Hoolywood x New Balance 996
Release Date: August 3rd, 2019
19,800 Yen
Beams+ x New Balance 996
Release Date: August 3rd, 2019
15,800 Yen
mita x New Balance 996
Release Date: August 3rd, 2019
15,800 Yen