The annual Air Jordan game shoe is ready to launch later this year, and ahead of the expected release we've got a first look at the Air Jordan 37 model as well as a layout of the technical specifications expected with the performance model.
Continuing a pattern of looking to the Air Jordan model thirty issues prior, the Air Jordan 37 contains elements of the Air Jordan 7. Based on this leaked image, we can expected "AJ7 Fit Padding" at the ankle. Furthermore, we see a Leon Weave Upper, an exoskeleton that mimics the overlay of the Air Jordan 7, and a TPU heel-clip.
On a cushioning standpoint, Jordan Brand goes heavy on the Zoom via a double-stacked Zoom bag at the forefoot, a forefoot Zoom strobel directly underfoot, a carbon fiber shank at the midfoot, and Formula 23 foam at the heel. The Formula 23 foam was recently introduced in the Jordan Luka 1.
The Air Jordan 37 is currently expected in at least four colorways in adult and GS sizes: Light Bone/Fire Red/Black/Dark Concord, White/French Blue/Baltic Blue, White/True Red/Light Silver/Black, and Black/Multi-Color/White/Hot Punch. Should the brand abide by release plans shared with us through reliable sources, the first Air Jordan 37 could release as soon as July. However, given the nature of release date delays many of these scheduled plans are likely postponed.
See below for a quick teaser shot of the shoes as well as spec info for the four upcoming colorways.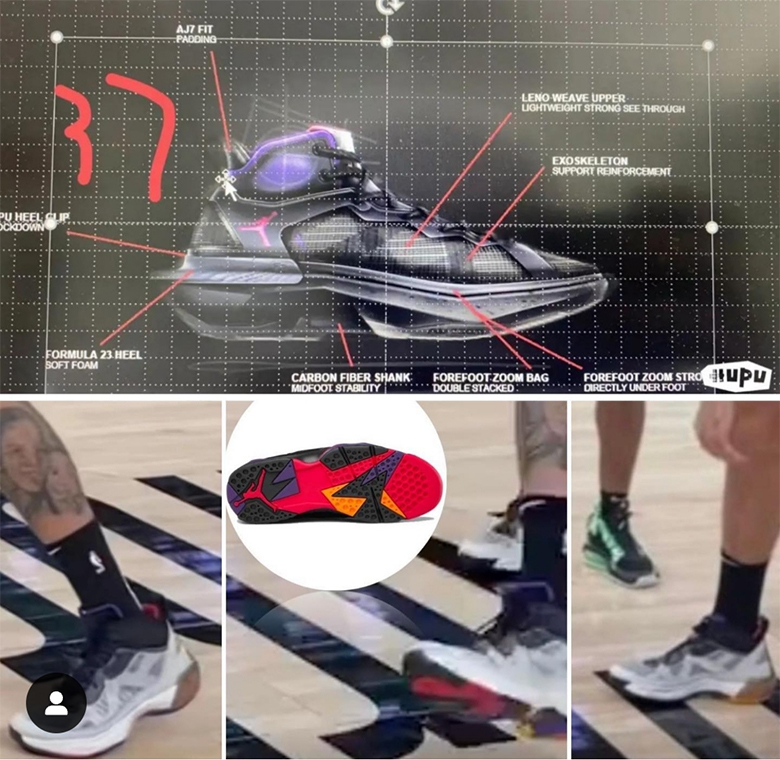 UPDATE (07/01/2022):
A release date has been scheduled for July 28th, 2022.
UPDATE (07/15/2022):
Official images of the GS sizes have been updated.
UPDATE (09/02/2022):
A release date is expected on September 15th, 2022.
Air Jordan 37 Release Date: Sep 15th, 2022 (Thursday)

Color: Light Bone/Black/Dark Concord/Fire Red

Mens: $185 Style Code: DD6958-060
North AmericaSep 15th, 2022 (Thursday)

Grade School: $140

Style Code: DD7421-060

North AmericaSep 15th, 2022 (Thursday)
UPDATE (08/24/2022):
A release date is expected on September 29th, 2022.
Air Jordan 37 "Hare" Release Date: Sep 29th, 2022 (Thursday)

Color: White/True Red/Light Silver/Black

Mens: $185 Style Code: DD6958-160
North AmericaSep 29th, 2022 (Thursday)

Grade School: $140

Style Code: DD7421-160

North AmericaSep 29th, 2022 (Thursday)
Air Jordan 37 Release Date: Sep 2022

Color: White/French Blue/Baltic Blue

Mens: N/A Style Code: N/A

Grade School: N/A Style Code: N/A
Photos via Hupu, h/t Niketalk
New photo via xcmade